Whether it's learning how to access online banking or paying bills online, being able to get online can save older people money and prevent financial exclusion.
Accessing the internet can also reduce social isolation and help older people take control of their prescriptions and shopping needs.
However, it's true that using the internet can be unsettling for many older people, and it may also seem too costly at first, but these are issues that can be addressed.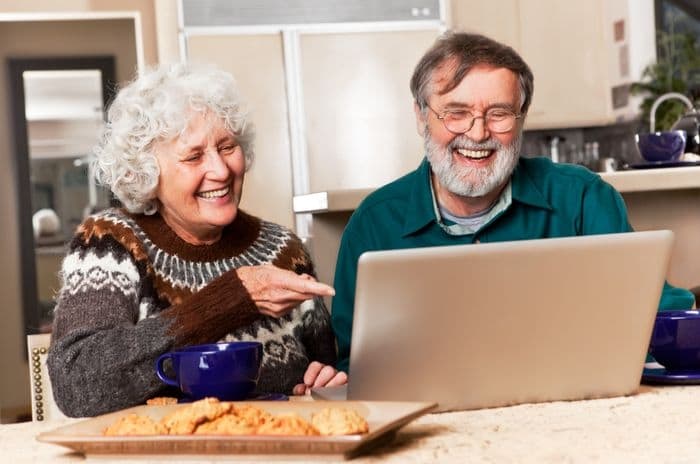 ---
Why should older people get online?
Getting online can improve an older person's life in various ways by giving them more control over their own activities and improving the quality of their day-to-day life too.
In 2019, research from the Oxford Internet Institute (OII) found 18% of people in the UK classed themselves as non-users of the internet.
Respondents said they were not interested in the internet (69%), and 18% were concerned they didn't have the knowledge to get online. 72% of people who didn't use the internet said it was easier to do things without technology.
If that was true in 2019, the landscape has dramatically changed over the last year thanks to the coronavirus crisis.
Now, more than ever, we need to focus on the reasons why older people benefit from getting online.
Let's look closely at some of these.
Improving finances
As we've looked at in more depth here financial exclusion is the result of limited access to banking services and products. At best, the financially excluded end up paying more than they could or should, and at worst they risk being socially marginalised.
While there are many causes of financial exclusion, digital exclusion is becoming a particular issue as more products and services become "online only" or "digital by default".
The Government has been moving towards "digital by default" for many years now, with their flagship Universal Credit designed primarily to be applied for and managed online.
Some of the best broadband deals or the cheapest energy tariffs are only available to customers willing to sign up online and/or manage their accounts online.
It means those who don't use the internet risk:
Missing out on the cheapest deals
Paying more on their bills because they don't access their accounts online
It's entirely legal for companies like energy suppliers to offer better deals to customers who purchase their services online, meaning millions of digitally excluded customers (many of them older and potentially more vulnerable) are left paying more.
The Centre for Economics and Business Research (CERB) estimates customers who shop offline rather than online are paying 13% more on average.
For older people who may be on fixed budgets, even a figure in the single digits is more than they can afford to pay every month.
Improving independence
Accessing the internet online from home can improve the independence of individuals and couples by helping them access more services and, often, improved versions of the services they already use.
There are three major elements to this:
Improved control of money and related services
Improved access to information
Reducing reliance on others
Let's think about each of these in turn.
Managing money online is a given for many people who already regularly use the internet, but older people are more used to going into bank branches and handling cash rather than relying on card payments.
The problem with this is that bank branches and cash machines are disappearing rapidly from our high streets, with almost 4,000 branches closing since 2015.
It's well documented among politicians that these closures and the disappearance of free-to-use ATMs put older and more vulnerable people at risk, yet they can't force banks to stay in areas that are unprofitable.
At the time of writing, the Treasury is looking at ways of legislating to maintain cash access across the UK, but any action is unlikely to help customers in the short term, especially those who have recently lost their local branch or free-to-use ATM.
Moving to online banking could help those customers stay in control of their money and see more clearly where their budget is going every month. It can also help them spot potential fraud or unexpected payments immediately rather than waiting for monthly paper statements.
What about the ability for older people to access more information online than they can offline?
As well as the financial options outlined above, there are numerous practical reasons why older people may want to be online. These include:
Access to the latest news
Access to official Government information
Access to educational information
Access to medical information
This last point is significant, and not just because of the Covid-19 crisis and the way it prompted more people to check symptoms and understand the illness online.
Many GPs have been moving towards digital systems for several years, preferring patients to book appointments and get test results online than going into the surgery.
The coronavirus crisis exacerbated this trend, with some surgeries requiring patients to order repeat prescriptions online by default. Once these systems are live, medical practices are unlikely to go back to the way they were, meaning older patients will find themselves being pushed to do things online. This could lead to dependence on children or tech-savvy neighbours, something that isn't ideal when we're thinking about personal medical details.
This brings us to the third point: getting online can help older people reduce their reliance on other people.
As services turn "digital by default", older people who don't use the internet are put under pressure to find some way of managing things online. For many, this will mean turning to family members, friends or even virtual strangers in the form of library staff members or generous neighbours.
While this help may be useful, it means the individual isn't in control of their own life and they are relying on others to do basic tasks like order medications or buy a pair of slippers from a retailer with no nearby bricks and mortar store anymore.
It also means if that help is taken away suddenly, the individual's ability to undertake everyday tasks will be severely affected.
Being able to manage our own affairs for as long as possible isn't simply something that's nice to have: it offers basic human dignity.
Reducing social isolation and loneliness
Going online can help reduce social isolation, especially among those who may not be able to get out as much as they would like to due to health reasons.
Social isolation and loneliness have been major issues for older people for a long time, but it's true the coronavirus crisis exacerbated the problem and brought it further into stark illumination.
At the beginning of the Covid-19 pandemic, the Office for National Statistics (ONS) conducted research about chronic loneliness and lockdown loneliness with a focus on the period between 3 April and 3 May 2020.
Two-adult households with one member aged 65 or over were less likely to be chronically lonely than the average of 5%, with only 1.7% responding they felt chronically lonely in that demographic.
However, if we look at lockdown loneliness, there are some worrying statistics linking to older people. While 30.9% of the general population said they were struggling with loneliness in lockdown, specific findings included:
51.2% of widowed people were lonely
53.2% of divorced or separated people were lonely
50.1% of adults living alone (over 65)
Again, two-adult households with at least one over member over 65 were less likely to be lonely (14.5%).
Curiously, the age group of 55- to 69-year-olds were also less likely to be lonely during lockdown. Only 24.1% of that age group reported loneliness, perhaps because there were multiple people in those households or because of improved digital skills than their older counterparts - the research doesn't go into detail on that point.
While this is just a snapshot of loneliness at a particularly difficult time, it shows that, when cut off from traditional forms of communication and networking, older people living alone are likely to struggle.
It's unsurprising, then, that over 60% of over 50s learned to use some new form of technology during the coronavirus pandemic, with 28% of all adults who had not previously used video calls starting to use them.
For those still unable to go online or uncertain about it, the loneliness prompted by repeated coronavirus lockdowns may have caused untold damage to their mental health.
Improving quality of life
Quality of life is a slippery term and what adds to one individual's quality of life does not always reflect the experiences of someone else.
However, being able to get online and access some of the services we've discussed in this guide could improve the quality of life for older people in terms of:
Improving their finances by helping them access online discounts or buy their shopping online
Improving their mental health by reducing loneliness or social isolation
Improving their physical health by helping them finding answers to routine questions online
Improving their enjoyment of life by being able to watch their favourite sports online or take educational courses
Improving their relationships by sharing posts on social media
It's important to remember that what we see as improving a person's quality of life may not be something they consider important themselves.
For instance, cultivating relationships via social media may be deemed unimportant by someone who's never wanted to do that, but the practical benefits of cheaper bills and being able to manage their finances online may be more tempting.
We've got a dedicated guide to helping other people get online.
---
Conclusion: a world of opportunities
Older people can benefit from going online in numerous ways from taking control of their own medications through to catching up with old friends on social media.
That said, many older people have legitimate worries about using the internet, and that's why we have three guides dedicated to helping people of all ages protect themselves while online:
In addition, anyone struggling to afford the right equipment on a limited budget may be interested in our guide on where to find cheap refurbished computers or the broadband service offered by BT Basic.
Remember, while the internet can be an exceptional tool for older people, it's also something that should be used as much or as little as they want.
If someone gets a computer to manage their online banking and bills but nothing else, that helps to alleviate their financial and digital exclusion without pushing them into doing other things they're not comfortable with and that won't necessarily increase their quality of life.
Read more about the best mobile phones for older people or which e-readers are best for older users.