Helping someone to access the internet for the first time or build their online confidence can improve their lives.
There are three major steps to helping someone get online: help them get the right equipment, help them develop the skills they need, and find them a decent broadband deal.
It's important to remember to move at the pace of the learner and be guided by their needs rather than pushing them too quickly to master the online world.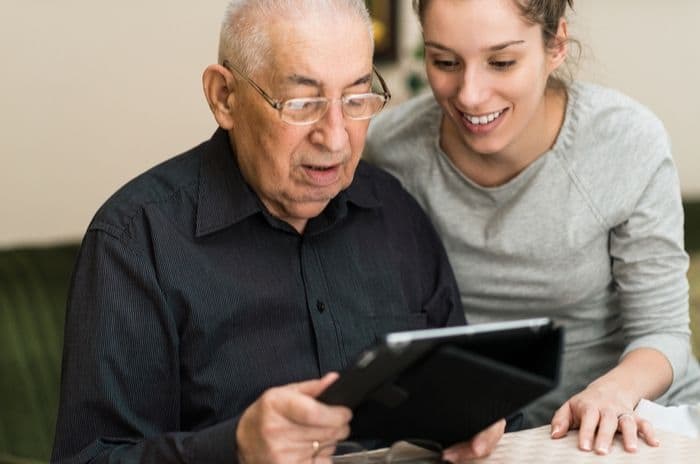 ---
Getting online: step by step
There are three key steps to help someone get online for the first time:
Find them a cheap computer or device
Help them gain the skills they need
Find a cheap broadband deal
Every individual is different, and it's important to remember some people will have accessibility needs while others may face financial barriers to getting online.
With that in mind, let's look more closely at the three steps.
Find them a cheap computer or device
One of the biggest barriers for many older people is the financial constraint of the device itself.
For others, it could be they could afford a brand-new computer but they're unwilling to invest in something they don't think they'll use very much.
To combat either of these issues, we can help them find a cheap computer or other device.
As we explain in our guide to getting a cheap computer or tablet, there are some organisations which specialise in refurbishing used devices, with deeper discounts for those who meet certain criteria.
For older people looking to get online, they could get a deeper discount from Get Online @ Home if:
They are in a low-income household in receipt of benefits (aside from the State Pension)
They have a disability
Prices for those entitled to the enhanced discounts start from £99 for a PC, while those who aren't eligible for the extra discount could still buy a refurbished PC from £119.
Computers from Get Online @ Home and other reputable refurbishing companies are more than adequate to get online, and they sell laptops and tablets too.
If accessibility is an issue, AbilityNet offers a step-by-step guide to configure any device (including smartphones) to the accessibility needs of different users. Visit their site here.
People who haven't used computers or the internet before can be understandably nervous about doing something wrong or damaging a computer in some way. These concerns can be tricky to navigate, but there are cheap books and magazines available if the individual in question would feel more comfortable reading about the process of getting online in black and white (i.e., not on a computer screen!).
Help them gain the skills they need
The next step to helping people get online is to help them get the skills they need to navigate the internet with confidence and do the things they want to do online.
There are a few points to note here:
While it can be tempting to tell a person what they should be doing online, that's likely to yield poor results. There's more detail later in this guide about encouraging people to get online for good reasons, but don't push them too far too quickly.
Teaching them yourself is an option, especially at the beginning, but be careful they don't rely on you for every small internet task - the idea is to make them confident in their own abilities with you and others as a support network.
Charities, libraries and other organisations often run courses to help people get online and improve their digital skills.
One major example is Age UK who offer local training to help people get online via their centres.
If Age UK don't offer training in a particular area, the Online Centres Network provides a list of over 5,000 grassroots organisations across the UK who are working to tackle digital and social exclusion by helping people get online.
These listings include libraries but also outreach organisations and other groups you might not immediately associate with computer training.
To take a few examples, there are three listings in Doncaster in South Yorkshire:
Doncaster Central Library
Computers Within Reach (Doncaster)
Doncaster Ethnic Minority Regeneration Partnership (DEMRP)
There are also three in Worthing on the South Coast:
Worthing Library
IT Junction Central Worthing
IT Junction Heene
Swansea has at least seven:
Swansea Music Art Digital
YMCA Swansea
Swansea Asylum Seeker Support
EYST Wales
VocalEyes Democracy C.I.C
Get Swansea Online
Cyfle Cymru - Swansea
As the names suggest, some of these schemes are targeted at specific groups of people, but there are usually some appropriate options for everyone.
If your local library or community centre isn't listed on Online Centres Network, it's worth checking with them directly to see if they do offer any appropriate training.
Once the basics are checked off, there are plenty of online resources new internet users can access to help them improve their skills and understanding.
For instance, Learn My Way includes a simple set of courses and resources for beginners. Note: while users will need to sign up for full access, the courses are all free.
It's worth doing a bit of research before recommending online courses to older people or helping them sign up. There are plenty of scams out there ready to take advantage of all internet users, let alone new ones, so stay cautious and ask for recommendations from friends if necessary.
Choose have also got three easy-to-read guides to help all internet users navigate the online space:
Again, there's no need to push new users further than they're comfortable with. Just remind them of the dangers of online activity, and suggest they get advice or training before doing more online than they have started with.
Find a cheap broadband package
If a relative or friend intends on using the internet regularly, it's likely they'll want a cheap broadband package.
While there are plenty of cheap broadband deals available in the UK, it's worth remembering ISPs are phasing out traditional copper broadband, so superfast speeds of 30Mb and above are likely to be the cheapest and most sensible options.
We've seen the likes of TalkTalk price their superfast broadband at the same level as (or even cheaper than) their copper broadband, so encouraging new internet users to take superfast deals now may prevent them having to upgrade later.
In conjunction with the user, compare broadband deals to find one that's suitable for their budget and needs. Remember, for those on Pensions Credit, they may be eligible for BT Basic, one of the cheapest ways to get broadband in the UK.
It's also important to remind users that taking broadband usually means taking a home phone line too. This may mean switching provider if the company they currently take phone services from doesn't offer a cheap broadband option. Make sure they're aware of this
---
Benefits of logging on
Often, an older person will want to get online but be uncertain where to start. However, others may not believe they need to get online at all.
We have a full guide that covers why older people should be getting online, but here are some major points to help courage sceptics:
More banking is being done online and branches are closing at a rate of hundreds per year
It can be cheaper to manage and pay bills online
Getting online can alleviate loneliness and social isolation
They can learn new things or watch their favourite programmes
The Covid-19 pandemic has brought the importance of the internet into sharper focus, and 60% of over 50s learned how to use new technology in order to get through the first lockdown.
It suggests many older people are eager to learn, but they may need extra support to build their confidence up.
---
Conclusion: building online skills
For a lot of older people, the idea of going online is both enticing and nerve wracking.
Younger people who have lived their entire lives online may find this difficult to comprehend, so it's important that we only move as quickly as a new internet user is comfortable with.
Explaining to older people why they may want to go online and giving them the tools and support to do so is important but remember to let them take it all at their own pace.
We've got more information on digital exclusion and financial exclusion, including the costs for individuals and society as a whole.