Is your gran still not online? How to help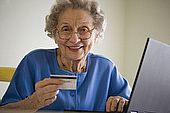 The vast majority of us are online every single day, doing everything from checking our Facebook, to reading the news, or finding recipes and doing the shopping, but spare a thought for the 5.4 million over 65s that have never even sent an email.
As a regular user it is difficult to get your head around not having access to the internet, but imagine if your computer, laptop, tablet and smartphone were taken away from you.
How would you communicate with friends? How would you find the cheapest insurance quotes? How would you find out the symptoms of Norovirus?
The older generation need to do all these things too, but they are living without the internet every single day. Whether it's because they are restrained financially, with a disability or are simply terrified of tech, you can teach them the benefits of getting online.
Benefits for logging on
Cheaper insurance & utility bills
Whether its Russian animals, opera singers or just catchy theme tunes that get your attention; around 10 million of us use price comparison sites every year to get cheaper gas, electricity, insurance, phone and broadband.
Research by YovGov found that 41% of people used price comparison websites to switch energy supplier in the last five years, with 36% making a saving.
Without access to the internet, older people are more likely to be paying more on their bill than necessary.
Research from Which? also found that insurance products, such as travel insurance, for the over 65s could be as much as 276% cheaper when bought online.
Better savings rates
The same research from Which? also found that people able to save online would end up 37% better off than those saving in branch over the course of a year.
So, as we cover in more detail here, there is a very real case that digital exclusion can contribute to financial exclusion as well.
Managing finances
Using the internet makes managing money and finances so much easier, whether it's logging onto internet banking or finding out about benefits.
With one in four of us banking online every single day, it's safe to say that internet banking has revolutionised the way we manage our money.
Access to online banking allows us to make payments instantly, check our balance, and apply for credit cards and overdrafts at the click of a button - but only if we know how to.
Age UK claims that more than £5 billion of means tested benefits go unclaimed by older people every year. This shocking figure is unlikely to reduce any time soon as the welfare system is increasingly turning to the internet.
The rules around benefits often change when you reach state pension age, so it's important to be on top of benefit entitlement. By getting online, pensioners can access a benefit calculator
to ensure that they are not missing out on important financial help.
Staying independent longer
Retaining independence and control over life has been found [pdf]
to be a contributing factor in the perception of quality of life for people aged 65 and over.
Grocery shopping is a common task that requires outside help for the elderly, especially when people have to give up driving, either coming from family support or care at home visits.
Online supermarket shopping is just one way getting online could help older people to keep their independence for longer, potentially even reducing the cost of care and improving family relationships by removing dependence.
Accessing health information
The first thing many of us do when we have an ache and pain or feel unwell is get online and do a quick search to find out could be wrong with us. In fact, research by Imperial College found that a third of patients choose not to visit their GP after finding out the problem online.
NHS Direct
has comprehensive information on a number of health issues, helping users self diagnose.
These are just a few of the benefits for older people getting online, others include communication, which could help stay in contact with family and avoid social exclusion. By breaking down the barriers to getting online, older people could be reaping the rewards of the internet.
Broadband Packages
Congratulations, so you've managed to persuade granny to have a go at getting online. What should they be looking for?
One of the biggest barriers for older people accessing the internet is the financial constraint. For someone that doesn't have a computer, laptop, phone or broadband connection, the cost can soon mount up.
We are living in times when an iPad costs over £500, so it's not surprising that many over 65s decide that they'd rather live without the internet.
However, getting online doesn't have to cost that much if you get your hands on a basic computer and cheap broadband package.
Compare packages online to find one that's suitable for their use - don't forget that they are unlikely to require a 40GB download limit and superfast fibre optic broadband.
Bundles
It's currently possible to get broadband from as little as £1.20 per month, and in fact at the time of writing there are three ISPs offering broadband priced below £3.
So by shopping around adding broadband shouldn't prove to be too costly. Additionally, anyone already with a pay TV package may even be able to get broadband for free.
For example, Sky TV is £21.50 and customers can then add a light use broadband package for free - Sky line rental is even cheaper than BT as well.
With the cheapest BT landline now £15.45 per month, it's not that much of a price hike to add broadband when providers such as Plusnet are offering broadband and line rental deals for just £16.98 for the first 12 months.
Getting the elderly online is essential if they are to avoid being left behind as the digital age advances even further. If you're interested in becoming a Digital Champion, join the Go On Challenge
.