Many schemes operate on a local level, meaning customers need to dig deep to find the true gems - something many don't have the time or skills to do.
However, there are nationwide subsidy schemes providing discounts on refurbished computers and tablets, plus dedicated schemes for disabled children, university students and more.
It's worth reiterating that while the majority of schemes are genuine, customers should always double-check who they're dealing with and understand any payments they'll be expected to make.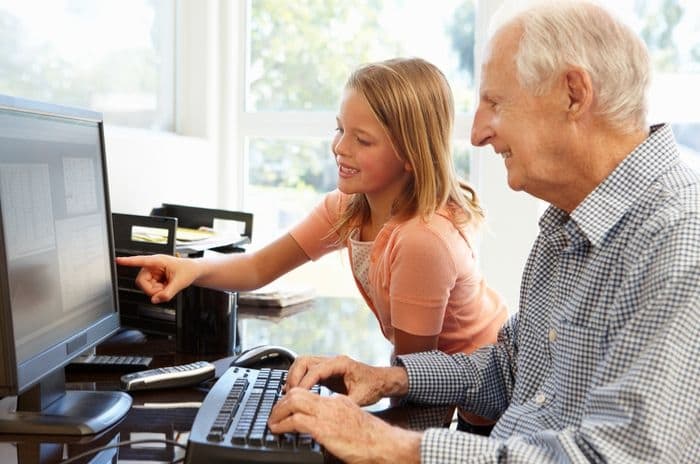 ---
Nationwide computer subsidy schemes
It's difficult to get a free computer these days, but there are various subsidy schemes and projects designed to help low-income households get access to the tech they need.
The Covid-19 pandemic made it clear that some households simply didn't have access to the technology required to learn from home or keep in touch with others while in lockdown.
This has led to subsidy schemes and community projects becoming more prominent and more vital, although there's still a shortage of them around compared to how things were a few years ago.
Let's take a look at some of the national subsidy schemes and projects currently available.
Get Online @ Home
Get Online @ Home sells heavily discounted, refurbished computers and tablets.
They're cheap for everyone, but particularly affordable if the customer is eligible for its subsidy scheme, meeting any of the following criteria:
Is a charity registered in the UK
Is part of a low-income family that receives state benefits based on need
Lives in a community with "limited access" to technology
Has a disability
So, in practice, individuals or families looking to access the subsidy scheme would need to be in receipt of means tested benefits like Universal Credit, living in a deprived community or have a disability. If so, they can buy equipment from the following prices:
PCs from £99
Laptops from £199
Tablets from £139
Even if a customer isn't eligible for the subsidised prices, the devices are still available for purchase at cheap prices:
PCs from £119
Laptops from £219
Tablets from £159
The computers and tablets available through this programme aren't bottom-of-the-barrel pieces, either. Remember, they're refurbished and designed for sale to lower income families rather than being rejects.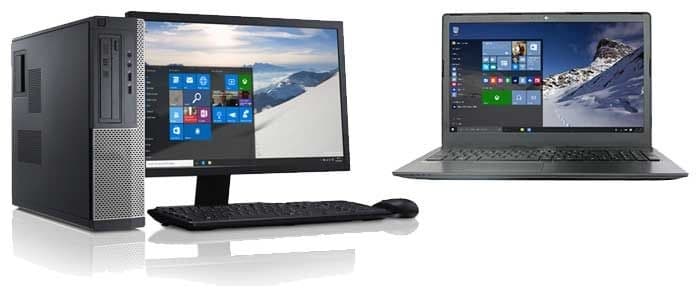 Makes and models differ
These are the minimum specifications:
| Desktop PCs | Laptops | Tablets |
| --- | --- | --- |
| 19" TFT Monitor | Minimum 12.5" Screen | Display: 10.1-inch 1920 x 1200 IPS, 10-finger touchscreen |
| Intel Core 2 Duo Processor | Intel Core i3 Processor | PU: 1.59GHz Intel Atom Z3795 (quad-core, 2MB cache, up to 2.39GHz with Turbo Boost) |
| 4GB RAM | 4GB RAM | 4GB RAM |
| 250GB Hard Drive | 250GB Hard Drive | 64GB Embedded Multimedia Card |
| DVD-RW Drive | Wi-fi Enabled | Graphics: Intel HD Graphics (7th generation) |
| New keyboard and mouse | Windows 10 | Cameras: Rear 8MP, front 2MP |
| Windows 10 | | Ports: micro HDMI-out, USB 2.0, microSD, audio jack, digitizer socket |
It's worth pointing out that the subsidised (and non-subsidised) prices of laptops have increased by £30 over the last year. This likely reflects the shift to a minimum standard of a 250GB hard drive compared to the 160GB minimum previously offered, so households are getting better machines.
Many of the computers sold have higher specs - these are just the minimum customers can expect to find, and they're suitable for everyday use as home computers and tablets. Desktop computers also come with necessary extras such as keyboards and mice.
While these budget computers don't include word processing software on the machine, the company does provide a link to free web-based versions of the Microsoft 365 Office Apps: Word, Excel, PowerPoint and Outlook.
As standard, they all come with Windows Defender Antivirus to help protect users while they're online.
If a customer is looking to switch their broadband supplier at the same time, it's also possible to get these machines even cheaper.
Get Online @ Home have a deal with Carphone Warehouse where people who sign up to one of their approved ISPs can get a refurbished PC for £49, a tablet for £89 or a refurbished laptop for just £119.
There are currently five broadband providers listed as participating on their website:
It's important to note customers must go through a dedicated telephone number to receive the exclusive offer. So, while comparing broadband providers first is always worthwhile, remember to visit Get Online @ Home's website to find out more.
Visit Get Online @ Home.
Family Fund
Family Fund provide grants for families who are raising seriously ill or permanently disabled children. Their grants can be used on lots of things, including computers.
To be eligible for a Family Fund grant:
You must be the parent or carer of the seriously ill or disabled child, and the child must not be in Local Authority care.
The disabling condition or illness must be long-term; i.e. likely to last over a year.
You must have lived in the UK for six months (or three months if your child is less than six months old).
You must provide evidence that you're entitled to benefits (including Universal Credit and Working Tax Credit).
An excellent extra provided by Family Fund to those they have supplied with tablets is their free iPad training.
These sessions take up to an hour and trainers can help families understand the basics about their iPad such as:
How to use it to stay in touch with family and friends
How to stay safe online
How to adjust the iPad's accessibility settings
How to use fun educational activities
How to access services online
There are also other online iPad tutorials available that can be more entertainment based such as making social stories workshops and making music on the iPad.
Overall, Family Fund offers a superb service through their grant scheme, and it's one all parents and carers of disabled children should know about.
Visit the Family Fund website.
My Outsourced IT
Another potential avenue for getting a free computer for digitally excluded households is the My Outsourced IT project.
This community project was founded during the initial Covid-19 lockdown to help families stay connected during the pandemic.
They say they have provided devices to over 700 homes in the North West and beyond since March 2020 and have also repaired devices for 200 households.
My Outsourced IT works on a donation basis, so they refurbish old hardware to pass on to new families.
At the time of writing, applications are closed while they work through a backlog, but their social media is active and there's nothing to suggest applications won't reopen, so it's worth keeping an eye on.
Visit the My Outsourced IT website for more.
Grants for assistive technology
There are various schemes that offer grants for disabled people who need specialised tech, including computers, to improve their quality of life.
Disability-Grants.org have made a great list of the schemes available in the UK, although do check to see if the scheme's still in operation before getting too excited.
---
Schoolchildren, colleges and workplace schemes
Although it can be tricky to know where to start, there are plenty of local or specialised schemes around to help people access cheap tech.
If none of the below are applicable, take a good look at your local council's website or see if there any charities in your local area who have a particular focus in helping people get online.
Schoolchildren and college schemes
The Covid-19 outbreak and subsequent lockdowns brought into the light a problem that has affected families for years: the lack of a computer to do homework on.
So, the Government has been working with technology providers and schools to deliver laptops, tablets and 4G wireless routers under the Get Help with Technology scheme and others.
Unfortunately, families can't apply for these schemes directly, and it's down to schools to broker agreements for the amount of tech they need for their students.
However, if a school or college isn't aware their children are struggling, they won't be able to order enough tech, so always contact the school in the first instance.
Ofcom estimates that around 1.5 million households don't have access to tech to learn or work from home. While the Government delivered almost 900,000 laptops and tablets in the first ten months of the coronavirus pandemic, that could still leave plenty of students falling through the cracks, especially as whole new year groups have started school since the pandemic began.
If there's one positive to come out of the struggles experienced by pupils working from home during the pandemic, it might be that more people have become aware that not all children have access to tech at home. With any luck, it might lead to a shift in focus to make sure all students have home tech.
Higher education schemes
Students studying at university with long-term health conditions or specific learning difficulties such as dyslexia or dyspraxia could be eligible for a Disabled Student's Allowance (DSA).
The schemes are slightly different in each of the four nations:
England - Single DSA allowance of £25,000 per year to cover all needs
Northern Ireland - Specialist equipment allowance of £5,266 for the whole course
Scotland - Large items allowance of £5,160 for the whole course
Wales - Single DSA allowance of £31,831 per year to cover all needs
However, the student will have to contribute £200 towards the computer, and the top-level figure cited above is very much an upper limit. The Government warn more students will receive less.
Read more about applying for DSA.
Employee schemes
Salary sacrifice schemes to help employees purchase computer equipment through their company used to be common, but the Government removed many tax benefits of the scheme in 2017 and now most firms tend not to bother.
To be clear: salary sacrifice computer schemes, where they still exist, don't give out free computers, but they can offer a range of technology at potentially discounted prices.
The schemes work in the same salary sacrifice manner as cycle-to-work and childcare voucher schemes; spreading the cost of a computer, laptop or tablet over a period, typically 24 months.
In many cases the competitive nature of the UK electronic devices market means the same items can be found cheaper online, although being able to spread the payment is less likely.
Even so, we'd say that people who work for a local council or a big university should have a look.
Business assistance
For start-ups and small businesses, there may be grants available to help companies grow in your area. These may include computer or equipment costs, so it's always worth checking.
Visit the Department for Business, Energy & Industrial Strategy (BEIS)'s page on business finance and support to learn more.
---
Other places to find cheap or free computers
Other places worth investigating are local computer charities that recycle old PCs and laptops to redistribute them; or more general recycling groups such as Freegle or Freecycle.
The small ads or local computer repair shops also offer a bountiful supply of older PC systems that sell for cheap prices - although buyers should always test any computer they want to purchase, and make sure it's working fully.
Stay safe when buying second hand goods by reading our guide to your consumer rights.
---
Summary: the end of the free computer
It's clear to see that truly free computers are hard to come by these days, and it's also become clear thanks to the coronavirus pandemic that there are still plenty of households struggling to get online with no tech at all or outdated equipment that isn't fit for use in the modern home.
Just like with affordable broadband tariffs or free home insulation schemes, there are often options out there for struggling families, but finding out about them is the big problem.
If the nationwide and specialist schemes we've pulled together in this guide aren't relevant to you, the best place to start is with people in your local area. You'd be surprised what's on offer that you simply don't know about yet, whether that's a grant for a computer outright or help in saving towards one.
Once the computer issue is settled, move on to finding a decent broadband or mobile provider. We've got guides on broadband with no credit check and the cheapest SIM only deals to help get you online.