YouView from BT includes a main 1TB recordable set-top box with the option of adding a mini box for multiroom YouView.
Meanwhile, YouView from TalkTalk is available for a flat monthly fee and comes with up to two non-recordable set-top boxes.
Overall, BT YouView is the better service, but TalkTalk customers may like the simple features of TalkTalk YouView and the ability to access the YouView platform.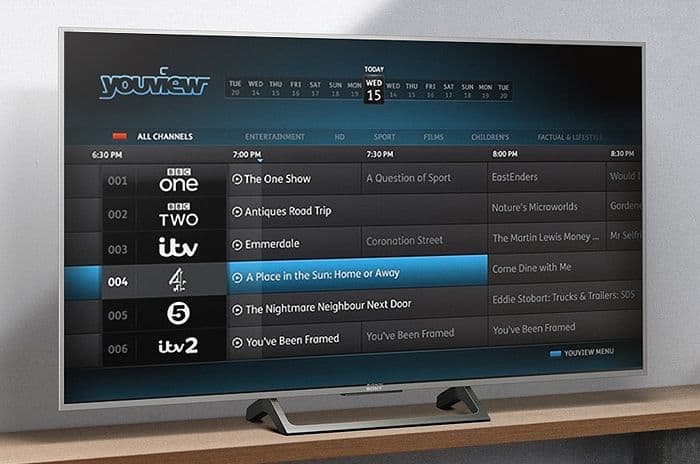 © Youview.com
---
Quick compare
BT and TalkTalk are the only ISPs still offering YouView boxes with their TV deals now, and they have trimmed them down to one major model each.
Here's how they look side by side:
| | BT YouView | TalkTalk YouView |
| --- | --- | --- |
| YouView box | BT TV Box Pro | TalkTalk TV YouView |
| Pause & rewind live TV | Yes | Yes |
| Record TV | Yes | No |
| Storage | 1TB (up to 600 hours) | None |
| Fibre required | Yes | No |
| Multiroom | Yes | Yes |
| HD/UHD | Yes/Yes | Yes/No |
| Minimum term | 24 months | 30 days |
| Price from | £10 | £4 |
---
What is YouView?
YouView is a set-top box and viewing platform that has been around in the UK since 2012.
A YouView box allows access to Freeview channels and premium TV content when a customer has a suitable subscription. Customers can also view many popular streaming apps (more on this below), making YouView a full-service home entertainment system.
YouView boxes can be recordable or non-recordable with storage of up 1TB available in the latest BT YouView box.
Originally a joint venture between BBC, ITV, Channel 4, Channel 5, BT and TalkTalk, YouView TV has become synonymous with BT TV and TalkTalk TV since those broadband providers have used the system to deliver TV services to customers for years.
Plusnet used to offer a YouView TV service too after launching the service in 2015. However, they scrapped their TV options in 2021.
So, BT YouView and TalkTalk YouView are the only subscription TV services currently offered by UK broadband providers, and those YouView boxes are the ones we focus on this guide.
Apps available through YouView
Various popular streaming apps are available through the YouView platform, although some of them do require extra subscriptions that must be taken outside of YouView.
Here are the current apps available on YouView:
BBC iPlayer
ITV Hub
STV Player
All 4
My5
Netflix
Now
Milkshake!
UKTV Play
S4C
Pop Player
Ketchup
CBS Catchup
Horror Bites
BBC Sounds
BritBox
Amazon Prime Video
Note: Amazon Prime Video is only available on some BT and TalkTalk devices, so checking before signing up to a specific YouView TV service if this is a dealbreaker.
The list above includes free-to-watch catch-up services like UKTV Play and ITV Hub alongside paid services like BritBox and Netflix.
Apps are liable to change and popular new services may be added, so keep an eye out for those arriving on YouView TV.
Frustratingly for some, most subscriptions cannot be handled directly through the YouView set-top box.
There are some exceptions to this such as Netflix and Now (with TalkTalk YouView), but customers should expect a little messing around to get their subscriptions up and running on their YouView box.
Read more about Amazon Prime vs Netflix vs Now TV.
---
Which YouView TV box is best?
Winner: The latest BT YouView box allows up to 600 hours of recording.
There are three YouView TV boxes currently available from the two providers:
BT TV's 1TB recordable box
BT TV's mini box
TalkTalk TV's live and rewindable YouView box
BT TV's extra box isn't available as a standalone, and TalkTalk have stopped offering their recordable TV box, so the different options for YouView boxes have slimmed down a little in recent years.
Let's take a quick look at each of the boxes in turn.
BT TV YouView box

BT YouView is now delivered through the BT TV Box Pro. This is the latest recordable YouView box featuring a 1TB hard drive for storage.
This YouView box offers:
Full programme guide
Up to 600 hours storage for recordings
Record three programmes at once and watch a fourth
Ability to watch in 4K HDR where available
Dolby Atmos immersive audio
Bluetooth remote
Remote recording via connected app
Can be connected through wi-fi
The BT TV Box Pro is the most advanced YouView box to date, with the option to connect the box wirelessly for the first time instead of dealing with wires across the home.
It works with the BT Smart Hub or Smart Hub 2 and this will be provided when customers order BT YouView.
Extra BT TV box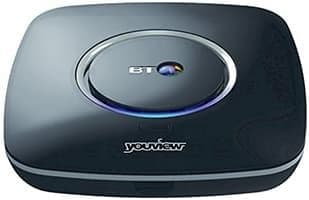 For customers looking at taking multiroom services, BT TV will provide a YouView mini box designed to be used solely as a live TV viewing option (there are no recording features).
This allows customers to:
Pause and rewind live TV for up to 30 minutes (14 minutes for HD programmes)
Use the guide function to search
Catch-up TV with seven-day scroll back
So, the YouView mini box is a way of watching content in another room, but it isn't a full service YouView box in the same way as the main BT YouView box.
TalkTalk TV YouView box

The only YouView box supplied with TalkTalk TV now is a basic one with no recording facilities.
It features:
Pause and rewind live TV up to 30 minutes
Freeview including HD channels
Alexa voice control
Connected app
So, customers can watch, pause and rewind live TV but they can't record anything to watch later. Arguably, there's little need to now given that TalkTalk don't offer much in the way of live content that isn't also available via streaming services such as BBC iPlayer and ITV Hub.
A second YouView box can be taken from TalkTalk TV at a one-off cost of £25 plus an obligatory engineer visit for installation (also costing £25). It has the same functionality as the first box.
---
YouView and broadband
YouView TV options from both BT and TalkTalk must be taken alongside a broadband connection. They can't be taken as independent services, so it's important to look at the reviews of BT's broadband service and TalkTalk broadband to see what the core element of their service is like.
YouView isn't a completely online service. The box is connected through the normal TV aerial, but it needs an internet connection to allow viewers to watch catch-up and on-demand content, as well as streaming services such as Netflix and Amazon Prime Video.
What broadband speed is required?
YouView suggest a minimum broadband speed of:
3Mb for standard definition on-demand services
5Mb for HD content
'Significantly higher speeds' for UHD/4K content
Exactly how much 'significantly higher' is depends on which provider you ask. BT reckons you'll need at least 44Mb for a good picture and sound quality while streaming - Netflix puts it at 25Mb.
If it's within budget to pick the higher speed package for UHD content, it's probably a good idea to do so, especially as home broadband is unlikely to be focused on streaming content at any given time. Most likely, households will have multiple smartphones and tablets hooked up to the wi-fi too.
Anyone worried that their current broadband isn't fast enough can get a good idea by streaming content on their home computer from an on-demand provider, like All 4 or BBC iPlayer.
Most connections will be able to stream services via the YouView box anyway, and it may only be BT TV customers looking at UHD services who need to seriously consider their home network speed.
---
Which provider offers the best TV service with YouView?
Winner: BT TV's service is more comprehensive, although both are based on the same Now TV pass system.
BT YouView changed to become a system based on Now TV content and BT Sport in early 2020 while TalkTalk YouView shifted to become a Freeview + Now TV service later in the same year.
The main difference is that Now TV is fully integrated into BT YouView packages while TalkTalk YouView customers pay a set amount of £4 per month and add Now TV memberships on separately.
BT TV must be taken with BT broadband, so here's a quick look at the BT TV packages on offer with a BT broadband bundle:
Package
Broadband
Monthly price
Upfront price
Contract term
Entertainment + Fibre 2
67Mb average
£20
for 3 mths,


then £55.99

£30
24 months
Offer: Black Friday: 3 months free broadband and reduced setup costs (was £61.99) + £100 BT Virtual Reward Card

(Ends 07/12/2023)

Sport + Fibre 2
67Mb average
£36.99
for 3 mths,


then £53.99

Free
24 months
Offer: Black Friday: 3 months free broadband and BT Sport TV just £1 for 3 months with free setup (was £61.99) + £100 BT Virtual Reward Card

(Ends 07/12/2023)

Big Sport + Fibre 2
67Mb average
£35
for 3 mths,


then £70.99

Free
24 months
Offer: Black Friday: 3 months free broadband and save £8/mth on BT Big Sport TV with free setup (was £61.99) + £100 BT Virtual Reward Card +

(Ends 07/12/2023)

VIP + Fibre 2
67Mb average
£65
for 3 mths,


then £100.99

Free
24 months
Offer: Black Friday: 3 months free broadband and save £11/mth on BT VIP TV and free setup (was £61.99) + £100 BT Virtual Reward Card +

(Ends 07/12/2023)
Any customers looking at these BT YouView plans will need to remember broadband costs will go on top and factor those in.
The flexibility of BT YouView comes from the fact the above packages can be downgraded and upgraded during the lifetime of a 24-month contract, so customers can change which content they subscribe to through their BT account.
As mentioned above, TalkTalk TV costs a £4 per month flat fee and must also be taken alongside broadband.
Here are TalkTalk's packages:
Package
Broadband
Monthly price
Upfront price
Contract term
TV 4K + Fibre 35
38Mb average
£33
Free
18 months
Offer: NOW Entertainment just £4.99 for 12 months (was £9.99) + NOW Boost free + Free Setup (worth £15)
TV 4K + Fibre 65
67Mb average
£34.95
Free
18 months
Offer: NOW Entertainment just £4.99 for 12 months (was £9.99) + NOW Boost free + Free Setup (worth £15)
TV Hub + Full Fibre 500
525Mb average
£44
£4.95
18 months
Offer: £75 Reward Card + NOW Entertainment just £4.99 for 12 months (was £9.99) + NOW Boost free + Free P&P
TalkTalk TV customers can then add Now TV memberships to their plan at a discount for 12 months:
| Now TV pass | TalkTalk TV price for 12 months | Discount | Price after 12 months |
| --- | --- | --- | --- |
| Entertainment Pass | £4.99 | 50% | £9.99 |
| Sky Cinema Pass | £4.99 | 50% | £9.99 |
| Sky Sports Month Pass | £20 | 41% | £33.99 |
TalkTalk YouView, then, doesn't have much content but serves mainly as a Freeview TV box with customers able to increase their viewing options by using the streaming subscription choices available through the YouView platform.
---
Verdict: who does YouView best?
Overall winner: BT offer a more comprehensive YouView TV service, with the added bonus of being able to record onto the hard drive.
It's difficult to look past BT as a YouView TV provider, despite sharing plenty of similarities with TalkTalk's Now TV based service.
While the TalkTalk YouView service is basic, it does offer some benefits and customers may like their non-recordable Freeview box as a way of watching and pausing live TV and catching up with programmes through streaming services.
But BT YouView has the edge on several counts:
Their TV box is recordable
It has four tuners to allow viewing and recording at the same time
Large 1TB hard drive
Wireless connectivity
It's clear BT offer the best YouView TV box and are fully invested in the platform, even if their TV offering has evolved over recent years.
YouView and BT's partnership is certainly set to continue, despite the box provider making changes to the way they operate in recent years.
However, whether BT TV offers a distinctive enough TV service for customers is still up for debate, and the features of the YouView box are arguably being buried under a cookie-cutter Now TV pass system with a few extras for BT TV customers.
We look at BT versus TalkTalk in more detail in this guide.
Compare your options with our broadband and TV comparison or search just for TV packages.