MOBILE provider Everything Everywhere (EE) has launched its superfast 4G+ mobile broadband in London, promising to provide subscribers with "speeds even faster than fibre".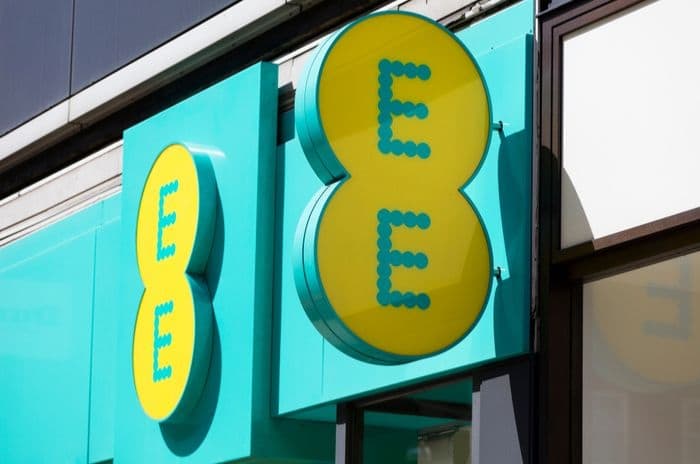 Credit: Ink Drop/Shutterstock.com
The announcement is the latest move in an ongoing battle for customers by the major mobile operators who bought 4G bandwidth in the Ofcom auction of February 2013.
EE claim regular speeds of up to 90Mb will be available under the new 4G+ (LTE Advanced) launch, with a headline speed of 150Mb, though this peak speed will only be available to customers on a 4GEE Extra or Corporate 4GEE plan.
The new 4G+ speeds promised by EE compare favourably with top speeds of around 40Mb registered in previous 4G speed tests in London across the various mobile providers.
EE and LTE-Advanced
EE are able to deliver the new higher speeds by using "carrier aggregation", which binds together bandwidth in different spectrums to increase speed.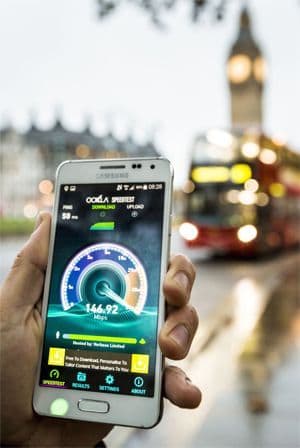 Carrier aggregation is set to fuel the next increase in 4G speeds and is the major benefit of LTE-Advanced, the driving force of enhanced 4G.
EE first announced it's LTE-Advanced in November 2013, when it made it available for a small number in East London's 'City of Tech'.
However, customers outside of Central London will have to wait a little longer to get the speeds promised by the company.
EE plans to continue its roll out of 4G+ coverage across Greater London by June 2015 before extending the service to Birmingham, Liverpool and Manchester.
Vodafone are looking to beat EE to the punch by rolling out their own carrier aggregated high speed networks in major cities outside of London.
For EE customers, achieving the new superfast speeds will also depend on whether they have one of the two 4G+ compatible handsets offered by the company, namely the Samsung Alpha and the Samsung Note 4.
Other handsets supporting LTE-Advanced include iPhone 6 and Google's new Nexus 6.
Battle of the bands
The key to the 4G battleground is those differing bandwidths.
When Ofcom sold off the first swathe of 4G bandwidth, five main operators bought up shares in the different frequency spectrums.
Vodafone and O2 bought the majority of the 800MHz band, which has the best range, while EE, who launched the first 4G network in 2012 on 1800MHz, also grabbed the largest share of the 2600MHz range, which is more effective in densely populated urban areas and is the frequency enabling the 4G+ roll out in Greater London.
Three took a smaller slice of both the 800MHz and 1800MHz bands, becoming the fourth provider that Ofcom wanted on board to help ensure competition.
Meanwhile, BT also bought capacity in the 2600MHz range, while UK Broadband separately picked up two blocks in the 3.4GHz band, ideal for densely populated areas, prior to launching their "broadband without a landline" provider, Relish.
Relish is focused on London, and for people in the specific catchment areas, provides a fluid option and a realistic alternative to the costs of line rental and download limits.
Generally the higher bandwidths offer better data capacity while the lower bandwidths provide better range that enables improved potential coverage, especially in rural areas.
More bandwidth on offer
It might sound like that is the end of the spectrum sell off. But it isn't.
Ofcom have just formalised details of their proposed auction of Ministry of Defence bandwidth in the 2.3 GHz and 3.4 GHz bands due in late 2015 or early 2016.
This is equivalent to three quarters again of the bandwidth sold in the 2013 auction.
The new sell off means the major 4G providers are likely to buy extra chunks of higher bandwidth capacity, driving a battle for domination of the high speed mobile market in the coming years.
Ofcom have also proposed to cap any individual operators share of any particular spectrum to 37% to promote competition and ostensibly drive prices down.
A more diverse future?
Customers looking for the best connectivity options are faced with a myriad of choices, but much still depends on specific location and the bandwidth ranges offered up by individual providers.
Three, although limited in reach, promoted free upgrades to 4G while EE have currently reduced their 4G tariffs.
It's possible that BT will again prove to be the wild card who galvanise the market as they did when they launched BT Sport into the pay-TV marketplace.
They are looking into microchip technology and CEO Gavin Patterson has promised to "shake up" the mobile market, possibly by incorporating 4G into their home hubs. That's a synergy that would allow them to undercut their rivals.
Currently focused on business customers, the company planned to launch to the 4G consumer market in April 2015, although this seems likely to now be delayed by technical issues.