The OnePlus 7 Pro should hit UK shops next week and the regular OnePlus 7 is expected to follow at some point in June.
From a visual perspective, the 7 Pro makes a splash by removing the notch smartphone users have become accustomed to.
Pricing for the 7 Pro starts at £649 and will be available in a choice of three colours: Nebula Blue, Mirror Grey and Almond.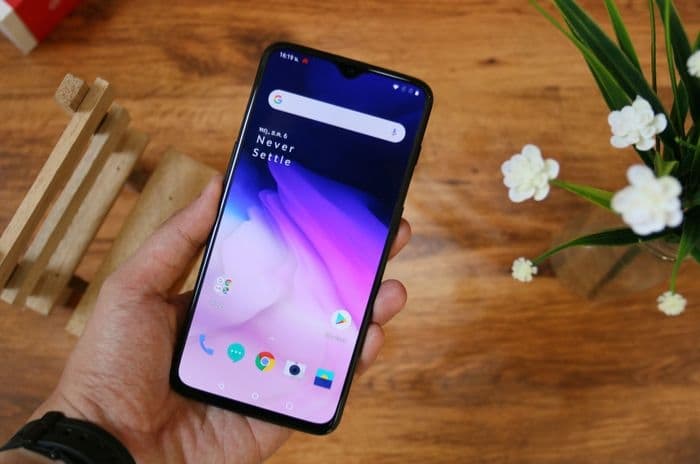 OnePlus move into premium market
Until now, OnePlus have been known for their top-spec smartphones at cheaper prices than the top ranges of major rivals like Huawei and Samsung, but the arrival of the OnePlus 7 Pro changes this.
The 7 Pro is still cheaper than the top tier of their rivals' smartphones by around £250, but it isn't as value-orientated as its predecessors.
It has a large 6.67-inch display which, notably, isn't encumbered by the notch which usually houses the camera on most smartphones. The screen curves at the edges and has remarkably slim bezels to give the impression of an edge-of-edge display.
As for the 16-megapixel selfie camera itself, it pops up from the top of the phone when needed and has apparently been tested over 300,000 times to ensure a lasting mechanism.
Speed seems to be core to OnePlus's strategy, with the new device containing the latest Qualcomm Snapdragon 855 processor and has a refresh rate of 90Hz which is said to improve the smoothness of scrolling and gaming.
Android battleground
The biggest rivals for OnePlus in the premium Android market are Samsung, Huawei and Google, with each manufacturer intent on delivering phones that outstrip their rivals.
Samsung have recently suffered embarrassment with their new flagship Galaxy Fold after the screen cracked for test users and there's been no official confirmation on a fresh release date.
Interestingly, while OnePlus are expanding their offering to include a premium smartphone alongside a more basic model, Google are taking their Pixel range in the opposite direction and introducing budget versions.
It's true the OnePlus 7 Pro doesn't have the best camera on the market, but the three-lens camera marks a huge leap from the previous OnePlus 6T and offers features including UltraShot, Nightscape and Super Slow Motion.
There's also no water resistance labelling on the OnePlus, so if that's a concern, customers may want to look elsewhere.
Nevertheless, as one of the first phones to utilise the latest Snapdragon processor, it's certainly fulfils the criteria as a phone to pay attention to in 2019.
For more on that subject, look at our retrospective on 2018 and our predictions for 2019 in this post here. Incidentally, we saw the notch as a mainstream feature going forward, so OnePlus foxed us on that!
What about 5G?
Regular Choose readers will know that EE is expected to bring a OnePlus 5G-capable phone to market this year, but we don't have firm details on the release date.
The good news is that it will be a 5G version of the OnePlus Pro7, so if the specs and capabilities of this phone are appealing, it might be worthwhile to wait for the 5G option.
5G is coming to the UK in July as Vodafone switch on the technology in seven locations including London, Birmingham and Manchester.
Find out more about 5G here.