Awesome smartphones are nothing new, but 2018 has been something of an exceptional year. Groundbreaking new tech has come our way in the shape of many flagship smartphones, and some of the smaller brand have made a good effort too.
With premium smartphone releases from both Apple and Samsung, 2018 was an exciting year for lovers of the biggest and best. But with these new phones came a new price tag too, with smartphones reaching up and over the £1,000 threshold for the first time.
However, the amount of new tech being packed into even the less pricey models has given us some interesting insight into what's on the cards for 2019. Let's take a look at the best of the year, and what we can expect from mobiles in the coming 12 months.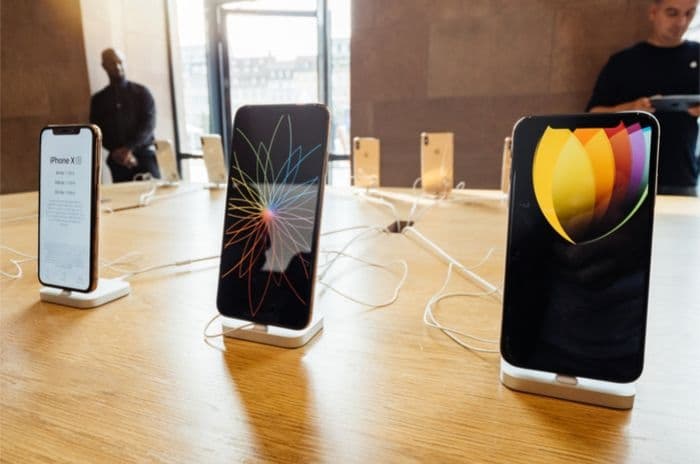 The top premium smartphones
We couldn't talk about the best phones of 2018 without mentioning the iPhone XS. With its huge screen and an amazing camera on board, the XS is one of the fastest and most powerful smartphones money can buy. But with a price tag of up to £1,499, it's not for the budget conscious.
Samsung's rival flagship for the year was the Galaxy S9. Smart looking and packed with features, it rivals the iPhone for speed and agility, while boasting a screen that puts others to shame.
For power users, the Samsung Note 9 kicks things up a gear. The Bluetooth S Pen, huge 4,000 mAh battery and double rear cameras have made this the best Samsung phone we've seen yet.
Although the Samsung phones are hard to beat for functionality, for an Android phone with the latest security and firmware updates, Google will always have the advantage. Both the Pixel 3 and Pixel 3 XL have large screens, the latest processors and huge battery life.
They boast an awesome camera set up too, with Night Sight offering incredible low light photography. Water resistance, wireless charging and up to 128GB of integrated storage have made this a popular choice this year.
But this year, it wasn't just Samsung and Apple who released amazing phones. New flagship models from Chinese challenger Huawei saw the brand outselling Apple in the second quarter, putting them second in the world for popularity.
Their lead phone was the Mate 20 Pro, powerful and glamorous with an eye-catching design. As one of the first to use an in-screen fingerprint scanner, it's setting the bar for sleek design. Its co-flagship model, the P20 Pro, comes with almost everything the Mate does, plus there's a gorgeous gradient version on this model.
All of these smartphones will see you parting with in excess of £600 for the privilege, with some setting you back a whole lot more. So, is it possible to find a good smartphone for less?
The best of the rest
It's not always necessary to break the bank to enjoy decent smartphone technology. As the top end gets more expensive, so too the lower end of the market improves technologically too.
One of the best budget smartphones this year has to be the Moto G6, which can be secured for under £200 and still offers amazing functionality. With dual rear cameras, it's got fast charging, a sleek design and works on Android Oreo.
Another great offering this year came from the Honor 9 Lite, a phone with a RRP of £199 and plenty of decent specs to cope with modern life. The Xiaomi Mi A2 Lite also comes in at under £200 and has a premium style design with an Apple-style notch and dual rear cameras.
The final phone worth a mention at the budget end of the spectrum is the UMIDIGI One Pro Review. Another phone from the Chinese market, on paper the One Pro looks too good to be true. Fast wireless charging, NFC, USB-C and a fingerprint scanner offer premium quality at a tiny price.
As with any technology, the cheaper end of the market is always going to come with some drawbacks. These pocket friendly mobiles may struggle with some of the more demanding games, or may not have the best cameras, but they do go to show you can still get quality at an affordable price.
Tech to look forward to in 2019
Although smartphone design has remained relatively non-eventful in 2018, we're looking forward to seeing what's new for next year. Some of this year's innovations have given us some clues on what to expect.
Edge to edge screens are now closer than ever, with manufacturers employing all sorts of innovative solutions to try and achieve the maximum screen size for the smallest footprint.
In 2018, we saw the 'notch' becoming more mainstream, allowing for more vertical screen space and giving phone makers a place to hide the front facing camera. We've also watched Apple do away with the home button, a move that is sure to be replicated among non-iOS manufacturers too.
In a bid to streamline the screen experience even more, brands such as OnePlus and Huawei have begun embedding fingerprint scanners beneath the screen, further removing the need for a home button.
We've also seen camera technology come on in leaps and bounds, with the newest Galaxies, iPhones, the Pixel 3 and the P20 Pro all producing better photo and video quality than smartphones have been capable of in the past. The use of AI to match settings to lighting shows just how far camera tech has come.
Other notable improvements came in waterproofing of smartphones, which meant in many cases the loss of the headphone jack. Wireless QI charging is fast becoming the standard, with improvements to battery life complementing this tech.
Undoubtedly, we'll see more of these kinds of innovation again in 2019, with tech seen on board flagship phones only starting to filter down to the cheaper models. However, what we'll see from the pack leaders next year could be far more exciting.
From foldable phones to 3D front facing cameras, there's a lot to look forward to in 2019. We expect there'll be far more AI built in too, and with the new Snapdragon 855 chip on the horizon, the capabilities from our pocket pals will be far greater than anything previous.
Although the launch of 5G is encouraging excitement among early adopters, 2019 is unlikely to see more than a handful of handsets released with this capability. 5G networks are still a way off being widely available, so we'll probably see more activity on this in 2020.
One thing which is almost certain is that prices will continue to skyrocket. The sharp intakes of breath when Apple released the world's first £1,000 iPhone X were barely audible when the XR and XS came out, priced even higher than the X.
Although there is yet to be a mainstream Android phone priced over £1,000, we think it's not far off. The Galaxy 10 is bound to be a demonstration in the world's best tech and could set the bar for the most expensive Android phone too.
Overall, 2019 is a going to be a year to look forward to in terms of smartphone tech, but if you want to be the first to own the latest and best, you'd better have deep pockets.
You can compare prices on the latest handsets here.