BT broadband and TV review
AFTER years of being the provider for people who didn't know any better, BT's broadband and TV deals have been experiencing a bit of a resurgence.
That's in large part because more recently BT have been playing to their strengths: decent quality, mid-market priced consumer deals.
Quick jump menu
How good is BT for:

It helps that they've invested millions in fibre broadband, with speeds of up to 76Mb - and have boosted their entry level fibre deals to be faster than most of their rivals - up to 52Mb.
They've also gained significant customer numbers as a result of the effort they've made to expand and develop their TV - mostly through BT Sport - making them a much more serious challenger to Virgin and Sky.
This is our full BT broadband and TV review; and finally answering the question: are BT any good?
BT Broadband
BT's broadband deals are divided by speed from up to 17Mb to up to 52Mb and up to 76Mb with their fibre Infinity service:
Package
Broadband
Contract term
Upfront price
Monthly price
Unlimited Broadband + Weekend calls
Up to 17Mb
Unlimited
12 months
£9.99
£26.99
for 12 mths,
then £40.99
Unlimited Infinity 1 + Weekend calls
Up to 52Mb
Unlimited
12 months
£59.99
£31.99
for 12 mths,
then £47.49
Unlimited Infinity 2 + Weekend calls
Up to 76Mb
Unlimited
12 months
£59.99
£44.99
for 12 mths,
then £53.99
To see prices in full and by postcode see our BT broadband search here.
BT Infinity, launched in 2010, is provided through BT's fibre-to-the-cabinet (FTTC) network, which the provider has been rolling out slowly but steadily across the UK. At the time of this update it covers more than 90% of UK premises.
Infinity 2 offers the fastest connections with speeds of up to 76Mb. In April 2016, BT announced that Infinity 1 was getting a Virgin Media-style speed boost, with new customers automatically being offered the new up to 52Mb connection.
Take a look at our BT Infinity review for a more specific look at fibre.
Of course, the speeds shown above, both for Infinity and for BT's standard unlimited broadband, are "up to" speeds. Ofcom regularly publish tables of the average speeds achieved by users; the latest figures, released in March, show how users were faring in November 2016.
As this was before the introduction of the faster Infinity 1 service, they refer to the up to 38Mb version:
Average download speed during period
Advertised speed
24 hours
Peak time:
8-10pm weekdays
Up to 17Mb
9.1Mb to 10.8Mb
9.0Mb to 10.6Mb
Up to 52Mb
47.7Mb to 48.6Mb
46.9Mb to 47.9Mb
Up to 76Mb
57.9Mb to 60.7Mb
57.0Mb to 59.8Mb
SOURCE: Ofcom, November 2016.
In February 2013, BT dropped their old fair use policy, as it applied to their unlimited deals, a move which lead to them declaring that they could offer "totally" unlimited usage.
After that point, the policy - which had actually only covered traffic on peer-to-peer activity during peak hours (4pm to midnight on weekdays and 9am to midnight at the weekend) - only applied to those with one of BT's capped use products.
Early in 2016 however, even that restriction was removed.
At the time of writing BT are only offering unlimited broadband and have removed their limited download deals.
However, when capped deals are offered, customers don't have to worry about how much data they use when watching on demand TV content through BT TV.
As long as the apps - iPlayer, All 4, and even Netflix - are accessed through the set top box, they won't count towards the broadband download limit, and they'll even receive additional bandwidth so as not to slow down normal browsing.
BT Home Hubs
A major selling point for BT, in broadband terms, is their range of Home Hubs.
The Home Hub 4, provided to standard broadband customers, offers dual band wireless connections using the 802.11b/g/n protocols; the Home Hub 5 and BT Smart Hub added the faster "ac" protocol to the mix.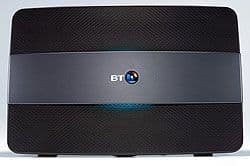 The BT Smart Hub, pictured here, has replaced the Home Hub 5 (below) as BT's router of choice for new Infinity customers.
The Smart Hub has more internal aerials and is configured to support what BT are calling "next generation ac" wireless, which should allow for even faster data transfers.
Whichever Hub BT customers have, they all constantly scan for interference from other devices, dynamically changing the wireless channel to maintain a better connection (as opposed to most routers, which just check for the least crowded channel when they're set up).
Given that speeds lost through wireless routers reduce broadband speeds by up to 30% a good router can make a significant difference to broadband connections.
Each also features a USB port, allowing the Hub to act as network storage space or a printer sharer.
We've looked at how BT's Home Hubs compare against rival hubs in this guide.
Free BT wi-fi and other extras
In addition to the router, provided free, other services come bundled that aren't often provided by other ISPs.
All BT customers can use the BT Wi-fi hotspot network (formally BT Openzone), the UK's largest, free, by logging in with their BT username and password when they're out and about.
While other providers have switched to a line rental only model, BT have recently moved back to offering all new customers weekend calls included as standard.
Users also get free BT Cloud secure online storage, to back up files.
Existing customers with unlimited Broadband (17Mb) and Unlimited Infinity 1 now get 100GB; Unlimited Infinity 2 customers get 500GB of space.
The point here is that while BT broadband deals might not seem like the cheapest around, the extra cost isn't just because of the brand name. There are real benefits included in every package.
What's more, they're not averse to reducing prices for new customers with a good special offer or two. The current crop include the following:
What's on offer?
When you join online for:
Need to know:
£150 BT Reward card with BT Unlimited Infinity broadband.
Hurry! Offer ends today!
24 August 2017
BT Infinity broadband, with or without BT TV.
Upfront costs and 12 month minimum term applies.
£50 BT Reward card with BT Unlimited broadband.
Hurry! Offer ends today!
24 August 2017
BT Unlimited Broadband , with or without BT TV.
Upfront costs and 12 month minimum term applies.
Free phone line installation or reconnection worth £130
With any BT Broadband package
Minimum term applies.
BT Phone
To get broadband, customers must take BT line rental.
While they've recently been ordered to reduce the cost of line rental for landline-only customers, everyone else pays £18.99 - although the total monthly price will vary depending on what other products and inclusive calls are included.
As mentioned above, all new deals come with weekend calls included - with the option to add unlimited evening calls for £3.80 per month or unlimited anytime calls for £8.99 per month.
The return to bundling calls for everyone makes up in part for the fact that BT are almost always in the somewhat ridiculous situation of charging more for line rental than any other provider. Since July 2016 it's been £18.99 a month - compared to just £13.29 in October 2010.
In the past it was possible to shave the equivalent of two months' line rental off the yearly cost by paying upfront - but Line Rental Saver now costs £205.08, a saving of just 10% over 12 months.
At the same time, while it's possible to get Caller ID free of charge, many people have found themselves paying for it. We explain further in this guide. BT also charge for 1571 voicemail - but the monthly fee includes being able to access it from anywhere.
Note, also, that those households needing a new phone line installed - though most won't - can get it done free when they sign up an Infinity package. While those taking unlimited broadband will be charged £30.
Otherwise customers will need to pay £130 for the installation of a new line. Some customers may need to pay a connection fee and there is usually a £50 fee for activating an existing line provided by BT or another provider.
See our new phone line installation guide for more details.
BT TV
Last, but not least, BT TV has gone from strength to strength in the past few years.
The big draws are Youview, which offers Freeview, catch up and some extra channels, and BT Sport - although the appeal of the latter may dampen when BT TV customers have to start paying for it in August this year.
There are now three versions of the Youview box. The smaller basic version has just one tuner and can't record. This is the main box offered to those with standard broadband, with the most basic BT TV package:
Starter: up to 80 Freeview channels, catch up including BBC iPlayer, ITV Player, All 4, and My 5.
Those with BT Infinity have far more choice. They can plump for the Starter package if they want, but they can also take one of the following packages:
Entertainment Plus: Youview+ box and TV Everywhere app. Channels as Starter, plus 28 extra including Comedy Central Extra, MTV Music, and Movies 24.
Total Entertainment: Youview+ 1TB box and TV Everywhere app. Channels as Starter, plus more than 50 premium channels including Kids and HD bundles, and BT Sport Ultra HD.
The Total Entertainment package comes with BT's latest set top box. It looks similar to their existing Youview+ box, but it's ultra HD compatible - for BT Sport Ultra HD - and it has a 1TB hard drive for storing recordings. There's more detail on it here.
Adding BT TV to an existing subscription requires a new 12-month contract. Here's how adding TV when ordering broadband affects the price of some of the available packages:
Package
Broadband
Contract term
Upfront price
Monthly price
TV Starter with Unlimited Broadband + Weekend calls
Up to 17Mb
Unlimited
12 months
£59.99
£24.99
for 12 mths,
then £36.99
TV Entertainment Plus + Unlimited Infinity 1 + Weekend Calls
Up to 52Mb
Unlimited
12 months
£69.99
£39.99
for 12 mths,
then £48.99
TV Max + Unlimited Infinity 1 + Weekend calls
Up to 52Mb
Unlimited
12 months
£59.99
£46.99
for 12 mths,
then £56.99
To see the full range of deals and availability by postcode see our BT TV deals table here.
Set up costs vary according to the exact package chosen and current offers and deals.
Entertainment Plus and Total Entertainment come with a £50 Infinity activation charge - but those taking either package with Unlimited Infinity 2 will get a reduced activation fee - just £20 - making their setup costs £29.99 in total.
BT also offer on-demand content and extras, from extra kids' channels to a second box:
Kids: thousands of on demand cartoons and shows; Kids Extra customers also get nine kids' channels from Nickelodeon, Cartoon Network and Disney channel shows etc. £4 a month
Music: music video playlists, albums and documentaries. £4 a month
Netflix: from £5.99 a month
HD pack: Adds HD versions of 13 of the extra channels, as well as BT Sport in HD. £5 a month
Sky Movies: 11 live channels plus on demand channel. £13.50 a month.
Sky Sports 1 and 2 for £22 a month in SD, or £27 a month in HD.
TV Everywhere with Extra Box: a second Youview box for watching BT TV in another room, plus access on other devices. £5 a month, plus £49 or £99 one-off fee depending on which box we choose as our second.
The live Sky channels, HD pack, and Extra Box are only available for Infinity customers.
BT Sport and Sky Sports
BT have been steadily buying up the rights to sports matches for the past few years.
They now have exclusive rights to many football matches including all of the UEFA League games, numerous Premier League and Scottish Premier League games and FA Cup matches, plus the Aviva Premiership Rugby, MotoGP, NASCAR and others.
BT Sport is free for all BT TV customers within contract, £5 a month for those who have BT Broadband but not BT TV, and at least £5 a month for those subscribing through another TV provider.
See full guide to BT Sport for more on how it works.
As mentioned above, Sky Sports 1 and 2 are also available for £22 in SD for anyone with Infinity. Getting them in HD costs £27 a month.
See this article on where to find Sky Sports the cheapest, and this article if you need to choose between BT Sport and Sky Sports.
Customer service
Let's be honest, few of us have considered taking BT broadband for the service. They're a huge provider with a huge number of variably trained call centre staff.
At one point we might as well have replaced this section with a giant thumbs down picture, but they've improved a lot over the past couple of years, and they're promising to invest in further improving their customer service.
A particular upside is a really well staffed and useful online customer forum which can help with niggling service problems.
So: is BT broadband any good?
All in all, BT have really improved their broadband offering over the past few years, and they seem eager to compete against rival cable provider Virgin Media and pay TV nemesis Sky.
They're also bringing innovation to the market: the smart wireless provided by all their Home Hubs, free BT wi-fi, free BT Sport for TV customers (for now), and launching the first Ultra HD channel in the UK - go a large way to justifying the provider's less than rock bottom prices.
For more on BT's deals - see our main BT deals page here.
23 August 2017
17 August 2017
15 August 2017
Follow us or subscribe for FREE updates and special offers