Broadband speeds have taken leaps and bounds over the last few years, and while the average broadband speed is now 59.4Mb across the UK, over 70% of homes can access speeds of up to 1,000Mb if they want it.
But with faster broadband costing more each month, it's worth knowing what broadband speed you actually need to ensure you're not paying out more than you need to.
Broadband speed requirements come down to how large a household is, how many devices are connecting, and how the Internet is being used, whether that's browsing, streaming or gaming.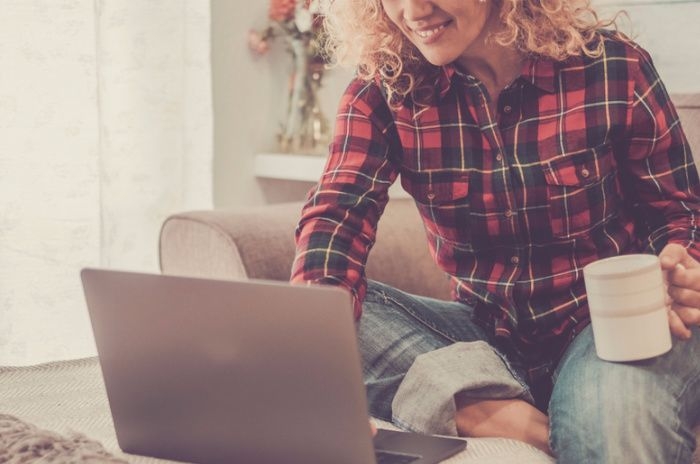 Credit: simona pilolla 2/Shutterstock.com
---
What is a good broadband speed?
A good broadband speed will vary between households and what they're online requirements are, for example if they stream TV, do they watch movies in 4K, or are they downloading large files like console games?
For most households superfast broadband will be adequate, so that's packages with download speeds between 30Mb and 80Mb.
However, larger households, or those with a lot of devices connecting to the Internet at the same time, will notice the benefit of full fibre or cable broadband deals that offer ultrafast speeds of 100Mb or more.
While over 70% of homes around the UK can now access gigabit-capable broadband with average download speeds between 900Mb and 1,000Mb, only the heaviest users, or largest households, really need broadband this fast.
These requirements are reflected in take-up rates of broadband around the UK, with industry regulator Ofcom reporting as many as 73% of homes have superfast broadband, while only 9% of homes that have full fibre availability take the fastest speed on offer, with the majority signing up to 100Mb speed packages.
Overall, as mentioned, a good broadband speed really depends on the household and their individual requirements. This can be looked at in one of two ways. Household size, i.e. the number of people likely to be going online at the same time and sharing the broadband connection, and most common online activities and what speeds that requires.
Broadband activities
For a further look at what broadband speed you might need, it's also worth considering how you use the Internet and what activities you carry out online.
Here are some minimum broadband speed requirements for different online activities:
| | Minimum required broadband speed |
| --- | --- |
| Streaming TV or films in HD | 5Mbps |
| Streaming TV or films in 4K | 25Mbps |
| Zoom meetings or video calls in HD | 3Mbps (4Mbps upload) |
| Xbox Cloud Gaming | 20Mbps |
| Playstation 5 online gaming | 3Mbps |
While these speeds seem low, they're absolute minimums, and because most households will have multiple devices connected to the router, including smartphones, the broadband speed needed will be much higher.
According to the latest Connected Nations report, Ofcom found the average monthly broadband usage of households across the UK is now 482GB.
It's like the high usage is down to streaming services from Netflix and more people watch TV and films on-demand. Downloading console games can also push usage figures higher, with games like Call of Duty having a file size of 220GB for the Black Ops Cold War version.
People who are streaming films and TV, or downloading and playing console games online, will want to consider broadband speeds of around 80Mb or more, to ensure they're not slowed down by other users in their household.
Household size: 1 - 2 people
For households with only one or two people, the broadband speed needed will likely be around 30Mb, unless particularly heavy bandwidth activities are taking place.
30Mb is the entry level superfast tier for fibre to the cabinet (FTTC) connections, and is available to 97% of UK homes from a range of broadband providers.
Prices for 30Mb broadband plans start at around £20 per month.
Household size: 2 - 4 people
Typical families with children are likely to need broadband speeds of between 30Mb and 80Mb.
This size of household is more likely to be using the Internet at the same time, and kids may be online gaming upstairs, while someone else wants to stream TV downstairs.
Having a slightly faster broadband speed will mean everyone get online at the same time without slowing down each other's online activity.
30Mb to 80Mb broadband plans are also available to 97% of UK homes, and prices range from £20 to £30 depending on the provider chosen.
Household size: 5 or more people
Larger households with multiple occupants, such as shared houses, or student houses, will want to consider faster broadband speeds to meet their needs.
It's likely in larger households multiple devices will be sharing the connection and people may be undertaken various online activities from working from home, cloud gaming, or streaming movies in HD.
For households of five or more people the broadband speed they will need is likely to be 100Mb or more, which means looking for full fibre or cable broadband connections that support ultrafast speeds.
While full fibre broadband is currently online available to 42% of UK homes, gigabit capable broadband, which includes Virgin Media, is available to over 70% of homes. In addition, 21% of homes have a choice of two or more gigabit-capable networks, so prices are kept competitive.
100Mb broadband plans are available from around £25 to £30 per month, with the fastest gigabit plans costing between £45 to £55 per month on average.
---
Broadband speeds available in your area
While working out the broadband speed you need is important, it's also worth checking the speeds available to your address, as this could affect what's available to choose from.
Use our postcode checker tool below to find out the fastest broadband packages available in your area:
We know that broadband speeds of at least 30Mb are now available to 97% of UK homes, while ultrafast and gigafast broadband speeds of 100Mb or more are available to over 70%.
Virgin Media have the widest availability for ultrafast and gigabit-capable broadband, covering over 16 million premises across the UK, and offering the fastest broadband with average download speeds of 1.13Gb.
The other major broadband network, operated by Openreach, has reached 9.6 million premises with their full fibre broadband that can provide average download speeds of up to 900Mb.
While broadband providers are racing to rollout faster networks, take-up is still catching up with availability. For example, of the 42% of homes that can access full fibre broadband, so far, only 25% have upgraded, and only 9% take the fastest speed plan available to them.
And where gigabit-capable broadband has reached 70% of homes, only 38% have switched their broadband deal to a gigabit-capable network at any speed. With the majority of full fibre customers opting for the entry level 100Mb plans.
It's arguable then that the vast majority of homes on average speeds of 59.4Mb find their Internet connection adequate for their usage.
Find out what the fastest broadband in your area is.
---
Benefits of faster broadband
Opting for a faster broadband package to meet a household's needs can provide several benefits.
Faster broadband allows more people and more devices to go online at the same time without affecting each other, for example a faster connection will stop 'buffering' and dropouts happening on one or more devices.
A faster connection can also download files in quicker times, as the below table demonstrates:
| | Superfast 30Mb | Ultrafast 100Mb | Gigafast 900Mb |
| --- | --- | --- | --- |
| Music album in MP3 (5MB) | 1 second | <1 second | <1 second |
| 200 photos (200MB) | 1 minute, 2 seconds | 18 seconds | 2 seconds |
| One-hour TV show in SD (1GB) | 5 minutes, 18 seconds | 1 minute, 35 seconds | 10 seconds |
| Two-hour movie in HD (6GB) | 31 minutes, 48 seconds | 9 minutes, 32 seconds | 1 minute, 3 seconds |
| Playstation 5 FIFA 23 (50GB) | 4 hours, 25 minutes, 7 seconds | 1 hour, 19 minutes, 32 seconds | 8 minutes, 50 seconds |
| Xbox Series X Assassin's Creed Valhalla (104GB) | 9 hours, 11 minutes, 27 seconds | 2 hours, 45 minutes, 26 seconds | 18 minutes, 22 seconds |
As you can see, even upgrading to 100Mb broadband speeds make a considerable difference to the time it takes to download various files.
As more of our lives are carried out online with an increase in working from home, video calling, streaming TV shows and films, online gaming and cloud gaming, having a faster broadband speed can allow us to carry out our online activities quickly and without hindrances of slow download times or sluggish connections.
---
Summary: 100Mb broadband soon to be the standard speed
The broadband speed you need will depend on individual requirements, as well as how many people are sharing the connection within a household.
For most homes, superfast broadband between 30Mb and 80Mb will be adequate, but as the full fibre rollout continues and the copper phone line network is eventually retired, 100Mb+ broadband speeds will become the norm.
For now, larger households with multiple users or those carrying out bandwidth heavy activities like streaming in 4K or online gaming may want to upgrade to ultrafast and even gigabit broadband speeds.
To recap, the broadband speeds needed for different household sizes are approximately:
1 to 2 people: 30Mb should be suitable
2 to 4 people: 30Mb to 80Mb will support multiple devices
5 or more people: 100Mb+ broadband should be considered
Read more about how to improve your broadband speeds, or what average broadband speeds mean.