Are green energy deals worth it?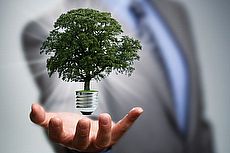 ©iStock.com/BrianAJackson
When we first wrote our guide to finding a green energy provider, it really wasn't that difficult: each of the Big Six did a certified green tariff that offered renewable or low carbon energy, plus various other environmental benefits.
Fast forward to late 2016, however, and none of them are offering an explicitly green tariff any more - and when we asked them recently, none had any plans to introduce one in the near future.
So why are there so few green energy plans out there, relatively speaking - and given that so much more of our energy now seems to be coming from renewable sources, are they still worth it?
Green energy - a history
To see why there are so few green energy deals available today, we need to go back to 2009. This is when Ofgem decided to make it clearer to customers which of the many "green" deals were genuinely green and which were more a case of clever marketing.
Voluntary certification
To that end, they introduced the voluntary Green Energy Supply Certification Scheme (GESCS). Suppliers who signed up would have their tariffs assessed, and as Ofgem put it:
"...a tariff will only be regarded as green if it brings additional environmental benefits beyond the suppliers' existing Government environmental obligations."
The Big Six and Good Energy all signed up, and by 2010 each had their own accredited green tariff; by February 2013 all seven were still offering accredited tariffs: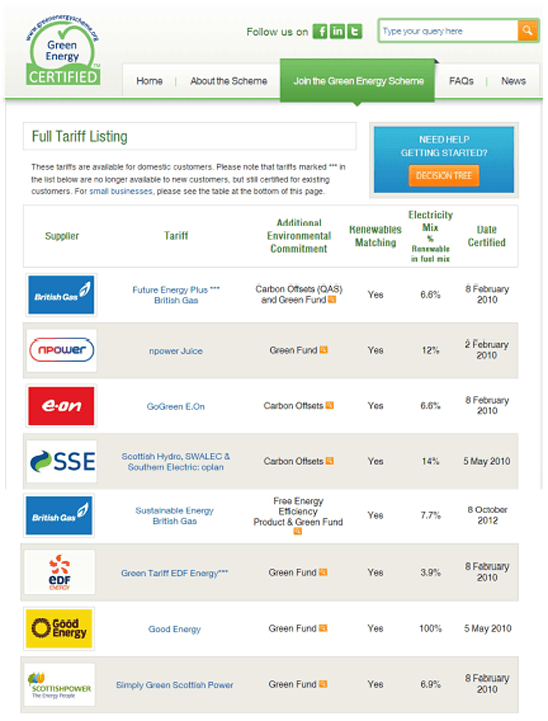 SOURCE: National Energy Foundation GESCS Summary of Achievements. Available here [pdf].
Each tariff had to match their users' energy usage with renewably sourced energy - so, ironically, the less energy a customer used, the less renewable energy the provider was obliged to generate and add to the network for them.
Regarding the "additional environmental benefits", suppliers couldn't just buy or invest in more renewable energy; they had to prove they would make extra carbon savings with each additional customer they signed up.
Suppliers could opt for carbon offsetting, investing in green funds for small scale renewables, domestic efficiency measures, or other projects that produced demonstrable carbon savings.
Green suppliers missing
But because it was a voluntary accreditation scheme, suppliers didn't have to sign up - and one of the UK's biggest green electricity suppliers decided not to, partly because their decision to invest their profits in more of their own renewable generation capacity meant that they failed the "additional benefit" criteria.
A report [pdf] from the National Energy Foundation (NEF) also explained how two smaller green energy suppliers decided not to join because they couldn't justify the cost given their limited customer base.
The result was that by 2013, Ofgem estimated that there were as many households signed up to non-accredited tariffs as were signed up to the certified plans - which helped persuade Ofgem to drop the GESCS in favour of a mandatory licence condition that would apply to any company claiming to supply green electricity.
Simplifying the energy market
At the same time as they were debating whether to continue the GESCS, Ofgem published their plans to simplify the energy market for domestic customers, chief of which was a limit on the number of tariffs suppliers could offer.
From being able to offer as many plans as they liked - which resulted in more than 300 tariffs from fewer than 15 suppliers in 2011 - each company was restricted to offering just four core plans per fuel.
An unfortunate side effect of the GESCS was that it showed the Big Six how few of their customers were interested in green energy from them - so when the restrictions came into force, none of them were expected to include a green energy plan in their core tariffs.
In the meantime, there were increasing concerns about the way energy prices were rising - and a Competition and Markets Authority investigation had been ordered into the energy market - so most providers decided to focus on offering the cheapest rather than the greenest deals.
Are green energy deals worth it?
For an energy tariff to be considered green these days, the supplier must commit to matching usage, as outlined above, but the carbon saving element of the "additional benefit" requirement has gone.
So that begs the question: are green energy deals still worth it?
The first thing to consider when trying to answer that question is how green we want our energy to be.
Dark green
According to the Government's Department for Business, Energy and Industrial Strategy UK, in the year ending March 31st 2016, almost 25% of the energy produced in the UK was from renewable sources. EU targets aim to raise this to 30% by 2020.
But some companies include proportionally more renewable energy in their supplies than others, with a good handful now selling electricity from 100% renewable, or mostly renewable sources.
It should be fairly easy to find out which companies are more green in this sense, as all UK electricity suppliers are required to publish details of how much of their energy comes from what source every year: it's often possible to find this fuel mix disclosure (FMD) on their websites.
It's also worth having a look at the table compiled by electricityinfo.org, which shows the fuel mix data for all the UK's domestic energy suppliers.
This throws up some interesting results: Green Energy apparently source a smaller percentage of their electricity from renewables than British Gas, for example.

SOURCE: electricityinfo.org
But the companies that place a high value on renewables, or declare themselves green, also tend to avoid nuclear if they can - and if we need a gas supply, there's no way to be 100% green - yet.
Lighter green
So, as we explain in greater detail in this guide, most of the green electricity suppliers who offer dual fuel plans fall back on the new definition of "additional benefit" to provide their gas, and to generate the electricity they can't provide through renewable sources, rather than using nuclear or coal.
They and other companies who don't have such a glowing fuel mix still need to match our usage, unit for unit, with renewably sourced energy, but then they can keep up their green credentials by investing in additional renewable capacity, donating to a green fund or similar.
In one sense, then, the more of us who sign up for these "lighter" green tariffs the better, as the more energy usage they need to match, the more demand there'll be for renewable energy generation - and the darker green they'll become.
This is particularly important given that as energy prices are on the rise again, more of us than ever are trying to use less energy for more than just environmental reasons.
Price
On this last point, it's worth bearing in mind that even the darkest green energy we've outlined above, with electricity from 100% renewable sources and as much "green gas" as is currently possible in the UK, is no longer prohibitively expensive.
Even just a few years back, the trend among the bigger green energy suppliers was to offer to match or just beat the "local" supplier's standard variable tariff - which is often at the higher end of prices in any particular region.
But subsidies, increased scrutiny - and the lowering of the Big Six's prices - have helped make green energy cheaper; we've also had three new "dark green" providers arrive on the scene since 2012.
These suppliers have had little choice but to be competitively priced from the start - although they have also benefited from the efforts made by their bigger and older rivals, as the infrastructure - wind turbines, solar panels and the like - is now cheaper and more efficient than it once was.
Finding the balance
Given that one of the main reasons for the disappearance of many green energy deals was Ofgem's core tariffs rule, it's possible we may see more appearing again in the future.
That's because the CMA have decided to ditch Ofgem's "simpler tariffs" rules, saying that the restrictions prevented suppliers from creating tariffs for various different kinds of customer - like those who'd like a green deal from a familiar name.
There's a clear balance required between thinking long term - increasing energy efficiency, reducing the use of fossil and non-renewable fuels, and so on - and needing to appeal to customers in the shorter term with attractive prices.
And yet both MPs and the energy industry have been driven to voice their concerns about Government efforts to balance those requirements.
That means that it's largely down to us to decide if the extra effort - and yes, sometimes the extra cost - involved in looking for a green energy deal is worth it or not, but for the reasons above we'd say they're very much worth considering.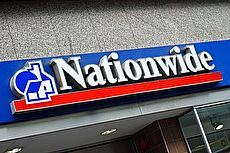 16 November 2017
13 November 2017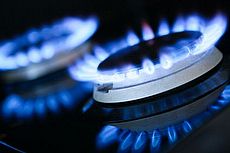 8 November 2017
Follow us or subscribe for FREE updates and special offers