In a quarterly report published by Ofcom, the number of complaints made to the regulator regarding domestic services has been revealed. Coming out on top for broadband, landline and pay-TV, Sky was the least complained about operator, and for pay-monthly mobile, Tesco topped the list.
The report takes into account issues raised about landline telephone, broadband, pay-TV and pay-monthly mobile. Only companies with at least a 1.5% market share are included in the report.
This latest report is based on figures collected between January and March this year. In general, there were fewer complaints made about broadband and landline services compared to the last quarter, although the figures for mobile and pay-TV remained fairly consistent.
It's not the first time that both Sky and Tesco have performed well in this report. Ofcom said that both companies had performed consistently well compared to the industry averages for 'several years'.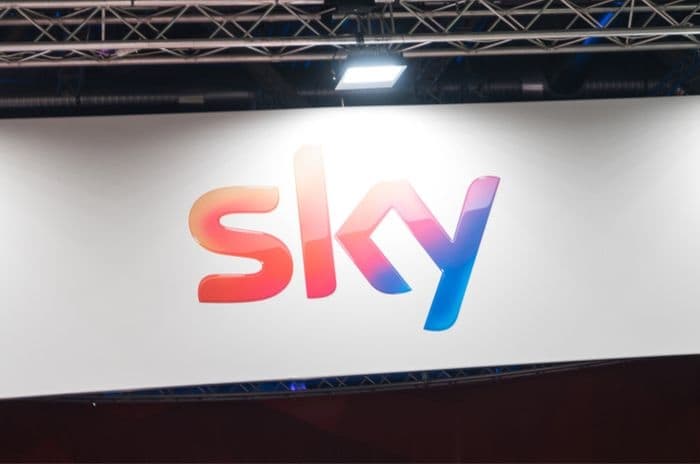 The most complained about home broadband services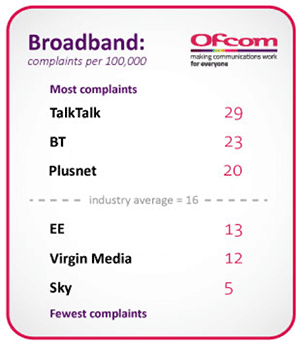 In the table of most complaints, three providers performed worse than the industry average of 16 complaints per 100,000 customers. The other three performed significantly better, with Sky achieving 24 complaints fewer per 100,000 customers than the worst performing provider.
In the previous quarter's report, Sky, Virgin and EE similarly performed well against the industry average. Escalating a complaint as far as the industry regulator suggests poor customer service by the provider, as they have been unable to satisfactorily resolve the complaint themselves.
The most complained about landline services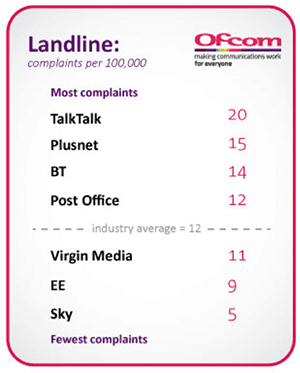 For landline provision, the industry average was 12 complaints per 100,000 customers. Sky and EE came out on top again, with both the Post Office and Virgin Media achieving roughly the industry average.
General satisfaction with landline services has increased in this quarter, possibly driven by a reduction in landline costs as a result of a previous Ofcom review.
The most complained about pay-monthly mobile providers
For the first time, this report sported the addition of iD Mobile, as they have now reached the 1.5% market penetration threshold required to be included. Of the nine providers reviewed, four managed to achieve a lower than industry average number of complaints, with Tesco Mobile receiving only one complaint during that quarter.
With just three complaints, EE have made a significant comeback since 2015, when they received a £1m fine from the regulator for poor handling of customer complaints. Their overhaul included bringing more jobs back the UK, as well as creating 500 more customer service positions, which certainly seems to have paid off.
The most complained about pay-TV services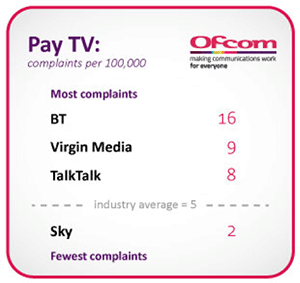 Complaints about BT's pay TV service have been high for quite some time now; in fact, since 2012 it's held the somewhat dubious title of 'most complained about TV service'. Problems with a lack of content, poor selling strategies and bad support have led customers to raise complaint after complaint.
Sky, on the other hand, have topped the league for least complained about provider for more than two years now. With a wide range of deals, a loyal customer base and, of course, the well-received Sky Q box being rolled out, Sky TV is still the top choice of many customers more concerned with service than price.
Vote with your feet
Ofcom receive around 300 complaints per day from consumers. The regulator is unable to actually resolve complaints, but do offer advice and guidance to consumers who contact them. Information gathered from complaints may be used later on to inform or launch investigations, but finding out how to complain and voting with your feet is often a more productive strategy.
Comparing offers from other suppliers can open the door to a lower cost deal, as well as offering options for better customer service too.