Ofcom's latest telecoms and pay-TV complaints report reveals TalkTalk and Vodafone are the most complained about broadband providers.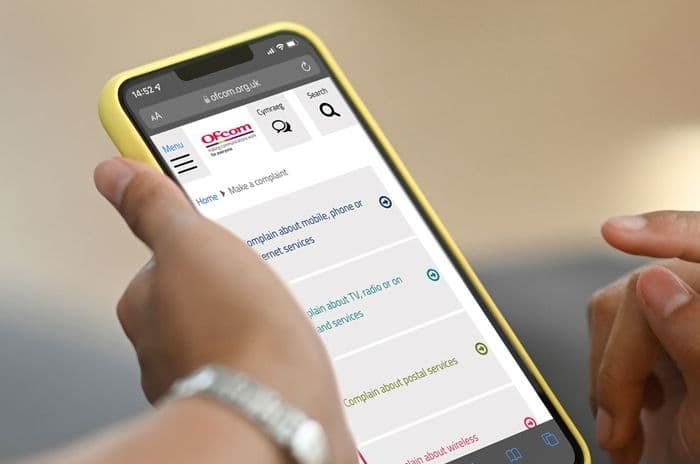 Source: Ofcom
This week the UK telecoms watchdog published a series of league tables based on data collected between October and December last year, which rank the UK's mainstream providers of home broadband, landline phones, pay-monthly mobile and pay-TV services.
Overall the number of complaints received across all service areas for the last quarter of 2017 remained the same as the previous period.
There was also little movement in league table positions too, with most providers receiving a similar number of complaints as the previous quarter.
Broadband complaints
TalkTalk received 31 complaints per 100,000 complaints made and the most cited reason for complaints were "faults and other problems" with their services.
Broadband complaints per 100,000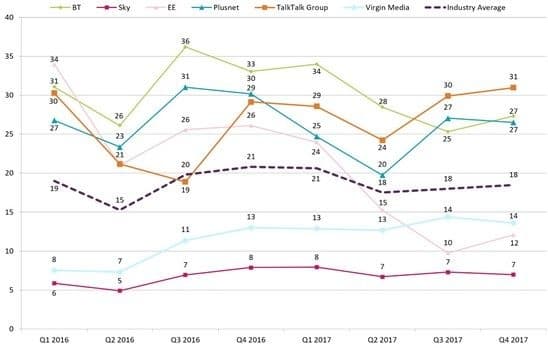 Source: Ofcom, Telecoms and Pay-TV complaints data, April 2017
BT and Plusnet weren't far behind, with both receiving 27 complaints per 100,000 complaints made.
Whilst Sky and EE were the least complained about providers, receiving 7 and 12 complaints per 100,000 made respectively; well below the industry average of 18.
For a more comprehensive review of customer service across the UK's main ISPs visit our comparative guide.
Landline complaints
TalkTalk also topped the list for the most complained about landline services too. They received 23 out of every 100,000 complaints made, up two points from last quarter.
Landline complaints per 100,000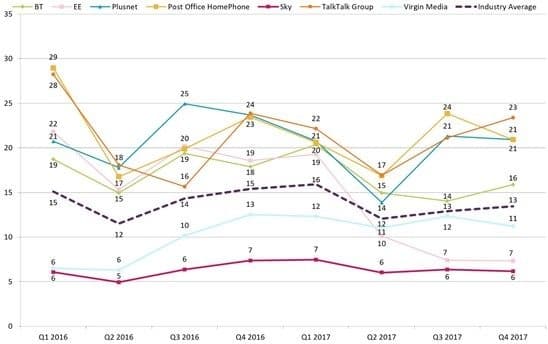 Source: Ofcom, Telecoms and Pay-TV complaints data, April 2017
About their poor performance in both the broadband and landline categories TalkTalk commented: "We always strive to provide the best possible experience, and are disappointed by these results."
They also cited the "closure of our contact centre in India" as the main reason behind the disappointing figures, saying it had "caused some temporary disruption".
However, TalkTalk's overall customer satisfaction rates may be set to increase in light of their recently released broadband deals, which offer customers great value for money. The company now offer the UK's lowest fixed price broadband as well as the UK's cheapest fast broadband plan.
Plusnet and the Post Office were the second most complained about companies, each receiving 21 per 100,000 complaints received, and considerably higher than the sector average of 13.
EE and Sky performed well in the landline category with just 7 and 6 complaints in every 100,000 made.
Mobile complaints
In the mobile division, Vodafone and BT maintained their positions at the top as the most complained about providers. Both racking up just one more complaint than they received in the last quarter per 100,000 complaints.
Mobile complaints per 100,000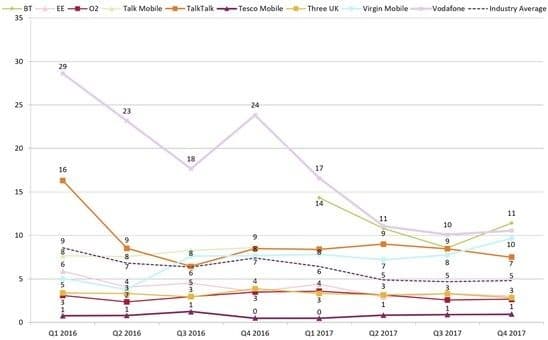 Source: Ofcom, Telecoms and Pay-TV complaints data, April 2017
Whilst there wasn't much change at the bottom of the table either. EE, Three, O2 and Tesco remained the least complained about companies. All receiving the same number of complaints as last year with 3, 3, 3 and 1 complaints per 100,000 recorded for each.
EE's good performance, slightly below the industry average of 5, was perhaps surprising given the rise in network outages the company experienced last year which caused significant disruption to customers.
Pay-TV service complaints
The biggest change in this category was the volume of complaints the most complained about provider BT received. The company have suffered from poor customer service ratings in the past and this trend doesn't seem to be reversing anytime soon.
Pay-TV complaints per 100,000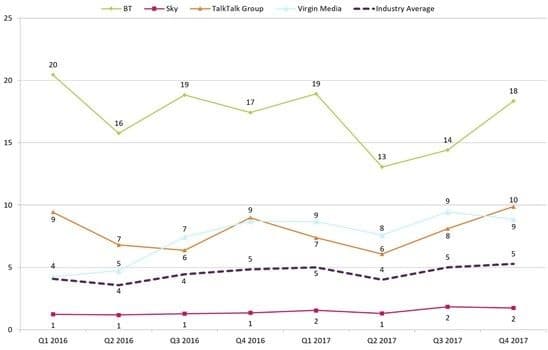 Source: Ofcom, Telecoms and Pay-TV complaints data, April 2017
Their share jumped from 14 to 18 complaints per 100,000 made. This was way above the industry average of 5 and significantly higher than figures for other providers with TalkTalk, Virgin and Sky getting just 10,9 and 2 complaints per 100,000.
The main reason for complaints made against BT's pay-TV services were related to complaints handling, pricing and billing issues.
Figures provide insight into standards of service
Ofcom's Director of Consumer Policy, Jane Rumble, said: "These figures give people the information they need to shop around and compare providers' performance.
"The scorecards also motivate companies to improve their performance, and we want to see them follow through on their promises to give customers better service."
However, these figures only report on one aspect of service. Next month Ofcom will publish their annual comparison report on telecoms services. This will give a fuller account of overall service standards, by reporting figures for customer satisfaction rates, average broadband speed data and other areas of service.