TalkTalk is now offering customers its Fast Broadband deal for just £17 per month, making it the cheapest on the market at the moment.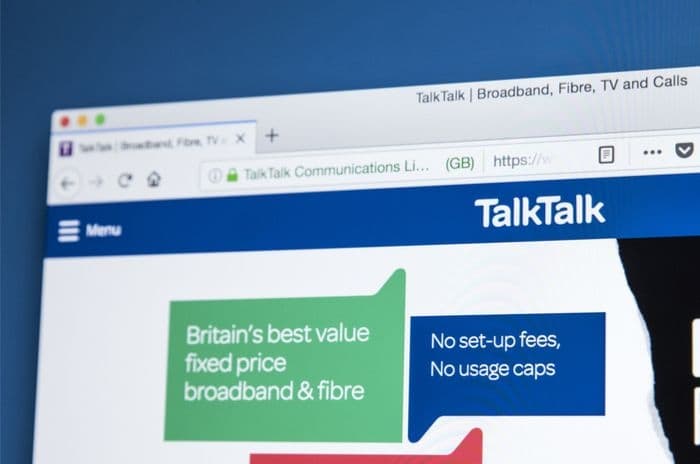 Credit: chrisdorney/Shutterstock.com
The £17 per month plan is for a 12-month fixed-term contract with download speeds of up to 17Mbps. It also includes line rental and set up, which makes it even more attractive.
As it's a fixed price plan, customers won't have to pay a penny more than the £17 monthly cost for the duration of the 12-month contract, which is a grand total of £204 for the year.
This offer from TalkTalk, which is available until March 28th, places the company at the competitive forefront of the broadband market, offering a package at prices that were last seen back in 2016.
Benefits of the plan
In addition to being the cheapest on the market, the new TalkTalk deal includes a powerful super router and completely unlimited usage, as well as security and parental controls through TalkTalk's Home Safe service.
Customers also have the option of paying an additional one-off fee of £25 for a TalkTalk TV box, which offers 80 Freeview channels and lots of on-demand services. This option retains the low £17 per month broadband fee but takes the total annual package cost to £229.
However, one of the main benefits for customers choosing this TalkTalk package, or indeed any of their packages, is that they really do champion fixed price broadband deals.
For example, in addition to the 12-month Fast Broadband deal, customers can take out both 18-month and 24-month fixed-term deals at a cost of £27 per month.
Although this means that customers who wish to fix their monthly price for longer end up paying a bit more, they also have the peace of mind that for the duration of their contract they know exactly what to expect and their bills won't rise.
What else is on offer?
TalkTalk do offer a couple of additional Fast Broadband packages that include more extensive TV offerings than what's available with the standard TalkTalk TV Box.
Customers can take out the Fast Broadband + TV Box + TV Select package, which includes the 17Mbp broadband and the standard TV Box but with the addition of TV Select, which includes 13 extra channels, including six Sky channels, and over 200 hours of on-demand TV.
This costs £24 per month including line rental but has an additional TV box cost of £25 and therefore comes in at £313 for the year.
Alternatively, the Fast Broadband + TV Plus Box + TV Select package is also available for £24 per month and includes everything in the previous package, but with the enhanced TV Plus Box. This requires an additional box cost of £50, meaning that this package comes in at £338 for the year.
However, for those who want a faster broadband connection, package prices do start to increase.
TalkTalk's Faster Fibre Broadband offers speeds up to 38Mbps through a fibre connection. Like with the Fast Broadband package, subscribers also benefit from unlimited usage with no caps and no set-up fees. This offer is also only available until March 28th.
It requires an 18-month commitment to benefit from the fixed priced of £22.50 per month, but this is the UK's cheapest fibre package at the moment. This broadband package comes in at £405 for the duration of the contract.
For those who'd like to benefit from a longer fixed price contract, Faster Fibre Broadband is also on offer with a 24-month contract for £33.50 per month, which comes in at £804 for the length of the contract, or £402 annually.
Fibre expansion
All of this comes at a time when TalkTalk is planning on creating its own fibre network during the course of a five-year plan to target mid-sized towns and cities.
Charles Dunstone, founder of TalkTalk, said the company was "making good progress towards putting Talktalk at the heart of Britain's fibre future by building a full-fibre network, bringing faster, more reliable internet to millions of homes and businesses."
The new initiative will be part of a large push towards fibre connectivity from telecommunications companies and will complement BT's focus on connecting fibre to large cities.
The move was welcomed by Digital Minister Matt Hancock, who said: "It's fantastic to see TalkTalk stepping up to the plate."
More information.
We've got an extensive TalkTalk broadband review available here and useful information on how reliable TalkTalk and other broadband providers are here.
We also compare TalkTalk and BT's broadband in this guide and do the same for TalkTalk and Plusnet here.