BT have announced they are to cut the bills of their landline-only customers by £7 a month, after a review from Ofcom concluded that such customers have been receiving "poor value for money in recent years".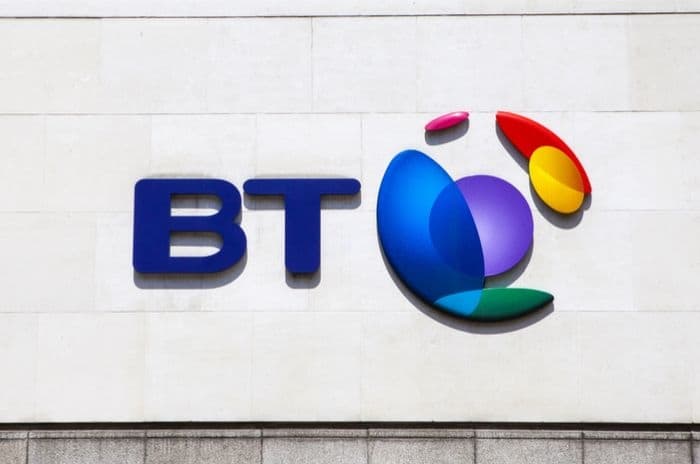 Credit: chrisdorney/Shutterstock.com
According to Ofcom, this reduction will save as many as one million customers as much as £84 a year, with a clear majority of such customers (64%) being over 65.
Explaining the rationale behind the price reduction, Ofcom stated that 77% of landline-only customers had never switched provider, with competition in the landline-only market being restricted in comparison to the broadband and mobile industries.
Yet there are a number of other providers besides BT who do offer a landline-only service, and the fact that Ofcom are cutting BT's price could potentially damage these providers, insofar as BT's customers will now be even less inclined to ever make a switch.
47% in real terms
Ofcom's decision to cut bills for landline-only customer stems from the review into the market for standalone landline services they announced in December.
As part of the review, they found that prices for standalone line rental services had risen by anything between 23% and 47% in real terms between December 2009 and June 2017, while the wholesale cost of providing such services had actually decreased by 27% in real terms.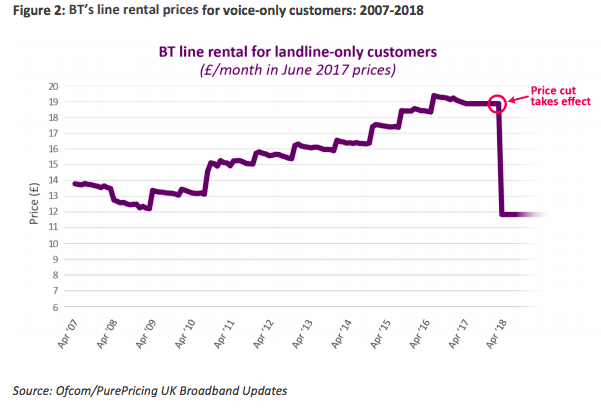 Commenting on such rises, Jonathan Oxley, Ofcom's competition group director, has said, "households who only have a landline - and no broadband - have seen their phone bills soar. Many are elderly, and have been with BT for decades".
Because of this, the regulator proposed cutting monthly bills by between £5 and £7, setting charge controls so that future rises wouldn't be too high, and establishing "engagement remedies" so that landline-only customers were made more aware of their switching options.
Well, it seemed that BT agreed with their consultation, since they responded to Ofcom's review by submitting a voluntary proposal - which Ofcom have accepted - to do pretty much everything the regulator requested.
Voluntary agreement
The proposal (voluntarily) commits BT to reducing the line rental monthly fee paid by their voice-only customers by £7, with this reduction coming into effect from April 2018.
Added to this, BT have promised to raise prices after this cut by no more than inflation (currently 3%) each year. Given that the monthly bill after April will be roughly £12, this means prices will likely increase by 36p in April 2019 (assuming that inflation remains at 3%).
However - and here's the catch - BT's commitment will last only until April 2021, when they'll once again be able to raise prices to any extent they deem fit (a similar three-year freeze is in place for BT Basic).
That said, as per Ofcom's initial proposals, they've also committed to improve their communications with their "voice-only customers to provide information on potential savings and the switching process".
Similarly, Ofcom themselves are currently engaged in another public consultation, this time on what measures would help customers engage to a greater extent in the telecoms market.
So, in theory, by the time BT's voluntary endeavour to keep voice-only prices down for their customers has run its course, these same customers will be engaged enough to switch to a rival provider should they be unhappy with their bills.
Removing the incentive?
Yet the thing is, cutting bills by 37% - or £84 a year - severely undercuts any incentive a customer might ever have to leave one provider for another.
For instance, there are a number of providers - Origin Broadband, Virgin Media, Sky, and the Post Office - who sell landline-only services, and at the moment three of them sell at lower prices than BT.
Origin Broadband, for one, currently sell their Origin Line service at £17.99. Even better, the Post Office sell theirs at an introductory price of £15 for 12 months, and then after the first year they increase the price to £16.99.
Package
Monthly fee
Post Office Home Phone
£15 for 12 mths, then £16.99
Virgin Media Line Rental Saver
£196 for 12 mths
(equivalent to £16.33 a month)
Origin Broadband Origin Line
£17.99
Sky Line Rental
£18.99
BT Line Rental
£18.99
Given that savings relative to BT's prices can already be made on a standalone line rental, it must be disappointing for the cheaper providers above to see that BT have effectively been forced into accepting an artificial price cut.
Added to this, rather than encouraging greater switching and shopping around right now, BT and Ofcom are taking away the need to shop around at all, such that attempts to engage customers in the landline-only market will probably be almost entirely ineffectual.
Which potentially means that, by the time the three years of BT's voluntary price control have passed, voice-only customers will be no more likely to save themselves money than they were before.