Now offer budget deals with inclusive anytime calls to most of the UK, with their top speeds coming in at around 63Mb.
Meanwhile, Virgin Media deliver broadband to around 15.5 million premises and offer entry-level speeds of 54Mb and top packages featuring speeds in excess of 1Gb.
Overall, Virgin Media is a great broadband choice where available, but Now Broadband deals will suit most households, especially those who make a lot of landline calls.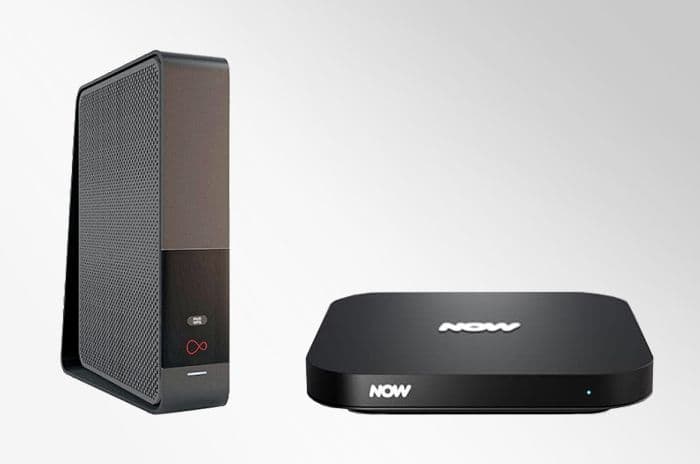 ---
At a glance
Now Broadband
Virgin Media
Price
From £18
From £28
Basic broadband
11Mb
None
Superfast broadband
36Mb, 63Mb
54Mb
Ultrafast broadband
None
108Mb, 213Mb, 362Mb, 516Mb, 1.1Gb
Home phone
Included
Included
Inclusive calls
Anytime
Inc. mobiles
Talk Weekends
Exc. Mobiles
Anytime UK calls
Included
£8 per month
TV
Add Now TV
Add Virgin TV
Minimum term
1 month, 12 months
18 months
---
Broadband deals
Winner: Virgin Media has a faster range of broadband deals, although Now is cheaper.
The broadband deals offered by Now and Virgin Media are very different.
While Now focuses on low-cost copper and superfast broadband plans, Virgin Media operates their own ultrafast broadband network with most of their deals offering speeds of more than 100Mb.
As such, it can be difficult to compare the two providers based on packages alone. Here are some of their deals side by side:
Package
Broadband
Monthly price
Upfront price
Contract term
Brilliant Broadband
11Mb average
£20
£10
12 months
Offer: Now TV membership at reduced price for 12 months. Price may change again during the minimum term.
Fab Fibre
36Mb average
£24
£10
12 months
Offer: Now TV membership at reduced price for 12 months. Price may change again during the minimum term.
Super Fibre
63Mb average
£24
£10
12 months
Offer: Now TV membership at reduced price for 12 months. Price may change again during the minimum term.
M250 Fibre Broadband + Weekend chatter
264Mb average
£40
Free
18 months
Offer: No setup fee (was £35)
M350 Fibre Broadband + Weekend chatter
362Mb average
£46
Free
18 months
Offer: No setup fee (was £35)
Note: Virgin also offers landline free versions of their broadband plans and offer speeds of up to 1Gb. For the purposes of comparison, we've included some of their slower plans here.
As the table demonstrates, Now's broadband deals are focused on the low end of the spectrum with speeds of up to 63Mb available whereas Virgin's deals start from 54Mb.
On their most comparable package (Now's fastest deal and Virgin's slowest), Now is cheaper for slower speeds, but that's the best direct comparison we've got.
In reality, customers will usually be looking to Now and Virgin Media for different types of broadband deal, so whether they think it's a good package or not will largely be down to their own personal requirements.
One further point: Now offer anytime calls to landlines and mobile with their broadband plans as standard while the Virgin packages listed in the table above only include weekend calls to landlines. Talk More Anytime with Virgin is an extra £8 per month.
No contract broadband
Now offer no-contract broadband for the same price each month with just a larger set-up fee to contend with (£65 instead of £5).
For some customers, this flexibility is worth the higher set-up fees, and it's notable that Now don't charge extra monthly fees for no-contract broadband as some of their rivals do.
Virgin Media used to prominently offer no-contract broadband on their website, but these deals have largely vanished and, if they are available, they're not widely advertised and it can be assumed that Virgin isn't keen on promoting them.
Availability
It's worth pausing to understand how availability differs between Now and Virgin Media.
While Now Broadband services are delivered via the Openreach superfast network that reaches 96% of the UK, Virgin operate their own network which only reaches just over half of the population (15.5 million).
So, far more customers are going to have access to the superfast speeds offered by Now than the ultrafast speeds offered by Virgin, and that may be the deciding factor when it comes to deciding between the two providers.
Can you get Virgin Media in your area? Find out.
---
Price
Winner: Now is the cheaper option and includes anytime calls as standard.
If we're looking at broadband deals based solely on how affordable they are, Now Broadband plans win every time.
They start at lower prices and their superfast broadband deals are highly affordable in comparison to Virgin's entry-level deals.
The set-up costs charged by Now are also cheaper, with customers paying £5 for postage and packing rather than the £35 we see with Virgin.
Even if customers choose a 1-month rolling deal with Now, they will pay only £65 upfront - an extra £30 compared to Virgin, yes, but some would say a small price to pay for convenience.
---
Speed
Winner: Virgin Media offers much fastest broadband speeds.
Now is a copper and superfast broadband provider, so the maximum speeds they can offer customers are 63Mb.
Conversely, Virgin Media specialise in ultrafast and gigabit capable broadband with their top speeds of 1Gb now available across the whole of their broadband network.
It means there's really no contest when it comes to Now vs Virgin for speed. Even choosing one of Virgin's mid-range packages of 213Mb or 362Mb means customers are getting speeds several times faster than the ones available on Now Broadband.
Learn more about the fastest broadband providers in the UK.
---
Routers
Winner: Virgin Media has a superior range of broadband routers.
Now provides their customers with a repackaged version of an old Sky router - the Now Hub Two.
As we'd expect from an older generation of router, it's a little outdated now, even if it features the same WiFi Standard and WPA2 security offered by the older models of Virgin's router that are still offered to some customers.
The Now Hub Two is a perfectly serviceable router, but it can't compare to the power of the Virgin Hub 5 that took the top ranking in our guide to the best broadband routers available from UK providers.
The Virgin Media Hub 5 features the latest Wi-Fi 6 standard and WPA3 security, both a step up on the Now Hub Two (and earlier Virgin routers).
Yet, so far, Virgin is only supplying the Hub 5 to existing customers, so new sign-ups will get the Hub 3 instead.
This has similar specs to the Now Hub Two, but it also includes firmware updates to improve the power of the router and is compatible with Virgin's Intelligent WiFi Plus system.
Intelligent WiFi Plus is a boosting system featuring enhanced firmware and mesh pods to help boost the wi-fi signal around the home.
It costs £5 per month for broadband customers on top of their usual fees or those on Ultimate Volt and Gig1 broadband packages will get it included as standard.
Overall, Virgin Media's routers and their associated features beat Now's basic no-frills hub.
---
TV
Winner: Virgin Media offer a comprehensive TV service to their customers.
Now and Virgin both offer TV services to their customers, but they are very different options.
Now broadband customers can usually get discounts on taking certain Now TV Memberships such as the Entertainment Membership or the Sports Membership.
These can be taken independently of broadband anyway, so anybody can sign up, but broadband customers will often get some incentives to bundle services together.
Here are some examples:
Package
TV
Broadband
Monthly price
Upfront price
Contract term
Fab Fibre + Entertainment Membership
24
36Mb average
£30.99
for 6 mths,


then £33.99

£10
12 months
Offer: Now Entertainment £6.99/mth for 6 months
Super Fibre + Entertainment Membership
24
63Mb average
£30.99
for 6 mths,


then £33.99

£10
12 months
Offer: Now Entertainment £6.99/mth for 6 months
On the other hand, Virgin Media offer a full range of TV services that are only available if a customer signs up to their broadband plans as well.
Customers can take a Freeview-based service and supplement it with premium channels in the Big Bundle or upgrade to the Bigger Bundle or Ultimate Volt for a more comprehensive entertainment experience.
Here are some examples for TV deals alongside broadband:
Package
TV
Broadband
Monthly price
Upfront price
Contract term
Big bundle
101
264Mb average
£31.99
Free
18 months
Offer: No setup fee (was £35)
Bigger Combo bundle
190
264Mb average
£39.50
Free
18 months
Offer: No setup fee (was £35)
There are plenty of customisation options available for Virgin TV and it's a complete TV service that includes a high quality set-top box in the form of the Virgin TV 360 too.
However, it does depend what customers are looking for.
If they would prefer a simple streaming subscription to go alongside their broadband then Now may be the right choice. Of course, there's nothing to stop customers taking Virgin Media broadband and getting a separate TV subscription from Now TV to go alongside if they'd prefer to do that.
---
Customer service
Winner: Now have average to good customer service.
Now and Virgin Media have difference approaches to customer service.
Now provide broadband on a budget, so they prefer customers to solve their own issues wherever possible and have a series of help articles on their website. This can make it difficult to get through to an adviser on the phone, something that frustrates some customers.
There is limited official data on how Now broadband customers find the service, so Choose ran our own survey in October 2021 looking at how customers rated the service they received.
Our survey of 178 customers found the majority rated Now 3 out of 5 for customer service, with 7% rating them as 1 and 26% giving them a 5 out of 5 rating. This suggests the typical customer experience is average to good.
We've got more data when it comes to Virgin Media who are included in Ofcom's annual customer service data and their quarterly complaints figures.
It hasn't been great news for Virgin since 2020 with some troubling data on the length of time it took advisers to answer the phone in Ofcom's Comparing Service Quality 2021 report and middling ratings on other metrics.
This was compounded when their complaint figures for Q1 2021 ranked them as the worst major provider for complaints, although they improved those figures later in the year.
It seems that Virgin Media is on a positive trajectory, but their complaint figures remain high so we're cautiously plumping for Now on this one.
---
Verdict: Now or Virgin?
Overall winner: Virgin Media offers faster speeds and better hardware, even if Now is the cheaper provider.
Virgin Media offers a lot to broadband customers.
As well as the ultrafast speeds and excellent equipment, it's possible to combine Virgin broadband with a comprehensive traditional TV service with a recordable set-top box that's one of the best on the market.
The major problem with Virgin Media broadband stems from its availability and the fact that many customers who want to sign up to their services simply won't be able to.
If Virgin Media isn't available, is Now Broadband a good substitute?
It's important to remember that the two services are different and that the speeds offered by Now can't match up to those offered by Virgin. Yet Now does still offer customers the chance to combine broadband with TV content, and even to access some channels that aren't available via Virgin such as Sky Atlantic.
Plus, Now's inclusive anytime calls and the opportunity to sign up to a 1-month deal rather than anything longer term can sweeten the deal for customers.
Ultimately, Virgin Media offers the faster broadband plans and better bundle deals, but Now is the best option if you're on a budget.