It's a legal requirement for major banking groups to offer basic accounts, so the likes of Barclays, HSBC and Lloyds Bank all have them available.
To be accepted for a basic bank account, customers will usually need to have been rejected for a standard bank account due to a poor credit history or other similar reasons.
There are over 7 million basic bank account holders in the UK according to the most recent Government data.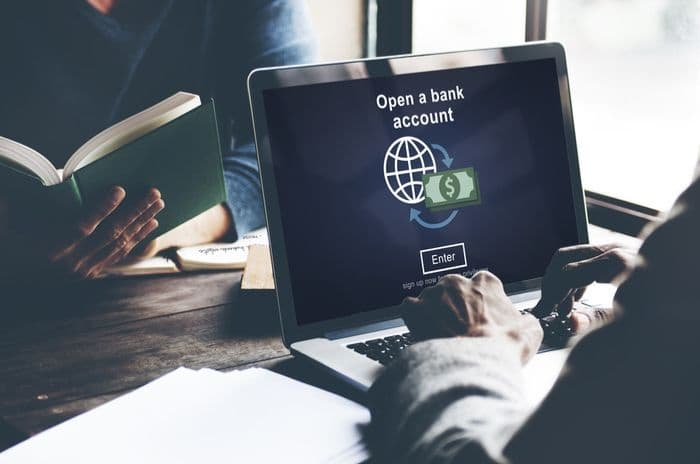 Credit: Rawpixel.com/Shutterstock.com
---
What are basic bank accounts?
Basic bank accounts, often called cash accounts, are the closest thing to a standard bank account available to those with poor credit. They're often the easiest and best way back to getting one of those standard accounts.
The idea behind basic accounts is that people in financial difficulty aren't further penalised by fees and fines levied by banks.
The accounts are identified as ones that don't charge fees for "standard operations". This includes failed payments, which are a source of unexpected overdraft fees.
If a payment is due to go out but there isn't enough money in the account, the banks can stop the payment - but account holders should no longer be penalised for failed payments or going overdrawn if such a payment can't be stopped.
Basic accounts are also a way for people in bad financial shape to repair their credit score safely.
Who offers basic bank accounts?
It's a legal requirement for the biggest banking groups in the UK to offer basic bank accounts to customers.
Barclays
Co-operative Bank
HSBC
Lloyds Banking Group (including Halifax and Bank of Scotland)
Nationwide
Royal Bank of Scotland (including NatWest and Ulster Bank)
Santander
TSB
Virgin Money
The banks are also obliged to publicise the accounts so that customers know what to ask for, following heavy criticism that basic accounts weren't being sufficiently advertised and accusations of unnecessary financial exclusion.
In addition to the big names, Metro Bank also offers a basic account, although there are stricter limitations on that one than the others. It's included in this table for the sake of completeness:
Bank
Account
Min age
Notes
Apply directly?*
Barclays
Basic
18
-
Online or in-branch
Santander
Basic Current Account
16
Non-contactless debit card
Online or in-branch
The Co-operative Bank
Cashminder
16
Pay using Apple Pay, Google Pay or Samsung Pay
Online or in-branch
HSBC
Basic Bank Account
16
-
No
Lloyds Bank
Basic Account
18
Everyday Offers available (e.g. cashback at certain restaurants, hotels and shops).
'Save the Change' also available - when buying something with debit card, the amount is rounded up and the difference transferred into savings
No
Halifax
Basic Account
18
As above
No
Bank of Scotland
Basic Account
18
As above
No
Nationwide
FlexBasic
18
Pay using Apple Pay, Google Pay or Samsung Pay
Online, via phone or in-branch
Royal Bank of Scotland
Foundation account
18
-
No
NatWest
Foundation account
18
-
No
Ulster Bank
Foundation account
18
-
No
TSB
Cash Account
18
'Save the Pennies' available - when buying something with debit card, the amount is rounded up and the difference transferred into savings
No
Virgin Money
M Account
18
Pays monthly interest on balance
Online, via phone or in-branch
Metro Bank
Cash Account
11
No direct debits, standing orders etc.
In-branch
*Banks that don't allow a direct application require you to apply for one of their standard current accounts and if you're rejected for that account you may then be offered their basic bank account as an alternative.
To see a detailed list of basic accounts head to our main bank account comparison page here and adjust the filters.
How to apply for a basic bank account
Applying for a basic bank account can be as straightforward as filling in an online form, although some banks prefer customers to call or drop into a branch (where one is available).
It's possible that banks will make customers apply for a standard account before suggesting a basic bank account would be more suitable.
However, if a bank rejects you for a standard account and doesn't offer a basic bank account, ask for one directly.
Opening a basic bank account typically requires two bits of paperwork: one official form of identification and another proof of address.
Here are the documents that will be valid for identification:
Valid passport
UK driving licence
Benefit books or entitlement letters
EU ID card
HMRC tax notification or assessment letter
And here are the proof of address options:
Utility bill (not a mobile phone bill)*
Bank statement*
Council tax bill**
Mortgage statement**
*Usually no more than three months old
**Usually no more than six months old
Note that these are guidelines only. Every bank has their own rules and may be able to offer guidance for those that don't have access to at least one item from each of the above categories.
Don't be alarmed if the bank or building society refer the application to a credit reference agency. Rather than being a full credit check, which can further affect our credit rating, it's likely to be another ID check, and shouldn't cause too much trouble.
---
What can be done with a basic account?
Basic bank accounts offer many of the features we see in traditional bank accounts such as the ability to:
Set up direct debits and standing orders for regular bills
Have wages/salary, benefits and any other income paid in
Pay in sterling money (cash or cheque) without paying fees (note: this doesn't apply to foreign currency)
Withdraw money from an ATM or over the counter
Check account balances and transactions via app, online, an ATM or going into a branch
Before 2007, many basic accounts only came with a cash card for use at ATMs but now, thanks to the EU Payment Services Directive, all basic accounts come with a debit card.
Sometimes this debit card is a "top-up" debit card, which means the cardholder transfers money onto the card (by phone, online, via app or in-branch). They can then only spend that money. This helps limit impulse purchases and accidental overspending.
Limitations of basic bank accounts
There are also some drawbacks to basic bank accounts to be aware of such as:
Overdraft facilities and other credit won't be available
There's no option to get a cheque book
Basic accounts generally don't pay interest
It's true this isn't the case for all basic accounts and Virgin Money were keen to point out the premium features of their M Account when they introduced it in July 2020, for example.
However, most customers are going to see some limitations on basic bank accounts compared to the traditional accounts generally on offer from the same banks.
---
Who uses basic bank accounts?
Most people who choose a basic account have poor credit score, which stops them from getting a standard current account.
Many banks will only allow customers to open a basic account if they have been refused a standard account.
This is because basic bank accounts are a legal requirement for the major banking groups, but they don't earn any money from them in terms of overdraft fees or interest on loans, for instance, so banks have little incentive to offer them.
Government figures show that the nine providers obliged by law to offer basic accounts had 7.24 million open in June 2021, a slight fall compared to a few years earlier.
Lloyds Banking Group had more basic accounts than other groups with almost 2.5 million account holders while Nationwide Building Society had around a million.
Most basic and cash accounts can be switched to using the Current Account Switch Service. Metro Bank is a notable exception.
Can bankrupt people open a basic bank account?
Yes. It may have been difficult in the past, but most major providers now accept people with an undischarged bankruptcy (a bankruptcy still in process), although they may require additional checks.
Banks also usually accept people with other financial judgements.
Be open with the bank about any financial issues, as this will ensure a quicker and cleaner application process.
---
How to pick the best basic account
What's needed from a bank account will vary from person to person.
Each basic account offered by the big banking groups, although obliged to have the same core concept, will vary slightly.
Smaller banks' offerings are likely to differ more dramatically. One rather unusual example is the cash account offered by Metro Bank. It's open to anyone aged 11 and above - but it can't be used for standing orders, direct debits and the like, meaning it isn't truly a basic bank account.
Here are some features to look out for when searching for basic bank accounts:
1. Free debit card
Most basic bank accounts now come with a normal debit card that allows purchases at the till as well as ATM withdrawals.
However, some of these debit cards may not be contactless, meaning customers will have to use old-fashioned chip and pin rather than making contactless payments. Equally, some cards may not support subscription purchases.
2. ATM access
Banks also now allow their basic account holders to get cash from any ATM for free, just like standard account holders can.
If large cash withdrawals are going to be necessary, check that the bank allows them. Some have limits of £300, others £500.
It's also worth remembering that ATMs are disappearing from the high street as banks close their branches, so checking there are some options in a local area is important.
3. Branch services
As some basic accounts can only be applied for in-branch - and others will be much easier that way - it's worth considering whether the bank has a branch nearby (and whether it's any good).
---
Alternatives to basic bank accounts
For people recovering from serious debt problems, it may be that going to the big banks isn't all that appealing.
Unfortunately, though, the alternatives to basic bank accounts have their own pitfalls: there are often fees or restrictions on getting hold of our money, for example.
We're going to list some options here, but it really is worth being cautious. Getting away from the banks doesn't mean being entirely away from trouble.
Guaranteed bank accounts (with fees)
Some banks - particularly challenger and/or mobile-only banks - offer guaranteed bank accounts. But they come at a cost, and they aren't always held to the same legal standard as "normal" banks.
Basic bank accounts are offered by banks like Cashplus. They won't check your credit score, they often say they'll make an instant decision, and they've usually got a 100% approval rate.
When looking at these banking options, it's worth remembering that not all of them are covered by the Financial Services Compensation Scheme (FSCS), so any deposits with them are not protected as they would be in an FCA-registered bank.
In addition, there's nothing to stop those banks packing up and leaving when they want to or collapsing into administration. We've seen this on several occasions in recent years:
This demonstrates that choosing a fee-paying bank because it doesn't come with a credit check doesn't always pay off, and it might be worth going mainstream first to avoid difficulties later on.
We discuss the pros and cons of these types of account more specifically in our review of Monese.
Managed accounts
People with managed accounts get someone else to look after their money for them: a money manager, who makes sure essential payments like rent and bills get paid.
The cash left when the essentials are paid is available to spend using a debit card, or, in some cases, a prepaid card. Because they're so hands on, managed accounts incur monthly fees, and sometimes a set-up fee.
For people with trouble managing finances, handing control to a personal money "life coach" might sound appealing and convenient. But the downside - other than having to pay someone to look after that money - is that, well, someone else is managing things.
For more information, take a look at our full managed bank account guide.
Credit union accounts
Credit unions were primarily set up to offer easier ways for members of communities to save and borrow (including as an alternative to payday lenders).
Since 2007, many have also offered basic banking services - including debit cards and direct debit facilities.
The advantage is that most are geared towards helping those with poor credit histories and have help and financial advice on-hand.
The disadvantage is that not all credit unions can offer all services, and those that do may often charge a monthly fee for running the account.
Our guide to credit unions has more information.
Prepaid cards
Prepaid cards offer holders the flexibility of a debit card and can even help improve a damaged credit rating, but come with a few safeguards - and drawbacks.
Unlike credit cards, which work by letting people spend then pay the money back afterwards, prepaid cards only let holders spend what they've already paid for.
They're a popular choice for people spending overseas, as they have a pre-arranged budget and (often) no fees for spending abroad.
The limitations of these cards mean people can't get into debt using it - but also can't spread large payments to cover a big purchase or emergency spending, as they could with a credit card.
Furthermore, prepaid card issuers charge fees: for holding the card, and sometimes for certain types of spending, and even topping up the balance - and those fees can quickly add up.
Way back in early 2010, MPs expressed fears that people using prepaid cards for benefits were losing a significant proportion of their cash almost immediately because of the fees being charged.
There's more information on these fees, and other details of how prepaid cards work, in our guide.
---
Summary: Inclusive banking option
Many people in the UK struggle with debt and the accompanying bad credit. It can make financial progress difficult - from getting a balance transfer to purchasing broadband.
Not only that, but poor credit history can make it hard to obtain one of the simplest and most vital financial tools: a bank account.
Basic bank accounts can be welcome relief for Brits with debt problems, which can be emotionally and mentally draining.
Banks aren't super keen on their customers opening basic accounts - they can't make money from them - but the UK government is firm on keeping the biggest nine banks in check on this issue. If any information isn't easily available online, calling or going in-branch should get the details needed.
Basic bank accounts are the most popular option for good reason. While there are other options for people with bad credit scores such as guaranteed (fee-paying) accounts and credit unions, few stand up to the simplicity of basic accounts - and few are completely free.