Best credit card for use abroad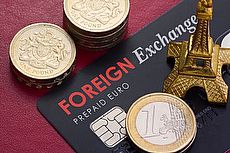 CREDIT cards that offer reduced rates or no fees for spending and withdrawing cash abroad can significantly help to keep costs down when travelling.
In this comprehensive guide we cover the ways that we can all get the most out of our credit cards before we go away and when we're out of the country, as well as the pitfalls to look out for.
Below are links to each section but continue reading for a thorough overview of what makes the best credit card for use abroad.
Before going abroad:
1. Buying foreign currency
2. Pre-loading cards and alternatives
3. Travel insurance
4. Fraud security
While away:
1. Spending money
2. Withdrawing cash
3. Dynamic currency conversion
4. Getting help (from the credit card provider)
Before going abroad
Even before we step on a plane, credit cards can be used to help us prepare for our travels.
Buying foreign currency
Before going away, some people like to have some foreign currency or travellers' cheques in their pockets.
Having ready cash in the local currency isn't a bad idea for things like taxi rides and tips, but using a credit card to buy this before going away is definitely not the best idea.
Credit card providers count these transactions as cash advances, which typically means that they're subject to a fee and a higher interest rate than purchases.
Additionally, for cash advances - in foreign or home currency - there often won't be an interest free period to pay back the amount in full in order to avoid interest charges.
Find out more about these charges in our credit card and cash withdrawals guide.
By far the cheapest way to stock up on currency before catching a flight is to visit a competitive bureau de change (those in the airport will typically be among the least competitive) and buy currency in cash or by debit card.
As of December 2012, UK debit cards do not charge a fee for purchasing foreign currency in the UK so in this instance they are a better option than a credit card.
Ordering foreign currency online for home delivery is also becoming more common.
Browsing currency deals online makes it easier to compare what's on offer, but it's important to make sure that the card used to buy the currency online doesn't levy any extra charges for foreign currency purchases.
Pre-loading cards and alternatives
Until fairly recently it used to be the case that some credit card providers allowed cardholders to pre-load balances onto their credit cards for use abroad.
This positive balance of cash could then be spent - or withdrawn - abroad without interest charges, as no amount was actually owed to the provider.
However, it seems all providers have now phased out the pre-load facility for travellers. In fact, we couldn't find a single credit card for use abroad that allows it.
However, there are alternatives that have the same result as credit card pre-loading.
Some credit cards give customers an interest free period or a very low interest rate on cash advances and don't charge for cash withdrawals (see our travel credit cards guide here for more on this). The Halifax Clarity credit card is a good example of this.
Therefore, provided that a direct debit is set up to pay off the card in full each month, with certain cards it is possible to withdraw money for free.
Unlike the pre-load method, cardholders also don't have to predict how much they need to access in advance.
Although not technically a credit card, another option is to get a prepaid travel card.
These are essentially debit cards that are pre-loaded with cash to spend while out of the country, with a choice of currencies available.
Prepaid cards are popular because they're safer than carrying around cash, can easily be cancelled if there is a problem and they don't allow any overspending for those that need help with budgeting.
For more on prepaid travel cards take a look at this guide.
Additionally, an emerging benefit of this type of card is the use of app technology to make payments abroad.
Revolut is a smartphone app that is linked to a prepaid Mastercard.
The card can be loaded up with cash and is linked to the app, which is essentially a virtual card, and can be used to pay abroad in places that accept the technology.
Alternatively a physical version of the prepaid card can also be ordered to use abroad.
It charges no fees for currency exchange and has a £200 free ATM withdrawal limit per calendar month.
This is an emerging field for card payments abroad and only time will tell if the use of apps becomes more popular for travel expenditure.
For more on mobile payments in general, take a look at our guide here.
Travel insurance bundles
Another thing to consider before going abroad is whether to take out a credit card that offers travel insurance.
Insurance policies are typically either bundled as part of a fee-charging credit card deal or offered when cardholders book trips abroad through their bank's travel service.
There are a range of different cover options, including cancellation, lost luggage and accidents while away.
But consumers will really only benefit if the deals are good value.
Also cardholders should very carefully read the key facts and policy documents and never assume that they are covered.
People considering credit card travel insurance should be particularly aware of travel accident insurance and travel inconvenience insurance policies. These aren't a substitute for a comprehensive policy - for more on why this is see here.
On the theme of credit card perks for travellers, here's a quick note on travel rewards.
Credit cards that offer travel rewards such as air miles can be a useful way to knock pounds off regular flights or summer holidays. For more on air miles take a look here.
However, note that reward credit cards are unlikely to be useful when we actually go abroad - that's because they don't tend to offer the same travel-specific features that can save us money as the cards we'll talk about in the next section.
Fraud security planning
Finally, before going away cardholders should always notify their provider to avoid the frustration and inconvenience of having their card blocked. Usually this can be done via online banking or over the phone.
Most credit card issuers now employ active fraud monitoring. So if transactions suddenly appear from a different country then they usually block our cards quickly to prevent what appears to them to be further fraudulent activity.
While away
Although we can use credit cards to plan for a trip, it's when we're out of the country that they prove most useful.
Spending money abroad
Most credit card companies charge a fee for converting sterling into foreign currency when we spend on a credit card or take out cash abroad.
Most providers call this the 'non-sterling transaction fee' and tend to charge about 3% of the transaction, so £3 for every £100 spent abroad.
When travel credit cards say they're 'commission free' or advertise a '0% use abroad fee' this is the fee they're talking about.
There are quite a few credit cards on the market that currently advertise 0% commission on foreign transactions, such as the aqua Reward card and the Post Office Money Platinum card.
aqua reward credit card (Go to provider

»

)

Earn 0.5% cashback on all purchases
No non-sterling transaction fee on spending abroad
Rebuild and strengthen a credit score

Representative example: When you spend £1,200 at a purchase rate of 34.95% p.a. (variable), your representative APR will be 34.9% APR (variable).

Post Office Money Platinum credit card (Go to provider

»

)

No fees on overseas purchases
0% interest on balance transfers for 18 months, 2.89% balance transfer fee applies (made within 3 months of account opening)
0% on purchases for the first 28 months

Representative example: When you spend £1,200 at a purchase rate of 18.9% p.a. (variable), your representative APR will be 18.9% APR (variable).


Post Office Credit Cards are provided by Bank of Ireland UK. Post Office Limited is a credit broker and not a lender.
It's also worth noting that banks get a near perfect currency exchange rate on our credit card transactions abroad. So when a credit card provider waives the sterling transaction fee, not only is the cardholder benefiting from not having to pay the fee but also from the close to perfect exchange rate.
Withdrawing cash abroad
As in the UK, using a credit card to withdraw cash or buy foreign currency abroad carries higher interest rates and handling fees. In addition, there is often no interest free period on these transactions.
Debit cards are often no better. They may not charge interest but many charge a flat fee of £1 - £1.50 for every ATM withdrawal made abroad.
However, to keep costs down there are credit cards available that offer cheaper cash withdrawal fees and/or a standard interest free period on cash withdrawals.
For example, the Saga Platinum credit card has this feature.
Saga Platinum credit card (Go to provider

»

)

11.9% APR Representative (variable)
0% on balance transfers for the first 9 months
3% balance transfer fee applies

Representative example: When you spend £1,200 at a purchase rate of 11.29% p.a. (variable), your representative APR will be 11.9% APR (variable).

Additionally, the Barclaycard Platinum Travel card is free from non-sterling transaction fees for both spending and ATM withdrawals while abroad.
Barclaycard Platinum travel credit card (Go to provider

»

)

No non-sterling transaction fees on your foreign spend and ATM withdrawals abroad until 31 August 2022
Take advantage of Visa's competitive exchange rate
19.9% interest on your purchases and 27.9% interest on your ATM withdrawals home and abroad, from account opening

Representative example: When you spend £1,200 at a purchase rate of 19.9% p.a. (variable), your representative APR will be 19.9% APR (variable).

To find out which cash machines accept which cards around the world, use the following ATM locator services:
Dynamic currency conversion
Dynamic currency conversion or DCC is when an overseas credit card payment is converted to the cardholder's own currency by the retailer, rather than the currency of the country they are paying in.
While this may not sound so bad, it is actually far more expensive than paying in the local currency.
This is because the customer is charged a fairly hefty 4% DCC fee by the credit card issuer to convert the transaction into their home currency, and they are often unaware of the fee when they make the decision.
By law retailers should offer the customer the chance to convert their payment currency, but as it's the retailer who pockets the 4% charge it's in their interest to perform DCC.
Foreign currency fees charged by credit card issuers are usually around the standard 3%, which is just over half of a DCC charge. Although, as mentioned in the section above, it's possible to find credit cards that levy no fee on foreign currency purchases at all.
Here are some more important things to remember about DCC:
It's always possible to refuse DCC - no matter what the retailer may say.
If the conversion has been made it's possible to ask the retailer to void the transaction and charge again using the local currency.
DCC is operated in many places such as eateries, shops and hotels, and in many countries - mostly throughout Europe but also in the United States.
Assistance abroad
Some credit cards offer emergency cash and card replacement services while abroad, so it's worth finding out about these and jotting down the phone numbers before you go.
A number of credit cards also offer emergency help if the worst does happen, from providing advice and sending messages to arranging transport and finding medical and/or legal help.
For regular travellers, or those venturing further, these services could be worth looking into.
There's more on what to look out for in this guide.