Air purifiers offer HEPA level filtration to remove pollution, pollen, mould spores, and pet dander from the air in our home, as well as carbon filters to remove odour.
They're also commonly available with mobile apps to monitor indoor air quality, and smart features, often connecting to Amazon Alexa or Google Home Hubs.
Air purifiers are available from brand names like Philips and Bosch, as well as specialists like Blueair, and affordable options from Amazon Basics. In this guide we'll look at which is the best air purifier and why.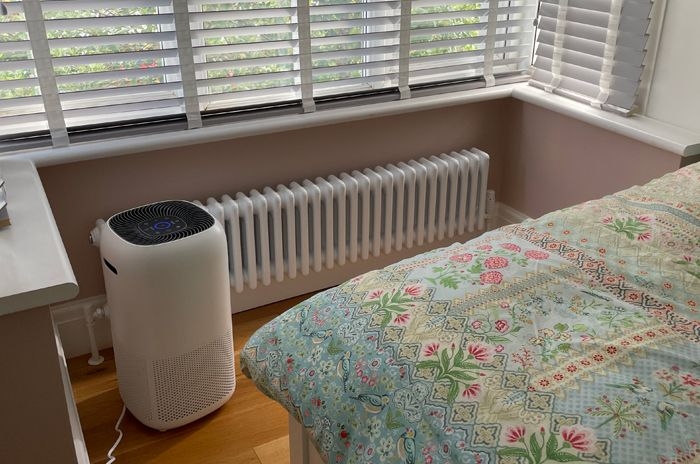 Credit: Lyndsey Burton/Choose.co.uk
---
Which is the best air purifier?
After researching different air purifiers available in the market, we settled on ranges from five leading manufacturers; Philips, Bosch, Blueair, Levolt, and Amazon Basics.
Each of these manufacturers offer a range of different sized devices to suit different budgets and room sizes, although we've typically looked to compare them on a like-for-like basis on their mid-range to medium sized models in the table below.
| | Philips 1000i Series | Blueair Blue 3410 | Bosch Air 4000 | Levolt Core 400S | Amazon Basics |
| --- | --- | --- | --- | --- | --- |
| Price | £266.07 | £249.00 | £159.99 | £219.99 | £100.80 |
| Replacement filter price | £73.35 | £47.00 | £69.99 | £65.99 | £40.52 |
| HEPA filter | 0.003 microns | 0.1 microns | 0.3 microns | 0.3 microns | 0.3 microns |
| Active carbon filter | Yes | Yes | Yes | Yes | Yes |
| Clean Air Delivery Rate (CADR) | 300m3/h | 415m3/h | 300m3/h | 400m3/h | 400m3/h |
| Maximum room size | 78m2 | 86m2 | 62.5m2 | 83m2 | 48m2 |
| Quiet mode | 15db | 23db | 25db | 24db | 28db |
| Auto mode | Yes | Yes | Yes | Yes | Yes |
| Air quality indicator | Yes | Yes | Yes | Yes | No |
| Smart app | Yes | No | No | Yes | Yes |
| Dimensions | 32 x 32 x 53cm | 26 x 26 x 52cm | 29 x 29 x 50cm | 27 x 27 x 52cm | 27 x 27 x 54cm |
| Weight | 5.4Kg | 3.1Kg | 5.8Kg | 6.4Kg | 5Kg |
| Maximum power consumption | 27W | 35W | 26W | 38W | 36W |
Generally speaking, the features available in different air purifiers are similar, and most use HEPA 13 air filtration coupled with an active carbon filter for odours and VOCs.
Larger devices are able to circulate and clean the air in a room faster, while smaller devices are available for bedrooms and smaller room sizes. However, it's also important to consider factors such as efficiency, power consumption, noise and whether the device can detect air quality and adjust the fan speed on an automatic mode.
As a result, the device range that stood out as the best buy choice were the air purifiers from Philips.
Verdict: Philips 1000i & 2000i Series air purifiers
After testing several air purifiers and researching the market, we've chosen the Philips air purifier range as our best buy device.
While it's the most expensive device in our line-up, we chose the Philips air purifier range as our best buy for several reasons:
All models in the current range offer an auto-mode, including the smallest 800i Series
Philips offer more advance HEPA filtration, cleaning air down to 0.003 microns, compared to 0.3 microns with a standard HEPA 13 filter
The Philips air purifiers are quieter compared to other leading devices, with minimum sound levels down to just 15db even on larger models
Philips devices support both Alexa and Google Home, so customers aren't tied to one smart eco-system
Out of the five models available, we tested the 2000i Series, it's the second largest device, but offers good value for money and is ideal for open spaces such as in kitchen diners, or large sitting rooms. However, most people will also find the 1000i Series model adequate as it covers medium sized rooms up to 78m2.
There aren't many drawbacks to the Philips range of air purifiers other than cost. They're generally more expensive compared to similar sized models from other manufacturers, however for those who can afford it the additional features on offer make up for this.
---
1. Philips 1000i Series air purifier
Best for: Medium sized rooms where clean air and low sound levels are paramount.
| Pros | Cons |
| --- | --- |
| Specialist 'NanoProtect' advanced HEPA filtration down to 0.003 microns | Expensive compared to cheaper models |
| One of the quietest air purifiers available | Replacement filters also on the higher side |
| Touch screen and app-based control | |
| Smaller devices have same features | |
Device
Price
Quiet mode
Max room size
CADR
Philips
1000i Series
£266.07
15db
78m2
300m3/h
Philips
2000i Series
£349.99
15db
85m2
380m3/h
Philips offer five models in their current line-up of HEPA air purifiers, with all but the smallest 600i Series offering auto-mode and an active carbon filter.
I reviewed the 2000i Series for this guide, which is the second largest air purifier, and there are two smaller, cheaper, models with the same level of features that would be more suitable to smaller rooms.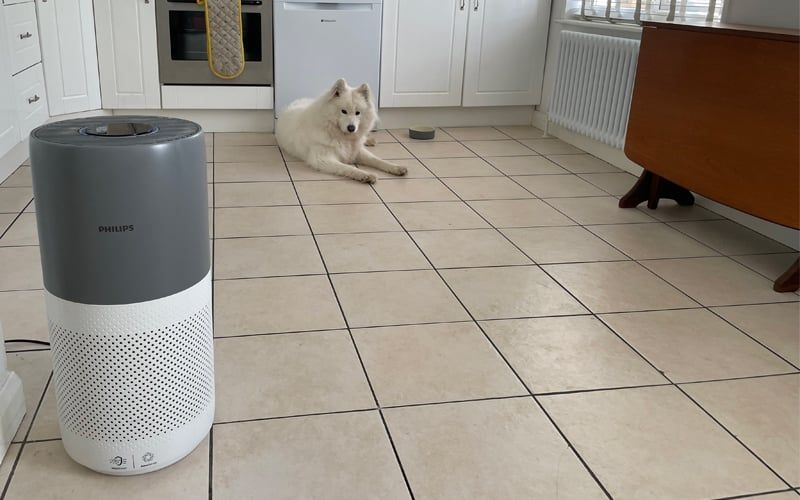 Philips 2000i Series model was tested in a home with pets
Despite its large size, the 2000i Series has one of the quietest sleep modes of all the air purifiers we looked at, with a minimum sound level of just 15db, and is Quiet Mark certified.
Philips air purifiers also offer additional unique features over more basic devices like the Amazon Basics range. For example, Philips say their filter removes particles down to just 0.003 microns using their NanoProtect HEPA filter technology, which uses an electrostatic charge to provide double the air cleaning power of a standard HEPA H13 filter.
All the current Philips air purifier models can be controlled using either the touch screen, or via the Philips Air+ app, which can be set up with multiple air purifiers in different rooms of the home.
The Philips 800i Series and up purifiers also support voice control through either Amazon Alexa or Google Home, which offers more flexibility over the Amazon Basics air purifier which only operates within the Amazon eco-system.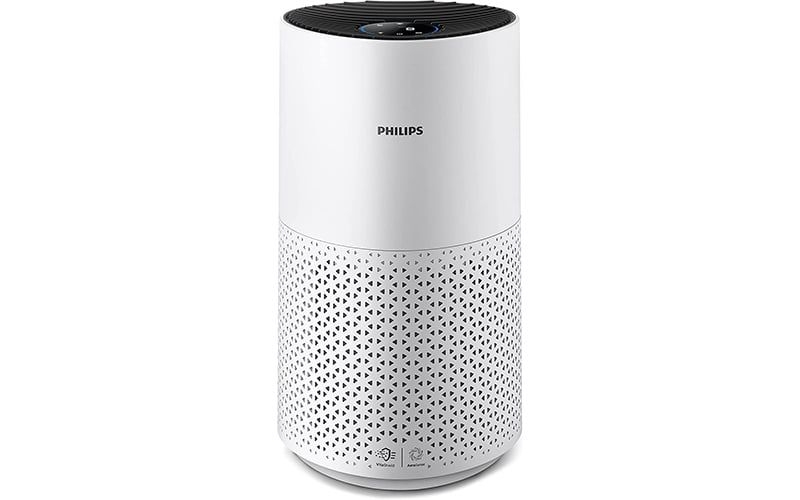 Philips 1000i Series model suitable for medium sized rooms
Each device also offers notifications when the filters need replacing, and those that work with Alexa can also order them for you. However, it's also possible to simply clear these messages and choose your own schedule for replacing the filter.
For the cost conscious, it's worth regularly vacuuming inside air purifiers, as they can collect a lot of dust and this will extend the life of the filter to some extent.
Overall, Philips is a market-leader in the air purification market, and offers a range of device sizes to suit every room. Larger devices, like the 2000i Series tested here, are ideal for more open plan sizes, like kitchen diners, while the smaller 800i and 1000i Series are better suited to bedrooms.
---
2. Blueair Blue 3410 air purifier
Best for: Living rooms where aesthetics and blending in are a priority.
| Pros | Cons |
| --- | --- |
| HEPASilent filtration down to 0.1 microns | Fabric pre-filter makes the device harder to clean than a hard-plastic cover |
| Award winning manufacturer | No mobile app or voice control |
| Aesthetic device designs | |
Device
Price
Quiet mode
Max room size
CADR
Blueair
Blue 3210
£119.00
18db
41m2
210m3/h
Blueair
Blue 3410
£249.00
23db
86m2
415m3/h
Blueair are dedicated air purifier makers and have won several awards, including from Good Housekeeping and Asthma Allergy Nordic. They're a Swedish firm and focus on quality features as well as aesthetic design.
Like Philips, they too offer a more advanced HEPA filtration system than the standard HEPA 13 filter. Blueair say their filter cleans air down to 0.1 microns, providing up to 45% cleaner air compared to a HEPA 13 filter.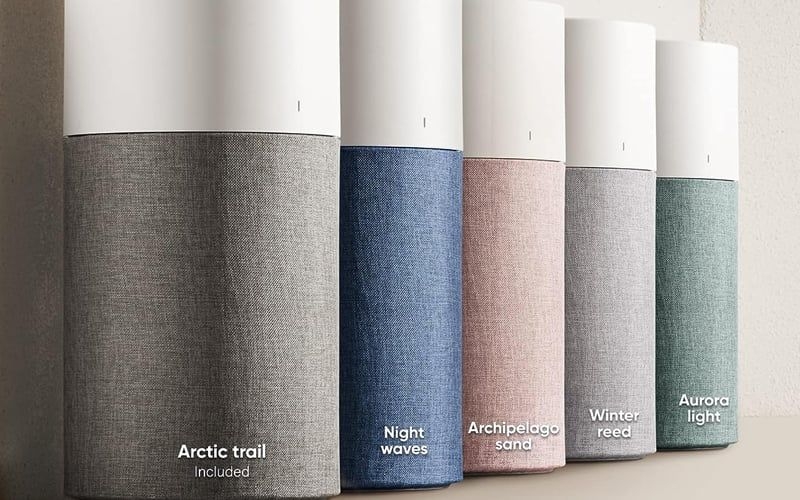 The Blueair Blue air purifiers have removable fabric colours in a range of devices to suit different home decors.
Blueair offer undeniably the best-looking air purifiers, with detachable fabric covers on the Blue range, which are available in a number of different colours to suit all decors. The fabric cover doubles up as a pre-filter, which can be vacuumed or even washed to keep it clean.
While it's aesthetically pleasing, I'm not entirely convinced fabric on a device that aims to collect dust is necessarily a great move. The hard-plastic covers of most other air purifiers are much easier to vacuum and keep clean, and can be wiped with a cloth.
There is mobile app control or smart home integration with the Blueair air purifiers, but they can be controlled via the touch screen on the device, and have an automatic mode.
The lighting and display on the Blueair Blue range is a lot more subtle in comparison to some other air purifiers, again the focus is on aesthetics and it does make the device look more streamlined and less busy as a result.
For those looking for a slightly smaller device, Blueair offer the Blue 3210 which is identical to the 3410 in all but size and coverage, and costs over a hundred pound less, so it's a good bet for smaller rooms.
It's worth noting Blueair also offer additional air purifier ranges, including the DustMagnet which doubles up as a small side table and looks more akin to an item of furniture. It's well designed, and again, will be most suitable to use in a living room, where the need to blend in may be higher.
Overall, Blueair offer some market leading air purifiers that look really good, but in comparison to the Philips they fall slightly behind as the design seems more focused on form over function.
---
3. Bosch Air 4000 air purifier
Best for: Those on a budget who don't want a mobile app or voice control.
| Pros | Cons |
| --- | --- |
| Affordable price for brand name | No mobile app or voice control |
| Largest Air 6000 offers anti-bacterial filter | Standard HEPA 13 filter |
| High CADR ratings for the price | |
Device
Price
Quiet mode
Max room size
CADR
Bosch
Air 2000
£99.99
25db
37.5m2
180m3/h
Bosch
Air 4000
£159.99
25db
62.5m2
300m3/h
Bosch
Air 6000
£199.99
25db
125.5m2
600m3/h
Bosch offer three air purifiers, the Air 2000, Air 4000, and Air 6000. Each device size offers the same level of features, except that the largest Air 6000 adds an additional anti-bacterial filter layer.
The Bosch air purifiers are cheaper than those offered by Philips, however it's worth pointing out some areas where they offer less features.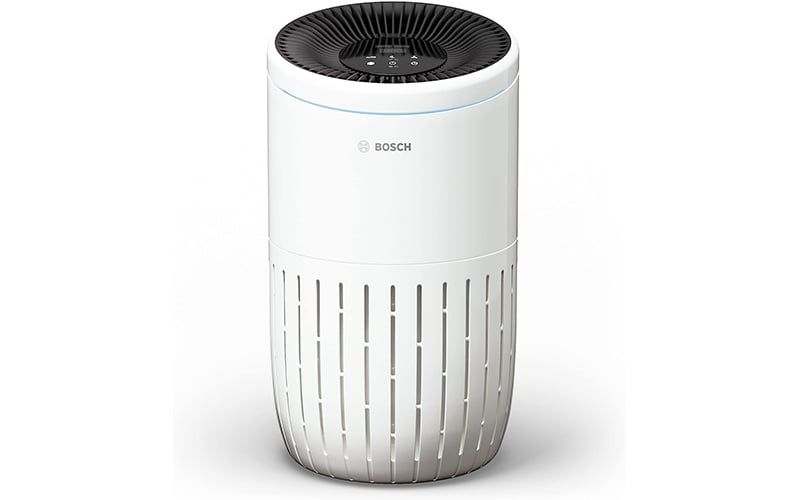 Bosch Air 4000 air purifier
Bosch uses the standard HEPA H13 filtration, which means it can clean air down to 0.3 microns. That's pretty small, and will remove pollen, pet dander and pollutants, as well as PM 2.5 particles. However, Philips and Blueair go a step further than this, with their own HEPA filters which clean air down to 0.003 and 0.1 microns respectively.
In addition, there's no smart app to control the Bosch air purifiers and they also won't work with Alexa or Google Home.
The Bosch quiet mode reduces sound down to 25db, but that's still 10db noisier than the Philips, and only marginally quieter than Amazon Basics. This won't matter for those who use it in a downstairs room, but it could be worth bearing in mind for people wanting an air purifier for the bedroom, especially if they're light sleepers.
While an earlier version of the Bosch Air instruction manual suggested the device would stop working when the filter needed replacing, this isn't the case. As with other air purifiers that notify users when the filter should be replaced, it's merely a message which can be reset separately from actually replacing the filter.
However, despite this, the Bosch Air filter notification system does seem to run down faster than other devices, although it can simply be reset and the filter used for longer before it's replaced if a user wants to.
Overall, Bosch air purifiers are well priced and come with the reassurance of a leading brand name, which mean the small niggles in these devices are more easily overlooked.
---
4. Levolt Core 400S air purifier
Best for: Smaller rooms where users want integration with Amazon Alexa or Google Home.
| Pros | Cons |
| --- | --- |
| Lots of positive customer reviews | Standard HEPA 13 filter |
| Mobile app and voice control | Confusing range of devices |
| Better for smaller room sizes | |
Device
Price
Quiet mode
Max room size
CADR
Levolt
Core 400S
£219.99
24db
83m2
400m3/h
Levolt is another dedicated air purifier brand, although they don't have the advanced HEPA filtration seen in either the Philips or Blueair devices.
There is quite a confusing number of air purifiers available from Levolt, with the Core series the latest models. Prices are generally much cheaper in comparison to Philips, Blueair, and Bosch, although there is also a greater focus on smaller devices too.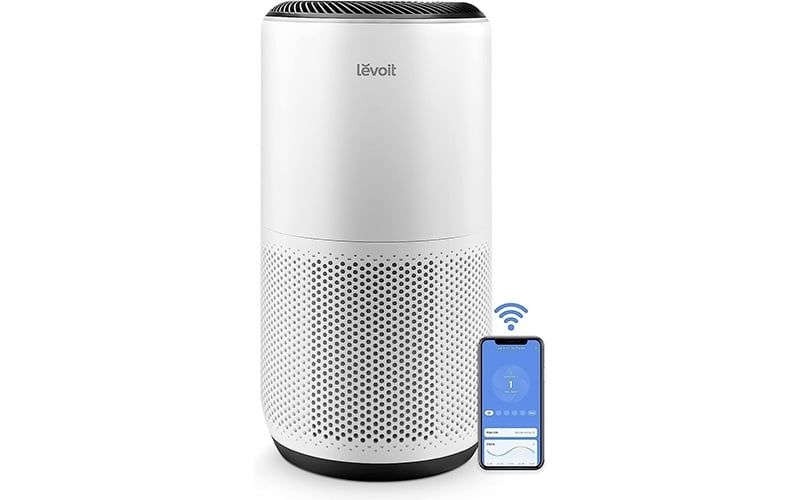 The Core 400S is one of the larger devices available from Levolt
The Levolt Core 400S is one of their largest devices, and offers HEPA filtration with an active carbon filter, auto-mode and a particulate matter level indicator.
Noise reduces down to just 24db in night mode, although it's still noticeably noisier than the Philips.
There is a mobile smart app which works via WiFi but can be used even outside the home, so a user doesn't need to be on the same WiFi network or within a certain distance to see the status of the air purifier or to turn it on or off.
The Levolt Core 400S also works with both Amazon Alexa and Google Home, so can be controlled easily by voice when at home.
Overall, the Levolt air purifier range is good for those on a budget, but it misses out on the advanced features seen in the Philips and Blueair devices.
---
5. Amazon Basics air purifier
Best for: Clean air without the price tag, in a simpler device.
| Pros | Cons |
| --- | --- |
| Full features for price including auto-mode, timer and child-lock | Smaller versions miss out on auto-mode |
| Affordable price | No particulate matter level reading |
| Works with Amazon Alexa | |
Device
Price
Quiet mode
Max room size
CADR
Amazon Basics
48m2
£100.08
28db
48m2
400m3/h
Amazon Basics is a range of devices and products that offer high quality features at an affordable price.
The air purifier from Amazon Basics is available in four different sizes, although the two smallest versions miss out on some features, and the pricing is currently cheaper if you opt for a bigger model.
The best value seems to be found with the 48m2 size, which is the third biggest. It's currently priced less than the next size down, but boasts additional features including auto-mode and an air quality indicator.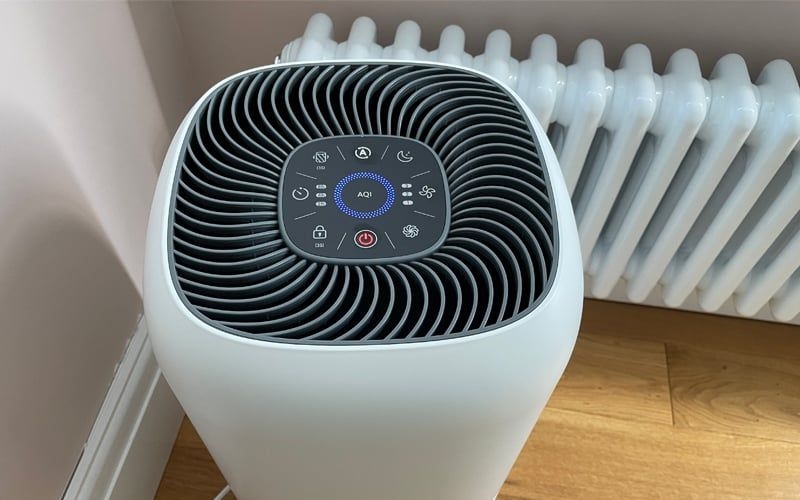 Despite having the loudest "quiet mode", the Amazon Basics air purifier didn't disturb my sleep during tests
Auto-mode means you can leave the air purifier on and it'll run only when it detects a drop in air quality or a rise in dust or cooking smells. For most people, this is going to be a must-have feature and it's one I'd recommend looking for.
Not everyone will want such a large device however, but it's worth bearing in mind the two smaller units only have three manual fan speeds, a timer, and sleep mode. For those whom size is an issue, both Philips and Bosch offer an auto-mode on their more compact air purifiers.
In use the Amazon Basics air purifier is noticeably noisier than a similar sized Philips device, even in auto-mode on the lowest speed setting, and that's also reflected in the noise levels in sleep mode.
Amazon Basics report a noise level of 28db in sleep mode, whereas Philips say their devices only make 15db of sound, which is almost half as much. In tests, I also found the Philips air purifiers to be quieter, although the Amazon Basics air purifier didn't disturb my sleep at all.
The air quality sensor also seems less sensitive in comparison to Philips devices, and didn't actually move out of the 'good' level the entire time it was in use. Although it's difficult to tell what the sensor is reading as there is only a three colour light change, and no particulate matter level reading which is available on the more expensive devices.
Overall, it seems like a well-built purifier for those on a budget, but it definitely misses out on some of the fine tuning of features and functionality seen from dedicated manufacturers.
---
How to choose the best air purifier
While most of the manufacturers of air purifiers offer a range of device sizes to suit different rooms, we've focused on the medium to large devices for two reasons.
Firstly, the medium and up air purifiers tend to have the most features, and so are generally more comparable on a like-for-life basis, as some manufacturers reduce features on the smaller purifiers.
Secondly, while air purifiers are generally sold based on the room size they cover, buying a larger device for a smaller room will simply mean the air is cleaned quicker, and there will be a faster turnover of air in the room. It can also be more efficient, especially for models with an auto-mode as they won't have to run as long to maintain the same level of air quality.
That said, for those on a strict budget or who don't have the space for a larger unit, we've also covered the details of smaller models in our review of each air purifier range below.
What to look for when choosing an air purifier
We found a few key differences between air purifiers, with some of the more important features to look for including:
Automatic-mode: ideal if you want to ensure clean air at all times
HEPA filtration: basic models use a HEPA 13 filter, whereas more dedicated manufacturers offer advanced HEPA filters that go beyond this basic standard
Quiet mode and noise levels: some devices are simply quieter than others, which is important if they'll be used in a bedroom
Replacement filter cost: air purifier filters can't be washed, and need to be replaced around every 6-months to a year, so it's worth considering how much they cost
Maximum room size: make sure to choose a device that can cope with the size of room you intend to use it in
---
Summary: Which is the best air purifier?
From both carrying out testing and market research, we found the Philips air purifier range to be the best buy air purifier, with both the 1000i Series and 2000i Series models being leading choices.
Philips offer the quietest devices, which is important for those using a purifier in the bedroom, and also combine this with the most advance HEPA filtration system, cleaning the air down at 99.97% to just 0.003 microns.
The major downside to the Philips air purifiers is cost, and those on a tighter budget can find devices capable of cleaning similar sized rooms for less with Bosch, Levolt, and even Amazon Basics.
For those who just want cleaner air, the Amazon Basics air purifiers do the job, they just miss out on some of the finer features of the more expensive models, like a PM level indicator and quieter overall operation.
Mobile app control and smart home integration can also be useful, with Philips, Levolt, and Amazon Basics air purifiers ticking these boxes.
Ultimately, the Philips 1000i and 2000i Series are the best air purifiers, while the Bosch Air 4000 and the Amazon Basic 48m2 are the best budget choices for medium sized rooms.