The Apple Watch Series 4 was released in September of 2018 and discontinued just one year later. It's since been replaced by the current Series 7, which launched in October 2021, and the Series 8 is due in the Autumn of 2022.
The latest Series 7 is the first Apple Watch to sport a new design since the Series 4. It also boasts upgrades to the processor, screen size, storage capacity and a new blood oxygen sensor.
Both the Series 4 and Series 7 have an 18-hour battery life, but the latest version also has an Always On option, so it's easy to check the screen at any time with just a glance. Read on for a full review of our hands on experience of the previous Apple Watch Series 4.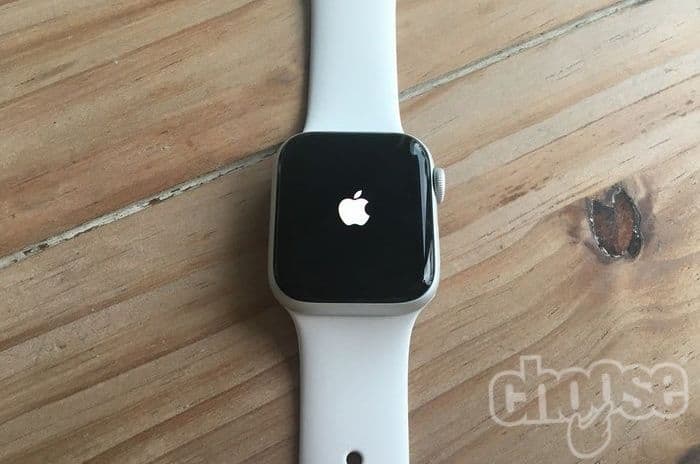 © Choose
---
| | Device | Price | GPS | Battery | Released |
| --- | --- | --- | --- | --- | --- |
| | Apple Watch Series 4 | £150 (approx.) | Built-in | 18 hours | Sept 2018 |
| | Apple Watch Series 7 | £370 | Built-in | 18 hours | Oct 2021 |
Hands on with the Apple Watch Series 4
The Series 4 lives up to Apple's reputation for easy-to-use, intuitive products. I had my Watch up and running in just a few minutes and without consulting any instructions.
Once set up, to access features, users simply need to press the side button and can use the touchscreen or crown to scroll through the apps. I learned how to activate and get the best out of most of the features by simply playing around with the device. After a day or two I felt I had a good grasp on most of the features.
This is definitely an advantage given that some of the newer features may broaden the Watch's appeal beyond usual smartwatch and fitness tracker wearers. I'm confident that technophobes (myself included) and older users should find it easy enough to use.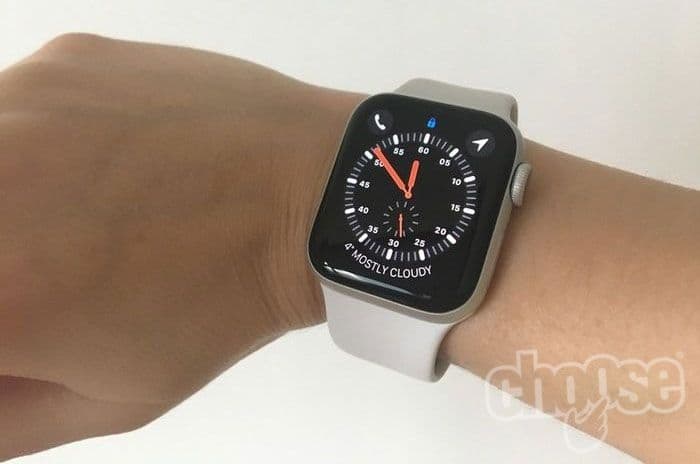 | Pros | Cons |
| --- | --- |
| Large display screen | No sleep tracker |
| Health and fitness features incl. Fall Detection Feature | No always on display screen option |
| Improved audio | Cost |
| Decent battery life | |
| Easy-to-use | |
---
Syncing with an iPhone
Many of the Watch's features can be used without the need to pair with an iPhone, such as the alarm, stopwatch and the daily movement tracker. However, to get the most out of the device, and access arguably some of its best features, syncing is a must.
The two devices can be synced via Bluetooth in just a few simple steps. I simply tapped the start pairing option and lined my phone up with the Watch when asked to do so. I then selected the option to set up the Watch without backup from a previous device. The whole process took less than five minutes.
Once synced, through my airtime contract, I could use my Apple Watch to make calls, send messages, use Siri, stream music and access Podcasts.
---
Design
The Series 4 boasts a sleek, aluminium design. Like it's predecessors, it has a black, rounded-edge, OLED screen and the same digital crown and single-button layout. It's available in four variants: 44mm and 40mm sizes and with or without 4G (cellular) network connectivity.
The biggest design change from the Series 3 is the larger display screen, which has had an overall size increase of 30%.
However, despite the increased size I found the Watch to be fairly lightweight and extremely comfortable to wear. A quick comparison with the Series 3 revealed that while the Series 4 may have a larger screen it's actually thinner and feels less bulky on the wrist as a result.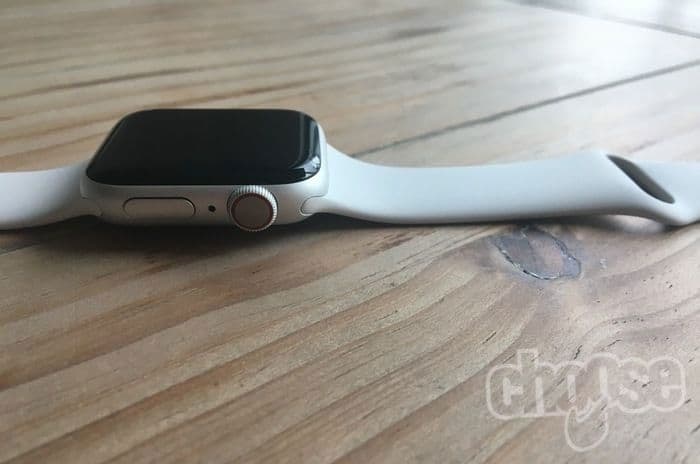 The Series 4 has a larger screen but a thinner body than the Series 3. It feels light on the wrist.
Although the size increase may seem slight, it actually has a big impact in terms of practicality, as the content on the display screen is much easier to view. For example, when using Maps I found the clear view made directions easy to follow. It was also easy to read messages on the go, via WhatsApp or Messages. I had a quick play around with a Series 3 and found the content on the display screen to look cramped and more difficult to read by comparison.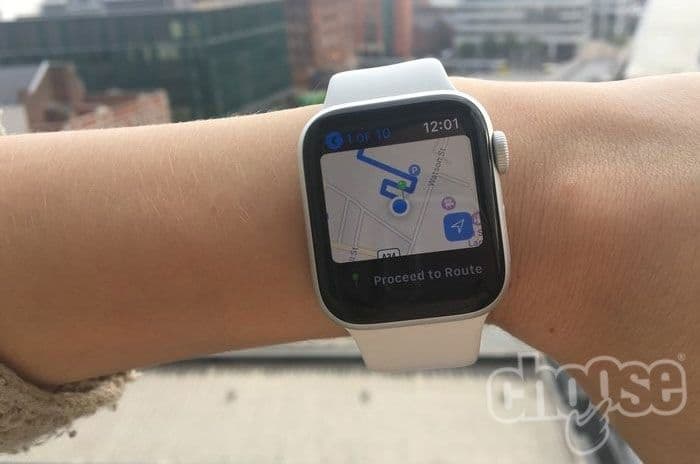 The larger screen made the display screen easier to view, which was useful when using apps such as Maps.
Another change from the Series 3 design sees the microphone moved to between the crown and selection button in an attempt to improve audio sound. We'll discuss the result of this further down.
---
New features
Heart monitoring features
The latest Apple Watch boasts health features as well as fitness ones, which will no doubt broaden its appeal beyond fitness fanatics to those with more rounded health concerns.
One of the more impressive new health features on the Series 4 is its ability to take an electrocardiograph of the user's heart. It uses electrodes built into the Watch to do this and can even send a PDF of the results to your doctor. Unfortunately, I was unable to test this feature as it has not yet been activated. Apple have said it will be available as a free update by the end of 2018.
The Series 4 can also detect low and high heart rates and will notify the user if either activity is detected. I have a rather low heart rate and this feature did beep a few times to draw my attention to the fact.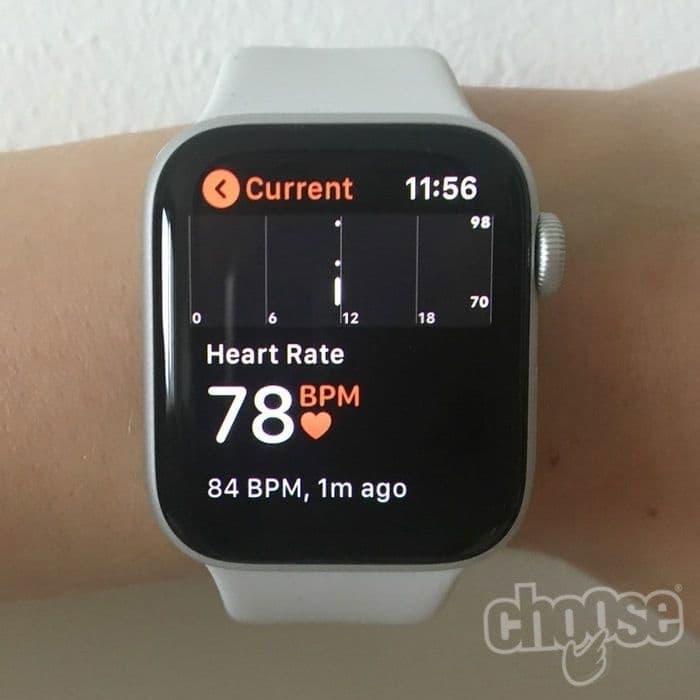 The more basic Heart Rate feature tracked my heart rate throughout the day.
Additionally, Apple have promised an update that will see this feature extended so that the Watch can also detect irregular rhythms and notify users about potentially life-threatening issues.
Fall Detection feature
One of the most talked about innovations of the new Apple Watch is the Fall Detection feature.
Unfortunately, this particular feature is difficult to test. I attempted to fall whilst wearing the device but my efforts didn't seem convincing enough for the Watch to believe I'd actually fallen.
Yet rest assured, the Watch's accelerometer and gyroscope can measure up to 32G forces so in genuine scenarios the Watch should register when a user falls over. It'll then ask the user if they wish to call the emergency services. If the user doesn't move for a minute, the Watch will do this automatically, plus it'll send a message to an emergency contact.
Although useful to those at risk of falls, this feature drains the battery quite quickly so users may need to charge it more frequently than the recommended 18 hours.
Walkie Talkie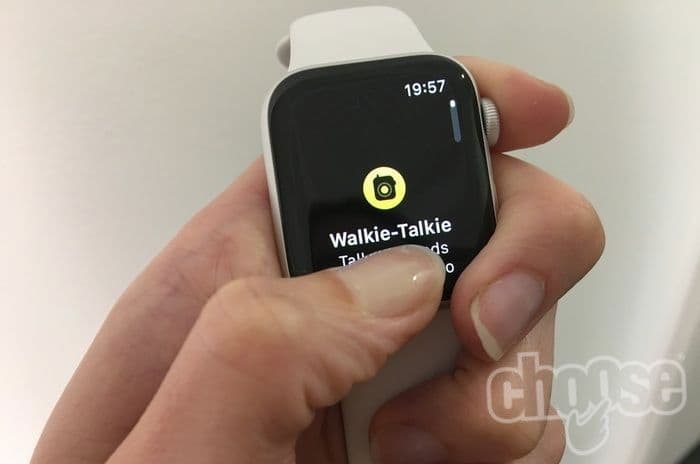 The Walkie Talkie feature.
This particular feature has generated quite a bit of excitement but in my experience it didn't seem to add that much value to the overall Apple Watch experience (perhaps I am too old!).
It acts like a sophisticated voice note message; you press a button to activate the feature and it uses beeps and visual prompts to tell you when to speak. Ordinarily, it should take a minute to connect yet the first time I used the feature I couldn't get a connection at all. My second attempt established a connection but after a four-minute wait. The connection was then cut after a few minutes of use.
Automatic Workout feature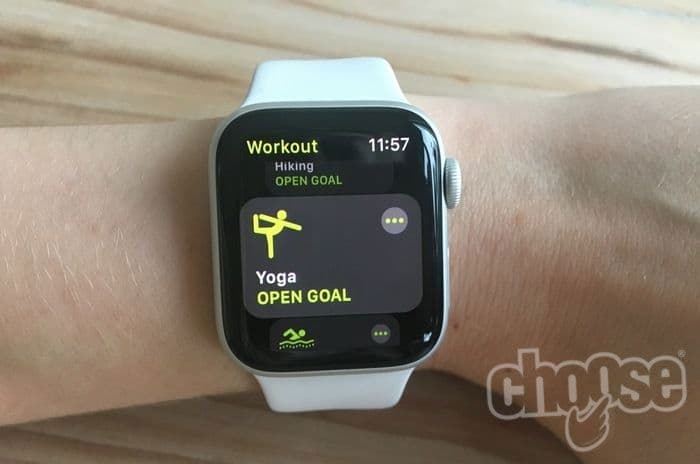 There are workout features for running, hiking, swimming, yoga and other activities.
The automatic workout feature is super convenient for the forgetful. I didn't need to remember to activate a specific feature prior to working out. Instead the Watch detected when I started or finished a workout and asked if I wanted to log my activity.
What's more there are dedicated features for running, walking, interval-training, swimming and even yoga, as well as options to set and track our workout pace. This allows users to monitor most of their regular activities and gather more detailed information about their workout habits. Those who are drawn to the Apple Watch for its fitness tracking capabilities, like myself, will be pleased.
---
Updates to existing features
Enhanced call audio
4G provides a robust connection and the repositioned microphone conveys clear audio that's free from echoes or other distortions. Friends I called using the device couldn't believe I wasn't calling from a phone.
The speaker transmits a decent volume too, which Apple says is 50% louder than the Series 3. This meant I didn't need to hold the Watch closer to my ear to hear better even in moderately noisy environments.
However, I did notice that it took a minute or so to connect to a call but I didn't find this massively frustrating.
Slight improvements to Siri
Another difference between the Series 3 and Series 4 Watches is that with the latter users can activate Siri by simply lifting their wrist towards their mouth and speaking. But other than this it works in the same way as the iPhone's Siri feature. I did experience some connection issues when attempting to contact Siri and got a "hang on" message on a few occasions when asking for information.
---
Compatible apps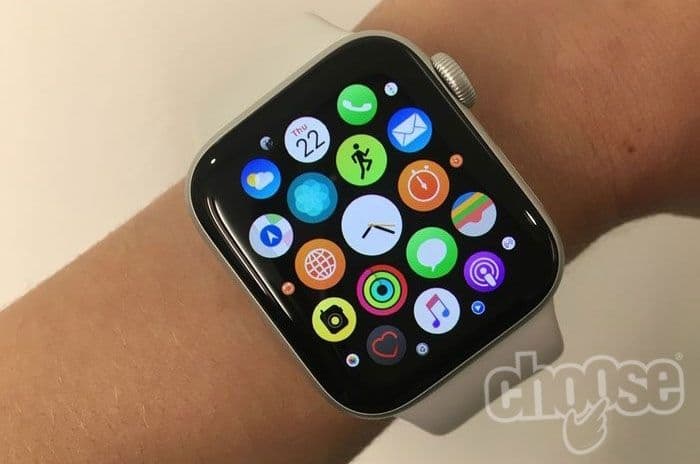 A range of additional apps can be added to the Apple Watch Series 4.
Unlike rival smartphones, the Apple Watches have no shortage of high-quality compatible apps ready to download. Many of the apps can improve functionality by opening the door to features the Watch doesn't already come with.
For me, this was a sleep-tracking app. It seemed a shame to have a device that could be worn when sleeping but didn't offer the option to collect detailed information about sleep patterns.
Luckily, I was able to download Sleep Cycle, which enabled me to keep track of not just how many hours I was sleeping for but how well I was sleeping during these hours.
There are also many heath apps that complement the Watch's existing features. I really enjoyed using Cardiogram, a health-tracking app that allows users to see how their heart rate changes overtime. Rather than just checking what my heart was through the Heart Health function, I used Cardiogram to see how my heart rate fluctuated according to the activities I did, what I ate and how stressed I'd been on particular days.
Another app I liked using was Owaves, a 24-hour day planner app that focuses on physical and mental health. Rather than planning your day solely around work commitments and life chores, Owaves works in time for the things it considers most important to a happy life - sleep, nutrition, relaxation, socialising and exercise. I found it worked well with the Watch's other health and fitness apps, ensuring a more rounded approach to overall well-being.
---
Battery life
Apple advises that the average battery life is around 18 hours. Ultimately, it depends how many of the features you use and how long you use them for but on the whole I agree with this estimate.
I spent a full day out and about - using the Watch to make several calls, navigate around the city and monitoring walking activity - and still had around 40% battery remaining. On a more relaxed day, spent mostly behind my desk, apart from short walks in the morning and afternoon, I used only 30%.
On the whole, when testing over seven days we found that we never had to charge the Watch more than once a day.
---
Prices
As expected the new design and advanced features are reflected in the price.
At the time of launch in 2018, the 40mm model with GPS cost around £399 and the 40mm model with GPS and Cellular was around £499. While the 44mm model with GPS was approximately £429 or £529 with GPS and Cellular.
This made the Series 4 one of the most expensive smartwatches on the market. Although, it is possible to get the Apple Watch as part of a monthly data plan to make the cost more manageable.
In terms of pay monthly data plans, the Apple Watch Series 4 was only available with a mobile phone on the EE or Vodafone network.
There's usually no difference in the monthly cost for those who opt for the smaller size, but they will save on upfront costs.
Both networks offered a similar price although Vodafone customers could save £5 per month for the first six months.
---
Verdict: Is the Apple Watch 4 worth it?
Those looking to simply keep track of time, check notifications and monitor their daily steps would be silly to splash out on this particular smartwatch.
However, it could be worth it for anyone interested in the more advanced features, such as mapping, radio, workouts, calls, messaging, camera and Podcasts, given that these work so well and are unavailable on other smartwatches.
It could also be worth the investment for those who are interested in doing more than just tracking their fitness. The Fall Detection feature could prove invaluable to those prone to falls and provide peace of mind for loved ones. While the heart monitoring features could be insightful for those with heart conditions.
While the Series 4 is still available on second hand sites like eBay, those with a larger budget may want to consider the latest Series 7 with upgrades to processor speed and screen size, or even wait as the Apple Watch Series 8 is expected to be released in the next few months.