With an expansive 10.3-inch display, the Kobo Elipsa is larger than many other e-readers and comes complete with the proprietary Kobo Stylus and SleepCover as standard.
It has a battery life of up to four weeks and comes with 32GB of storage for thousands of books and documents. It also has integrations with Dropbox and Pocket.
The Kobo Elipsa costs around £350, making it a substantial investment, but one that could be worth it if a customer is going to get the most out of both the reading and writing elements of the device.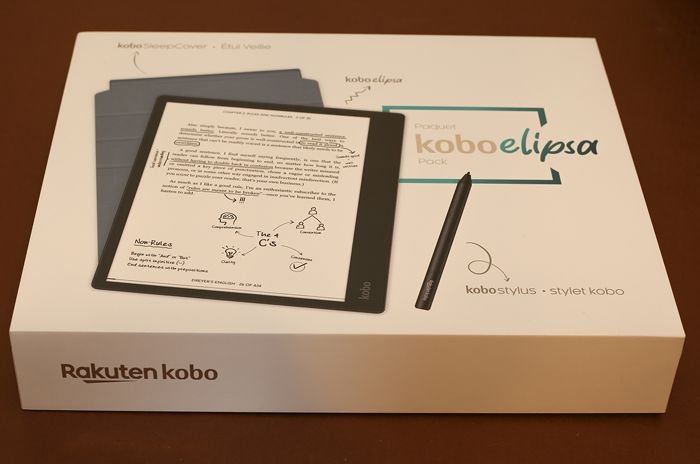 Credit: Lucy Brown / Choose
---
What is the Kobo Elipsa?
The Kobo Elipsa is a combined e-reader and note-taking device with a 10.3-inch E Ink Carta 1200 touchscreen display and 32GB of on-device storage.
| | |
| --- | --- |
| Screen size | 10.3" |
| Resolution | 227ppi |
| Front light | ComfortLight |
| Processor | Quad Core at 1.8 GHz |
| Storage | 32GB |
| Connectivity | WiFi 5 and USB-C |
| Battery life | Up to four weeks |
| Dimensions | 193 x 227.5 x 7.6 mm |
| Weight | 383g |
| | Device | Price | Screen size | Resolution | Released |
| --- | --- | --- | --- | --- | --- |
| | Kobo Elipsa | £302 | 10.3" | 227 ppi | May 2021 |
Verdict
The Kobo Elipsa is a device that tries to be two things at once - and it succeeds as both an e-reader and an e-note device.
Thanks to its large size, the Elipsa has a substantial screen that works well for reading and writing, although the device may be too large for some users.
Overall, while the Kobo Elipsa isn't a perfect device and there are some kinks to iron out, it's nevertheless a good purchase for those who'll get the full benefit of both the reading and writing elements.
Pros:
Expansive 10.3-inch display
Plenty of customisation for reading available
Easy to write on with minimal lag
Comes with important accessories
Directly links to Kobo Store
Cons:
Relatively expensive
Large device
Some glitches
Stylus needs batteries and fresh tips
---
Screen and design
The Kobo Elipsa is the biggest e-reader in the Kobo range, featuring a 10.3-inch screen.
This is to allow for effective note taking as well as reading, but it makes holding it a different experience to holding a standard-sized e-reader.
As you'd expect from a device of this size, it's quite weighty at 383g, almost 200g more than some of the most popular e-readers around like the Kindle Paperwhite and Kindle Oasis.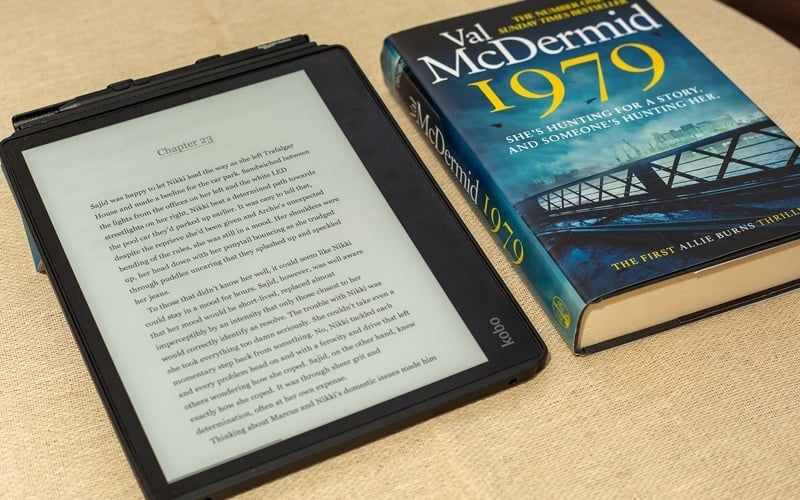 This means it won't be suitable for all users, plus the size can make it difficult to put in a small bag and carry around. It might mean the Elipsa is more suited to students and those who regularly carry larger bags with them.
The design of the Kobo Elipsa is asymmetrical, with a wider bezel on the right-hand side. This is magnetic and serves as a space to put the Kobo Stylus while working.
On the bottom right side of the Elipsa, there is a USB-C port for charging and connecting to a computer. Just above that, there is the power button.
Stylus
The proprietary Kobo Stylus comes with the Kobo Elipsa.
This is the only stylus that will work on the Elipsa, so there's no option to use a pencil from another brand.
The Kobo Stylus is battery powered (1 x AAAA) and has tips that must be replaced every now and then. An extra one comes with the Elipsa, but replacements must be purchased from the Kobo site (£9.99 for four is the current price).
Tips are designed to last for months rather than weeks. However, it should be regarded as an ongoing expense for Elipsa owners.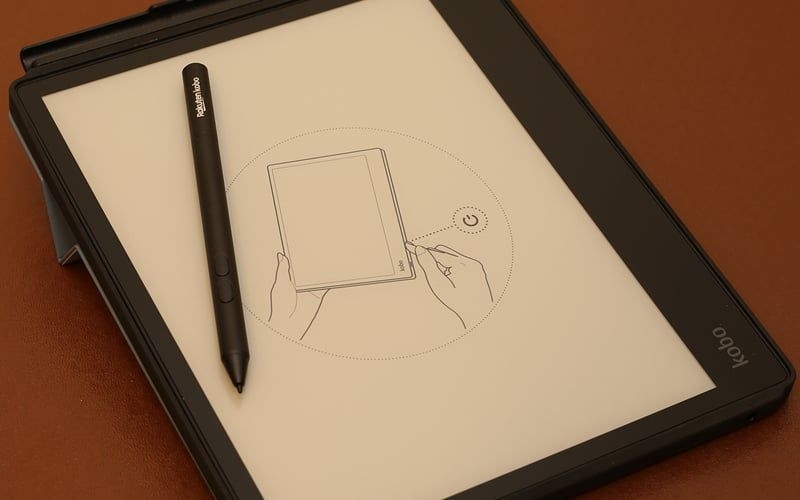 I was pleasantly surprised by the Stylus.
It's easy to hold, having a soft grip surface that doesn't allow your hand to move too much unless you want it to.
On the side, there are two buttons. One of these erases text and the other acts as a highlighter pen.
After initially thinking I wouldn't use them much, I now use the eraser every day when I make inevitable errors on my notebooks and don't want to enable the eraser function on the device itself.
My main frustration with the stylus is that I sometimes don't hold it in the right way and my thumb hits one of those buttons when I didn't mean to. That said, I think the convenience of having them there outweighs the slight inconvenience when I hit the wrong one.
SleepCover
The third element in the Kobo Elipsa pack is the SleepCover.
It has a sturdy plastic frame that fits snugly around the device to protect it, complete with a slot at the top for the Stylus.
With a soft blue front, the SleepCover looks stylish and does a good job of protecting the Elipsa from harm.
It can also be used as a mini stand to ensure the Elipsa is at the right height for writing on. I've found this magnetic stand to be useful and use it whenever I'm writing on the Kobo Elipsa.
Closing the magnetic SleepCover will automatically put the Kobo Elipsa into sleep mode, while opening it will allow you to pick up where you left off.
---
Navigation
As the Kobo Elipsa is a device with multiple uses, the navigation bar along the bottom of the screen has several distinctive sections:
Home
My Books
My Notebooks
Discover
More
This last section incorporates some of the settings and features that you might not use every day: My Wishlist (Kobo Store), My Dropbox, My Articles (Pocket), Activity, Beta Features, Settings and Help.
The Home screen of the Elipsa is geared towards reading rather than writing.
It provides a bar of the last four unread books that were opened and below that there are links to My Books and any collections you have.
At the bottom of the screen just above the navigation bar, there are two further options. The first directs to the Kobo Store to find something to read while the second one links to something else on the device - this varies from advice on getting started with audiobooks to using the Pocket integration.
Overall, the Home screen focuses on what users might want to read next, and it's also keen to direct you to the Kobo Store if you need some inspiration.
If you did click on that option, the Kobo will wirelessly connect to wi-fi and show a simplified version of the Kobo Store that provides access to a customer's wishlist plus links to deals and categories.
Admittedly, navigating around the Kobo Store in this way is more cumbersome than using the website, but making a purchase is straightforward and it's great to grab a book quickly without a computer or smartphone.
Menu bar
A menu bar appears on the top of the screen when you're navigating around the Kobo Elipsa.
As well as having the time in the left-hand corner, it also features:
Brightness settings to allow easy brightening and dimming
Wi-fi settings to connect to nearby networks
Battery icon to see the current battery level and tweak energy saving settings such as auto sleep and auto power off
Sync icon
Search icon
These icons coupled with the main options on the navigation bar cover all the regular day-to-day elements you need to use the Kobo Elipsa effectively.
You're never more than a couple of clicks away from getting to where you need to be, although it can take a second for pages to load fully.
---
Reading on the Kobo Elipsa
The large 10.3-inch screen on the Kobo Elipsa provides a generous amount of space for reading.
To put the Elipsa's display in context, it's 4.3-inches bigger than the basic Kindle and the Kobo Nia while it's 3.3-inches bigger than the Kindle Oasis and Kobo Libra 2. In e-reader terms, then, the Kobo Elipsa is one of the biggest around.
To compare against the iPad range, the Elipsa is 2.6-inches smaller than the 5th generation iPad Pro and 2-inches bigger than the 6th generation iPad Mini.
It's also around the same height as a hardback book, but it's wider. This means there's more room for text on each line, although it can make it odd to hold at first.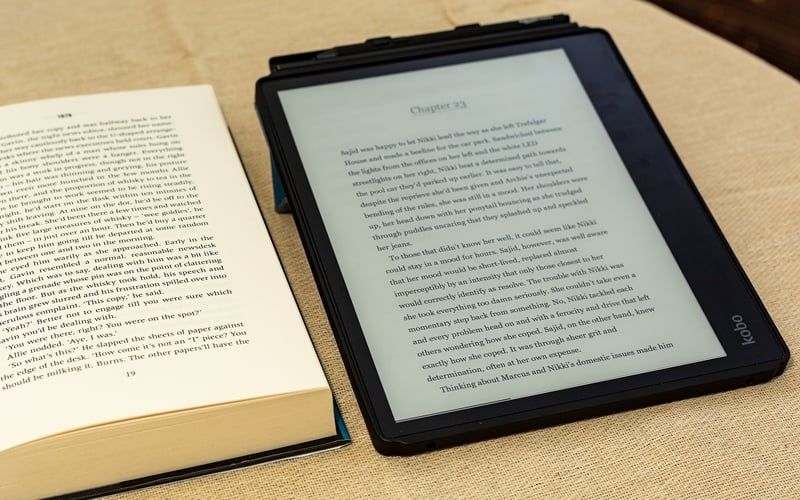 Once you open a book on the Elipsa, the navigation and menu bars disappear to provide an uncluttered reading experience - unless we choose to alter it.
If you touch the top of the screen, it will summon the menu bar with a slight variation on the options we discussed above. The options are:
To go back to My Books (library)
Auto rotate settings with the option to enable this or to set it permanently to portrait or landscape mode
Brightness settings
Font settings such as type, size and spacing
Book stats
Reading settings to change whether onscreen controls are shown, whether Dark Mode is enabled and how often the page should be refreshed among others
More (Write a review, View Details, Dictionary, Related Books, Hints and Tips)
Again, the options we're likely to need are the easiest ones to get to.
When this top menu bar is active during a reading session, more details on how we're progressing with the book come up at the bottom. It's a good way of seeing where we're at and how much we've got left to read.
Reading experience
Reading on the Kobo Elipsa is a clean and uncluttered experience.
Kobo have built their reputation on putting readers' needs first, and that continues with the Kobo Elipsa.
I found the text very easy to read, even in low light conditions when I'd adjusted the brightness to suit the ambient lighting.
Turning pages was equally painless for the most part, although very occasionally the device glitches and starts flicking through multiple pages. In fairness, this isn't a problem that solely affects the Kobo Elipsa - it's something I've experienced on my Kindle too.
Equally, "ghost" pages will occasionally appear on the Elipsa if the display isn't set to refresh often enough.
The default setting when reading is to refresh the page every chapter. This avoids wasting battery by refreshing more regularly than necessary, but if you regularly read books with long chapters, you might want to tweak these settings.
I generally enjoyed reading on the Kobo Elipsa, yet there's no denying it's a heavier e-reader than I'm used to, and it could be too heavy for some people over longer periods. I found that using the mini stand on the SleepCover made the device easier to hold, giving something other than a smooth back to grip on to.
Fonts and spacing
There are 16 fonts to choose from on the Elipsa or we can choose the default font the publisher opted for when they published the book.
However, there is a caveat on fonts when it comes to some special characters. If a character can't be rendered by the chosen font, a supplemental font is used to try and render in. This will work some of the time, but Kobo do suggest users try a different font if they keep seeing blank characters in the books they're reading.
In my reading time on the Elipsa, I've generally used the publisher's default font and had no issue with it. Others might prefer thinner or weightier fonts than the default though.
It's worth noting there are advanced settings that allow the size and weight of any font to be adjusted manually. This is a good option if there's a specific font you like to use but would prefer it to be a little thicker.
Users can also adjust the line spacing from the fonts menu, as well as the margins and the justification of the text.
Audiobooks
Thanks to a firmware update, it's now possible to listen to audiobooks that are purchased via the Kobo Store on the Kobo Elipsa.
Since there's no headphone socket on the device, users will need to connect headphones via Bluetooth to do this.
Once everything set up, the controls for managing the audiobook's playback speed and volume appear on the Kobo screen.
---
Writing on the Kobo Elipsa
To access notebooks on the Kobo Elipsa, it's simply a case of touching the central icon on the navigation bar. That takes you to the notebooks you have already as well as giving the option to create a new notebook.
There are two notebook styles to choose from:
Basic - A notebook that allows you to write everywhere.
Advanced - A notebook that converts handwriting into type, and supports adding free-form sections, diagrams, and equations.
It's not possible to switch a notebook between these two styles once it's set-up, so it's important to think about whether you want the features an Advanced notebook can offer before creating a new notebook. On the plus side, there's seemingly no limit to the number of notebooks you can create, giving users the chance to play around a bit.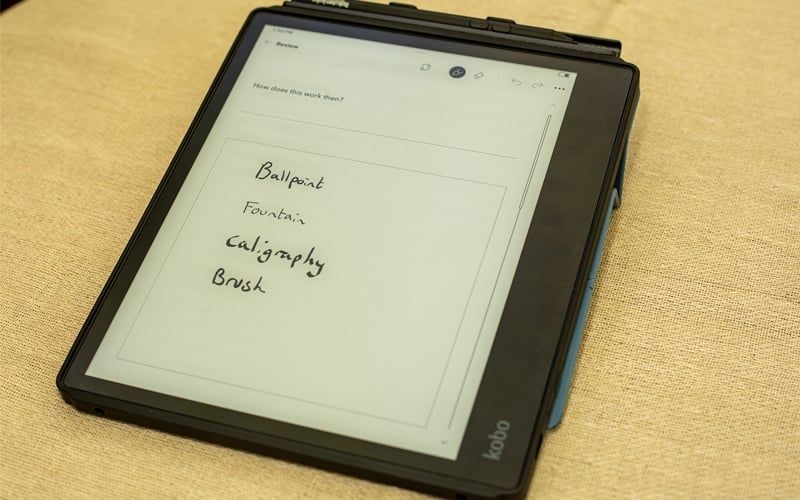 While Advanced notebooks have more bells and whistles, they lack the simplicity of Basic notebooks.
If you just want to make handwritten notes without converting to text, the Basic notebook has everything you need and has the benefit of feeling like an actual notebook as you swipe from one page to the next.
Despite toying with the Advanced notebooks, I kept returning to the simple Basic notebook that replicated my everyday note taking.
Whether Advanced notebooks will have a benefit to an individual user depends on whether drawings, diagrams and converting to text is important. The Kobo Elipsa supports these and is good at it, but it didn't end up being something I used very often whereas I use it every day for general note taking.
Writing experience
Writing on the Kobo Elipsa is generally a positive experience - with a few caveats.
The Kobo Stylus works well and there isn't much of a lag between writing on the screen and seeing the text appear there.
That isn't to say there's no lag at all and it's noticeable for people who are used to writing on a notebook and seeing instantaneous results.
Compared to writing on a Remarkable 2 tablet, the writing lag is more noticeable, yet it's far better than writing on an iPad, for example.
Users who have more experience of e-note devices may be frustrated by the lags of the Elipsa and the way the screen refreshes after every line of text is written - almost as if it's committing the text into its memory.
These regular refreshes got on my nerves at first, although I then came to anticipate the moment that it would refresh, and it stopped bothering me as much. However, it might be irritating for some users.
Similarly, while I found the grip of the Stylus on the Elipsa's page to be adequate, it doesn't feel as stable as using a Remarkable 2. Again, though, it's a vastly superior experience to writing on an iPad or tablet.
One problem I had occasionally, however, was the Stylus just not working. This doesn't happen often, but it's happened regularly enough to be noted as a potential hiccup. To solve it, I simply powered off the device completely then turned it back on, yet it was definitely annoying.
In addition, I've had one instance where the Basic notebook I was using glitched because the device froze while I was using it and I had to power off. This only happened once in many hours of playing around with the Elipsa, but it's a good reminder to export important notebooks in the same way you'd back up other important data.
Annotating
One of the features that Kobo are keen to push is the ability to annotate e-books and PDFs.
Again, there's a caveat in that you can only annotate e-books that are not protected by digital rights management (DRM), but as many publishers disable this these days, the feature can still be quite useful.
Making an annotation with the Stylus is straightforward, with the note then creating a bookmark that can be easily accessed through an icon at the bottom of the screen. The annotations tab actually shows the note as well as showing the location, helping readers move to the note they want to see.
I could see this being a great feature for students and anyone who wants to make notes as they read. It isn't something I personally used very often during my time with the Elipsa, but I would have if I was studying a certain book.
Kobo supports DRM-free ePubs and PDFs, so I transferred some PDFs to the Elipsa using Dropbox (more on this below) to see how that works.
The process of making notes and storing them in the bookmarks tab is the same as annotating an e-book, and there's plenty of space around the document to make notes.
One thing I found difficult, though, was zooming in. Because you're working with PDFs rather than responsive ePubs, zooming in doesn't recalibrate the page to show all the text. Instead, it shows a fragment of the document - not really great for reading or annotating.
These frustrations aside, I've used the Kobo Elipsa to annotate multiple PDFs and I haven't run into a problem yet.
---
Importing and exporting
Buying books from the Kobo Store is straightforward. As we've mentioned above, this can be done directly from the Elipsa or, if you prefer through the website on a computer, phone or tablet.
Getting books that were not purchased via Kobo directly requires an extra step - Dropbox.
This feels like a complicated thing to set up, but it only has to be done once and Kobo do provide a detailed step-by-step guide on their website.
I found it straightforward enough to get set-up and then the process of adding documents to the Dropbox folder and syncing with the Kobo was easy enough. It just took some getting used to.
Note: Encrypted files with DRM will need to be transferred via Adobe Digital Editions.
Exporting
The Kobo Elipsa allows you to export the notebooks you create by connecting directly via USB-C or by syncing to Dropbox.
Unfortunately, my experience of this feature wasn't positive.
While I could get the Elipsa to connect using a USB-C cable, getting files to export via the cable was a different matter.
I attempted to export a page from a Basic notebook, but the status bar was hanging for a very long time considering it was only one page and I had to cancel it because nothing was happening.
I then attempted to export an Advanced notebook directly to Dropbox. However, the same problem occurred.
Whether this is a local network issue or something more fundamental, it was frustrating that I could get it working.
Yet syncing to Dropbox and getting files from there to my Kobo and back again (with annotations) is straightforward and I didn't have a problem with that at all.
---
Integrations and extras
The Dropbox integration on the Kobo is joined by a Pocket integration.
For those who don't know the software, Pocket is an app that allows you to save articles from the web to view later. It comes with an extension for your browser that clips the article to the Pocket app.
If you have a Pocket account (or are willing to create one), you can link that with your Kobo Elipsa.
I already had a Pocket account, so it was just a case of authorising the app via the Kobo and then all my saved articles were transferred across.
Overall, I found it to be a useful little feature, and it's one I've kept reminding myself to use because it gives me something to read between books.
If you have a public library account with an OverDrive catalogue, it's possible to link the two, allowing you to read library books on your Kobo Elipsa.
---
Battery and charging
The Kobo Elipsa has a 2,400mAh which should last for "weeks" with average usage. Charging the Kobo must be done with a USB-C charging cable - there are no options for rapid or wireless charging.
In practice, I found myself charging the Elipsa at least once a week, mainly because I was using it so much for reading and writing.
There's also a quirk to charging the Elipsa that makes it difficult to see how much the device has charged - the percentage on the sleep screen sometimes doesn't move from the percentage it was at when you first plugged it in.
This is a known issue with Kobo e-readers, and it doesn't mean the device isn't charging. It just means you need to double-check that it's completely charged before you unplug it.
---
Summary: Useful but not perfect
| | Device | Price | Screen size | Resolution | Released |
| --- | --- | --- | --- | --- | --- |
| | Kobo Elipsa | £302 | 10.3" | 227 ppi | May 2021 |
The Kobo Elipsa was the first mainstream e-reader in the UK to combine reading with e-writing.
Thanks to its automatic connections to the Kobo Store, the Elipsa can easily purchase and download books from a huge sales catalogue, but customers can also sideload their own books and documents in there.
While the Kindle Scribe is set to launch later in 2022 with similar features, Kobo got there first.
That inevitably means there are kinks in the system, and the difficulties I had with exporting, for example, may be symptomatic of that.
Nevertheless, I enjoyed going hands-on with the Kobo Elipsa, and I found it to be a good replacement for paper notebooks. As an e-reader, it works well too, although I can imagine the size being too much for some people.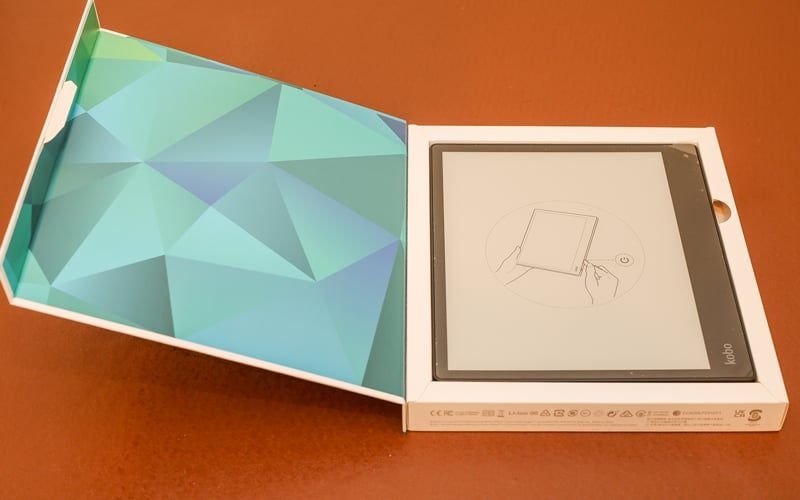 The Kobo Elipsa is ultimately a device with multiple purposes. Some e-ink and e-note proponents will find the Elipsa to lag a little on the writing side of things, while those who prefer reading will wonder whether the bells and whistles of e-writing are necessary.
For me, it hit a sweet spot as someone who does a lot of reading and writing. The Kobo Elipsa isn't perfect yet, but it's a great device that will suit students, writers and anyone who likes to make notes on their books very well.