The 7th generation Amazon Fire HD tablets were released in June 2017, and have since been discontinued and are no longer available to buy.
The current Fire HD line-up includes the Fire HD 8 10th gen and the Fire HD 10 11th gen. There are also Plus versions available which offer slightly more memory for a faster user experience.
Since we reviewed the 7th gen Fire HD tablets, Amazon's branded tablets have enjoyed upgrades to the processor, RAM and cameras. No doubt boosting their ability to multi-task.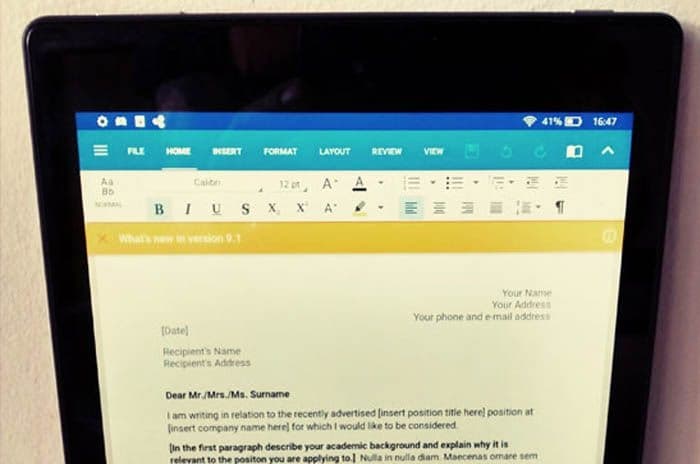 © Choose
---
| | Device | Price | Display | Processor | Released |
| --- | --- | --- | --- | --- | --- |
| | Fire HD 8 (10th gen) | £90 | 8" (1280 x 800 resolution at 189 ppi) | 2GHz (2GB RAM) | June 2020 |
| | Fire HD 10 (11th gen) | £160 | 10.1" (1920 x 1200 resolution at 224 ppi) | 2GHz (3GB RAM) | May 2021 |
| | Fire HD 10 (11th gen) + Keyboard | £210 | 10.1" (1920 x 1200 resolution at 224 ppi) | 2GHz (3GB RAM) | May 2021 |
Hands on with the Fire HD 7th gen line-up
In this hands-on review of Amazon's Fire HD tablets, we put the Fire HD to the test in the work environment and find out just how versatile this budget device is.
There are three versions of the Fire HD currently available: the 7-inch, the 8-inch and the 10-inch. The larger 10-inch device - the Fire HD 10 - is the best option: it's faster, has a better display and offers more storage.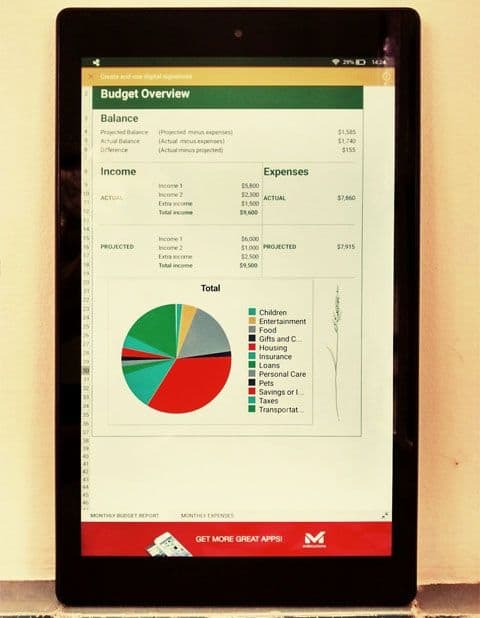 The Fire HD 10 has the best display and fastest processor
That said, it still has limitations. The front facing camera is particularly poor, making video conferencing a little embarrassing, and its battery lasts two hours' less than that of the Fire HD 8.
All three Fires suffer by only being able to access the Amazon app store, though there are ways around this.
Overall, the Fire HDs can fulfil the role of a work tablet - you just wouldn't want one as your sole device.
---
Productivity
The good news is that all three Fire HDs can be used as word processors and in the creation of spreadsheets and the like.
The bad news is that you might have to familiarise yourself with new software.
The reason for this is that Fire HDs are designed to be used with apps from the Amazon app store, which has a fraction of the choice available on Google Play.
So, for example, you won't be able to get Microsoft Word app or Google Docs.
However, if you're willing to change the device's settings to allowing apps from unknown sources, you will be able to get at Google Play - but, you'll be opening the device up to security risks.
Of those available from the Amazon app store, the best option currently available is the OfficeSuite app from Mobisystems. There are three versions, only one of which is free.
While the free version contains a perfectly serviceable word processor, spreadsheet and presentation-creation software, you'll have to upgrade if you want to do things like printing or converting PDF to Word.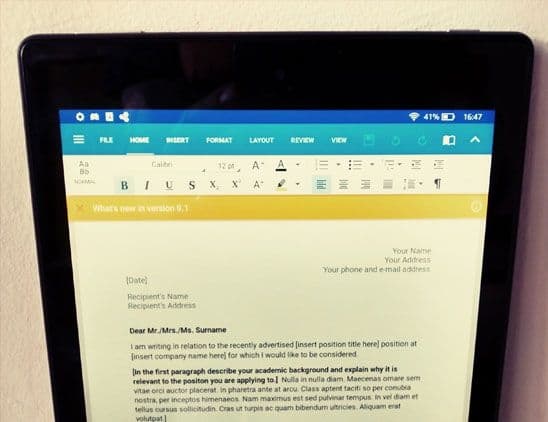 The free word processor from the OfficeSuite app
It's worth bearing in mind that trying to create and edit documents on the smaller Fire HD 7 and 8 can start to feel claustrophobic after extended periods of time.
It's not just their screen size, but the resolution too. The Fire HD 10 is the only one of the three with full-HD resolution, offering 224ppi compared with the 171ppi and 189ppi of the Fire HD 7 and 8 respectively.
---
Video conferencing
Skype is available for free from the Amazon app store, and all three Fire HDs have a VGA front-facing camera with which to use it.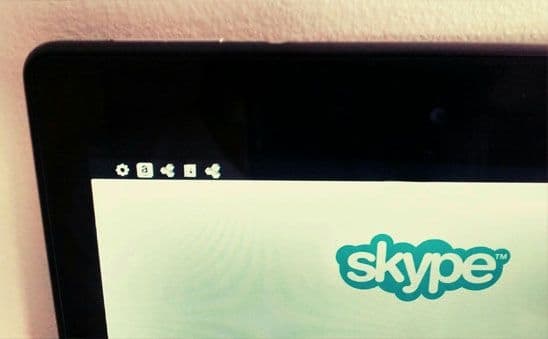 Skype is available for the Fire HD, but the front-facing camera is limited to 0.3MP
Unfortunately, the front-facing camera has a spectacularly low resolution of 0.3MP, which means its difficult for the person calling you to see exactly who they're speaking to. They can see that you're human, but that's about it.
The rear-facing camera isn't really much better at just 2MP, and really struggles in low lighting.
We can't be too critical however. After all, the poor cameras are part of the reason that Amazon is able to sell Fire HDs so cheaply.
While the other specs have improved with each generation, the cameras in the 2017 Fire HDs are the same low quality as those found in the 2014 Fire HD 7.
---
Multi-tasking
Navigation is easy enough on all three devices, though finding yourself repeatedly back on the home page can prove dangerous for the easily distracted.
Among the entertainment tabs on the home page there's a 'For You' option, which is handy in that it contains all of your recently used apps.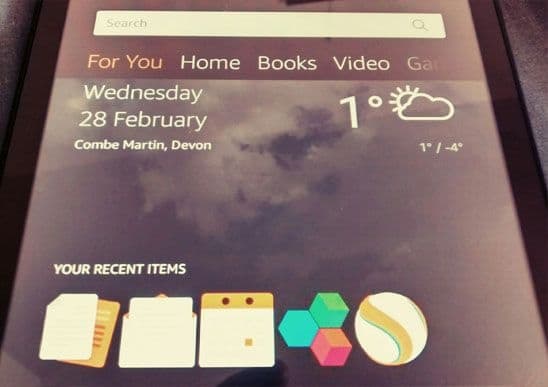 The Fire HD 10 has 2GB RAM for multi-tasking
Among the pre-installed apps, there are only a few that are of use in terms of productivity: a calendar, an email client and an organisational docs folder.
The latter shows you if your documents are stored on the device itself or in the cloud.
You also have the option of sending documents remotely to the Fire by emailing them to an @kindle.com address.
As these various apps are fairly low demand, all three Fire HDs are happy enough running them simultaneously.
The Fire HD 10 is the best of the lot however, and is powered by a 1.8GHz, quad-core MediaTek processor with 2GB of RAM.
This is more than enough to switch between apps and documents without any frustrating pauses.
The Fire HD 7 and 8, by contrast, are slower, with 1.3GHz processors, and 1GB and 1.5GB of RAM respectively.
Expect some hiccups when moving between several active apps - particularly with the Fire HD 7.
---
Battery
Trying to find a charging point during the working day is a pain, so it's nice to know that even the lower spec Fire HD 7 can last up to eight hours on a single charge.
The larger Fire HD 10 lasts longer, with up to 10 hours' use.
The Fire HD 8, however, is the best of the three, going for up to 12 hours before needing to be plugged in.
You'll be able to get another couple of hours on top of these if you're just using the tablet for editing documents.
While these numbers are fairly impressive, the major downside is that it takes between five and six hours to charge the devices back up again.
It's worth noting here that if you do plan on using a Fire HD whilst out of the office, then you're going to generally need the brightness on full whack at all times to try and combat the super-reflective screen.
This isn't helped by the lack of an oleophobic coating, which results in the screen getting rapidly covered in fingerprints and smears.
---
Specifications

Fire HD 7
(7th gen)

Fire HD 8
(7th gen)

Fire HD 10
(7th gen)
Screen size
7-in
8-in
10.1-in
Resolution
1024 x 600
1280 x 800
1920 x 1200
Storage
8GB/16GB
16GB/32GB
32GB/64GB
Weight
295g
396g
500g
Cameras
0.3/2MP
0.3/2MP
0.3/2MP
---
Verdict: Are Amazon's Fire HD tablets any good?
For their relative prices, all three Fire HDs are capable devices in that you can use them to work on documents, Skype colleagues and check your emails.
Depending on your budget, the best option is the Fire HD 10. At £150, it's still fairly cheap and your eyes will appreciate it's larger screen and higher resolution - particularly towards the end of a long day.
The latest Fire HD 10 even offers a 'productivity' version, with an extra keyboard attachment designed specifically for home and office work.
Whichever device you choose, it'll take a little while to customise it to your working needs. After all, it's designed to be a portal into the world of Amazon paid-for entertainment services, not a work-horse.
But beyond this initial frustration, the Fire HDs are excellent value for money for anyone seeking a supplementary device to their main work computer.