The first edition of the Fitbit Versa was released in April 2018. It was the first Fitbit to offer more of a smartwatch appeal, moving away from the typical banded design.
It's since been replaced by the Versa 3 in 2020, and the Fitbit Sense also shares a very similar design.
The main upgrades we've seen to the Versa include adding built-in GPS, voice control and a slightly better battery life. Aside from GPS, there's no big leap forwards however, so those on a budget may still want to consider picking up a Versa 1 from marketplace sites like eBay.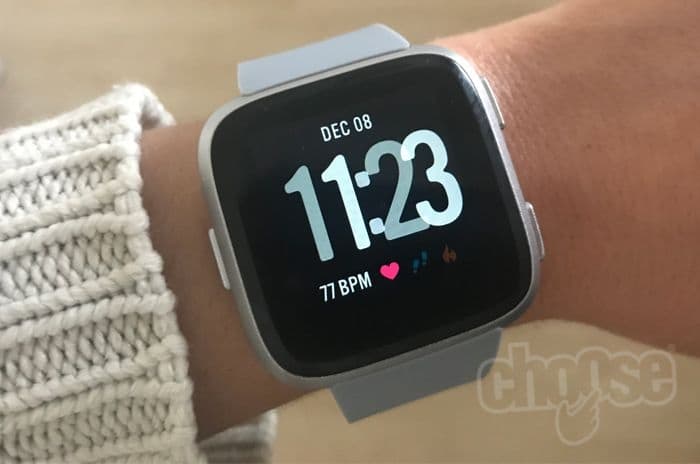 © Choose
---
| | Device | Price | GPS | Battery | Released |
| --- | --- | --- | --- | --- | --- |
| | Fitbit Versa 1 | £40 (approx.) | Connected | 4 days+ | April 2018 |
| | Fitbit Versa 3 | £200 | Built-in | 6 days+ | August 2020 |
Hands on with the Fitbit Versa 1
The Fitbit Versa is arguably Fitbit's best-looking device - unlike the banded design of Charge and Alta, it looks like a smartwatch, and is more visually appealing with contoured corners than the overtly masculine Fitbit Ionic.
In terms of features, Versa is second only to the Ionic - with the missing feature being built-in GPS, and while the Versa does offer connected GPS this means route tracking of cycling or running needs the user to also carry their mobile phone connected over Bluetooth.
Despite this, the Fitbit Versa was my favourite Fitbit tested thus far. Although it should be noted, fit for me, was a major factor.
Pros
Cons
Best looking Fitbit
Full functionality including sleep states and cardio fitness.
Includes female health tracking.
Store up to 300 music tracks.
No built-in GPS (requires smartphone for GPS).
Screen can accidentally turn on during the night through touchscreen input, even when on 'manual' wake up only.
---
Fit and looks
Note then that in previous Fitbit testing, as a petite female, the tall banded designs of the Fitbit Charge and Alta - even in small sizes - felt awkward as the height of the device was taller than my wrist, meaning it just didn't hug my wrist like a watch should.
I encountered a similar issue with the Apple Watch 4, which while visually appealing also took up most of my wrist, and again, while not uncomfortable per say, felt awkward and like it was just too big.
The Fitbit Versa has then been the first fitness tracker I've tested that actually provided a good fit for small, petite, or female wrists. And while it's still large, and certainly not "too small" for larger wrists or men, the squared screen, meant it just fitted that bit better, and made all the difference to my experience of wearing the device.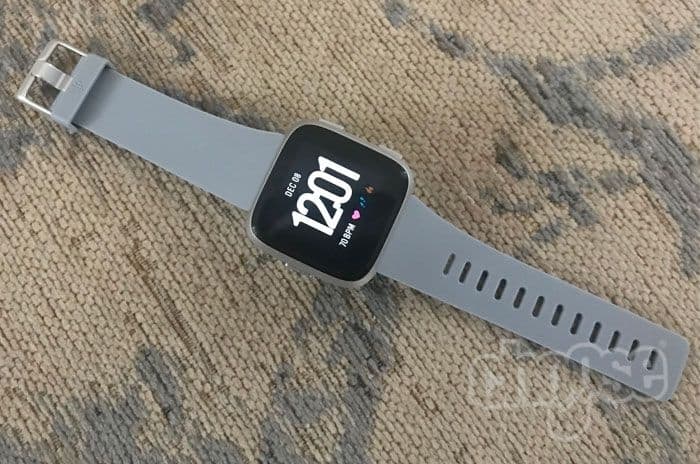 The Fitbit Versa looks more like a smartwatch than a fitness tracker.
And in terms of looks - the Fitbit Versa looks like a watch more than a fitness tracker; the screen can be personalised with a custom watch-face and quickly feels as much a fashion choice as a fitness motivator.
Available in three colour ways: Black, Silver and Rose Gold, and unlike the fixed strap of banded Fitbits, the Versa strap is removable and available in numerous colour choices too.
---
What it does
The features of the Fitbit Versa are fairly broad, and to an extent go some way to amalgamate the use of multiple fitness apps to monitor what we eat and when we exercise.
And in addition, popular apps such as MyFitnessPal and Strava can be connected to work in sync with the Fitbit app.
Principally then, Fitbit Versa monitors heart rate and movement by way of a 3-axis accelerometer and gyroscope, as well as an altimeter.
Using these monitors, as well as complex calculations combining them with provided vital statistics, such as age, height and weight, Fitbit provides relatively accurate estimates of daily calorie burn, state of fitness with Vo2 Max (how much and how quickly our body can get oxygen to our muscles), and sleep states from time in light, deep and REM sleep.
And of course, let's not forget, step counting as well as floors of stairs.
All in all, that's a pretty good overview of our health and what the Fitbit Versa really does, is motivate you to make better choices so you are active every day, you keep moving every hour, you don't eat more than you burn, and you work towards those elusive 8 hours of perfect sleep each night.
---
What's different
In comparison to the other, cheaper, Fitbits then, it depends on the actual device but for example, in comparison to the Charge 3 - the Versa offers personalised on-screen coaching, apps such as Strava and Deezer, the ability to store up to 300 music tracks, and interchangeable watch straps.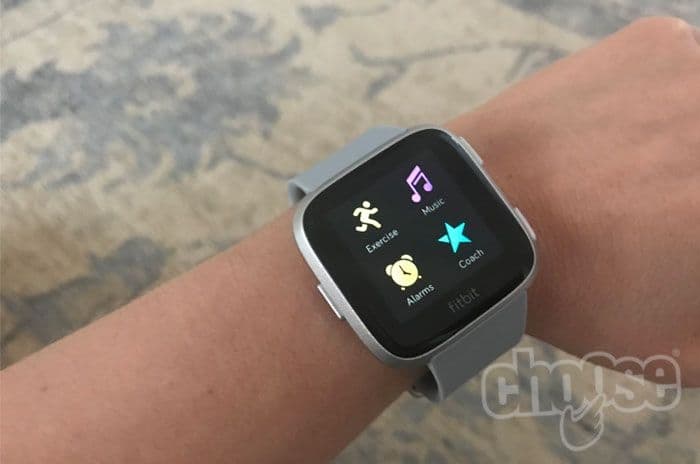 The Fitbit Versa offers a range of new apps including music and personalised coaching.
In comparison to say, the Alta however, the Versa also offers floors climbed, sleep stages, female health tracking, guided breathing sessions, water-resistance up to 50 meters for swim tracking, multi-sport tracking, heart rate tracking, cardio fitness level, and connected GPS.
Compared to the more expensive Ionic however, as mentioned, the Versa only has connected GPS, whereas the Ionic has built-in GPS. This is however, the only real difference between the two top-end Fitbits.
---
In use
What I liked most about using the Fitbit Versa, was the motivational overview of having everything in one place.
For example, it was useful to see how eating sugary snacks late at night effected my sleep, as well as how my calorie in-take was offset by activity: a walk to the corner shop at the top of the hill burnt the same number of calories as a chocolate digestive. Bonus.
It was also interesting to note, that despite being fairly active, my basal metabolic rate was quite a few biscuits lower than what's usually purported to be 2,000 calories a day for women. Less biscuits for me then.
But on a serious note, anyone looking to lose weight be it for general health or even athletic competing, would benefit from these more personal calculations.
---
Exercise tracking
The Fitbit Versa is meant to have automatic exercise tracking, meaning that it can detect when you've begun exercising so you don't need to tell it when you're going for a walk or a run.
That said, in practice, unless you are specifically a runner, we found it didn't work so well for cycling - which was instead picked up as climbing stairs.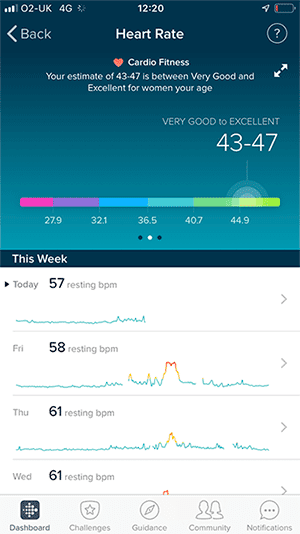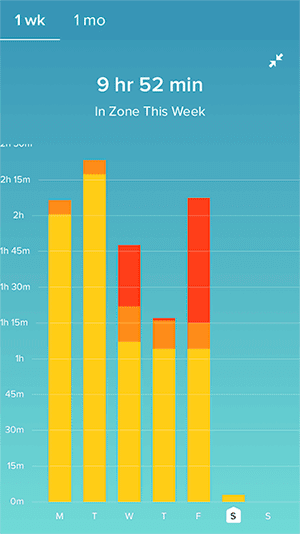 The Fitbit app monitors heart rate throughout the day and plots time in peak, cardio and fat burning zones during exercise, which gives insights useful for training and cardio fitness.
I did like the range of activities we could select however, which include bike ride, run, weights, swim, interval timer, yoga or workout. When selecting workout this can later be customised to another activity, such as horse riding.
When using connected GPS, our bike ride route was mapped, providing a better oversight of distance and average pace.
Most useful for those into serious exercise, is knowing for how long your heart beat is working in peak range, cardio range or fat burning range.
It was interesting to find out for example that I had a longer time in peak on a flat cycle track during a 30 minute 'recovery' ride than on a hilly XC ride - which I can only put down to a more continuous workout uninterrupted by descents and gates.
The insight however, allows you to more carefully tailor exercise routines and programmes to get the most out of your activities.
---
Fitbit App
Most of the functionality of the Versa, like other Fitbits, is actually provided by using the device in conjunction with a smartphone running the Fitbit app.
In the Fitbit app it's possible to access the full range of fitness information, view fitness and activity history, and track additional manually entered details such as food and water intake, weight and body fat percentages, and women can also record menstrual cycles and fertility.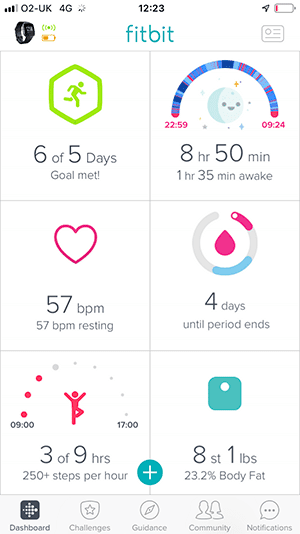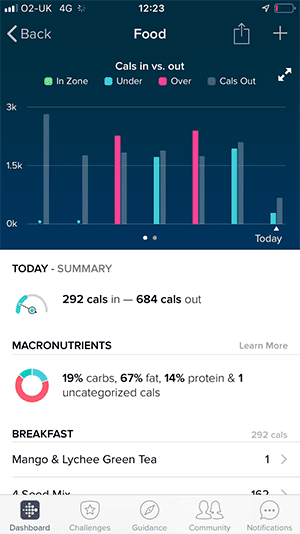 The Fitbit app provides everything in one place, combining health records of exercise, sleep, food in-take, weight, and female menstruation (the main screen can be customised to your own preferences).
It's certainly nice to have everything in one place, and these fitness statistics work with each other to provide better insights into weight loss/gain, cardio fitness and how well you're sleeping.
The app can be customised to show only those features you're most interested in, or all of them.
It's worth pointing out, that like with any other Fitbit, the Fitbit app does not require a subscription to access the full breadth of features, nor are there any 'in-app purchase' options. Once a device is bought, all features are available to the user, including access to updates both for the app software and device firmware.
---
Comfort
If you're actually going to stick to wearing something for 24 hours a day it needs to be comfortable.
The default 'rubber' strap of the Versa is a lot more comfortable than you might expect, both to sleep in and wear while exercising. And while it is a rubbery-plastic it didn't cause any irritation or sweating under the strap. In fact, during a two hour bike ride, it was easy to forget it was even on.
Fitbit suggest the device should be worn fairly loosely and only tightened during exercise. We always loosened the strap a notch before bed and didn't find this caused any problems with loss of heart rate data.
Considering I'm not used to sleeping in a watch it felt pretty comfortable to sleep in.
The only downside, is that even with the screen-wake function turned to manual (which means the screen only turns on by a side button or touchscreen press, rather than by the movement sensor), it was still easy to accidentally touch the screen and turn it on during periods of restlessness.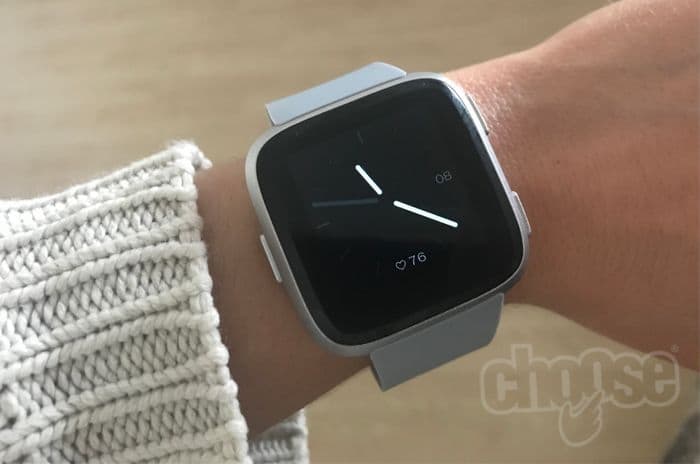 The Fitbit Versa with a darker custom watch face.
Considering I was trying to improve my sleep by avoiding device screens it was the only thing I found to be a bit annoying about the Versa. Changing the screen to a darker custom watch-face did help, although it didn't resolve the issue entirely.
---
Battery
Fitbit say the Versa should last 3 days on one charge, and I found this to be pretty accurate, as even with almost daily exercise tracking including using connected GPS on a few occasions, I only needed to charge it once over a week.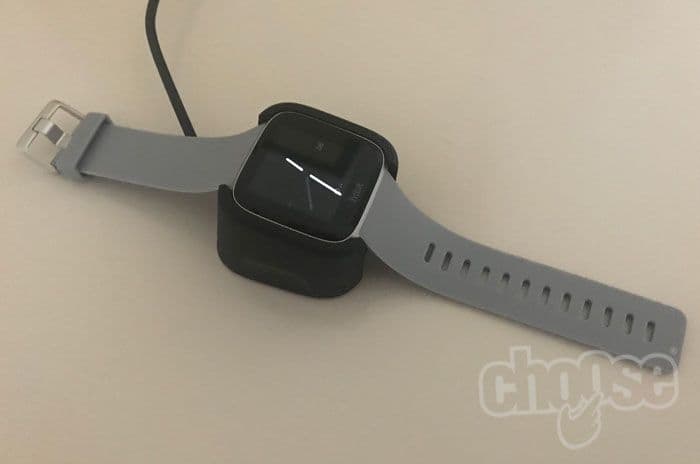 The Fitbit Versa in its USB charging stand.
In terms of charging, the Versa comes with its own charging stand, which the face of the Versa clips into. This was easy to use and meant that when charging the watch is prevented from gaining any worktop scratches.
Once in the holder it can then be charged via USB.
---
Verdict: Is Fitbit Versa 1st edition any good?
As one of Fitbit's top end devices, the Versa offers a lot of functionality in comparison to a more basic tracker such as the Alta, or even the Alta HR.
In comparison to the Fitbit Charge 3 however, the gap closes somewhat, and the extra cost of the Versa starts to come down to form over function.
That being said, what a great form the Versa is - I'd easily say it's the best-looking Fitbit, and while it is down to personal preference, I actually prefer it looks-wise over the Apple Watch.
For anyone who wants a Fitbit that looks more like a fashionable watch, with the full package of fitness monitoring tools, the Versa is an easy choice.
The main downside to the Versa however is the lack of built-in GPS, and while exercise can still be recorded without GPS, most runners and cyclists like to track routes, which means you can't leave your smartphone at home, and that somewhat dissipates the purpose of a wearable.
It is worth noting the latest Versa 3 does have built-in GPS, so upgrading might be worth considering.