The Fitbit Charge 2 is now discontinued, and has been replaced with the Charge 4 and more recently, the Charge 5.
While the Charge 2 is no longer being produced it's still possible to find refurbished and preowned devices on marketplace sites like eBay for around £30.
The Charge 4 and Charge 5 are priced similarly to the Charge 2. Both are available for less than £120 with offers, but they have more advanced features including built-in GPS, waterproof for swimming, and even temperature and blood oxygen level sensors.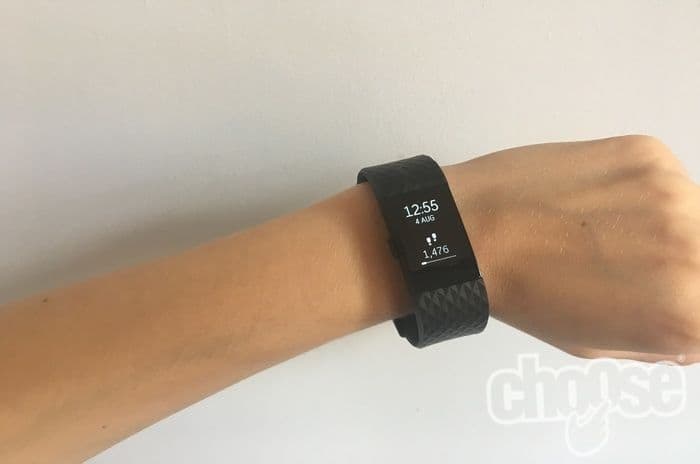 © Choose
---
| | Device | Price | GPS | Battery | Released |
| --- | --- | --- | --- | --- | --- |
| | Fitbit Charge 2 | £30 - £60 | Connected | 5 days+ | August 2016 |
| | Fitbit Charge 4 | £150 | Built-in | 7 days+ | March 2020 |
| | Fitbit Charge 5 | £170 | Built-in | 7 days+ | Sept 2021 |
Hands on with the Fitbit Charge 2
Originally retailing at around £110, the Fitbit Charge 2 was a reasonably priced wearable tracker when it launched a few years ago. With a whole host of features to keep any fitness fan enthralled - it's a great activity and heart rate tracker.
While it seems more basic now compared to newer versions, the Charge 2 also packs in lots of extras like sleep tracking and a multi-sport option, which help to personalise the Fitbit experience.
With a user-friendly app for Android and iOS, there's little reason why this wearable tracker wouldn't suit anyone who wants to monitor everyday activities and health.
When we tested the Fitbit Charge 2, we assessed it from a number of different angles: design and controls, activity and heart rate tracking, additional features and the Fitbit app.
| Pros | Cons |
| --- | --- |
| Five day battery life | Not waterproof |
| Easy to use | No integrated GPS |
| Interchangeable bands | |
| Personalised Cardio Fitness Score | |
| Guided breathing Relax feature | |
---
Design
The Charge 2 has a bulkier design than its predecessor and other models, with a fairly large 21.45mm screen and a strap of the same thickness. This makes it a little more uncomfortable to wear especially whilst sleeping. Although it's still fairly light on the wrist and not uncomfortable to wear. It didn't irritate me to wear it at my desk whilst typing.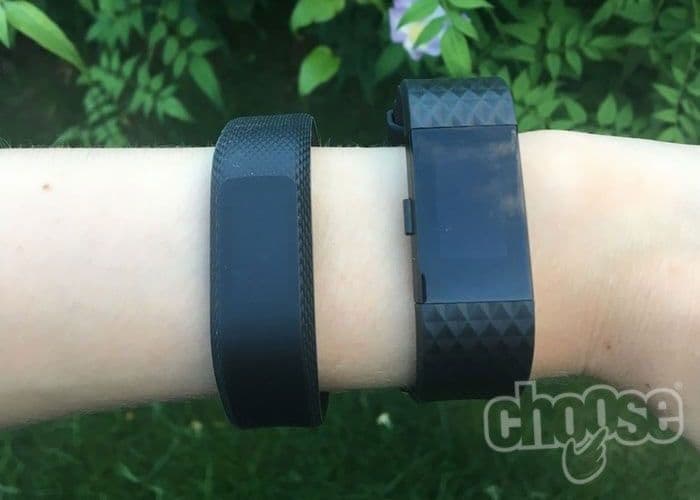 Fitbit Charge 2 has a bulkier design than other models such as the Fitbit Alta HR
Fitbit has improved the materials used to make its straps as the original Charge's straps had reportedly caused skin irritations. I have extremely sensitive skin and have suffered heat rashes when running with watches or Fitbits in the past but there were no flare ups or any irritations with the Charge 2.
If irritability does become an issue, Fitbit also offers the Charge 2 sports band, which is perforated and breathable, for £24.99.
Touchscreen and controls
The display screen is much larger than previous designs; it's over four times larger than the display screen on the Charge HR in fact. Yet it is an OLED screen, which makes the information much easier to read than on other devices.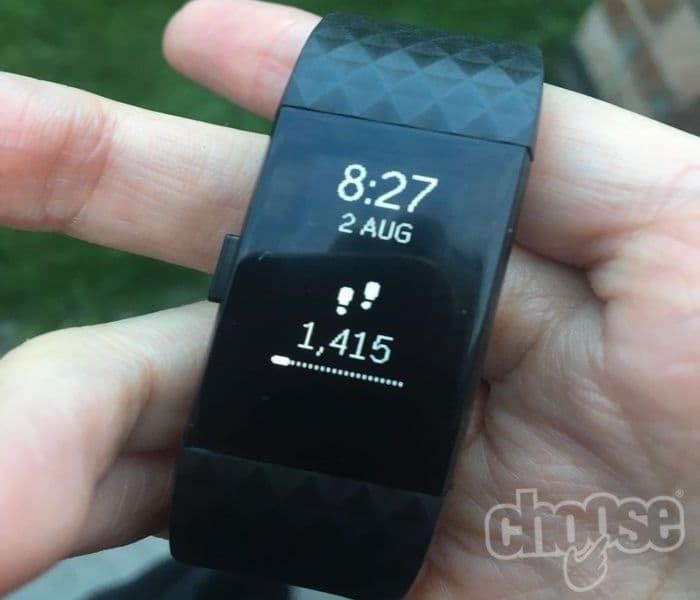 Larger OLED touchscreen display
It's also a touch screen, a new addition to the Charge range, which makes it super easy to use. Simply tap the screen to wake the device and then tap through to see various stats. The touchscreen could be a little temperamental at times. It wouldn't always respond when tapped, which did test my patience on a few occasions especially when out running and attempting to quickly gauge stats.
Another great design feature, although a little distracting, is the device's ability to sync with a smartphone to allow notifications (calls, texts and calendar alerts) to be displayed on the screen.
The Charge 2 also sends out handy Reminders to Move at set intervals, it reminded me to take at least 250 steps an hour. I have to admit over time this feature did push me to work in a little more activity than usual into my daily routine, which is the whole point of a wearable fitness device.
Battery
One of the greatest things about the Charge 2 is its impressive battery life. I got by charging it just once a week. Plus, it only takes between one to two hours to charge, meaning time not wearing it is minimised and stats can be tracked almost constantly.
---
Tracking functions
Heart rate tracker
Although the Charge 2 offers a wealth of features, its primary function is an activity and heart rate tracker - and it does this very well.
Powered by Fitbit's PurePulse heart rate monitoring technology, the Charge 2 automatically and continuously monitors heart rate through the wrist. The heart rate information provided allowed me to understand how my heart rate reacted to different forms of exercise.
For example, the Charge 2 logged my resting heartbeat at 70 beats per minute. It then used this as a baseline to monitor how hard my heart worked during different activities. When working out, the device would inform me of which of the three heart rate zones I was working in - whether fat burn, cardio or peak.
Tracks heart rate while running and indicates heart rate zone - fat burn
The Charge 2 also offers a Cardio Fitness Score. The score is found by estimating the body's VO2 Max level - the maximum amount of oxygen the body is able to use when working out. Again this allows for a more personalised experience, providing an insight into cardiovascular health.
Activity tracker
In addition to heart rate monitoring, the Charge 2 is also an excellent all day activity tracker. It tracks steps taken, distance travelled, active minutes and hourly activity, as well as calories burned. Again it does this automatically with no prompting from the user. In the past I've often forgot to activate apps and wearable fitness devices, meaning activities weren't tracked. But with the Charge 2 this wasn't an issue.
Other reviews have reported discrepancies between the distances recorded by the Charge 2 and other GPS devices. Of the five distance tests I did, 4 out of 5 were accurately recorded. While the fifth distance, a two-mile run, which was recorded as 1.9, was only slightly underestimated.
Multi-sport option
Another first for the Charge range, the Charge 2 has a multi-sport option that allows users to track specific workouts. This was one of my favourite aspects of the device. As a keen Yogi I was offered an invaluable insight into my practice. I could see the different effects of different yoga styles, in terms of calories burned and heart rate.
Specific workouts can easily be added via the 'exercise shortcut' setting on the Fitbit app. Walk, hike, golf, spinning, tennis, Pilates and circuit training can all be added as an exercise.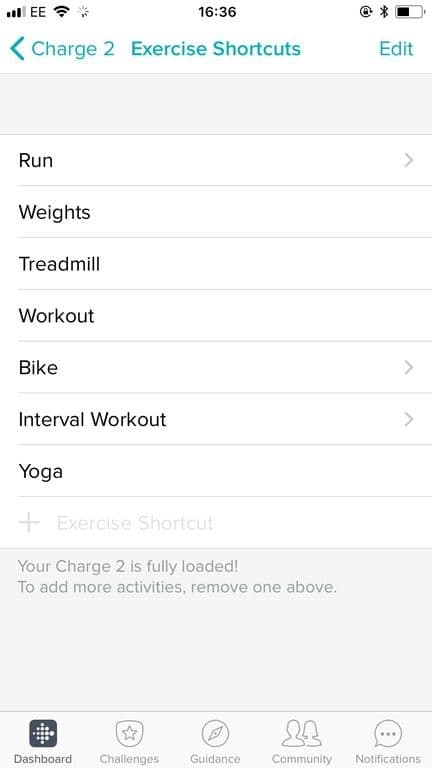 Multi-sport options
This feature is another great example of how the Charge 2 enables users to personalise their usage and stats.
GPS and water resistance
One big downside for me though as a keen swimmer was the fact that the Charge 2 isn't waterproof. It is sweat, rain and splash proof though. So you don't need to worry about getting caught out in the rain while running. However, it will also need to come off when showering.
Another drawback is the Charge 2's lack of integrated GPS. It does offer connected GPS, which means users can manually hook up their smartphone to the Charge 2 to access GPS workout information. This can be inconvenient though. I wanted to monitor my stats whilst running and had to take my bulky iPhone 7 along with me in order to do so.
---
Additional features
For anyone who is interested in wellness, relaxation and sleep tracking, then the Charge 2 has a lot to offer in additional features.
Relax mode
Its guided breathing option - called Relax - allows users to take time out from a busy or stressful day and devote two or five minutes to relaxation or even meditation.
Aligned breathing is something I've struggled with in the past when attempting to rest or meditate so I was keen to give this function a try. When in Relax mode, the device emits slight vibrations to remind the user when to breathe in and out so you don't need to stare at the device throughout, which would be an awful distraction when meditating.
Even though the Charge 2 supposedly used my heart rate to gauge my breathing rate, I still found myself losing sync. Breaths in and out felt unnaturally long. What's more, when I lost the rhythm the device kept on at the same pace so I had to keep restarting.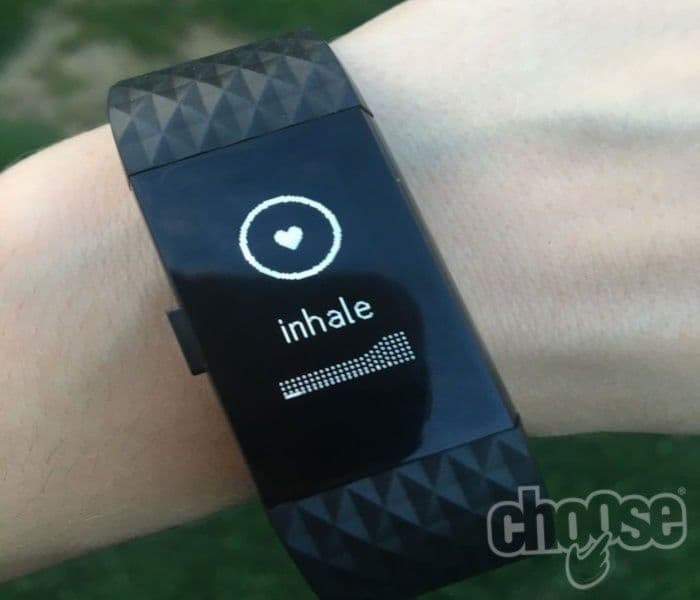 Relax - the Charge 2 emits a vibration to signify when to breathe in and out to help with aligned breathing during rest and meditation
Sleep tracking
The Charge 2's auto sleep tracking feature is a great way to monitor and ultimately improve sleep quality and duration. However, it means wearing the device in bed, which as I said earlier can be a little uncomfortable given its size (yes I am a light sleeper).
The Charge 2 not only tracks how long users have been asleep, but also monitors the four stages of sleep that the body cycles through: light sleep, deep sleep, REM sleep and being awake. Users can then see when and for how long they were in each of the stages.
The Charge 2 also recommends personalised sleep schedules. For example, I was advised to stick to more consistent bed and wake up times, and to set silent alarms to wake up more gently in the mornings. This was a great suggestion; I found the silent alarms much less annoying than my iPhone's alarm. Plus I genuinely felt more awake and found it easier to get up when the alarm went off.
---
Fitbit app
The last point to make is that the Fitbit app is incredibly nuanced and user-friendly. A confessed technophobe I didn't encounter any issues getting it to do what I needed.
It also benefits from clear and accessible activity, heart rate and sleep tracking stats. Plus the Fitbit app offers lots of nice extras too. For example, the app logs all workouts in a handy exercise calendar so that users can look back over the month and easily see what they've achieved over that period, like a fitness diary.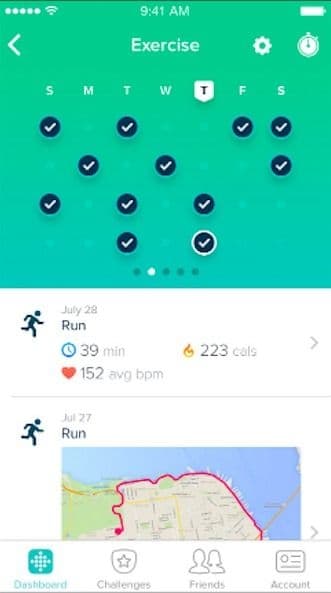 Workout log, exercise calendar
Users can also set fitness goals so that the Fitbit experience can be personalised further. Goals include: lose weight, be healthy, have more energy and get fit. Goals don't just related to exercise and activity but can include sleep and diet improvements too.
Alongside activity and sleep, with the app it's also possible to monitor daily food intake, the amount of water consumed and more, to give a more complete view of overall health. I really enjoyed tracking my food intake. It was really useful to see the nutritional breakdown of daily meals, in terms of protein, carbohydrates and fat (especially protein as a vegetarian).
---
Verdict
The Fitbit Charge 2 does have some drawbacks. The fact it isn't waterproof, doesn't benefit from integrated GPS and has a fairly bulky design, made it a little inconvenient at times.
The activity tracker and sleep tracker alongside multi-sport options and the app's handy extras all made for useful insights into my fitness routine, day-to-day activity and overall health.
While I found there were many more positives and that these far outweighed the bad points, it's worth noting Fitbit has addressed many of these issues in the Charge 4 and Charge 5, which both have built-in GPS and can be used swimming.
Anyone looking for a budget tracker on marketplace sites like eBay or Amazon, will get a comprehensive, reliable, user-friendly and accessible everyday wearable tracker in the Charge 2.
For those who can afford to spend a little more, the extra features found in the Charge 4 make it worth the upgrade.