Customers using mobile challenger banks manage their accounts through apps rather than face-to-face.
Many people like the convenience and enhanced money management that mobile only banking offers.
Big names in UK mobile only banking include Monzo and Starling, although others such as Revolut offer digital banking services too.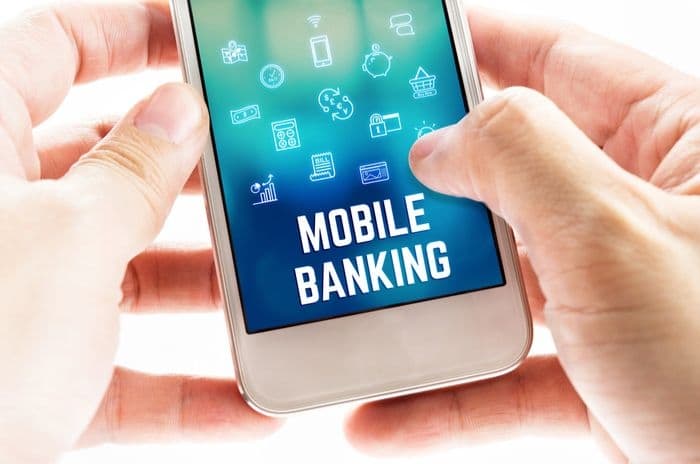 Credit: wee dezign/Shutterstock.com
---
How do mobile banks work?
Mobile banks are essentially digital banks where all transactions and monitoring take place via apps on mobile devices with no high street branches.
Customers will still have a bank card and access to cash through the ATM network, but all their banking will be done through the app.
Different mobile banks offer different features but aim to replicate the functions of a traditional bank by offering cash withdrawals, overdrafts, savings accounts and direct debits capabilities.
They also offer improved digital functions such as real-time spending notifications, the ability to freeze and unfreeze cards, monthly spending reports and budgeting assistance.
It's worth remembering that not all digital banks offer the same functionality as customers might have come to expect from a traditional bank, so be sure to check carefully before signing up.
Digital banks are a form of "challenger bank", with the term used to refer to any smaller bank looking to take customers away from the big four banking groups.
However, while mobile only banks are a form of challenger bank, not all challenger banks are mobile only. For example, Metro Bank is a challenger, but they have a high street presence alongside an enhanced mobile experience.
Number of mobile only banking customers
The Financial Conduct Authority (FCA) keeps track of how many customers have opened personal current accounts with digital challengers.
Their figures up to now only include Monzo and Starling Bank as the biggest challengers around, but we can see an uptick in the number of customers year-on-year:
| | Digital challengers | Big four | Others |
| --- | --- | --- | --- |
| 2018 | 1% | 68% | 31% |
| 2019 | 4% | 67% | 29% |
| 2020 | 6% | 65% | 29% |
| 2021 | 8% | 64% | 28% |
As we can see, Monzo and Starling are getting a bigger share of current accounts, with the big banks steadily losing ground.
However, it's important to note that many customers now have multiple current accounts as the FCA explored in their 2022 Strategic Review of Retail Banking Business Models.
The number of current accounts has increased by 15%, with the FCA estimating there are 1.9 accounts per adult in the UK.
If recent trends continue, the FCA say they expect to see consumers increasing the use of their accounts with digital challengers as they gain familiarity and confidence.
---
What are the benefits of mobile banking?
Digital challenger banks are attracting customers for a variety of reasons including:
Ease and convenience of banking via mobile
Enhanced mobile experience
Real-time notifications
Spending and saving features
While many of these features are now replicated in the mobile apps offered by traditional banks, digital challengers were built with mobile in mind rather than being a bigger bank playing catch-up with their mobile app.
There's more detail about mobile banks vs traditional banks later on in this guide.
---
Are there any limitations to mobile banks?
Although digital challenger banks are growing in popularity, there are still some limitations to be aware of and things to check out before signing up.
No branches
The most obvious limitation to choosing a mobile only bank is that they have no branches and therefore customers can't visit the high street to carry out banking activities.
That said, with thousands of traditional branches having closed their doors since 2015, being a customer of a traditional bank doesn't guarantee access to a branch anymore.
This brings other potential pitfalls into the fray. For instance, in-branch protocols prevented £38m of fraud in 2018 (and more than £200m to date) and these incidents may be missed by digital only protocols.
On the flip side of this, however, is the possibility that a mobile only banking app could identify unusual spending patterns more effectively than traditional banking apps.
It's also worth pointing out that some digital banks are attempting to bridge the gap between mobile only options and the traditional banking model, with Starling partnering with the Post Office to bring cash facilities to high streets since 2018.
Fewer functions
Whereas you would expect to find current accounts, credit cards and loans available at your high street branch, this is not always the case with mobile only banks.
Many of these challenger banks decide to start with the basics and layer functions as they go. One side-effect of this is that the mobile bank developers work to create an effective banking solution before layering another service on top.
This means, for instance, that you might not be able to set up direct debits or add an overdraft facility to your mobile banking account, at least not straight away.
Conversely, traditional banks are sometimes expected to develop all-singing and all-dancing apps that cover the extensive services of their bank. The inability of customers to access all the functions they want via an app can be frustrating, whereas mobile only banks start with the basic and layer up.
Reliance on wi-fi and data
One major pitfall of mobile banking is that it's dependent on the user having internet access to manage their finances in the form of wi-fi or mobile data. If a network goes down, customers might find themselves in difficulty.
For instance, in December 2018 a major outage at O2 affected up to 32 million customers and impacted their ability to move money and complete transactions.
While customers were entitled to compensation, reliance on mobile networks to perform banking tasks could be impacted in the same way by future outages and customers should be aware of that.
Security risks
Security risks are inherent in everyday life, and it's important to remember that it isn't just mobile only banking at risk of attack from scammers and viruses.
Arguably, the developers of mobile only banks have to be even more rigorous than their traditional counterparts in ensuring their digital systems are secure.
This doesn't eliminate all threats, of course, and customers should be aware of all the security measures they can take to protect themselves.
Read more about mobile banking security.
---
Is mobile banking safe?
Key to any decision about banking, mobile or otherwise, is whether your money is going to be safe in the care of the bank involved.
The main question to ask is whether the bank is approved by the Financial Conduct Authority (FCA) and whether it's protected by the Financial Services Compensation Scheme (FSCS).
FCA approval means that the bank complies with the regulations on financial conduct and services put forward by the independent regulator, while FSCS protection means that savings of up to £85,000 are covered.
This means that if the bank fails then those funds are secure but, although some mobile only banks have FSCS licences, not all of them do.
While there are still reasons you may choose to bank with a digital bank that hasn't yet got its license, it's something to be aware of as your money may not be safe if the bank collapses.
---
Mobile banks vs traditional banks
As each mobile bank varies in what it offers and everyone has different needs, it's impossible to say with certainly whether mobile banks triumph over traditional ones.
It's also true that many customers use mobile only banks and services in conjunction with their traditional high street banking rather than it being a choice of either/or as the FCA figures we discussed earlier show.
When we're considering the benefits of mobile banks versus traditional banks, however, there are some key points to remember.
How are mobile banks better?
Digital only banks have the capability to champion app-based services which aren't offered by mainstream banks, whether that's due to a lack of demand or a lack of commitment on the part of high street banks.
Mobile banks respond to the needs of an increasingly digital country where information is expected to be available constantly at the click of a button. So, some mobile banks have included functions that help customers manage their finances such as:
Spending notifications in real-time
Spending reports
Spending projections
Links with other financial assistance apps
Along with this, mobile banks are also adapted to the way we live in the 21st century by, for instance, allowing bill splitting via the app in an age where fewer people carry cash.
Traditional banking apps can feel clunky in comparison to mobile only apps, with some services only available either on their online computer-based banking services or in branch.
This isn't to say that some traditional banks aren't making headway with their own apps. HSBC's Connected Money app was launched in 2018 and contains tools familiar to mobile banking users such as spending analysis and a bills calendar.
So, while mobile only banks are ahead of the curve in some respects, that doesn't mean they'll necessarily stay there, and they'll have to keep innovating and offering new features to attract customers.
One final point that plays a part in the success of mobile only banks is that they're untainted by the banking scandals of the last 15 years which have eroded trust in the traditional banking system.
Therefore, they can stand apart from high street banks by virtue of being (so far) unsullied by scandal as well as being technologically superior.
How are traditional banks better?
High street banks can thrive on their reputation as well as suffer from it. A bank with a long history is attractive to many people as they believe their money is safer there.
That isn't the case, as any institution with a banking license provided by the FSCS has deposits of up to £85,000 protected. Even so, the apparent security of bricks and mortar plus a lengthy history can be a deciding factor for some customers.
Equally, customers may prefer to undertake all their banking and credit activities with the same institution, and this often isn't possible with digital only banks.
The advent of open banking like that offered by HSBC's Connected Money app is designed to offer customers more choice and will impact how retail banking develops in the future.
Learn more about open banking and what it means for your money management.
---
Variations between mobile banks
Differences between mobile only banks have been touched on above, but it's worth highlighting how varied their features can be.
In our comparison of mobile only banks Monzo and Monese, for example, we point out that they were designed with different audiences in mind and so work differently.
Some might require monthly fees to unlock premium features. For a fee of £5.95, for example, customers can access Monese Classic which offers free card spending on foreign currency, lower international transfer fees and purchase insurance.
In addition, while some mobile only banks are developed using purpose-built software, others utilise off-the-shelf software to develop their mobile products.
This could have implications either way, with proprietary software being comparatively untested and off-the-shelf software being too generic for their purposes.
---
What are the costs involved?
One element of mobile banking to remember is that it isn't always the same as the banking experiences we might be familiar with.
For instance, while customers are generally used to being able to withdraw money from ATMs for free (provided they're not using an ATM that charges or using their credit card to withdraw cash), some mobile only banks will charge every time customers withdraw money from an ATM.
This can take the form of a blanket fee for all withdrawals, such as the £1.50 Monese charge, or a percentage of the withdrawal amount. Upgrading to fee-based accounts can remove or limit these costs.
Alongside this, there may be fees for using your debit card abroad and some challengers like Revolut offer cryptocurrency exchanges for a small percentage fee.
It's important to remember that some traditional banks also charge for aspects of their services, so don't assume that mobile only banks are unnecessarily charging - it might be that the trade-off in functionality is worth it.
---
Providers of mobile only banking
The various mobile only banks available to customers in the UK comprise of those who have FSCS protection and those who don't. For the purpose of this list, Monese and Revolut don't currently have FSCS licences.
These are some of the most popular mobile only banks in existence today:
Atom Bank
Atom boast they were the first bank built for mobile, although it's worth pointing out that they don't yet offer a current account which could be a major limitation.
It was suggested a current account could land in 2019 but this never materialised, and Atom seem to have focused their efforts elsewhere.
They offer fixed-rate savings and mortgages which can be managed via the app, with the only issue being that savings are on a fixed-term basis and money can't be withdrawn until the term ends.
Monese
Monese was initially established by an Estonian struggling to open an account in the UK and is notable because it doesn't require account holders to have a fixed UK address.
There are charges associated with the basic account such as £1 fee per cash withdrawal, and it's also worth noting that Monese have expanded their services in recent years to include personal loans and credit building facilities.
Monese does fill a gap in the market and our full guide goes into more detail.
Monzo Bank
Monzo is one of the better known challenger banks and we undertook a test run in 2018 to check its credentials for ourselves.
As well as providing access to a current account, direct debits and bill payments, Monzo is notable for its additional features such as the monthly spending report and instant notifications to allow customers to keep on top of their money.
Monzo has three tiers of mobile banking available: Monzo, Monzo Plus and Monzo Premium. These two premium tiers cost £5 and £15 per month respectively.
In 2020, Monzo introduced fees for cash withdrawals and replacement cards for customers who were using their current account as a supplementary account rather than a main one.
Revolut
Revolut was established to make an impact on the travel exchange market and is geared towards the travellers' market through its ability to hold up to 26 currencies and be used in 120 currencies.
While Revolut isn't a full-service current account and so doesn't allow direct debits or standing orders, it meets a need for frequent travellers and those working in different currencies.
Although Revolut applied for a UK banking licence in 2021, the process is so slow that the application hasn't progressed at the time of writing. However, they do reiterate on their website that e-money funds are ring-fenced and so customers are protected.
Starling Bank
Starling is one of the notable challengers who have built their own IT systems from scratch and therefore offers digital functionality and integration with various other financial apps.
It offers a full current account with interest and overdraft features plus the ability to set up direct debits and standing orders.
They have also unveiled a Euro Account targeted at customers who work in both currencies and guarantees a genuine exchange rate. In 2020, they began to allow online banking as well as mobile banking.
---
Summary: Digital future
Mobile only banking isn't for everyone, and it's likely that those who struggle with technology or don't want to rely on it would be happier sticking with their high street bank.
However, given the impact of branch closures on customers across the UK, some may find that switching to a mobile only bank isn't that different to dealing with a traditional bank after the local branch has closed.
The additional features offered by mobile only challenger banks are revolutionising the way users manage their money and, while some don't have the same functionality as high street banks yet, this might be considered a worthwhile trade.
Customers can dip their toe into the water by signing up for a mobile only bank without moving their current account just yet. If it works, they might make the switch permanently.
Yet it's important to be aware that the big names of digital banking like Monzo and Starling are committed to the UK and offer a safe service while smaller names might not.
We've seen Fidor and N26 exit the UK market in recent years, while Loot went into administration in 2019.
While customer balances were protected in all these cases, it demonstrates that some brands may not be around for the long-term, and that could be a deterrent for those looking to switch.