Annual programmes of closures have seen big banks like Barclays, Lloyds Banking Group and Santander dramatically slash their branch footprint.
Only Metro Bank is bucking the trend and regularly open new bank stores.
The switch to mobile banking means fewer people are using branches than they used to, although they remain an important community resource for many.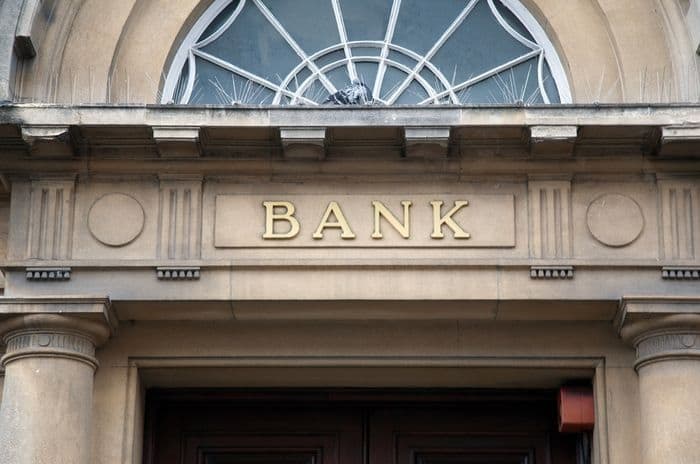 Credit: Kevin George/Shutterstock.com
---
How many bank branches have closed in the UK?
There have been significant bank branch closures in the past 15 years across all major banking brands.
Retail Banker International (RBI) carries out regular analysis of bank branch closures. Their data for 2007 at the beginning of the financial crisis is displayed alongside data from 2017 and Q1 2021 in the table below:
Number of branches (2007)
Number of branches (2017)
Number of branches (Q1 2021)
% difference
Barclays
1,810
1,309
859
-52.54%
Clydesdale/Yorkshire
Virgin Money
330
170
162
-50.91%
Co-operative Bank
355
95
50
-85.92%
HSBC
1,501
625
593
-60.49%
Lloyds Banking Group
3,042
2,038
1,618
-46.81%
Nationwide
763
611
650
-14.81%
NatWest Group
2,278
1,518
801
-64.84%
Santander
1,286
841
564
-56.14%
TSB
-
588
475
-19.22%
Virgin Money were acquired by CYBG in 2019. After the acquisition, CYBG rebranded many branches to Virgin Money, as well as continued with branch closures.
Similarly, TSB were part of Lloyds until 2013. They continued to close a large number of branches throughout 2021, with just 290 left by the end of the year - 50% less than in 2017.
The picture here is one of bank branches closing rapidly across all these familiar names.
For Co-operative who started from a lower base figure, the 85% reduction in branches is particularly stark.
It's also worth noting that RBI's analysis only goes up to the beginning of 2021 and will not take into account all the closures announced by banks just prior to this or the ones that have taken place since.
We've seen closure confirmations including:
82 closures by HSBC in 2021 and a further 69 in 2022
111 closures by Santander in 2021
44 closures across the Lloyds Group in 2021 and a further 60 in 2022
56 closures across the NatWest Group in 2022
65 closures by Barclays in 2022
TSB have also embarked on a large branch closure programme over the last few years, closing 86 in one batch then a further 164 in a subsequent announcement.
Just looking at the banks included in the table above, we saw a reduction from 11,035 branches in 2007 down to 7,037 in 2017 and then 5,135 in Q1 2021 - a decrease of more than 53%.
Office for National Statistics (ONS) data found there were 11,355 bank branches in 2012 and 6,965 in 2021. Building society branches fell from 1,990 to 1,840 in the same period.
Whichever way we look at the subject, it's clear that branches continue to close in significant numbers.
Metro Bank
There is one bank opening 'stores' (their word) rather than closing them: Metro Bank.
Since their launch in 2010, Metro have steadily opened stores, with RBI analysis showing they had 62 in Q1 2019 and 77 in Q1 2021.
Metro focus on offering services at the times customers are likely to need them, so stores open until 18:00 on weekdays and are open on Sundays too.
With almost 80 stores currently open across the UK, Metro are an option for people who want a bank with a branch, although coverage is patchier the further north you get.
Regional differences
Data from the ONS allows us to see on a regional level how things have changed over the past decade.
Here are the number of branches per 10,000 people and the percentage that has changed between 2012 and 2021:
| | Branches per 10,000 population | % change between 2012 and 2021 |
| --- | --- | --- |
| Northern Ireland | 1.9 | -3% |
| London | 1.6 | -34% |
| Scotland | 1.4 | -34% |
| Wales | 1.4 | -36% |
| South West | 1.3 | -40% |
| South East | 1.3 | -34% |
| North West | 1.2 | -38% |
| West Midlands | 1.2 | -33% |
| North East | 1.2 | -38% |
| Yorkshire & Humber | 1.2 | -36% |
| East | 1.2 | -34% |
| East Midlands | 1.1 | -33% |
| UK average | 1.3 | -34% |
It remains easier to find a bank branch in Northern Ireland, although the South West and North East of England plus Yorkshire and the Humber have seen particularly large rates of closures.
---
Why are bank branches closing?
Banks usually justify their branch closure programmes by saying that fewer people are using branches than they used to due to a switch to mobile banking and a reduction in the amount of cash used.
The UK Payment Markets 2021 report published by UK Finance found that:
72% of all adults used online banking in 2020
54% of all adults used mobile banking in 2020
32% had registered for mobile payments through Apple Pay, Google Pay or Samsung Pay and 50% made payments fortnightly or more regularly
At the same time, the trend for cash payments saw a decline of 56% in 2010 to 45% in 2015 and then down to 17% in 2020, although this was at the height of the coronavirus pandemic, so the figure was artificially low. Nevertheless, the share of payments made in cash were falling continuously before this and mobile banking has been on the rise.
As we explain in our guide to mobile only banks, the convenience of mobile banking is hard to beat, but there are still a significant minority of people who still rely on cash (more on this below).
How do banks decide which branches to close?
Branches earmarked for closure are usually those used the least or there is another branch within a certain number of miles.
This is governed by the Access to Banking Standard published by the Lending Standards Board (LSB), a set of guidelines agreed by some of the largest banking groups in the UK including NatWest Group, Lloyds Banking Group and Santander. The Financial Conduct Authority (FCA) also has guidance in place.
When deciding which branches to close, banks should:
Analyse the needs of customers currently using the branch
Clearly communicate about proposed closures or conversions 12 weeks before
This process has to be undertaken for each branch and specific information has to be made available so they can understand why the decision has been taken to close that branch.
If we take Barclays' closure of the Abbots Langley branch in February 2021 as an example, here is the information they provided in their closure document:
86% of branch customers also used other ways to do their banking (even though the number of counter transactions had gone up)
11% more customers were using other banking methods compared to 2015
44% of customers had used nearby branches in the previous 12 months
Only 88 customers exclusively used that branch for their banking
While this is just an example, it demonstrates how banks analyse which branches should be closed, even if that doesn't necessarily make the customers who use that branch exclusively feel any better about it.
The closure of bank branches can be viewed as something of a vicious circle. If more branches close, the people who use them may shift to online banking (especially if their nearest branch is in an inconvenient location) and then the bank can point out that fewer people than ever are using their branches.
---
Why bank branch closures matter
The closure of a bank branch doesn't just mean the customers who use that branch lose its counter facilities and the ability to talk to a member of staff in person.
When a branch closes, it usually takes its free ATM with it, reducing the number of options a customer has to access cash for free within their local area.
Over recent years, we've seen plenty of warnings about the disappearance of cash machines putting the vulnerable at risk, but it isn't simply the number of ATMs that is a concern for local areas. Some ATMs that remain in place are not accessible to people with disabilities and may not feel secure or private enough for everyday banking needs.
Analysis from the National Audit Office (NAO) looking at the two years to January 2020 found that, in more deprived areas, the nearest option for cash was more likely to be a fee-paying ATM than in less deprived places.
Access to cash
The Access to Cash Review published in 2019 found several groups were more likely to be dependent on cash:
People on a lower income
Older people
People with physical or mental health problems
People who struggle to budget
Those who rely on others to buy things for them
Those who are financially excluded
People in areas with poor digital connectivity
So, there are plenty of people who rely on cash and may struggle if their local branch or free-to-use ATM disappears.
There are also wider worries about the impact of going cashless such as electronic system failures and security breaches that may affect people trying to use mobile payments, meaning cash is a useful fallback.
---
Future of bank branches
The closure of bank branches shows no sign of letting up with major names continuing to run branch closure programmes during 2022.
We've also seen signs that banks are looking for alternatives to shutting branches such as Santander's decision to change their opening hours from July 2022.
Instead of closing at 16:30 on weekdays, branches will close at 15:00 unless customers make a pre-booked face-to-face appointment. Meanwhile, 316 branches are moving to half-day Saturday opening with face-to-face appointments until 16:00 while the arrangements for Saturday opening for the rest stay the same.
Santander explained these changes would help them keep their current branch network open and allow more time for staff to handle telephone banking enquiries instead.
Banks like TSB have also been utilising pop-up banks to help customers who don't live near to a branch anymore access in-person banking services.
These initiatives can help people stay connected to their banks and keep some services local, but it's likely we'll still see closure programmes and more unhappy customers.
---
Summary: Changing face of the high street
There has been a significant number of bank branch closures over the past 15 years, leading to a big change on the high street.
Although the switch to mobile banking has accelerated for many customers at the same time as cash usage has declined, there are still plenty of people who rely on their local branch and even more who use branches occasionally.
Even though banks produce customer behaviour reports to justify closures, that doesn't help those who are directly affected, and it can lead to more people being excluded financially or struggling to access banking services when they need them.
The FCA noted in 2018 that banks were making savings from closing branches and the coronavirus pandemic may have encouraged even more people to turn to mobile only banking.
Ultimately, banks close branches because they are unprofitable or experiencing low footfall. If they can continue to justify their closures due to lack of use, we'll continue to see the number of branches on our high streets shrink.