Branches including York, Cambridge, Oxford and Chichester are on the closures list, bringing the number of branches down to just 50 across the country.
Co-operative Bank say the cuts were the result of a 12-month study on branch footfall which took place in 2019.
These branch cuts join at least 190 others confirmed in 2020 from the likes of Barclays, TSB, HSBC and Virgin Money.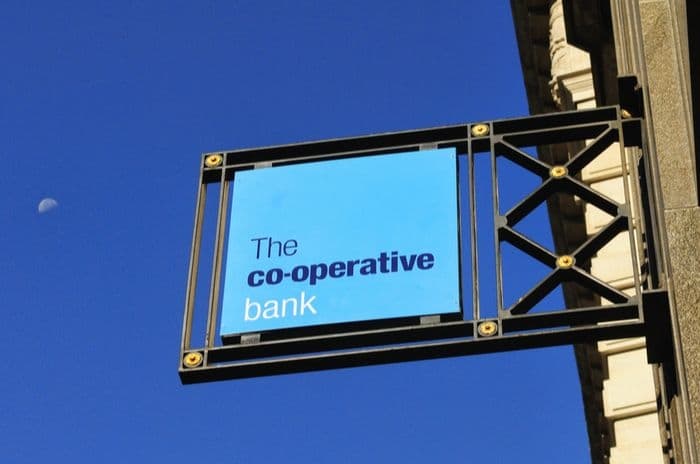 Credit: Lenscap Photography/Shutterstock.com
Which Co-op branches are closing?
Co-operative plan to shut 18 out of their remaining 68 branches by 1 December 2020, with the following locations affected:
Ashton
Bradford
Cambridge
Chatham
Chester
Chichester
City of London
Dartford
Halesowen
Harrogate
Luton
Oxford
Rotherham
Solihull
Truro
Wakefield
Walsall
York
These branches were chosen for closure following a 12-month assessment of branch usage which took place between January and December 2019.
Co-operative are keen to point out this analysis took place before the coronavirus crisis, and so lockdown has played no part in the choice of which branches to close.
However, their statement does refer to not being immune to recent events, perhaps paving the way for more cuts to their branches in future.
Disappearing branches
The confirmation that around 25% of Co-operative branches are set to close this year joins a list of closures announced by major UK banks.
15% of TSB branches are closing or have closed in 2020, including branches in Chester and Harrogate which are also being hit by Co-op closures.
HSBC have closed 18 branches this year while Virgin Money have recently restarted their push to close 22 branches and consolidate 30 others following the amalgamation of the Virgin Money, Yorkshire Bank and Clydesdale Bank network.
Barclays are also set to close 59 branches in 2020, but rival Lloyds has postponed the closure of 56 branches earmarked to go this year due to the coronavirus crisis.
Nevertheless, the total number of branches scheduled for closure during 2020 is at least 190, without counting the consolidation efforts of Virgin Money which will see branches within half a mile of each other merge to become a single branch.
While this is far from the heights reached in 2017 when over 860 branches closed in one year, it still reflects a substantial reduction in the number of branches available for customers to use compared to a year ago.
Nationwide have gone against the grain, pledging to retain its current network of branches until at least March 2021, while Metro Bank is the only bank opening 'stores' - they now have 77 nationwide, including five drive-thrus.
Both those banks performed well in our analysis of in-branch customer service thanks to their innovative service features.
Switch to mobile banking
Banks say branch closures are driven by more people switching to online and mobile banking, and the number of branch visits are set to be overtaken by the use of banking apps by 2021.
Yet there seems to be a circular element to this - branches close, more people switch to online banking from either mainstream or challenger banks which leads to fewer people visiting branches and so more branches close their doors.
Meanwhile, mobile only banks leapfrogged traditional high street banks in the latest service quality figures reported to the Competition and Markets Authority (CMA).
Monzo, Starling and first direct performed well in eligible categories, with traditional banks Metro Bank, Nationwide and Virgin Money taking the top spots for services in branches.
Our comparison checker allows customers affected by branch closures or simply looking for a change to compare and switch current accounts.