This commitment means that customers who currently have a local branch will continue to have one, regardless of how many other banks close branches in those locations.
If a city or town currently has more than one Nationwide branch, one of them may close to better serve the interests of residents and to concentrate investment effectively.
The pledge lasts until May 2021 and complements other community-led initiatives from Britain's largest building society to improve local areas.
Nationwide currently has around 650 branches in the UK, although it has closed 21 branches in the last four years.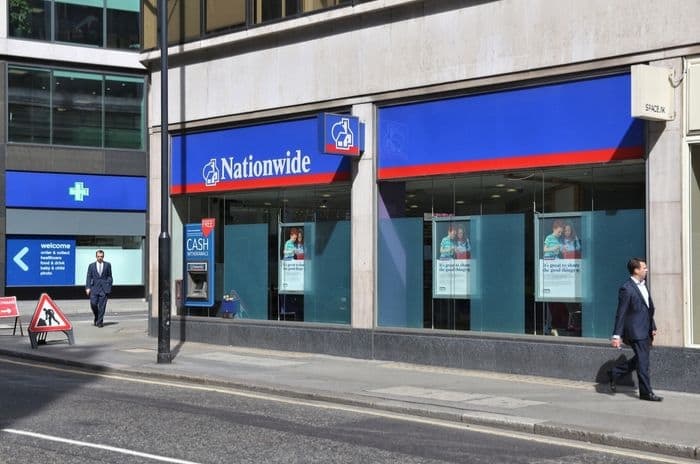 Credit: Tupungato/Shutterstock.com
Pledge to the high street
This announcement from Nationwide means that any customers reliant on branches don't have to be concerned about closures for several years.
In their press release, they state that the presence of a bank or building society in a town is often a crucial indicator of how healthy the retail section of that town is.
They point to their own research data which demonstrates a correlation between a healthy high street and the footfall a bank helps to promote.
Along with the branch pledge, Nationwide has reiterated its plan to spend £350m over five years to improve branches by introducing HD video, iPads and members areas, amongst other improvements.
They report a 38% rise in the opening of current accounts in-branch over the last five years, and they doubtless hope that this pledge will improve their reputation in the towns they already occupy.
Crucially, however, Nationwide aren't committing to opening more branches and are focused on the areas they already have a presence.
However, in our analysis of in-branch customer experiences, Nationwide rated highly, coming second behind Metro Bank.
Bucking the trend
Nationwide's commitment to retaining branches is at odds with the general trends of the banking sector in recent years.
Research from Which? published in January found that more than 3,300 bank and building society branches had closed since 2015.
For example, RBS announced in 2017 they were closing a quarter of the remaining branches of NatWest and Royal Bank of Scotland in 2018.
Significant closure programmes from Barclays, HSBC, Lloyds and Santander have also contributed to the disappearance of banks from UK high streets.
It's worth pointing out that Nationwide start from a lower base level for branches than other banks, meaning that their 21 closures over recent years doesn't look as dramatic in comparison to the 638 NatWest closures, for example.
Challenger banks are also disrupting the traditional marketplace, with Starling Bank partnering with the Post Office to bring deposits and withdrawals to the high street.
Cash disappearing from high street
Nationwide's announcement comes at a time when the disappearance of banks and ATMs is under scrutiny from Government and other official bodies.
When banks close, they generally take their ATMs with them and this can leave vulnerable customers without access to cash in their local areas.
Bank branches also play a pivotal role in detecting and preventing fraud, as demonstrated by the success of the Banking Protocol scheme which has prevented customers losing £38m by alerting the police to fraud issues in branches.
While mobile banking is on the rise, many customers still harbour concerns about the safety of apps and how simple it might be to jeopardise their finances.
We've recently updated our mobile banking app security guide to help alleviate those concerns. Find it here.