The latest closures will bring the number of HSBC branches in the UK down to 511 following a sustained period of closures from 2015 onwards.
While the bank says the Covid-19 has emphasised the need for business changes, they were already heading towards more closures before then.
They argue 90% of customer contacts are made over the phone or via a smartphone or the internet, and most customers have Post Office alternatives nearby.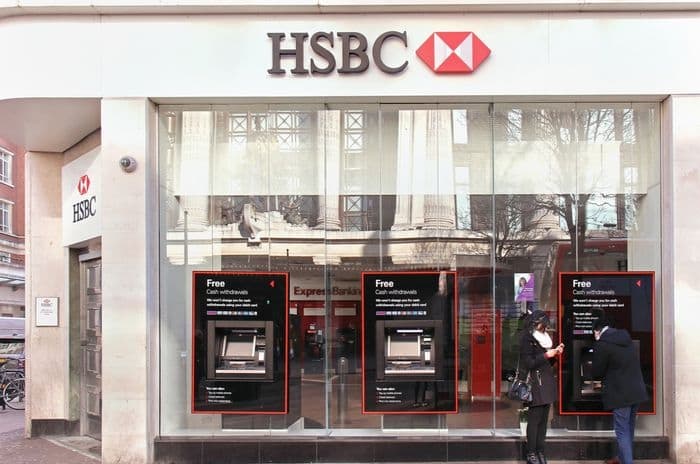 Credit: Ttatty/Shutterstock.com
Latest branch closures
Between April and September 2021, 82 HSBC branches will close across the UK including their Edinburgh branch in Princes Street which will be the first to close.
HSBC say 81 of the branches earmarked for closure are within one mile of a Post Office branch where day-to-day banking activities can take place.
Plus, two-thirds of branches are within five miles of a different branch of HSBC and around 90% are within ten miles of another branch.
The bank says these plans are part of their aim to become a market-leading digital bank, and an overhaul of how their remaining 511 branches will operate is going to take place too.
Branch reductions
HSBC has shuttered hundreds of branches within the past six years, closing 27% of their entire branch network in the two-year period between January 2015 and December 2016.
Those 321 closures were followed by 62 further closures in 2017 as a result of another branch restructuring programme.
At the time, the bank cited the same statistic they have used to justify this latest round of closures, namely that over 90% of their interactions with customers were through other channels.
27 branches were then closed by HSBC in 2020, including another one of their flagship locations in London's Regent Street.
The sustained period of closures mean HSBC has shed around 500 branches in the last six years, although they are far from the only bank going through huge branch reduction programmes.
TSB announced in October 2020 they were closing 164 of their branches before the end of 2021, while the Co-operative Bank closed 18 branches in 2020, marking a 25% reduction in their high street footprint.
Plus, while Virgin Money paused their branch closure programme at the beginning of the coronavirus pandemic, they resumed their plans to close 22 branches later in 2020.
Post Office banking
A key plank of HSBC's argument about their branch closures is that 81 are within a mile of Post Office branches where banking activity can take place over the counter.
As part of the Post Office Banking Framework, customers of 28 UK banks and building societies can withdraw and deposit cash and cheques over the counter.
While this is undoubtedly useful for personal and business banking customers, there are other issues with the removal of bank branches.
When a branch leaves a location, it takes its free ATM with it. Although cash usage is declining (and this has been exacerbated by the coronavirus pandemic), access to cash is still an important concern for the Government.
Banks closing branches often cite nearby free ATMs provided by the Post Office as alternative options for customers to access free cash withdrawals, yet the Post Office has confirmed they will be closing 600 of their own ATMs by March 2022.
With the Post Office also claiming there are other free ATMs close to the machines they're removing, it remains to be seen whether any communities will find their cash access options limited by a combination of Post Office ATM closures and on-going branch closure programmes from the likes of HSBC.