These new closures are in addition to the 86 previously confirmed to close before the end of 2020.
It means TSB will have reduced the number of branches from 540 to 290 in just two years, a reduction of 46%.
TSB's announcement follows similar branch closure confirmations from HSBC, Co-operative Bank and Virgin Money.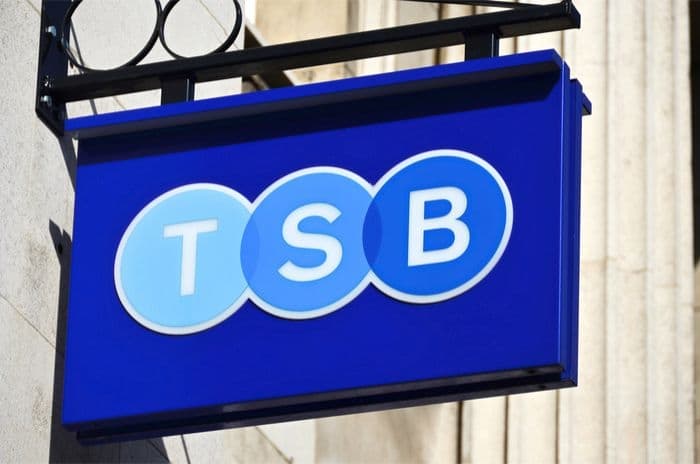 High street closures
By the end of 2021, TSB will have 250 fewer branches than they did at the beginning of 2020. This amounts to a 46% reduction in their branch footprint in just two years.
TSB say closures have been carefully plotted to ensure customers still have access to banking functionality through the Post Office, with the nearest Post Office branch 0.3 miles away from the closing branch on average. There are also free ATMs within 0.1 miles.
The branches earmarked for closure have lower footfall than others and include locations where it is difficult to provide a modern branch service, according to TSB's statement.
They say they will still have the seventh largest branch network in the UK following the closures, and that digital functionality has increased in the eleven months since their previous closure programme was announced - this includes digital growth during the coronavirus outbreak.
Heavy cuts
TSB's arguments about limiting the impact of branch closures by considering the geographical spread of remaining branches was a key part of their rationale for their November 2019round of closures.
It's difficult to see how this argument holds up now they are cutting a further 164 branches, and TSB admit this will mean each branch has an average of 17,000 customers.
After the closures, 94% of TSB customers will be able to travel to a different branch in 20 minutes or less, and customers will also be able to undertake more banking through the Post Office network such as depositing and withdrawing cash using a card.
TSB have reiterated their commitment to digital banking services, highlighted recently by the introduction of a Spend and Save account that matches some of the features offered by digital only banks.
Yet their digital brand hasn't fully recovered from the major IT problems in April 2018 when the movement to a new system left up to 1.9 million customers unable to manage their bank accounts.
They paid £330m in compensation, fraud and other expenses due to the failure.
Other bank closures
TSB are not the only UK bank to be closing branches, although their closure programme seems to be the most dramatic of those announced in recent years.
In February 2020, HSBC confirmed they were closing 27 branches during 2020, while Virgin Money announced a consolidation and closure programme of Clydesdale and Yorkshire banks in the same month.
This process was later suspended due to the coronavirus crisis, but has now recommenced and 22 branches will be closed fully while another 30 will be consolidated into other local branches.
In August 2020, the Co-operative Bank confirmed closures of 18 branches across the country. Because of their smaller branch network, this accounted for a 25% reduction in branches.
The number of Barclays branches is set to decrease by 59 in 2020, and Lloyds are expecting to close 59 branches this year.
Nationwide have pledged to retain its current network until at least March 2021, while Metro Bank are the only bank currently opening stores across the country.