The digital only challenger bank, Starling, have unveiled a new product to rival the high street banks. Their Euro account promises to let customers hold, receive and send Euros with no fees or charges applied.
The waiting list for the Euro account was opened in September 2018, and has, according to Starling, already received 'thousands of applications'.
The new account is being rolled out in phases, with the first 5,000 on the waiting list expected to gain access imminently.
Starling are a London based challenger bank who have been undergoing massive growth in the past couple of years. In 2018 alone, they grew from 50,000 to more than 400,000 personal customers and have an estimated 25,000 SME accounts on their books too.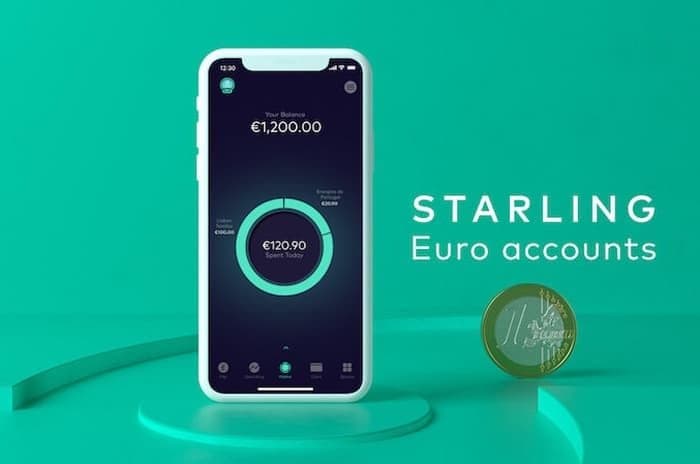 © Starlingbank.com
What's good about the Starling Euro account?
According to Starling, the new account comes with some attractive features which will make it a top choice for those frequently using both currencies. These include:
Fee free: Many banks charge fees to use an account in Euros. Not only is the Starling account free to use, they've also scrapped all additional fees and commissions usually associated with currency exchange.
Secure: Starling take security seriously, and their Euro account is no different. Every account has it's own IBAN and deposits of up to £85,000 are covered by the FSCS.
All in one: Starling have made it so that all their accounts work through the same single app. Just a tap can move money from the Euro account to the pound Stirling account, and vice versa.
Genuine exchange rate: Any transfers or currency exchanges will be conducted at the published exchange rate at that time. No mark-up will be added by the bank.
Although at the moment there is no facility to pay in Euros with the account debit card, Starling have said this functionality will be added very soon. They also plan to launch a business Euro account later in 2019, which could prove popular as the UK prepares for Brexit.
Talking of Brexit, Starling have said that although only £85,000 is protected by the FSCS, there is no limit to the amount that can be transferred or held in the account. Perhaps Theresa May would do well to send the £39bn Brexit divorce payment through Starling, to avoid any fees or charges?
Who should consider this type of account?
Aside of Ms May, there are numerous people who could benefit from such an account. Starling have stated they've designed the account to benefit both UK citizens living in Europe, as well as Europeans who have relocated to the UK.
Other people who could benefit include:
British people with holiday homes or rentals in Europe
Remote workers who live in the UK but receive a salary in Euros
Europeans living in the UK who want to send money home
Anyone who wants to send and receive payments in Euros, or who wishes to hold Euros in their bank account
Clearly, this account is designed to appeal to a broad cross section of customers and marks the start of Starling's expansion into European markets.
Is it a good deal?
The current exchange rate sits at €1.14 to every £1. This means that sending £1,000 to someone who receives it in euros should result in them getting €1,140. From what Starling have said, this is how it will work with them, as no fees or currency bumps are applied.
To compare this to the typical rate achieved at a high street bank (often the most expensive way to exchange money), the amount received by the recipient would be around €1,091.54. This is with an average exchange rate of 1.0915 and an average fee of £9.50.
There are many cheaper ways to send money abroad; we've compared some of the best offers available in our table below:
| Provider | Exchange rate | Fee | Speed | Amount received |
| --- | --- | --- | --- | --- |
| Western Union | 1.137 | £0 | 1 - 3 days | €1,137.10 |
| Monzo / Transferwise | 1.14 | 0.35% plus 80p | 1 - 2 days | €1,135 |
| XE | 1.13 | £0 | 1 - 2 days | €1,130 |
| WorldRemit | 1.129 | £2.99 | 2 days | €1,125 |
| Virgin Money | 1.1214 | £0 | 1 - 3 days | €1,121.36 |
| Moneycorp | 1.1157 | £0 | 1 - 3 days | €1,115.67 |
| Halo Financial | 1.1124 | £10 | 1 - 3 days | €1,112.40 |
If the Starling Euro Account works in the way the bank promises it will, it's going to be the cheapest way to send and receive euros by far. Compared to fellow challenger bank Monzo, the saving equates to around €5, thanks to the lack of fees promised by Starling.
Compared to transferring via a high street bank, users could save over €40, which is a massively attractive offer for anyone.