N26 customers will have until 15 April to transfer money, clear any negative balances and move any automated transactions to other accounts.
The challenger bank has around 200,000 customers in the UK and only launched here in November 2018 as they expanded their global operations.
N26's decision comes after fellow German bank Fidor closed their UK accounts in September 2019.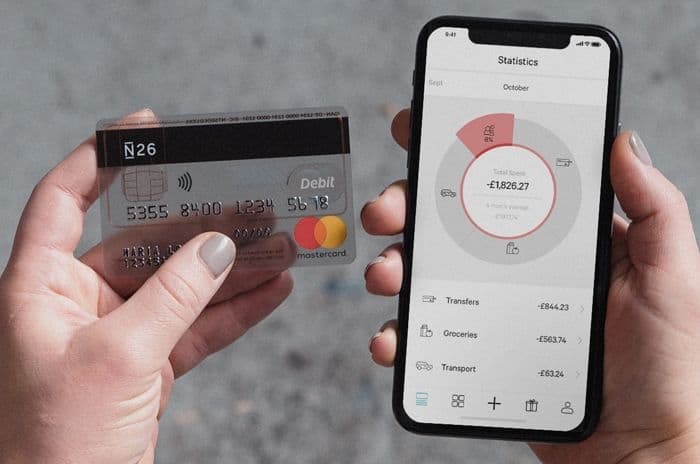 © N26
Market conditions
N26's decision follows the UK's exit from the EU on 31 January, with the bank saying the timing and framework of the Withdrawal Agreement meant it was impossible for them to continue to serve the UK market.
As a European bank, they hold a European banking licence which isn't transferable to the UK market once the transition agreement between the UK and EU comes to an end.
However, N26 only began operating in the UK after the EU referendum, leaving some critics to wonder why they entered the UK at a time when the long-term relationship between the EU and the UK was so unclear.
N26 say they are sorry to be leaving and recognise that the move will be disappointing to their customers. Their operations elsewhere in the world will continue, including in the US where they have recently launched.
What should customers do?
N26 customers are being informed they should empty their accounts no later than the 15 April, after which the app and its services will become unavailable.
If there's still money remaining in the account after that date, the bank will contact customers to help them retrieve it, but to avoid losing access to any money even for a short time, it's best to move it as soon as possible.
Any negative balances on the account will need to be cleared by bank transfer from another provider and, along with this, customers will have to make alternative arrangements for any direct debits or salary deposits they have set up on the account. Compare current accounts here.
If a customer has insurance with their Metal card, it will only be valid for journeys beginning before 15 April 2020. Membership fees for Metal and N26 You will cease from 14 March, with the final month of these services being offered free of charge.
Customers are also advised to download their N26 account data ahead of 15 April to ensure they keep their app and transaction details, although it will be possible to request them via the website after this date.
Challenger uncertainty
N26's decision, coupled with Fidor's similar one last year, is unsettling for customers who may be willing to make the switch from a traditional bank to a mobile one or, at least, to open a second account with them.
Certainly, the prospect facing some N26 customers of altering all their direct debits, moving their money and finding a new current account is a frustrating one.
Yet the position of these two German-based banks is different to that of other challengers like Monzo and Starling who are integrated more fully into the UK financial sector, and they have also grown far larger than N26 managed during their time in the UK.
For instance, Starling had over 775,000 accounts when the last official figures were revealed in August 2019.
Monzo announced 3 million people were using their services in September 2019 and were highlighted as the brand UK customers are most likely to recommend in the YouGov BrandIndex in November 2019.