Used as an add-on to a paid Cashplus prepaid card, Credit Builder lasts for 12 months and reports directly to credit reference agencies.
There is no credit check required for a Cashplus Activeplus account, although identity checks will be necessary.
While Cashplus say the service proves customers can be trusted to repay credit, there are other ways of improving a credit score that don't cost almost £80 per year.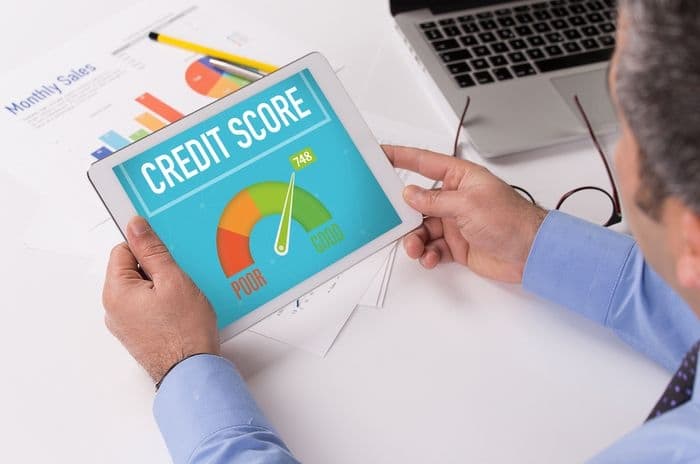 Credit: garagestock/Shutterstock.com
---
What does Cashplus offer?
The Cashplus Credit Builder add-on is a fairly unique option in the UK.
It works alongside the Cashplus current account which offers a prepaid card where cardholders load money into the account and spend it just as they would with a debit card.
In return, Cashplus charges a monthly fee, with other costs such as a fixed fee for withdrawing from an ATM and a 0.3% fee for depositing cash into the account via a Post Office.
Credit Builder is an add-on to this that can help customers improve their credit rating through the payment of their monthly account fee.
Note: We previously covered icount in this guide too, but their customer base was acquired by Cashplus in 2021 and they no longer offer their own accounts - everything is directed to the Cashplus website.
What is Credit Builder?
The Cashplus Credit Builder facility works like this:
Cardholders pay a monthly fee to hold the card
The fee must be paid for a year
After we meet a certain number of payments, the card providers start to report positively to the credit agencies
After a year, they then report the card as a "completed loan" for the purposes of our credit records
Although Cashplus offer several account tiers, the Credit Builder facility is only available on their Activeplus account - this charges a monthly fee.
This is how that looks across the year:
| | Sign up fee | Monthly fee | Total cost in first year |
| --- | --- | --- | --- |
| Cashplus | £5.95 | £5.95 | £77.35 |
So, customers will pay about £80 over the course of the year for the benefit of having a completed loan appear on their credit report.
Is Credit Builder worth it?
Credit Builder from Cashplus is something different in the UK market, but it's important to understand the potential benefits and limitations.
While Cashplus became a fully-fledged bank in February 2021 and subsequently began to offer a Freedom bank account to traditional banking customers, the Activeplus account is a different type of account.
It requires monthly fees in the same way as many other prepaid cards and means that customers are essentially paying to access their banking services.
For some, this fee will be worth it, but if getting a current account is a customer's major problem, look into basic bank accounts that don't charge a fee.
As for the Credit Builder element of Cashplus - is it worth it for around £80 per year?
The benefits
Having a completed loan, with no missed repayments, appear on a credit report is undoubtedly beneficial.
This can be tricky for customers who don't have much of a credit rating and are looking for any way they can to improve their credit score over the medium to longer term.
Because Credit Builder is a free add-on, if a customer has a Cashplus account or already wants one of their prepaid cards, it can be a good way of building credit without doing much.
That said, there are a couple of things to bear in mind before choosing a Cashplus account specifically for the credit building facility.
Reasons to avoid
Credit Builder isn't the only way to improve a damaged credit rating and it's certainly not the cheapest.
On balance, we'd say that Cashplus might be a useful option, but mainly for those that have a very damaged history and a slim chance of getting accepted for other products or services.
Here's why:
1. Rebuilding is free
There are plenty of other ways to improve a credit rating over time, with many of them free or just attracting small fees to get information from credit agencies.
For example, paying £2 to access a statutory credit report can help us find out what state our credit rating is really in and help us correct any anomalies or false information on there.
Or we can take a free trial of a credit reference agency's full suite to get a more in-depth look at our finances.
There are other steps we can take too such as:
Getting on the electoral roll
Staying in a property for more than a year
Utilising less of the credit we've got available
For more information on those and other elements, read our guide to repairing a credit rating in 30 days.
However, the main component of improving a credit rating is time, as proving stability means actually becoming more stable, and maintaining that state of affairs for a decent period.
2. Borrowing can be free
For those who can take a chance on looking elsewhere, and understand that they may face further risks to their credit history if something goes wrong, there are opportunities to rebuild for less.
Let us make clear - the increased risk doesn't have to be huge - indeed, it's possible to start very small.
Meeting monthly payments for a mobile phone or broadband contract are positive commitments that will show up on a credit report.
So too is careful borrowing - say, getting a credit card with a deliberately low credit limit (or using it only to pay for one regular bill and paying it off in full each month) - or paying off other borrowing, such as making monthly payments towards an overdraft on a current account.
For those worried that they'll have trouble being accepted for these options, Credit Builder could be an alternative option.
Those who do have the above options, however, should note that they're all are excellent ways to rebuild credit - and many have the advantage of being available to us for more than a year.
As long as users continue to manage them well, such options will help build both our credit and the impression of stability - both of which are good things.
Neither of these considerations should necessarily rule out the possibility of using Credit Builder in addition to free forms of credit rebuilding.
However, even though the Credit Builder scheme lasts for just a year, the cost is not insignificant. If that money could be used elsewhere - for bills, or to pay off debts in particular - it may be worth bearing in mind that similar benefits can be obtained free of charge.
3. There's no set credit score
It's important to remember there is no set credit scoring system or guarantee that a lender or service provider will take a completed Cashplus "loan" into account when making decisions.
That's because lenders assess applications based on risk rather than in terms of an unyielding set of criteria; each company will use different measures according to what is least risky or most attractive to them.
So, although boosting attractiveness to future lenders is always a good idea, the "perfect" credit rating is a myth and there are no guarantees.
Shelling out £80, therefore, when we can rebuild our credit in other ways may not always be the wisest move.
Application requirements
So far we've seen that Credit Builder is a good way of rebuilding a damaged credit history (although some people could do the same thing for less) but it's not a service that absolutely everyone will be able to access.
There's no credit check for either the Cashplus prepaid card: those who apply are more or less guaranteed to be accepted.
However, identity checks will need to be carried out to make sure a person is who they say they are. This is connected to money laundering legislation and isn't something that Cashplus can waive.
When asked to verify their identity, applicants will need to send a certified copy of one of the items in Column A. Those who need to verify both their identity and their address will need to send a certified copy of an item from each column:
ID
(certified copy*)
Financial statements
(certified copy*)
UK Driver's Licence, front and back (provisional or full)
Bank or building society statement**
EU Driver's Licence, front and back
Credit card/store card statement**
Passport (not expired)
Utility bill**
EEA member state ID card
Council tax bill
Firearms Certificate or shotgun licence (front and back)
Bankruptcy Order/Bankruptcy Restriction order/Debt Relief Order
Northern Ireland Electoral Identity Card
Any Inland Revenue/HMRC letter
Construction Industry Scheme Card (permanent only)
Council rent card or mortgage statement**
Military ID
Tenancy agreement (council or housing association)
UK Driver's Licence, front and back (provisional or full)
Firearms Certificate or shotgun licence (front and back)
Solicitor's correspondence
* Certified copy means a photocopy signed by a qualified person like bank, building society, Post Office staff member, teacher, police officer or accountant.
**Internet and branch printouts will not be accepted, items must be dated within past three months.
Those who need to provide proof of both ID and address should note that if an item is included in both columns, they can only use it as proof of one of the categories; they'll still need to provide a second certified item.
Once it was the case that only a driver's licence or a passport were accepted as proof of identity, and judging by comments on forums and blogs, that excluded many people who would have liked to take out Credit Builder plans.
Now there are more options in the ID column, though we're not sure how many more people will be able to apply under these latest rules.
Summary: Useful for some
Credit Builder from Cashplus is something unique in the UK market, giving people another way to help build their credit rating without actually taking a loan.
This is one of Credit Builder's major strengths: customers don't receive loan money, so they don't need to repay it. On the other hand, customers need to commit to making a year's worth of payments for their Cashplus account, so this could be a source of financial stress for some.
There are a few key things to remember about Cashplus Credit Builder:
Customers will need to pay monthly for a Cashplus account for 12 months
While there is no credit check for the account, there are identity checks
There is no guarantee it will positively impact a credit rating
There are other ways of rebuilding a credit rating without paying for this account
Ultimately, the Credit Builder feature of Cashplus will be useful for some customers looking to improve their credit rating over time, but it isn't a quick fix and should only be one part of a strategy to rebuild a credit score.