Customers top-up the card with money from another source, enabling them to use the card in the same way they would a debit or credit card.
These cards generally don't require credit checks and are useful for groups like travellers, those in debt and recent immigrants.
However, the fees charged by these cards can be deceptively steep, so it's important to read the small print before signing up.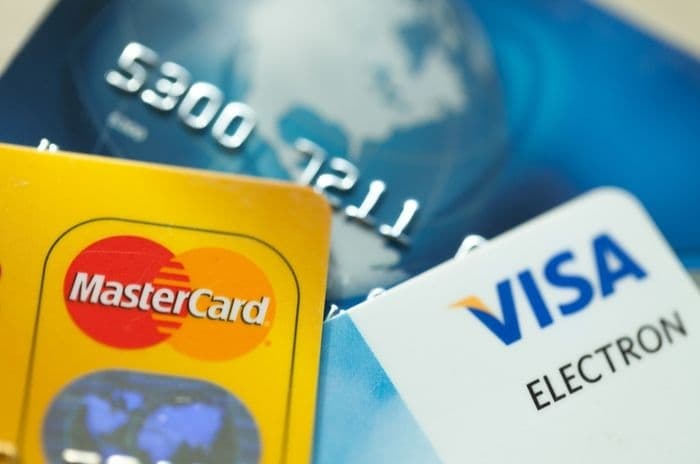 Credit: Billion Photos/Shutterstock.com
---
How prepaid cards work
A prepaid card allows customers to load money on to a card which can then be used in retailers and online.
Unlike credit cards which explicitly loan people money until they pay it back or debit cards that enable customers to draw from their current account, prepaid cards will only work when there is money available on them - and what's loaded on there is all that can be spent.
So, this is how the process works:
A customer takes out a prepaid card
They add money to it
They use the money to pay for goods or services
Once the money has been spent, they need to add more to it if they want to buy anything else
Cardholders can usually top up via bank transfer, with a debit or credit card, at a Post Office or with a participating retailer.
Most prepaid card providers make money by asking cardholders to pay for those various methods of loading money on to the cards.
Alternatively, or sometimes in addition, they take a fee when the cardholder uses the card for spending or to take out cash. Some prepaid cards charge fewer fees and instead ask for a flat monthly fee for holding the account.
Why get a prepaid card?
The process for loading up a prepaid card with money to then pay for something else is cumbersome compared with the usual methods of paying for goods or services with a normal debit card.
There are some common reasons people opt for prepaid cards instead:
To better control their spending
For safety and security reasons
Because they have a poor credit rating
As a card for under-16s
To benefit from rewards
Let's have a closer look at each of these.
1. Control
Customers may prefer to only have a low amount of money with them when they go out or they may want to control their spending by only loading a certain amount on the card.
This is useful for:
Budgeting
Nights out
Monitoring family spending
Prepaid cards remove the temptation to go out and spend extra money, something that's useful for those attempting to stick to a budget such as those in debt or with mental health issues.
2. Safety
Not having a credit facility makes prepaid cards a safer way to spend.
If a prepaid card is lost or stolen, there's usually less money on there to lose, meaning there may be less stress than when dealing with the loss of a debit or credit card.
That's also one of the reasons travellers prefer them for holiday spending - if a card is stolen or subject to fraud while abroad, there's a financial buffer between the card and the rest of a customer's accounts.
3. Poor credit history
Prepaid cards are not a form of borrowing, meaning there are no credit checks involved in applying for one.
This is useful for consumers who do not have a good credit rating including bankrupts and those in severe debt.
It's worth noting, though, that all basic bank accounts must provide a free to use payment card, usually in the form of a debit card, so many customers will be able to access a traditional debit card rather than a prepaid one.
Nevertheless, some prepaid cards remain a good option for those with poor credit either where basic bank accounts aren't available or as a way of helping to build or repair credit history.
Credit builder cards work by treating the holding fee like a very small loan; paying for the card each month appears as positively repaid borrowing on a credit report.
4. Under-16 card options
Some cards have minimal age restrictions, with some specially designed for children and teenagers as young as six.
In these cases, providers only offer prepaid cards to younger users when the main account is managed by someone aged 18 or over, such as a parent or guardian.
Other prepaid card issuers provide additional cards for those aged 13 or over, again on the condition that the main card and account are registered to someone aged at least 18.
The benefits of these prepaid cards include:
Provide a set amount of pocket money for kids
Teach children how to manage their money effectively
Carrying a card is safer than carrying cash
Great for use in emergencies
Specific prepaid cards marketed at families in this way are the GoHenry, nimbl and NatWest Rooster cards.
5. Rewards
Some prepaid cards offer rewards in the form of cashback, just like some debit and credit cards.
The cashback is usually restricted to particular high street retailers, and any potential earnings must be balanced against the cost of having the card, which can vary greatly (see below).
Here are some current examples of prepaid reward cards:
Reward
Fee
Restrictions
Ode
Cashback at various retailers, including:
- Argos
- Boots
- M&S
- Waitrose
Free for first 12 months then £2.99 per year
Only available to carers, charity workers, NHS/healthcare workers and teachers/education workers
Pockit
Cashback at various retailers, including:
- Argos: 4%
- Apple: 2%
- Foot Locker: 7%
- Pizza Express: 8%
£1.99 per month
Tesco Clubcard Pay+
1 Clubcard point for every £1 spent in Tesco, 1 Clubcard point for every £8 spent elsewhere
None
Must be a Clubcard holder
Union Prepaid Plus Cashback card
Between 2.5% and 6% cashback at various retailers, including:
- Boots
- Halfords
- Sainsbury's
- Pizza Hut
£2.95 per month
Must be a member of a participating union
While these rewards can be attractive, it's worth doing the maths on fees to see if they're going to pay for themselves each month or year.
Fees and charges
Prepaid cards can come with a variety of fees and charges.
This is the way these card operators make their money and it's what makes them different to basic and free bank accounts that come with a free debit card.
Monthly fees and initial fees are applicable to some prepaid card accounts. Others charge low standard fees but will cost users heavily if they top up in a different way or use them abroad.
Transaction, top-up and cash withdrawal fees are also common. Add everything up when considering a new prepaid card - sometimes a seemingly good deal can be costly in the long run.
Here's some of the fees to look out for:
Fee
What it's for
Usual amount
Initial application fee
Processing the application
£5 - £10 (occasionally as little as £1 or free)
Card fees
Sending/replacing the physical card (sometimes even for automatic reissue)
£2 - £7
Administration fees
Some cards charge a set monthly fee. This is less common for cards with transaction fees (see below). Others charge a higher set amount at the outset. Some cards charge both!
£10 - £70
Monthly fees
£3 - £15 per month
Reload/top-up fees
Adding money to the prepaid card
Depends on method. At Post Office, direct from bank account or via debit card is usually free. Small percentage charges (2% - 3%) common for top-ups using credit card or via PayPoint.
Transaction fees
Some cards charge for each transaction. This is less common for cards with monthly fees (see above)
Usually 2% - 3%. Sometimes minimum fee e.g. "£0.25 or 2.5%, whichever is highest"
Foreign transaction fees
Percentage charges on each transaction abroad. Usually higher than a normal transaction fee. Frequent travellers should consider specialised travel cards for this purpose
3% - 5%
Withdrawal fees
Charges for withdrawing cash via ATM
£0.50 - £2
Payment out/direct debit fees
Some cards charge for paying out, whether for one-offs or regular payments
£0.50 - £1
Redemption fees
Claiming back money from a prepaid card (e.g. transferring it back into your current account). These are often high, which puts off customers from redeeming small sums
£5 - £10
Dormancy/inactivity fees
If the card has a balance but hasn't been used or has expired without the balance being claimed by the cardholder, the card issuer may charge a dormancy or inactivity fee
Bear in mind that these fees are only illustrative and there are prepaid cards out there that don't charge application fees, withdrawal fees or take a percentage of transactions.
However, the basis of prepaid card models for most companies requires some sort of charges somewhere down the line.
This is usually split into two forms:
Pay monthly - Cardholders pay a monthly fee for using the card and then there are usually no fees on transactions within the UK, although there might be ATM and foreign transaction fees.
Pay as you go (PAYG) - Cardholders don't pay a monthly fee but they usually pay fees on purchases and other transactions made with the card in the UK and abroad.
Different customers will have different needs, so it's worth spending some time thinking about how you might use the card.
In addition, it can be worth considering different prepaid cards for use abroad as they often charge prohibitive fees for use in the UK and vice versa.
Monthly vs PAYG
Monthly cards are usually the best bet for people who intend to use their prepaid card often. For less frequent users, PAYG is often sensible - the rare transaction fees don't add up to what a monthly charge would.
As an example, let's use two imaginary cards.
| | Monthly fee | Transaction fee | ATM withdrawal fee |
| --- | --- | --- | --- |
| Monthly card | £5 | - | £1 |
| PAYG card | - | 2.5% | 3.5% |
Example 1: frequent user
Amount spent on card per month: £500
Amount withdrawn from ATM per month: £150 over 5 withdrawals
| | Monthly fees | Transaction fees | ATM withdrawal fees | Total fees monthly |
| --- | --- | --- | --- | --- |
| Using Monthly card | £5 | - | £5 | £10 |
| Using PAYG card | - | £12.50 | £5.25 | £17.75 |
In this example, a frequent user would pay more each month if they had a PAYG card.
Example 2: infrequent user
Amount spent on card per month: £100
Amount withdrawn from ATM per month: £40 over 2 withdrawals
| | Monthly fees | Transaction fees | ATM withdrawal fees | Total fees monthly |
| --- | --- | --- | --- | --- |
| Using Monthly card | £5 | - | £2 | £7 |
| Using PAYG card | - | £2.50 | £1.40 | £3.90 |
Here, an infrequent user would benefit from using a PAYG card to avoid having to pay extra for a card they're rarely using.
Example card (real world)
Here is a directly comparable example - the trio of card options offered by prepaid specialist Suits Me:
| | Essential | Premium | Premium Plus |
| --- | --- | --- | --- |
| Card delivery fee | £0 | £0 | £0 |
| Monthly fee | £0 | £4.97 | £9.97 |
| One-off activation or load fee | £5 | £9.97 | £9.97 |
| ATM withdrawals (UK) | £1 | £1.25 | £1.12 |
| ATM withdrawals (international) | £2.50 | £2.50 | £2.50 |
| ATM balance enquiry | £0.50 | £0.24 | £0.24 |
| UK PayPoint top-up | £2 + 2.6% | £0.99 + 2.6% | £0.50 + 2.6% |
| Declined transaction fee | £0.50 | £0.20 | £0.20 |
| Bank transfer in (BACS) | £1.25 | £0 | £0 |
| Bank transfer in (same day) | £1 | £0.60 | £0.50 |
Note: There are other fees associated with the cards, but these are the ones most likely to be used regularly.
Many of these charges are things we take for granted with our traditional debit cards, and they can easily catch some customers out.

---
Problems with prepaid cards
Fees are one issue with prepaid cards - in the UK, at least, current account debit cards are unlikely to charge for things like withdrawals and transactions.
In addition, cardholders may have fewer rights when using a prepaid card than they would with a debit or credit card issued by a mainstream bank.
Limits
Most prepaid cards come with limits. Some are more restrictive than others.
Heavily restricted cards can be useful for people who have trouble budgeting but can be frustrating for those wanting more freedom.
When choosing a card, consider:
Minimum/maximum top-up limits
Maximum spending per day/month/year
Maximum balance allowed
Maximum withdrawals
The terms and conditions of a card must be advertised on a provider's website, so be sure to seek them out before signing up.
No FSCS protection
Many users of prepaid cards don't realise that the money stored on them is not protected by the Financial Services Compensation Scheme (FSCS).
The FSCS ensure compensation of up to £85,000 in case of the financial institution failing.
However, in the case of prepaid and e-payment cards, should the provider become insolvent any funds loaded onto the card are not automatically protected.
As many prepaid card users only load them up with relatively small amounts at a time, FSCS protection should really only worry regular prepaid users with large balances on their cards - a minority of cardholders.
If a card provider goes out of business, all is not necessarily lost. Because many providers aren't banks, the money is looked after elsewhere, which means cardholders can claim it back from the bank or building society.
As we saw when Loot went into administration in 2019, the money was backed by Wirecard and so customers were able to withdraw it all.
However, if the bank or building society itself goes under, there is no way to claim the money back.
For very small amounts, cardholders are protected (for now) under the EU trapped balances regulations, which mean card providers can't hold onto cash that doesn't meet a minimum transaction level. This was transposed into UK following Brexit.
No section 75 protection
Since prepaid cards aren't a form of borrowing, consumers aren't protected under Section 75 of the Consumer Credit Act, which is the legislation that allows customers to claim back payments when goods are faulty or not delivered.
Do note that when a prepaid card is issued by Mastercard or Visa cardholders may be able to make a claim under the issuer's chargeback scheme.
Again, though, this protection is nowhere near as strong as Section 75.
No obligations to help
As we noted above, prepaid cards are also often used by those with poor credit histories.
There's no risk of running into debt with a prepaid card as it has no credit or overdraft facility and, crucially, isn't connected to any personal bank details.
Yet that also means that, unlike banks and building societies, prepaid card providers have no obligation to help people who are struggling with serious debts, have difficulty budgeting or are on a very low income.
UK banks, under pressure to help their vulnerable customers, have introduced measures like spending blocks, often pioneering by mobile only banks looking to offer more innovative features than their traditional rivals.
Way back in January 2010, MPs spoke out against prepaid firms targeting benefits claimants and eating into the state aid significantly in the form of charges for use.
These charges haven't gone away in the nine years since, so prepaid cards could still be a poor choice for people on benefits.
Criminality
Most users of prepaid cards choose them for legitimate and legal reasons, but there is a subset of customers who use these cards to act illegally or commit fraud.
While this is nothing to do with customers who use them legitimately, there is always the possibility that rules will tighten or alter to address these issues.
---
Summary: Are prepaid cards the right choice?
Prepaid cards fill a gap in the market.
They give customers who haven't got a good credit history or just wish to keep their finances segmented a card that can be used to purchase goods or services in the UK and abroad.
These cards are ideal for:
Students and recent immigrants
Children and teenagers
Frequent travellers
As these cards work the same way as debit cards, they are accepted by most retailers and give customers the security to shop within a budget.
However, there's no denying these cards come with some hefty fees compared to a traditional current account, with many services we take for granted coming with a charge.
That's why prepaid cards can be useful as a secondary card for some customers but may not be the best option for continuous use unless there are no other options available.
Yet they remain a good choice for certain demographics such as travellers and immigrants.
The main thing to remember is to check the terms and conditions of a prepaid card to fully understand the fees that will be applied and then weigh up whether the card will be worth the cost.