Managed accounts allow customers with bad credit to access a current account, with tools to help them stay on track financially.
Meanwhile, it's possible to get a guaranteed account with mobile only banks if you don't have a good credit rating.
These types of supported bank accounts come with fees, including transaction and ATM withdrawal fees in some cases.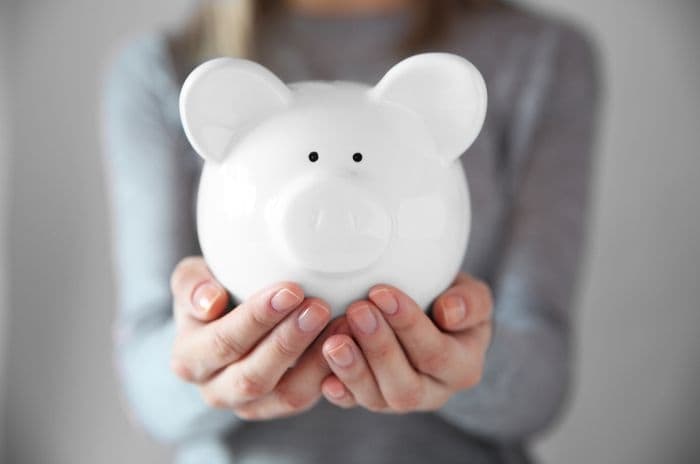 Credit: Africa Studio/Shutterstock.com
---
Who offers managed accounts?
Let's take a closer look at a couple of the UK's biggest managed account providers:
| Account | Monthly fee | Notes |
| --- | --- | --- |
| CardOneMoney Current Account | £12.50 | No ATM fees |
| Thinkmoney Current Account | £10 | No ATM fees |
| Clockwise Budget Account | £4 for up to 6 payments per month; then £2 for each additional 4 payments | Run by a Credit Union (Clockwise) |
As the table shows, the two main providers charge a high monthly fee. Even Clockwise's account can add up if the holder has more than a few monthly debits to wrangle.
These providers often also charge fees for some other services like balance enquiries and taking money out of an ATM.
As an example, the current charge for ATM withdrawals by CardOneMoney is £1.50 per withdrawal and it costs £7.50 to send a same-day payment to another bank.
Are managed bank accounts safe?
Whenever we discuss financial products that fall outside of mainstream banking it's always worth asking what protection is available on these products.
Although the money held in managed accounts isn't in banks, it's still protected under the Financial Services Compensation Scheme (FSCS).
But FSCS protection doesn't apply to money that's held on prepaid cards and there's no fraud protection for them either.
This is worth bearing in mind because a number of managed accounts use prepaid cards.
Should a card be lost or stolen, or used fraudulently in some other way, any money that has been lost will not be reimbursed to the card holder.
How managed accounts work
In return for a monthly fee, managed bank account providers offer a highly ordered version of a high street current account; essentially managing a customer's incomings and outgoings for them.
Managed budgeting
Budgeting is one of the key elements of a managed account.
The money paid into a customer's account is split into two pots:
An agreed amount is protected each month and is allocated to important commitments like rent, bills and loan repayments
Anything left over is then made available to the account holder for regular spending
When an account holder checks their balance using an ATM, the amount shown as 'available' is minus the amount required for the important outgoings, even when the money hasn't left the account yet.
The fact that these accounts ensure that essential bills are paid each month makes them appealing to people who have had trouble budgeting in the past.
Managed bank accounts are also used by people who struggle with personal finance for reasons like disability or Alzheimer's disease.
Debit cards
Another benefit of managed accounts is that most accounts offer a standard debit or prepaid card (often a Mastercard).
This makes it easy for account holders to access money through standard ATMs and to pay by card at the till or online.
Note, however, that some providers of managed accounts charge cardholders for using ATMs - not usually a problem found with standard banks.
Some providers also have relationships with high street banks, or the Post Office, so they can offer counter services.
Other services
Managed bank accounts don't often offer overdrafts, although sometimes the organisations will offer credit. For example, Clockwise, provide loans from £50 upwards with a maximum APR of 42.6%.
Guaranteed accounts also don't issue cheque books, although account holders can sometimes pay cheques into their accounts.
However, managed accounts do offer online banking, text messages about account statuses (free or for a fee, depending on the bank) and customer service over the phone.
This phone support is often sold to customers as help from 'money managers' or 'account managers' to provide a more personalised service.
Although these accounts help many people with budgeting support, there are downsides. We look at those in more detail below.
Some other services may also be available such as Thinkmoney's Current Account Plus upgrade for an extra £5 per month. This provides HAPI benefits such as offers for supermarkets, clothing stores, cinema chains, technology brands and family days out.
Who can get managed accounts?
Usually, these accounts are open to anyone. If an applicant is over 18 and a UK resident, they're more than likely eligible for a managed bank account of some kind.
What about joint accounts?
Some providers offer joint accounts at a higher cost.
Thinkmoney, for instance, has a joint account available at £15 per month (rather than £10 a month for a solo account). CardOneMoney allows a secondary cardholder for an extra £5 a month (bringing the monthly fee to £17.50).
---
Drawbacks to managed bank accounts
Managed bank accounts offer a crucial service for some customers, but it's important to point out there are issues with them.
Customer complaints
One of the main selling points of managed bank accounts is the convenience and reassurance of someone minding and budgeting money for the account holder.
This becomes a problem when those responsible for doing this perform an insufficient job.
While two of the biggest names (CardOneMoney and Thinkmoney) have strong records on review site Trustpilot with Excellent and Great ratings respectively, it's worth digging down into their negative reviews to understand what people are complaining about.
Common issues include:
Account and transaction fees the customer did not expect
Unexpected account closures (apparently to comply with FCA rules)
Slow transfers from billing account to card
In terms of complaints about fees, we have to say that all three managed account providers we've looked at above are transparent about their charges.
The problems seem to come when customers expect a managed account to offer the convenience and flexibility of a standard bank account. When this doesn't happen, they are frustrated and irate, especially if the account is their only way of getting hold of the money they have paid in.
No interest
Managed and guaranteed accounts very rarely come with interest. They're good for saving in a limited way - i.e. money gets funnelled into a pot - but customers don't see returns on the contents.
---
Managed vs basic bank accounts
The main competition for managed accounts is the basic bank account.
Basic bank accounts are another option for those who have a poor credit history, county court judgements (CCJs) or who have been declared bankrupt.
They offer many of the same services as managed accounts, such as debit cards and online banking services, but without the budgeting support from account managers or the fees.
Since January 2016 all new basic bank accounts have been free of all charges thanks to a voluntary agreement between the banks and the Government.
Also, under this agreement basic account holders with nine of the biggest banks are able to use any ATM machine that's part of the Link network.
Plus, as these accounts tend to be offered by high street banks, customers often feel more secure - thanks to the familiar name and the fact they're protected by the FSCS.
Here are a few examples of basic current accounts:
| Bank | Account | Minimum Age |
| --- | --- | --- |
| TSB | Cash Account | 18 |
| Virgin Money | M Account | 18 |
| The Co-operative Bank | Cashminder | 18 |
| HSBC | Basic Bank Account | 18 |
See here for more basic bank account options.
In many circumstances, basic bank accounts are a better option - and there are plenty of available options on the market if customers are rejected by one provider.
One problem is that basic bank accounts are not widely publicised by the banks, so many consumers are simply not aware of them. The lack of publicity is because basic bank accounts are free from fees and have no overdraft facilities, so they don't make the banks any money.
It's also worth noting that some basic account holders whose accounts were opened before January 2016 may still be paying or liable to pay fees. This is because some banks did not automatically upgrade all their basic bank accounts to be fee-free at the time the new agreement came into place.
Those account holders should look into switching their accounts to the new model if possible.
Yet, despite these issues, basic accounts are a good option to help those with a poor credit history climb back into mainstream banking, with the added benefit of being fee-free.
---
Guaranteed bank accounts
Guaranteed bank accounts are similar to managed accounts because they have monthly fees and generally there are no credit checks to sign up.
The names are often used interchangeably, with managed and guaranteed bank accounts listed side-by-site on review sites.
However, these mobile only accounts don't organise your money for you and stop you spending more than is available - they generally provide you with the tools to make those decisions yourself in the form of saving pots, roundups and other budgeting tools.
Here are some examples of fee-paying guaranteed banks:
Revolut
Cashplus
Suits Me
When looking at any financial institution, read the legal page and check whether money held with them is going to be safe.
Some mobile only banks are not protected by the FSCS but do ringfence money in other ways, as we saw when Loot collapsed into administration in 2019.
Mobile only banks are geared towards helping customers manage their money effectively and, since Open Banking's introduction, many external apps (some paid, some free) can offer these functions too.
The problem with guaranteed accounts is the same as the managed accounts we've discussed above - they cost money every month and may have numerous fees.
---
Summary: Be cautious
Managed and guaranteed accounts are tempting to consumers who have been turned down for standard current accounts. Credit checks and subsequent rejections are one of many barriers that seem unfair when applied to people just trying to improve their credit score.
However, account fees can hit hard when money is already tight and many customers would be better served by basic bank accounts instead.
It can also be worth looking at the services offered by your local credit union to see if they're a good option for everyday banking, saving and credit.
It's worth drawing a distinction between the managed bank accounts that look after a customer's money to stop them spending what they don't have and guaranteed bank accounts like Revolut and Monese.
While guaranteed accounts do charge fees, they give more control to the customer and often include more features and options.
Checking the small print and understanding the costs involved is still crucial though, especially for those on a strict budget.
Need to repair a credit rating? Read more about the steps you can take in 30 days.