Sky Mobile scooped the Best Overall award thanks to their notable performance in several important categories and their overall value for money.
Meanwhile, EE took the Fastest Network and Best Coverage awards while Three was named as Best for 5G.
The awards also looked closely at the way mobile providers are acting to improve their services and the world around them, with Virgin Mobile O2 and Lyca Mobile picking up important awards in these areas.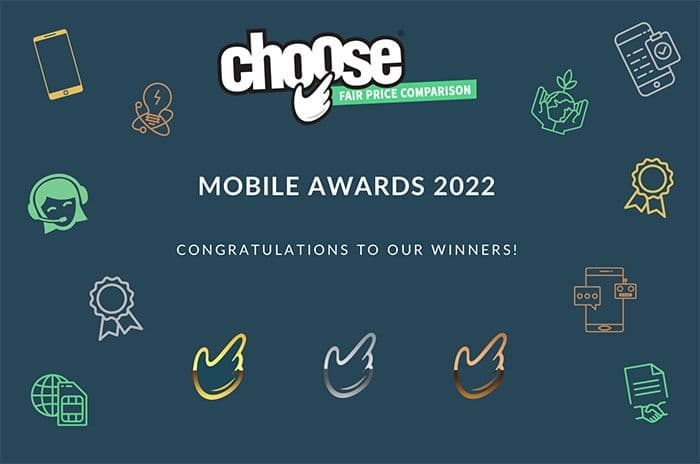 ---
Choose Mobile Awards Winners 2022
| | Gold | Silver | Bronze |
| --- | --- | --- | --- |
| Best Overall | Sky Mobile | EE | |
| Digital Inclusion | Virgin Media O2 | VOXI | Vodafone |
| Innovation | Sky Mobile | Virgin Media O2 | Vodafone |
| Ethical Initiatives | Virgin Media O2 | Vodafone | Sky Mobile |
| Community Contribution | Lyca Mobile | Sky Mobile | Three |
| Best Coverage | EE | Vodafone | |
| Best for 5G | Three | EE | |
| Best Value | Sky Mobile | Three | |
| Best Budget | SMARTY | Talkmobile | |
| Fastest Network | EE | Vodafone | |
| Best Customer Service | giffgaff | Tesco Mobile | Sky Mobile |
| Fair Terms | Tesco Mobile | Giffgaff | |
| Best Unlimited | giffgaff | SMARTY | |
| Best for Streaming | VOXI | Sky Mobile | |
---
Choose Mobile Awards 2022
The Choose Mobile Awards 2022 highlights the best providers for customers looking for a good mobile deal and great mobile experience across 14 diverse categories.
Just as we did in our recent broadband awards, we wanted to look at innovation, inclusion, community and ethical policies too, demonstrating what mobile providers are doing to improve services, enhance the digital lives of customers and to benefit the planet too. That's why we wanted to recognise a trio of providers in those categories.
It's also clear that mobile customer service is becoming even more important as customers look around for reliable providers who will help them if they have an issue. For that reason, we awarded Gold, Silver and Bronze in that category too.
All awards are given on merit following an in-depth assessment of all mobile network operators (MNOs) and the most significant mobile virtual network operators (MVNOs).
We're confident that the Gold, Silver and Bronze winners listed below offer great experiences for mobile customers, as well as demonstrating what services providers are working hard to offer to their customers and the wider world.
---
Best Overall
Gold: Sky Mobile
Sky Mobile are our top choice for mobile services in 2022, taking the Gold for Best Overall.
The provider scores highly across several categories, providing a great customer service experience, innovative features like the Sky Piggybank and Mix options, plus they are one of the best choices when it comes to value for money.
Sky uses the O2 mobile network to deliver their mobile deals, so customers will get 95% 4G indoor coverage and access to a 5G rollout that is growing in pace around the UK.
Silver: EE
Our Silver award for Best Overall goes to EE.
They have an exceptional mobile network offering market leading 4G coverage and they are consistently named as the fastest 4G network around.
They are also demonstrating great availability and speed when it comes to 5G, making them one of the best choices for 5G services too.
---
Digital Inclusion
Gold: Virgin Media O2
The winner of our Digital Inclusion award for 2022 is Virgin Media O2.
Alongside the Good Things Foundation, they launched the National Databank in July 2021. This service is designed to help more than 200,000 people get online by the end of 2023 and began with 7.5 million GB of O2 mobile data being donated to the Foundation to run through their digital inclusion networks.
Virgin Media O2 were a leader in this, although they were later joined by Vodafone and Three in funding the project.
The provider also supports the Community Calling scheme which redistributes used smartphones to customers who don't have access to the internet along with 12 months' free data from O2.
Silver: VOXI
Our Silver award for Digital Inclusion goes to VOXI for their 2021 VOXI for Good initiative.
The VOXI scheme which ran up until the end of September 2021 offered endless 5G-ready data to customers on certain benefits for just £10 per month.
This scheme helped those who had lost their jobs during the pandemic stay connected without the need for a credit check or long-term mobile contract.
Bronze: Vodafone
The Bronze for Digital Inclusion 2022 is awarded to Vodafone for their Connected schemes.
Vodafone aim to connect one million digitally excluded people by the end of 2022 and say they have connected more than 193,000 since May 2021.
They provide SIM cards to digitally excluded people through a trio of schemes: Buy One Give One, The Great British Tech Appeal and charities.connected. Registered charities can continue to apply for free SIMs for distribution until 1 November 2022 or until supplies run out.
---
Innovation
Gold: Sky Mobile
The winner of our 2022 Innovation award is Sky Mobile.
Sky Piggybank is an innovative solution that allows spare data to roll into the Piggybank for up to three years. This can be used at a later date, shared with up to seven SIM cards or exchanged for discounts on new smartphones. For example, they say that customers saved an average of 93GB each during lockdown.
Sky Mobile stands out here because they don't just allow customers to keep unused data as other providers do, they also offer a family friendly option to share data between different SIMs as well as saving up for future discounts.
Silver: Virgin Media O2
Our silver award winner for Innovation is Virgin Media O2.
The company undertook a trial with Fotokite to test 5G-enabled drones in September 2021, with the aim of assisting emergency services and public safety teams with interactive tools in the future.
They have also piloted Spatial Insights at 20 O2 stores to improve customer management and customer experience, technology that could be used in future to improve retail and public spaces.
Bronze: Vodafone
The bronze winner in the Innovation category for 2022 is Vodafone.
Their market leading OpenRAN rollout is enabling customers in rural areas using 4G and 5G, with the first large-scale switch on of a site taking place in Somerset early in 2022.
OpenRan has the potential to improve the way mobile networks in the UK are deployed and how providers can use components from different suppliers to expand their networks without compatibility issues.
Vodafone are also vocal about the need to harness the 5G rollout and put digital connectivity at the heart of the drive towards net zero.
---
Ethical Initiatives
Gold: Virgin Media O2
The Gold award for the Ethical Initiatives category goes to Virgin Media O2.
Not only does the company pledge to meet net zero on their own operations by the end of 2025, they also have other sustainability initiatives in place to reduce their environmental impact such as their transition to an electric vehicle fleet.
Special mention must go to the O2 Recycle scheme which confirmed in May 2021 it had paid out £250 million for old tech over the past 11 years, ensuring it could be refurbished rather than sending e-waste to landfill.
In the year to September 2021, O2 Recycle recycled more than 26,000 devices for businesses, amounting to savings of £400,000.
Silver: Vodafone
The Silver award for Ethical Initiatives 2022 is awarded to Vodafone.
Their UK operations aim to reach net zero by 2027 (with the rest of the group to follow by 2040), while they have direct power purchase agreements (PPAs) with two UK windfarms as part of their commitment to using 100% renewable electricity in their operations.
Vodafone are implementing plenty of small changes across their networks using energy-efficient equipment such as low-energy LED lighting and low-power 5G units, with the multitude of small changes adding up over time to make a difference.
They are also rolling out Eco-SIMs made from 100% recycled plastic in the UK this year.
Bronze: Sky Mobile
Our Bronze winner for Ethical Initiatives 2022 is Sky Mobile.
Their goal is to reach net zero within their own operations by 2030, with the aim of cutting emissions created by their business, suppliers and usage of their tech products by at least 50%.
Sky's work towards net zero goes beyond their Sky Mobile operations and includes the transition to an EV fleet of 5,000 vehicles.
---
Community Contribution
Gold: Lyca Mobile
Our Gold award for Community Contribution 2022 goes to Lyca Mobile for a range of different community orientated initiatives.
The company celebrated their East London roots in 2021 by joining forces with West Ham United to run the Lyca Mobile Cup for youth footballers.
They also help communities globally with the Lyca Gnanam Foundation. As well as giving communities the opportunity to develop their skills and achieve sustainability, the Foundation also responds to emergency appeals such as those in Sudan, Sri Lankan and Afghanistan, as well as supporting refugees and families of Ukrainians fleeing from the ongoing conflict.
Silver: Sky Mobile
Sky Mobile take the Silver award for Community Contribution thanks to their 2022 initiative to enable their customers to help Ukrainians.
Customers can donate their spare data until 15 April 2022, with every 25GB directly translating into £10 for food, water, shelter and medical aid provided by the Disasters Emergency Committee (DEC).
Sky Mobile customers are able to feel part of a community providing assistance for Ukraine and neighbouring countries struggling to deal with the conflict.
Bronze: Three
Our Bronze award winner for Community Contribution is Three.
The mobile provider has an ongoing partnership with Samaritans that aims to connect a million people to emotional support over three years as well as running a Community Fund to support local charities each month.
In addition, Three offer Discovery sessions in store to help customers and community groups improve their digital skills and get more from their technology.
---
Best Coverage
Gold: EE
Our Gold winner for Best Coverage 2022 is EE.
The latest mobile coverage reports from Ofcom demonstrate that EE are the best overall for 4G coverage in the UK, reaching 86% of the UK landmass, 4% more than their closest rival.
This includes more coverage in rural areas than any other operator, as well as having the best coverage options in both England and Wales.
EE is also progressing well with their 5G rollout and is our choice for 5G coverage. The provider aims to cover 90% of the UK landmass with 5G by 2028 under plans announced last year.
Silver: Vodafone
The Silver for Best Coverage goes to Vodafone.
They offer the joint best 4G indoor coverage of all operators, along with providing better urban coverage than any other provider and offering the best available coverage in Scotland and Northern Ireland too.
Like other providers, Vodafone is participating in the Shared Rural Network (SRN) scheme to improve access to mobile services in rural areas. They are also rolling out their OpenRAN network as we mentioned earlier.
---
Best for 5G
Gold: Three
Our Gold winner in the Best for 5G category is Three.
As well as having a good amount of 5G coverage and availability in independent testing, user-initiated testing demonstrates that Three's customers are experiencing some of the fastest 5G speeds available too.
They won the Ookla 5G award for speed in the second half of 2021, as well as posting good speed results in Opensignal's research for the same period.
Silver: EE
The provider awarded Silver in the Best for 5G category is EE.
5G coverage from EE is some of the best around, and they complement that with high availability scores in major cities tested by RootMetrics bi-annually. Tutela also named them as best for 5G coverage in their 2021 State of Mobile Experience report.
EE's 5G speeds are performing well and the provider also offers customers the opportunity to upgrade their 5G mobile experience with their Smart Plans - adding extra services like music and video streaming that will allow customers to make the most of the 5G connection.
---
Best Value
Gold: Sky Mobile
The Gold winner of the Best Value 2022 award is Sky Mobile.
Their Piggybank feature allows customers to save unused data to share with family members or cash-in later for money off phone upgrades.
Plus, they offer a Mix feature that allows customers to upgrade or downgrade the amount of data in their plan within their minimum term. This gives far more flexibility to customers with their monthly mobile bill than we see with other networks.
Sky Mobile also integrates with Sky TV, so customers who have a subscription service can stream using Sky Watch without affecting their data allowance.
Silver: Three
Our Silver winner in the Best Value category for 2022 is Three.
Whether customers are looking for a SIM only deal or a new mobile handset plan, Three are usually in the mix with some of the best deals around.
The mobile network boosted their value credentials in November 2021 by launching the Three+ rewards app to provide curated offers and discounts to customers.
---
Best Budget
Gold: SMARTY
The Choose pick for Best Budget provider is SMARTY.
The provider offers some of the cheapest mobile deals on the market, offering more data for less than some of their budget mobile rivals.
SMARTY offers a simple, no-frills service on 1-month rolling deals that allow customers to upgrade, downgrade or cancel without penalty and with no credit check.
As a subsidiary of Three, SMARTY operates on the Three mobile network.
Silver: Talkmobile
The Silver for Best Budget mobile provider goes to Talkmobile.
A specialist in cheap SIM only mobile deals, Talkmobile is often one of the cheapest networks available at any time, providing a selection of 30-day or 12-month plans with unlimited calls and texts plus data up to 100GB per month.
Talkmobile uses the Vodafone network to deliver their budget mobile services.
---
Fastest Network
Gold: EE
The Gold award for Fastest Network 2022 goes to EE.
Research from multiple companies demonstrates that EE is the UK's fastest 4G network, and they also triumphed for the seventh year in a row in umlaut's Mobile Benchmark awards in 2021.
There is often a significant difference between EE and their rivals when it comes to 4G speed tests, plus their 5G speed performance in cities is unsurpassed according to research from RootMetrics covering the second half of 2021.
Silver: Vodafone
Silver in the Fastest Network category goes to Vodafone.
The network is often the second fastest mobile network in the UK according to research, posting slightly lower latency figures than some of their rivals too.
On 5G, Vodafone is showing some excellent potential, with RootMetrics research in Nottingham in Q2 2021 showing fastest median download speeds of 255.6Mbps, more than 20Mbps higher than the second-placed provider.
---
Best Customer Service
Gold: giffgaff
The Gold award for Best Customer Service 2022 goes to giffgaff.
Independent research from Ofcom shows giffgaff customers are some of the most satisfied mobile customers in the UK and they had the joint lowest number of customers with a reason to complain about their services too.
The provider was one of those most likely to be recommended to friends, plus they were one of only three networks to make the UK Consumer Satisfaction Index (UKCSI) top 50 in January 2022, ranking 40th.
Silver: Tesco Mobile
Our Silver award winner for Best Customer Service is Tesco Mobile.
Tesco have consistently low mobile complaint levels, averaging 1 per 100,000 customers during every quarterly update over the last year as we explore more fully in our guide to mobile customer service.
The provider was only one of two likely to be recommended to friends in Ofcom's Comparing Service Quality 2021 report, and they ranked the highest of all telecommunications providers in the January 2022 UKCSI report at 22nd.
Bronze: Sky Mobile
Our Bronze choice for Best Customer Service is Sky Mobile.
They have recorded low levels of complaints over the last year, plus they have the joint lowest number of customers with a reason to complain according to Ofcom research.
The UKCSI update published in January 2022 placed them in the top 50 organisations for customer service, ranking at 38th with a score of 82.7.
---
Fair Terms
Gold: Tesco Mobile
The Choose Gold award for Fair Terms in 2022 goes to Tesco Mobile.
They are the only provider offering fixed term contracts who pledge there will be no mid-contract price rises for customers during their minimum terms.
In a year when inflation-linked price rises for some mobile customers have hit more than 9%, it's refreshing to see Tesco Mobile holding to their fair terms and promising customers will not see price rises during their contract.
Silver: giffgaff
Our Silver award winner for Fair Terms is giffgaff.
As they specialise in rolling monthly mobile contracts, there is no minimum term and customers are free to leave the provider if they want or need to.
They also offer an 'Always On' mobile plan that is significantly cheaper than their Unlimited plan, allowing users to access slower speeds of data even after they have used up 80GB in a month. Although other providers are jumping on this model, giffgaff have been offering it for a while and it remains a great fair deal to help customers stay connected during the month.
---
Best Unlimited
Gold: giffgaff
The Choose pick for Best Unlimited mobile provider in 2022 is giffgaff.
Not only do they offer great Unlimited and Always On plans, they also have no restrictions when it comes to tethering on their mobile plans.
Unlike some providers, giffgaff do not limit the amount of data customers can tether each month meaning, in connection with their 4G and 5G-ready mobile deals, giffgaff customers can get a speedy connection across multiple devices at a time.
Silver: SMARTY
Our Silver winner for Best Unlimited provider is SMARTY.
The provider regularly offers the cheapest unlimited data plans around, using their status as a subsidiary of Three to provide a budget experience for customers without compromising on unlimited data.
In addition, thanks to the SMART Group plan offer, families can get multiple unlimited SIMs and earn a 10% discount on each of them, providing even more value.
---
Best for Streaming
Gold: VOXI
The Gold winner for Best for Streaming 2022 is VOXI.
Their Endless Video plans available with 30GB or 60GB of data each month allow customers to use eight popular video services without eating into their data allowance including TikTok and YouTube.
This zero-rating offer from VOXI is one of a kind, and they're the only provider in the UK to offer unlimited video streaming for multiple services in this way.
Silver: Sky Mobile
Our Silver winner for Best for Streaming is Sky Mobile.
Through their Sky Watch service, customers who take both Sky Mobile and Sky TV services can watch their subscription channels through their mobile device.
Plus, Sky Watch supports tethering, so customers can tether their mobile to their laptop and watch via a bigger screen, useful when away from home or for keeping the kids happy in the car.