Is Virgin broadband any good?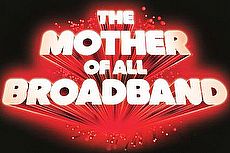 VIRGIN Media are, hands down, the UK's fastest mainstream broadband provider.
But they don't always come out on top in other areas, like price and coverage.
We've been covering Virgin Media since 2006, back when they were called NTL, and we've condensed all that superbly geeky but otherwise pretty useless knowledge into this review.
Let's start out with three things that really make Virgin Media broadband stand out.
Market-leading
There's no competition for first place on the list.
Broadband speeds
It's now possible to get entry level fibre at speeds of up to 52Mb from BT, which means that Virgin Media's slowest broadband now has much wider competition.
But it's cheaper than BT's - and it's by far the slowest deal Virgin offer. Virgin themselves say that nearly half of their customers take a deal offering at least 100Mb.
Package
Broadband
Contract term
Upfront price
Monthly price
Up to 50Mb + Talk Weekends
Up to 50Mb
Unlimited
12 months
£14.99
£32
for 12 mths,
then £40
Vivid 100 + Talk Weekends
Up to 100Mb
Unlimited
12 months
£14.99
£37
for 12 mths,
then £45
Vivid 200 + Talk Weekends
Up to 200Mb
Unlimited
12 months
£14.99
£45
for 12 mths,
then £53
Vivid 200 Gamer + Talk Weekends
Up to 200Mb
Unlimited
12 months
£14.99
£50
for 12 mths,
then £58
And - at the lower speeds at least - the advertised speed more or less accurately represents the speeds customers actually get.
Here's how fast Virgin Media cable and BT fibre services were on average according to Ofcom research, the most accurate data on speeds we have available, released in March 2016:
Advertised Speed
Average over 24 hours
Average at peak times
(8-10pm weekdays)
Up to 38Mb*
34.3Mb - 35.5Mb
33.8Mb - 35.1Mb
Up to 50Mb
49.4Mb - 51.6Mb
44.6Mb - 49.1Mb
Up to 76Mb
57.4Mb - 61.1Mb
56.9Mb - 60.5Mb
Up to 100Mb
93.3Mb - 98.2Mb
81.6Mb - 90.6Mb
Up to 200Mb
168.0Mb - 179.9Mb
148.0Mb - 164.4Mb
*BT launched their up to 52Mb service in April 2016; the first results are likely to appear in the next set of Ofcom figures.
When these figures were compiled, Virgin had only just begun to roll out their new 200Mb service.
Using SamKnows, who help Ofcom compile those results, Virgin have been releasing figures regularly since the new package, and the Gamer version of it, came in to show how it's performing. Here are the most recent SamKnows results:
| January 2017 | Average over 24 hours | Peak (8-10pm weekdays) |
| --- | --- | --- |
| Vivid 200 | 193.0Mb | 157.6Mb |
| Vivid 200 Gamer | 200.7Mb | 184.2Mb |
SOURCE: SamKnows and Virgin Media. Available here.
There's a more in depth comparison of Virgin Media and BT Infinity services here, but in terms of speeds, the figures above speak for themselves: Virgin Media are genuinely much faster than their closest competitors.
That should give Virgin Media customers a far easier time streaming video, using VoIP services like Skype, or downloading large files, as well as increasing the efficiency of everyday browsing.
Cable also gives Virgin Media other advantages - they can offer broadband without a phone line, for example - but speed is the most obvious benefit and, we think, a major reason for Virgin Media's surprisingly high customer satisfaction ratings.
Price vs. closest competitors
Virgin Media also do well on price, at least compared with their closest competitors, Sky and BT.
For example, here are three lower cost bundles from the three providers.
Package
Broadband
Contract term
Upfront price
Monthly price
Player Bundle
Up to 50Mb
Unlimited
12 months
£14.99
£29
for 12 mths,
then £45
TV Original + Broadband 12GB + Talk
Up to 17Mb
12GB usage
18 months
£15
£40.99
TV Starter + Unlimited Broadband + Weekend calls
Up to 17Mb
Unlimited
12 months
£59.99
£23.99
for 12 mths,
then £31.99
It's clear that despite offering considerably more in terms of broadband, Virgin Media remain competitive on price.
Of course, it's hard to compare these providers as they all offer different services, with emphasis on different parts of their bundles. We look at the differences between the UK's biggest bundle providers in our full guide to Virgin versus Sky here.
On the plus side, not only does this very competitive market keep bundle costs fairly low, it also drives providers to keep up the special offers to attract new customers. Here are Virgin's current deals:
What's on offer?
When you join online for:
Need to know:
Money off TV, broadband and phone for up to 12 months + free set up worth £49.95
One of Virgin Media's Big Bundles
Save over £180 on broadband and phone + free set up
Virgin Media broadband
(with a Virgin phone line)
Virgin Media Tivo
Finally, Virgin Media are the only place in the UK to get the Tivo TV service, with the boxes included with each TV package as standard.
Like the boxes provided by other pay TV services, Tivo allows subscribers to pause and rewind TV, and to record hundreds of hours of shows on the box.
Unlike the standard boxes from other providers, Tivo allows users to record up to three channels at once - and the new V6 box can record up to six channels simultaneously - but it's Tivo's intelligent suggestions that really make the boxes stand out.
Subscribers can rate any programme they like - both positively and negatively - which enables Tivo to record not only pre-selected and "wish list" shows, but also those it thinks they might like based on their other ratings.
Basically, there's no excuse for ever watching Most Haunted again, unless Tivo has clocked that someone in the house likes being mildly unsettled.
For more on Tivo see our guide here.
Beyond Tivo, Virgin Media's TV options break down like this:
Package
Channels
Contract term
Upfront price
Monthly price
Mix TV
150+ (11 HD)
12 months
£14.99
£20
Fun TV
190+ (11 HD)
12 months
£14.99
£31.50
Full House TV
245+ (50 HD)
12 months
£14.99
£39
for 12 mths,
then £41.50
Have a look at our full review of Virgin's TV services here, and check out our TV comparison page (here) to find out which bundles include any must have channels.
Beaten elsewhere
Like all providers, Virgin Media have their problems. Here are a few of the things we think everyone thinking of signing up to them should know about.
Availability
The biggest problem anyone thinking about taking Virgin Media faces is availability.
Covering just under half of UK premises, they just aren't an option in as many homes as BT or Sky. Even where Virgin are available, not every household will be able to access their fastest deals.
Virgin said they hoped to have everyone on their network capable of receiving up to 200Mb by mid 2016 - but while new customers are being given the top speed possible, existing customers have been told they may have to wait until summer 2017 for their service to be upgraded.
And when they announced their biggest ever expansion plan in February 2015, which aims to increase the network's coverage to about 60% of the UK by 2019, they were been criticised for concentrating on plugging the gaps rather than bringing superfast broadband to a geographically wider audience.
They have since begun to address this criticism by expanding to smaller communities where there's plenty of demand - and they've named 40 such communities since announcing they were taking applications in March.
Generally, however, it's still the case that Virgin Media is available in the more densely populated areas.
Have a look using our postcode checker below - but note that for slightly complicated reasons, about which there's more here, we don't have enough data to ensure that our coverage information is 100% accurate.
For best results, check on the Virgin Media site too.
Enter your phone number and / or postcode above to check availability in your area.
Price vs. the cheapest deals
Although Virgin Media manage to be pretty competitive on price, in general they're no match for the UK's budget broadband prices.
To pay rock bottom prices on just broadband and calls, go elsewhere - have a look at our cheap broadband comparison table, here, to see who's offering what.
About those speeds: traffic management and latency
Unfortunately, we need to talk about those speeds again.
Although Virgin Media broadband is fast, it doesn't always offer the best internet experience for everyone.
Virgin no longer throttle heavy downloaders, but they do use traffic management to tackle high bandwidth uploaders at peak times - anyone who goes beyond certain limits will be throttled for at least an hour at a time.
Upload speeds are underwhelming at best: less than 10% of the download speed for any particular package - with people on the 152Mb and 200Mb packages getting just 12Mb.
Those taking Virgin's gamer-specific 200Mb package will get uploads of 20Mb.
Compare that to budget provider Plusnet, who, according to Ofcom, deliver average upload speeds approaching 17Mb for customers on their 76Mb service.
There's also the matter of latency - the time it takes for a signal to "ping" between destinations - which is sometimes high.
For most users, these problems aren't going to be an issue, but heavy users should take a look at our guide here on fair use policies for more information.
Find out more on how latency can affect internet services in our gaming guide here and more on factors that affect speeds in general here.
The best Virgin Media deal
Virgin Media have become one of the UK's biggest providers by speeding up their service and bundling other competitively priced services like home phone, TV and mobile.
We get asked a lot what the "best" Virgin Media deal is - a reflection of the befuddlingly large range of bundle options, aimed at giving subscribers the exact combination of services they want.
Virgin Media seem to be aware of this problem.
While they offer customers the chance to the chance to build their own bundle, the best place to start looking for a good value deal is with the provider's own pre-made deals:
Bundle
TV Channels
Broadband
Contract term
Upfront price
Monthly price
Player Bundle
70+ channels
Up to 50Mb
12 months
£14.99
£29
for 12 mths,
then £45
Mix Bundle
150+ channels
Up to 50Mb
12 months
£14.99
£39
for 12 mths,
then £50
Fun Bundle
190+ channels
Up to 100Mb
12 months
£14.99
£49
for 12 mths,
then £60
Full House Bundle
245+ channels
Up to 200Mb
12 months
£14.99
£55
for 12 mths,
then £76
VIP Bundle
245+ channels +
Sky Sports (in HD) + Sky Cinema (in HD)
Up to 200Mb
12 months
£14.99
£85
for 12 mths,
then £120
After picking one of these, customers can tweak and tailor elements - like more inclusive calls, or faster broadband - to their own requirements.
Furthermore, note that while we've listed Virgin's Big Bundles as 12-month deals above, they've recently introduced 30-day rolling contracts as well.
That means customers can chop and change package on a monthly basis until they find they're getting the best out of this sprawling provider - something we hope this guide has helped with.