Fibre broadband without a contract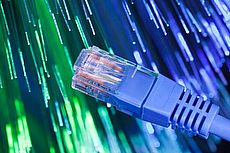 THERE are around 200 internet service providers vying for our custom in the UK, almost all of whom expect us to be willing to sign up for at least 12 months.
Those of us who can't commit for that long, or who don't want to, don't have anywhere near that much choice: we can count the number of flexible broadband providers on just two hands.
Given how little choice there is for no-contract standard broadband, how likely is it that someone wanting fibre will be able to get it on a short term basis?
Even Tentel, whose middle name might as well be "flexibility", only sell fibre on 18 month terms - so who does sell fibre broadband on a month by month basis?
Flexible fibre broadband
For most of us the choice is rather slim: Now TV or a small Devon-based ISP called Pulse8. There is a third option - Hyperoptic - but as we explain in our full review, it's incredibly limited in availability.
These are the cheapest deals available from each of the three:
Package
Broadband
Contract terms
Upfront cost
Monthly price
Fab Fibre + Entertainment Pass (No Contract)
Up to 38Mb
Unlimited
No min term
£44
£29.99
for 12 mths,
then £42.98
Pulse8
38Mb + Line rental
Up to 38Mb
Unlimited
30 days
£49.95
£25
20Mb Fibre Broadband
Up to 20Mb
Unlimited
30 days
£40
£24
20Mb Fibre Broadband + Evening and Weekend calls
Up to 20Mb
Unlimited
30 days
£40
£27
Both the Now TV Combo and Pulse8's fibre are available with up to 78Mb connections as well; Hyperoptic also sell their 100Mb and 1Gb fibre to the premises (FTTP) on flexible terms.
Calls and other packages
Note that we've included Hyperoptic twice in the table above. As they're a pure fibre provider it's possible not only to ditch the contract but the phone line as well.
There's not that much of a saving to be made by going without, but the point is that for all Hyperoptic are something of a limited edition provider, they do their best to be highly flexible where they are available.
As mentioned above, they also sell their 100Mb and 1Gb FTTP packages on 30 day terms. To go phone-free they cost £38 and £64 respectively, to get the landline as well will cost £41 for the 100Mb package and £67 for the 1Gb deal.
That extra £3 a month not only covers Hyperoptic's equivalent of line rental, but evening and weekend calls - including calls to 0845 and 0870 numbers.
Now TV offer three different broadband packages - standard broadband, the up to 38Mb Fab Fibre listed above, and Super Fibre, which provides speeds of up to 78Mb.
While that's included in the price, calls aren't. There are three choices: pay as you call, evening and weekend calls for another £4 a month, or anytime calls for £8 a month.
New Now TV Combo customers also need to choose at least one TV Pass - although they can drop that part of the deal once everything's been activated. There are four to choose from, ranging from the Kids Pass to the Sky Sports Month Pass.
Those who aren't bothered about the TV part of the deal should note that while the Kids Pass on its own costs just £2.99 a month, the cheapest Combo with any choice of broadband will always feature the Entertainment Pass, as the Kids Pass isn't included in any of Now TV's introductory offers.
By comparison, Pulse8 keep things simple. They also sell their broadband and phone on a line-only basis, but there are no add-ons to consider; calls are charged by the second, with no call connection fees or minimum costs.
Setup costs
One of the reasons broadband without a contract gets a bad press is that it seems to cost much more than committing to a contract.
There's little in the way of introductory or promotional offers, and while those willing to sign up for at least a year may escape setup fees all together, there's no such respite for those who want the freedom to leave whenever.
But for all the setup fees listed above may seem high, they're not that bad when compared to the upfront costs charged by some of their contract-only rivals - Sky's 12-month minimum fibre deals come with upfront fees of almost £50, and BT Infinity 1 customers must pay nearly £60.
At the time we're writing this, Now TV have reduced their setup fees from £60 for flexible fibre, and £40 for standard broadband, to £30; those willing to give up on the idea of short term fibre can sign up for 12 months and pay just £15 instead.
Notice periods
After the first month:
Now TV - none required
Pulse8 - 10 days
Hyperoptic - one month, in writing
All of Pulse8's packages are sold on monthly terms, and they charge a fairly standard £49.95 for fibre activation. The downside is that they don't include a free router, and for those who don't have their own already, prices start at £99.
All Hyperoptic customers get the cost of installation free - which, if we read the small print carefully, is worth £240. That leaves just the £40 connection fee to be covered - which is the same for both those looking for 30-day terms and those going for a 12-month broadband-only package.
Availability
As with all broadband deals, a lot of the decision over which provider to choose rests on which of them is available.
As we mentioned above, Hyperoptic are the least widely available of our three flexible fibre providers: while other ISPs work to connect whole streets or areas at a time, Hyperoptic have a building by building approach, focusing on blocks of apartments where there's a demonstrably high level of demand.
Now TV are an offshoot of Sky, but while it's possible to get TV from either of them pretty much anywhere in the country, their broadband network isn't quite as all encompassing - and although Sky have an out-of-area broadband package for their TV customers, there's no equivalent for Now TV Combo customers.
That leaves Pulse8. As they resell BT's services, they should be available pretty much everywhere BT are - but that also means that if BT Infinity hasn't reached an area yet, Pulse8's fibre won't be available either.
That said, more than 90% of the UK's premises now have access to BT Infinity 1, if not Infinity 2.
The alternatives
There really isn't much in the way of a substitute for fibre broadband. Mobile broadband isn't really reliable or fast enough to stand in for a fixed fibre connection, although those in a strong signal area might want to give EE's "double speed 4G" a go: depending on how busy the network is, users can get up to 30Mb.
Free wi-fi is another option - but even if the location offering it has fibre, the chances are there'll be too many other people using it to get a consistently fast connection.