| | Water resistance |
| --- | --- |
| 1. Apple iPhone 12 | Up to 6 metres for up to 30 minutes |
| 2. Samsung Galaxy S21 | Up to 1.5 metres for up to 30 minutes |
| 3. OnePlus 9 Pro | Up to 1.5 metres for up to 30 minutes |
| 4. Samsung Galaxy S20 FE | Up to 1.5 metres for up to 30 minutes |
| 5. Google Pixel 5 | Up to 1.5 metres for up to 30 minutes |
The Apple iPhone 12 series is the top pick for water resistance, offering protection for 30 minutes at a depth of up to 6 metres.
Other flagship devices from manufacturers including Google, Samsung and OnePlus provide protection at depths of 1.5 metres.
Yet it's worth remembering that smartphones are not completely waterproof and even Apple's own guidance on water resistance includes plenty of caveats and limitations.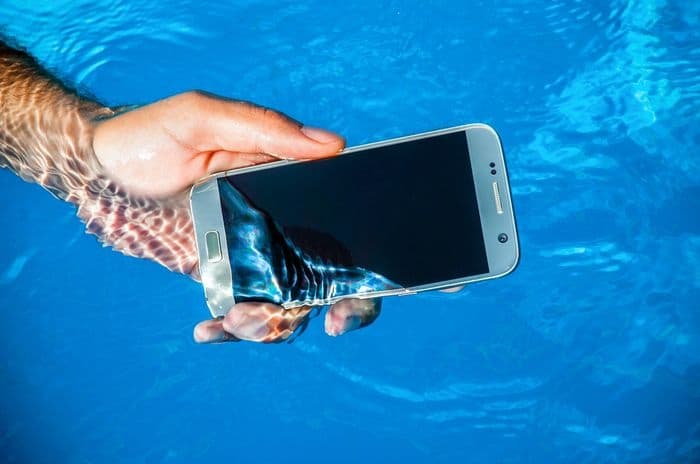 ---
Best waterproof smartphones
There are some excellent water-resistant smartphones on the market, although it should be noted that none of the devices we list below are completely waterproof.
We explain why that is in more detail later in this guide but first let's look at the top water resistance smartphones available to UK mobile customers in 2021.
1. Apple iPhone 12
Apple's iPhone 12 series incorporating the iPhone 12, iPhone 12 Mini, iPhone 12 Pro and iPhone 12 Pro Max takes the top spot for water resistance.
Every phone in this range is rated IP68 but they go beyond the industry standard for water resistance and promise safety in water of up to 6 metres for up to 30 minutes. This is 4.5 metres deeper than the industry standard that most manufacturers certify themselves to.
Apple also say these devices are resistant to accidental spills from liquids such as coffee, tea, juice, fizzy drinks and beer. If the handset is exposed to those liquids, it should be rinsed with tap water then dried quickly.
Devices in the iPhone 12 range aren't among the cheapest on the market, but they have set the standard for water resistance going forward.
iOS versus Android: what's the difference?
2. Samsung Galaxy S21
The Samsung Galaxy S21 range of smartphones offers protection against water of up to 1.5 metres in depth for 30 minutes.
This covers the S21 range of devices: Samsung Galaxy S21, Samsung Galaxy S21+ and Samsung Galaxy S21 Ultra.
Again, phones in the Samsung Galaxy range are some of the more expensive smartphone options available, and we'd expect excellent water resistant at this price point.
For customers who want a Samsung device but don't necessarily want to pay for one of the current flagship devices, there's also the Samsung S20 FE - we look at this is more detail below.
3. OnePlus 9 Pro
OnePlus made a huge upgrade to their premium range when they introduced IP rating on some devices, a big step up from where they were in 2019 when they released the OnePlus 7 Pro.
The OnePlus 9 Pro is the flagship device in OnePlus's range and offers resistance in water of up to 1.5 metres for up to 30 minutes.
We like the OnePlus 9 Pro as a premium smartphone with an excellent camera, and it only drops behind the Samsung Galaxy S21 range because there are three smartphone options to choose from in that series.
4. Samsung Galaxy S20 FE
The Samsung Galaxy S20 FE is an excellent option for Android users who want the functionality and water resistance of a flagship Samsung device without the hefty price tag to go with it.
Just like its more expensive siblings, the S20 FE offers water resistance for up to 30 minutes at a depth of 1.5 metres with an IP68 rating.
As a cheaper Samsung device with some excellent features, the S20 FE is a great alternative and there are usually good deals to be had on the fan editions of Samsung's flagship devices.
5. Google Pixel 5
Rounding out our top five is the Google Pixel 5. Again, it's resistant for up to 30 minutes in a water depth of 1.5 metres and is officially IP68 rated.
The Google Pixel 5 isn't a perfect smartphone and it's more budget-friendly than its predecessor, but that's one of its selling points.
It's an affordable water-resistant device with 5G and the fastest security updates pushed out by Android, making it a good all-rounder for most mobile customers.
Other water-resistant smartphones
The handsets listed above may be our top five but there are plenty of other water-resistant smartphones around.
We explain below what mobile customers should be looking for when assessing how waterproof a device actually is, but the key ratings to look out for are IP67 and IP68.
Examples of other smartphones with water resistance include:
Xiaomi Mi 11 Pro / Ultra
Oppo Find X3 Pro
Sony Xperia 1 III
Apple iPhone 11
There are budget smartphones with IP ratings and we're increasingly seeing manufacturers include them on cheaper devices within their ranges as well as their flagship handsets.
Even so, be sure to check before buying a mobile phone if water resistance is important to you (and be mindful of the caveats and limitations listed below).
Smartphones without water resistance
Some handsets simply don't have a comprehensive IP rating when it comes to water resistance, so watch out for those too when comparing mobile phone deals.
Examples include:
OnePlus 9
Xiaomi Mi 11
Nokia 8.3
Huawei Mate 40
With the Huawei Mate 40, for example, the entry-level device in the range only has an IP rating of IP53 whereas the Mate 40 Pro is rated IP68.
If you're not shopping for the flagship devices from a manufacturer, watch out for economies like this as water resistance is frequently left out of the equation when companies seek to lower the costs of their smartphones.
---
What makes a smartphone waterproof?
To be classed as water resistant, a smartphone needs to be given an IP rating. This rating covers both dust and water resistance, but the figure we're interested in when thinking about water resistant is the last digit.
Smartphones with an IP rating of IP67 or IP68 are the best waterproof devices available:
IP67 means a device can be submerged in up to 1 metre of fresh water for up to 30 minutes
IP68 means a device can be submerged in up to 1.5 metres of fresh water for up to 30 minutes
To be rated in this way, a smartphone must be tested in laboratory conditions to see if it can live up to its promises and receive an IP67 or IP68 certification.
As we've seen, some manufacturers will go further than this and pledge their device can be submerged at a deeper level for the same length of time. Again, those pledges must be backed up by laboratory testing.
However, it's worth taking a moment to understand what water resistance is and what a company means when it says their devices are water resistant.
What does water resistance cover?
Straight away, it's important to note the type of water resistance manufacturers refer to when they market their phones is fresh water.
This covers scenarios such as the device being used in the rain, accidentally dropped in the sink or being splashed with a glass of water.
Theoretically, it also covers the device being placed in a bucket of water for up to 30 minutes, although we can't see any situation where a user would want to do that unless they were deliberately testing the boundaries of a phone's water resistance (and that's a risky play with a £1,000 smartphone anyway).
Water resistance ratings do not refer to anything other than the ability for a device to survive submerged in fresh water. For example, the following aren't covered:
Exposure to salt or chemicals in water (such as seawater or swimming pools)
Fizzy water or other drinks
So, the actual parameters of the water resistance a device offers are officially limited to fresh water - and it's important to note that resistance may eventually wear down through everyday wear and tear.
If we look more closely at Apple's support pages, we find their suggestions for avoiding liquid damage when using their iPhones:
Avoid swimming or bathing with the device
Avoid exposing the device to pressurised or high-velocity water
Don't use the device in a sauna or steam room
Don't operate the device in extremely humid conditions or outside of the suggested temperature range
Avoid dropping the device or subjecting it to impact
Don't disassemble the device or remove any screws
Don't intentionally submerge the device in water
This is a comprehensive list of things Apple do not expect even their top-rated iPhone 12 to do, so all smartphone users with IP-rated devices should take note.
Water resistance on our smartphones should therefore be taken as a guide rather than a concrete rule and it's a back-up in case we drop our phone in the kitchen sink or need to use in the rain rather than anything else.
Water repellent
Water repellent is another term we may come across when looking at smartphones, but this doesn't mean the same thing as water resistance.
Some manufacturers will cover their devices in a water repellent coating designed to repel rain and splashes of water if a user gets their phone wet in these ways. It repels water intrusion, but it doesn't necessarily have the same resistance properties as an IP-rated device.
One thing to look out for are those smartphones that still offer 3.5mm headphone jacks - these are a prime location for water ingress and water repellent coatings are about the best those devices can do.
Folding smartphones
To date, folding smartphones haven't been able to compete with traditional devices in terms of water resistance.
Thanks to all those moving parts, the possibility of water ingress is high and no IP ratings have been given to flagship folding devices from the likes of Moto, Samsung and Huawei.
This could be all set to change with the release of the Samsung Galaxy Z Fold 3, but the same caveats will apply on fresh water only and components degrading over time.
---
Verdict: which waterproof smartphone is best?
Apple has set the bar for water resistance high with their Apple iPhone 12 range and those devices go beyond the parameters in the IP rating system to ensure protection at a depth of up to 6 meters.
So, our top choice has to be the iPhone 12, but there are some good options available from the likes of Samsung, OnePlus, Google and more.
However, we'd also reiterate that smartphones aren't completely waterproof and people who claim otherwise are being disingenuous.
There are certainly fewer ways for water to get inside devices these days and manufacturers have worked hard to develop devices that will achieve the coveted IP68 rating.
Yet the damage water and other liquids can do to our devices still remains a threat and even having an IP68 rating doesn't mean a phone is completely resistant to everyday spills and accidents.
Our final word on water resistance is that it's good to have and we'd prefer to have it on our devices than to simply have a water repellent coating or vague words about water repellent technology. But we're not going to take our IP68 handsets swimming any time soon and we'll be careful we don't knock our coffee over near them as well.