Along with numerous camera tweaks, the iPhone 13 Pro also offers shooting in ProRes format for the first time and a new Cinematic Mode.
The iPhone 13 Pro design is almost identical to last year's model, although the notch housing the front camera has shrunk by 20%.
Four colour options and four storage choices are available with the iPhone 13 Pro, with an unprecedented 1TB of internal memory on offer.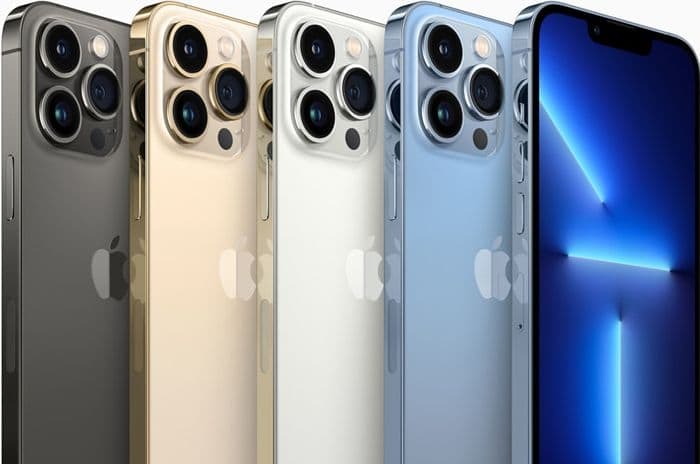 Apple
---
At a glance
| | Apple iPhone 13 Pro |
| --- | --- |
| Price from | £949 |
| Dimensions | 5.78 x 2.81 x 0.30 inches |
| Weight | 204g |
| Display | 6.1" Super Retina XDR |
| Resolution | 1170 x 2532 (460 ppi) |
| Chip | A15 Bionic |
| RAM | 6GB |
| Storage | 128GB, 256GB, 512GB, 1TB |
| Battery | Approximately 3095mAh |
| Rear camera | 12MP + 12MP + 12MP |
| Front camera | 12MP |
| Resistance | IP68 |
| Colours | Graphite, Gold, Silver, Sierra Blue |
| 5G ready | Yes |
---
Price
| | Upfront price |
| --- | --- |
| Apple iPhone 13 Pro (128GB) | £949 |
| Apple iPhone 13 Pro (256GB) | £1,049 |
| Apple iPhone 13 Pro (512GB) | £1,249 |
| Apple iPhone 13 Pro (1TB) | £1,449 |
The Apple iPhone 13 Pro is available from all major mobile networks in the UK, so there are plenty of offers to choose from as well as option for trade-in when you click through to the provider sites below.
Outright, the device costs £949 for the 128GB storage model, rising to £1,449 for the 1TB option.
The most basic option for the Apple iPhone 13 Pro is £50 cheaper at launch than the iPhone 12 Pro and £100 cheaper than the iPhone 11 Pro, but it's still a hefty sum to pay outright.
Most customers are going to look for contract deals, however, so here are some of the best 24-month options with a decent amount of data included:
Provider
Minutes
Data
Initial price
Monthly price
Apple iPhone 13 Pro (128GB)
iD Mobile
Unlimited
20GB
£49.99
£49.99
24 month term
Get deal
Apple iPhone 13 Pro (128GB)
Three
Unlimited
30GB on 5G
£49.99
£64
24 month term
Get deal
Apple iPhone 13 Pro (128GB)
EE
Unlimited
40GB on 5G
£50
£85
24 month term
Get deal
Similarly, some mobile networks prefer customers to sign up for 36-month deals, so here are some of those:
Provider
Minutes
Data
Initial price
Monthly price
Apple iPhone 13 Pro (128GB)
Vodafone
Unlimited
25GB
£49
£47
36 month term
Get deal
Apple iPhone 13 Pro (128GB)
Tesco Mobile
Unlimited
25GB
Free
£47.99
36 month term
Get deal
Apple iPhone 13 Pro (128GB)
Sky Mobile
Unlimited
30GB
Free
£48
36 month term
Get deal
Apple iPhone 13 Pro (128GB)
O2
Unlimited
20GB
£30
£51.50
36 month term
Get deal
---
Camera
| | |
| --- | --- |
| Main lens | 12MP |
| Ultrawide lens | 12MP |
| Telephoto lens | 12MP |
| Front camera | 12MP |
The Apple iPhone 13 Pro has a triple camera system on the rear combined with a 12MP camera on the front for selfies.
All three lenses on the rear are 12MP and the LiDAR sensor first introduced on the iPhone 12 Pro models makes another appearance this time around to help the handset accurately measure distance and depth.
Here are the specs for the rear camera:
| | Main | Ultrawide | Telephoto |
| --- | --- | --- | --- |
| Megapixels | 12MP | 12MP | 12MP |
| Type | 26mm wide | 13mm ultrawide | 77mm telephoto |
| Aperture | f/1.5 | f/1.8 | f/2.8 |
| Other | Dual pixel PDAF, sensor shift OIS | PDAF | PDAF, OIS, 3x optical zoom |
*PDAF stands for Phase Detection Autofocus, OIS stands for optical image stabilisation
The telephoto lens on the iPhone 13 Pro has 3x optical zoom compared to the 2x offered on last year's model. Coupled with the 15x digital zoom, this should allow users to get closer to their subjects than previously, although there may be some trade off in quality thanks to the narrower aperture.
However, Apple have worked to make the 3 x 12MP on the device go a long way thanks to behind-the-scenes tweaks and enhancements. Apple say the camera captures 2.2x more light and, though that is a very specific claim, it's true the detail and colour in low light situations is improved.
It's fair to say the selfie camera on the front of the iPhone 13 Pro is a little disappointing, simply because not much has changed. Other manufacturers have improved their selfie cameras but Apple so far seemed focused on the rear camera and different modes.
Photographic Styles
The Photographic Styles feature might be labelled in some reviews as a filter, but Apple are quick to point out it's more involved than that.
While the filters we use on apps like Instagram apply a consistent change across an image, Photographic Styles applies different steps to different parts of a photo to maintain a natural look while still bringing out some colours more than others.
There are five pre-built styles and warmth/tone can be customised within them: Standard, Rich Contrast, Vibrant, Warm or Cool. It will automatically be selected whenever the user opens the camera on their handset, allowing for consistent shooting once they find a style that suits them.
Cinematic Mode
One of the flagship features on the iPhone 13 series is Cinematic Mode.
This feature allows the iPhone to focus on a specific person or object while video is shooting, dynamically shifting the focus where necessary.
It's a marquee feature and one that Apple are keen to shout about, although how much use a typical iPhone user will get out of it is debatable. Even so, it's a good feature for people who like creating stylish videos through their iPhones.
ProRes shooting
Another feature aimed at budding cinematographers is the ability to shoot video in ProRes format.
This allows users to professionally edit their videos on the move, although it's worth noting that 128GB version of the iPhone 13 Pro is limited to shooting in 1080p at 30 fps for ProRes while 4K shooting is available on the higher storage models.
---
Display
| | |
| --- | --- |
| Screen size | 6.1" |
| Display | Super Retina XDR |
| Refresh rate | 120Hz |
The screen size on the iPhone 13 Pro is the same as its predecessor (6.1-inches) and the display utilises Super Retina XDR technology to provide bright and vibrant colours.
For the first time, the iPhone 13 Pro brings Apple's ProMotion technology to a smartphone. iPad users will be familiar with these higher refresh rates but, put simply, 120Hz enables the screen to refresh 120 times per second. In contrast, the standard iPhone 13 has a refresh rate of 60Hz.
A higher refresh rate means a brighter screen and improved visuals when gaming and streaming. Other devices have had this feature for a while, so it's good to see it on an iPhone for the first time.
The 120Hz refresh rate on the Apple iPhone 13 Pro is dynamic, so the device will automatically opt for the best refresh rate between 10Hz and 120Hz to balance between user experience and battery life.
Initial user feedback on the higher refresh rate suggested some apps have been slow to adapt to Apple's change in technology and that was leading to an inconsistent user experience. At the time of this review, Apple are working on a fix.
---
Aesthetics
| | |
| --- | --- |
| Colours | Graphite, Sierra Blue, Gold, Silver |
The Apple iPhone 13 Pro does not look very different to its predecessor and there have been no great design overhauls this time around.
Perhaps the biggest change is the 20% reduction in the size of the notch around the selfie camera. This reduces the intrusiveness of the notch itself but the fact that it's still there at all may be frustrating to some users.
It's also the case that the iPhone 13 Pro is heavier than the previous model, weighing 204g compared to 189g. This isn't much of a change and most customers are unlikely to notice, but it does have the effect of making the device feel a little more solid in the hand.
Four colour options are available for the iPhone 13 Pro: Graphite, Sierra Blue, Gold and Silver. Pro models of iPhones tend to offer a more professional and sleek finish in comparison to standard models, and that's the case again here.
---
Battery
| | |
| --- | --- |
| Battery | 3095mAh (approx) |
| Charging rate | Up to 20W wired |
Apple don't routinely provide specific details about their batteries, although they do give indications on how they expect them to perform and analysts usually provide educated guesses.
In the case of the iPhone 13 Pro, Apple themselves say it will last 1.5 hours longer than the previous device in a return to the sort of focus on longevity that we saw on the iPhone 11 Pro in 2019. They say this amounts to:
22 hours video playback
20 hours video streaming
75 hours audio playback
Meanwhile, experts say the battery size has increased by around 11%.
Progress on battery life can seem slow but it's a sore point for customers who want to take their handset out for the day and not worry about finding somewhere to charge up. Customers jumping up to the iPhone 13 Pro from an earlier iteration will likely be impressed by the improved battery.
Two options are available for wireless charging:
MagSafe up to 15W
Qi up to 7.5W
If a customer has a 20W power adaptor, the iPhone 13 Pro is fast-charge capable and Apple say it can charge up to 50% in around 30 minutes.
One more point: the iPhone 13 Pro comes with a charging cable but no charging block in line with Apple's policy to reduce emissions by limiting what's in the box.
---
Storage
| | |
| --- | --- |
| Internal storage | 128GB, 256GB, 512GB or 1TB |
| MicroSD | No |
Four storage options are available for the iPhone 13 Pro: 128GB, 256GB, 512GB and 1TB.
The 1TB is a new concept for the iPhone and offers more space than we've seen on an iPhone so far. Realistically, few people are going to need that level of storage space, but it's worth remembering that iPhones do not come with a microSD card slot when making your choice on storage capacity.
As we mentioned above, ProRes shooting is only available in 1080p for users with 128GB storage space and, really, customers considering making use of this feature should look at higher storage options as ProRes files take up plenty of storage space.
We've got more information about how much mobile phone storage you need in your next device.
---
Performance
| | |
| --- | --- |
| Processor | Apple A15 Bionic |
The Apple iPhone 13 Pro improves on the chipset seen in the previous iteration. This time around, the device uses the Apple A15 Bionic chip.
Unsurprisingly, Apple claim this is the fastest processor available in a smartphone and independent tests do confirm its faster than last years and more than adequate for the users of an iPhone like this.
Compared to the two smaller devices in the iPhone 13 range, the 13 Pro has an enhanced processor with five cores rather than four. This should make it up to 30% faster than the standard iPhone 13 and may be a nudge for customers to upgrade to Pro rather than sticking with standard.
As usual, Apple have undertaken numerous internal tweaks to make the device run smoothly. Most customers won't notice these upgrades in their everyday activity, but they should allow the phone to keep pace with changes until the next handset releases (and likely for a while after that too).
---
Resistance and protection
Just like its predecessor, the iPhone 13 Pro is IP68 rated and is water resistant for up to 30 minutes at a maximum depth of 6 meters.
This is market leading, although it's worth remembering water resistant isn't the same as completely waterproof - we've got more on that here.
The Apple iPhone 13 Pro is designed to be as sturdy as last year's model too, boasting front and rear Gorilla Glass panels held together by a stainless steel frame and the Ceramic Shield protection we first saw on the iPhone 12.
---
Verdict: Is the Apple iPhone 13 Pro worth it?
Apple haven't broken the mould with the design of the iPhone 13 Pro, but that isn't to say the device doesn't beat last year's model.
The camera improvements add to the 13 Pro's credentials, with Photographic Styles offering an on-board photo enhancement option and Cinematic Mode combining with the ability to shoot in ProRes for a professional cinematography option. These features might be niche and probably won't be used every day by the typical user, but they show where Apple's focus is at with their Pro handsets.
It brings features we first saw last year such as Ceramic Shield protection and MagSafe compatibility to another generation of iPhone and nothing seems to have been lost between 12 Pro and 13 Pro.
Yet it's clear that users upgrading from the 12 Pro may feel they're not getting much extra, especially if they're not using the processor to its potential or have no interest in the improved camera features.
So, leaping to the iPhone 13 Pro from the Apple iPhone 11 series or earlier may make more sense and may leave customers feeling as though they've truly stepped up a generation.
Overall, the iPhone 13 Pro is an impressive handset that raises the bar for smartphone cinematography and will be the one to beat over the next year.