Which bank offers the best in branch banking experience?
© Metro Bank
BANK branches have been shutting fast for several years now, yet that doesn't mean customers no longer value the service they can receive in-branch.
According to a recent report from the Social Market Foundation, 63% of customers prefer to speak to someone face to face when making a big financial decision, while only 32% of people would be willing to use a digital-only institution as their sole bank.
Such statistics underline that, while the number of branches in the UK has certainly been whittled down as of late, branches still play a vital role in the financial lives of millions of Brits.
And it's because it still plays an important role that the following guide will offer an overview of which banks offer the best in-branch customer service and experience, with particular attention being paid to the range of services on offer in branches and their accessibility to those with special needs.
Metro Bank
This feature begins with Metro Bank because, in contrast to most other high street names, the young upstart is actually opening new branches rather than closing old ones.
And to further cement their increasingly uncommon commitment to branch banking, they in fact keep their 50 or so branches open for longer every week than all of their rivals.
Not only are their branches open seven days a week, but they're also open from 8.00am to 8.00pm on Mondays to Fridays, 8.00am to 6.00pm on Saturday, and on Sunday and bank holidays they're open from 11.00am to 5.00pm.
This equates to almost 3,900 hours of in-branch banking every year, something which once again puts the traditional high street bank to shame, not least because most of them close early on Saturdays and don't even open on Sundays.
Of course, being open and accessible is one thing, but providing a first-class service is another. Luckily, Metro Bank also perform enviably on this front as well.
For one, they boast a highly convenient and rapid account opening procedure in-branch. For instance, customers who don't need to switch can make their applications in store and then begin using their new current account on the very same day, without having to make any further appointments in the vein of most other banks.
Added to this, the bank will also print their new customers' debit cards and cheque books on the spot, meaning they can start banking almost immediately.
This makes them ideal for people opening their first UK account, although like any other bank Metro offer a quick switching process via the Current Account Switch Guarantee.
On top of their more streamlined, user-friendly service, they also provide all of the usual services, such as transfers, withdrawals, and payments. Meanwhile, every business customer even has their own relationship manager, who takes the time to fully understand the financial situations of their clients and to tailor their advice accordingly.
Yet that's not all, since the bank also offers a range of quirky and innovative services, not least the existence of two drive-thru banks in Southall (London) and Slough, where customers can pay in cheques and withdraw cash from the comfort of their cars.
They also offer free coin counting in every branch (also open to non-customers), an in-branch kids financial education programme, and even free dog biscuits and bowls of water, presumably to customers with dogs.
So all in all, not only do Metro Bank provide a very comprehensive range of branch services that are available more times of the day than anywhere else, but they're also being more inventive about how they serve their customers.
Perhaps the only area where they're not quite so impressive is accessibility, but even though they don't offer as full a range of accessibility features as other high street brands, their branches all provide hearing loops and they're all wheelchair accessible.
Nationwide
Yet as good as Metro Bank are for branch banking, Nationwide aren't far behind, and we've also rated them highly in the past with regards to current account-related customer service.
They're another bank who've been opening rather than closing branches recently, and as our guide on revealed, they closed less branches between 2007 and 2017 than every other major bank.
As many other banks are doing, they've fitted out their branches with self-service machines, which allow customers to pay in cash and cheques, print out a mini-bank statements or account balances, transfer money, pay bills, change card PINs, and even top up their phones.
Of course, there are also over-the-counter staff on hand in their branches as well, who will answers questions, help with transactions, and even offer advice.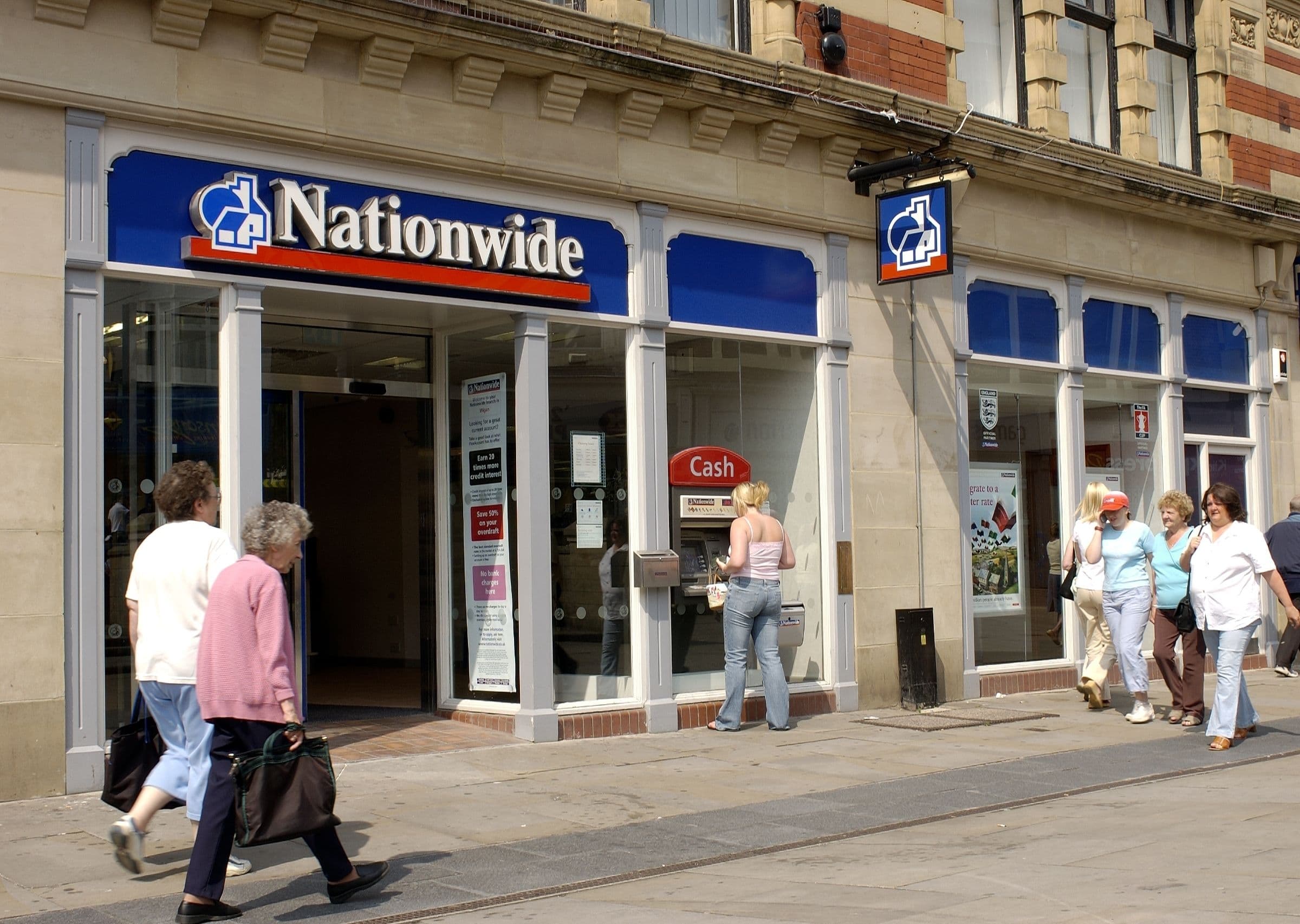 Source: Nationwide
Yet in addition to this, they've also begun introducing a range of new services that would make Metro Bank jealous, including their new NOW service.
Essentially, what NOW allows customers to do is speak via video link to a financial consultant or banking manager, who will be located in one of Nationwide's contact centres in Northampton, Bournemouth and Dunfermline.
Such consultants can offer help with anything from savings accounts to investment and home purchases, and why some might suppose that video calls might be less personal than a face-to-face meeting, they at least allow customers to obtain more tailored advice and services than they could have gained in store.
Another new feature being rolled out by Nationwide, at least in such recently opened branches as Glastonbury, Didcot, Barnstaple and Belfast, is 4C.
Nationwide describe 4C as an "experience", although it would perhaps be more accurate to describe it as a description of how they organise their branches into four areas with four distinct functions, veering from self-service and financial advice.
And while some might say that such a division of branches into four quarters is mostly cosmetic, it at least shows that Nationwide are determined to think carefully about how they provide branch services, at a time when other big banks are more intent on stripping their branches down to size.
This is perhaps most evident in the range of accessibility options available in their branches. All of their branches have automatic doors, almost all of them have wheelchair ramps, while all of them provide a variety of "Helping Hand" items (e.g. magnifiers, pen grips, bank note gauges, and cheque templates).
That's not all, because the bank have partnered with SignVideo, so that customers with hearing difficulties can speak to a British Sign Language interpreter via video link, if they so wish. And they can also request the use of an induction loop, which can be used at the counter, or during an appointment.
Barclays
While Barclays status as one of the "Big Four" UK banks makes them as much a symbol of the decline in branches as any other member of this elite group, they do at least boast the highest number of branches in the UK, as the aforementioned guide showed.
And on top of this, their branches provide an extensive range of services and facilities, even if they don't quite offer anything as innovative or novel as either Metro Bank or Nationwide.
To begin with, they provide Quick Service Points, which are essentially enhanced ATMS that in addition to enabling cash withdrawals, also allow customers to pay in cash and cheques, transfer money and pay bills, and even check recent transactions.
Similarly, their branches also offer Online Banking Points, which also let customers pay bills and make transfers, but also let them view statements and manage their standing orders.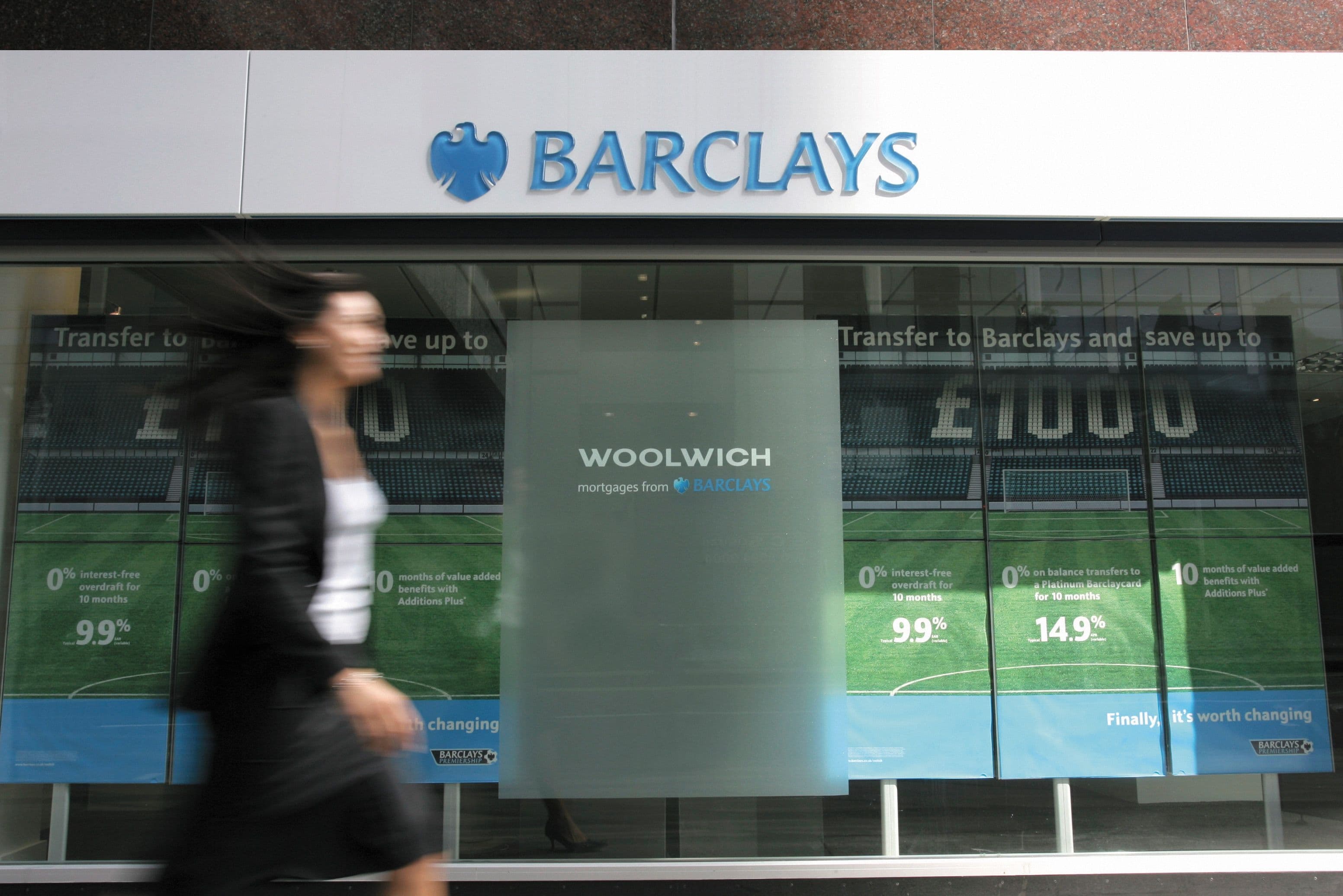 Source: Barclays
Yet for those who are perhaps a bit more technology averse than others, their branches also come with assisted service counters. As the name implies, these enable customers to speak with actual human beings, who can help them perform all of the actions enabled by the two types of "points".
Not only that, but Barclays are also making their branches more accessible for people with mobility requirements. For example, "many" of their branches have been installed with low-level counters, while they've also positioned their ATMs at various heights, to make them more reachable.
And that's about it. Once again, there's nothing especially trailblazing being done by Barclays when it comes to branches, yet their 1,400+ locations coupled with a comprehensive range of facilities means that they provide an in-branch service that's hard to beat.
Royal Bank of Scotland/NatWest
RBS - or rather the Royal Bank (in Scotland) and NatWest (in England and Wales) - offer a similar range of branch services to Barclays, although RBS' higher rate of closures over the past ten years might suggest they'll have less branches overall than Barclays when the next ten years come to a close.
That said, "selected branches" have Cash and Deposit Machines (CDMs), which are more or less the same as Barclays' Quick Service Points.
That is, they let customers pay in cheques and cash, pay bills, and even pay in up to 1,000 coins, without having to count or sort them (although not all CDMs allow this).
In addition, they allow customers to check their balances, top up their phones, make transfers, order new cheque books, change PINs, and even donate to charity.
Most of these functions are also performed by RBS' ATM Cashlines, which can be found in branches that don't have CDMs, although Cashlines don't let customers pay bills or pay in money with slips or cards.
Nonetheless, in the vast majority of such branches, counter staff are on hand to help customers with such transactions.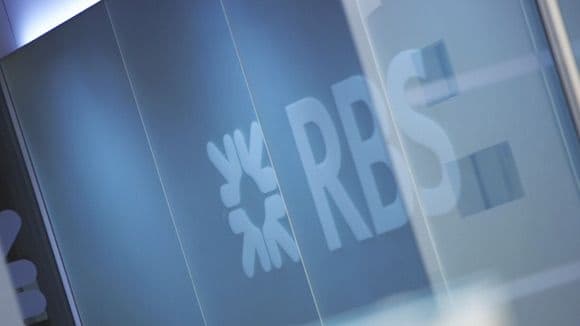 Source: RBS Group
And while this might make it seem as though RBS don't quite offer the same extensive range of services as Barclays, Nationwide or Metro Bank, they at least offer one innovation that isn't provided by any of their rivals.
Namely, they also offer a Mobile Branch Banking Service, which as the name indicates essentially sees RBS drive a number of well-equipped vans around 20 or so locations, most of which are in Scotland.
These don't provide as many services as their immobile branches, yet customers can still deposit money, cash cheques, pay their bills, and also open new accounts.
Whether the residents in the areas served by these mobile branches would prefer a normal branch is another matter altogether, yet they nevertheless show that RBS are willing to take rare steps to make sure their customer can access branch services.
This is also particularly true with regards to accessibility, with RBS affirming that all of their newer and renovated branches come with the following features:
A permanent or temporary ramp
Automatic or power assisted doors
Interview rooms at ground level with wheelchair access
Counter positions at lower levels and, in branches where this isn't possible, a writing table at a lower level
All branches possess low level writing counters
Co-operative Bank
In contrast to RBS, and to Barclays and Nationwide, the Co-operative Bank have a smaller number of branches than most of the other established names in UK banking, coming to 95 at the time of writing.
Yet even with a smaller number of physical outlets, they provide the full range of in-branch services customers have come to expect, which they couple with their distinctive ethical policy.
They offer all the usual counter services for their personal and business customers, including withdrawals and deposits (cash, cheque, etc.).
They also equip their branches with Personal Bankers, with whom appointments can be made, so that new and existing customers can obtain guidance on opening accounts and taking out loans, and can arrange referrals for mortgages, insurance, and wills, among other things.
It's also in branch that customers can do more everyday things, such as paying in money and speaking with branch staff so as perform basic administrative tasks, including changing personal details (e.g. address). Such staff will also help them register for and use the other services the Co-operative Bank offer, from mobile and online banking to contactless cards.
And when it comes to help with accessibility, the vast majority of Co-operative Bank branches are wheelchair accessible, although customers should note that some aren't (e.g. Chichester, to take a random example).
Lloyds Bank
Lloyds Bank are another financial institution who are aggressively reducing their high street presence, although the Lloyds Banking Group (including Lloyds Bank, Halifax, and Bank of Scotland) still have as many as 2,000 branches throughout the entire UK.
Yet within such branches, customers will increasingly find less members of staff, since Lloyds announced plans in April 2017 to turn hundreds of their branches into micro branches, where only a few members of staff will help customers use the machines available for use.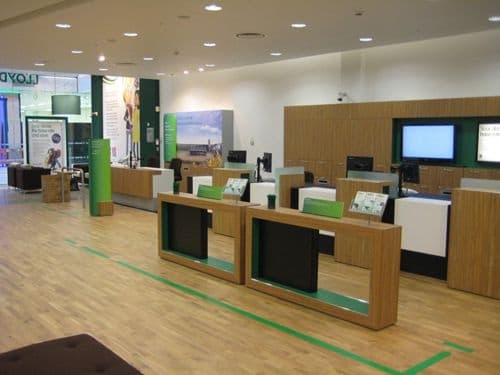 Source: Lloyds Banking Group
That said, for those branches that haven't yet and won't be converted like this, customers will find all of the standard services they'd expect to find.
There's Lloyds' version of the personal banking machine found in most branches now, which Lloyds call Creditpoint machines, and which let customers withdraw and pay in money, pay bills, and view transactions.
There's also the opportunity to book entirely free 45-minute personal reviews with Lloyds' Personal Account Managers, who will offer advice and help customers set up any accounts or services they may need.
Yet that's not all that Lloyds provide, since like RBS they offer mobile branches, which can be found in such towns as Newquay, Cirencester, and Barnstaple.
In these branches, customers can do the following:
Make account enquiries
Activate credit cards and make balance transfers
Pay in cheques and cash deposits
Withdraw cash
Pay their bills
Make international payments
Manage standing orders
Buy foreign currency
Admittedly, such mobile branches aren't particularly accessible to those with mobility needs, yet Lloyds affirm that their normal branches are increasingly being fitted with ramps, power-assisted doors, low-level counters and ATMs, and also lifts.
On top of this, Lloyds' branches all offer induction loops and also interpreting services for deaf and deafblind customers, making them one of the best banks for in-branch accessibility.
Santander
While not a member of the Big Four UK banks, Santander are still one of the largest high street names in the UK, although after closing over a third of their branches between 2007 and 2017 they have only 841 branches left.
This is still a fairly healthy number, at least compared to smaller banks such as Metro Bank and Nationwide, and within such branches customers can do pretty much everything they'd need to do.
They can use one of the "Express" machines that allow withdrawals and deposits, and they can also speak to counter staff and Customer Service Advisors, who handle queries and help customers carry out basic transactions.
Aside from Customer Service Advisors, Santander branches also come with Personal Bankers, who offer more tailored and detailed advice on the bank's financial products, and help customers apply for them.
And as far as accessibility is concerned, Santander claim that they "aim to include" the following in all of their branches:
Automatic doors
Level access
Drop-down or low-level counters
Induction loops
Staff assistance where requested
Sign language interpreters (available in-branch or via video link)
This makes them a helpful bank when it comes to accessibility, although to be honest they don't do anything that really sets them apart from the crowd.
HSBC
While HSBC may possibly be the worst of the Big Four banks when it comes to branch closures and the number of existing branches (anything from 625 to just over 1,000, depending on who you ask), they still offer a largely complete range of in-branch services.
As with Barclays and RBS, their branches are replete with what they refer to as Express Bank machines, which enable the following kinds of action:
Make payments
Transfer money
Manage standing orders and Direct Debits
Pay bills
View and print transactions
Check balance
Of course, for those who want to open accounts or need advice, there are members of staff actually on hand to help with queries, handle administrative tasks, and resolve any problems customers might have.
And for those who need help with accessibility, most of HSBC's branches have level access points and ramps. Also, low level writing desks are available in all branches, low level counters are available in "some branches", and the bank also provide ATMs at various levels, so that customers in wheelchairs can use them.
But other than that, HSBC's branch services and facilities are fairly streamlined, which is perhaps unsurprising for a bank that's been closing branches more quickly than any other.
Beyond branches
The above should have hopefully provided an insight into which high street banks offer the best in-branch banking service, although it's hard to choose a best bank, since almost all offer something a little bit different.
For example, when it comes down solely to levels of customers service, either Metro Bank or Nationwide could be said to be best, yet banks such as Barclays are also to be recommended for the simple reasons that they have more branches.
That said, if a customer lives in a city or town where all the above banks have a physical presence, then they'd most likely want to go with a bank with superior service, rather than with a bank just because it has more branches in other places.
And if they do happen to choose a bank based on branch service quality, and then move to a town where the bank in question lacks a branch, they should always remember that 99% of the UK's Post Offices are now fulfilling many of the classic branch services.
That way, even if branches may increasingly become a relic of the past (seemingly not true, at least in the case of Metro Bank and Nationwide), customers will still be able to do their banking in person.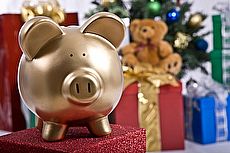 8 December 2017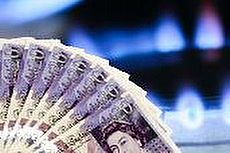 8 December 2017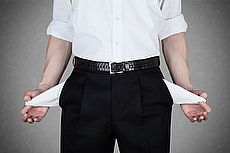 7 December 2017
Follow us or subscribe for FREE updates and special offers