Our top choice for ethical banking in the UK is Triodos Bank who offer a paid current account for £3 per month and various savings options.
For those looking at ethical savings accounts, Charity Bank and Ecology Building Society are great options.
There are various factors that affect whether a bank is considered ethical or not, with many big names in UK banking failing on fossil fuels and human rights.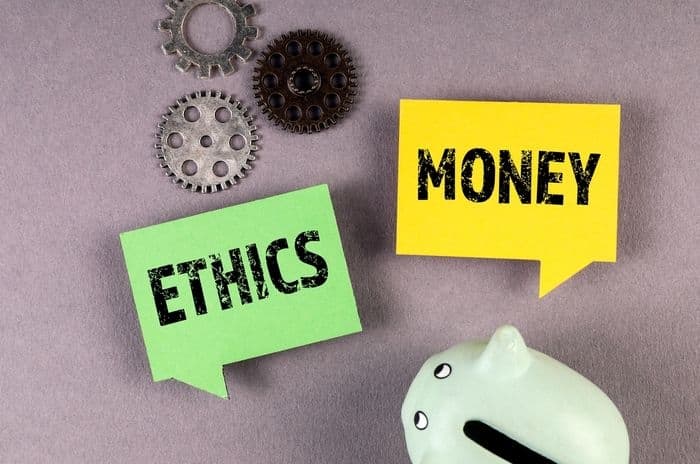 Credit: stoatphoto/Shutterstock.com
---
Most ethical banks in the UK
Customers who choose to bank ethically in the UK have more options than ever.
A range of smaller banks and lenders have emerged to sit alongside the big high street names, with these smaller providers often focused on ethics and sustainability as well as a great customer experience.
Here we round up some of the most ethical banks in the UK, with providers specialising in savings accounts as well as those offering current accounts and other banking services.
Customers looking at ethical ways to borrow and save may also want to join a credit union or consider Sharia-compliant savings accounts.
1. Triodos Bank
Triodos Bank is one of the most ethical banking choices in the UK, and they offer multiple banking services including current accounts and savings.
They are one of just two banks given top marks by The Good Shopping Guide, with an Ethical Index Score of 100, and they are also a certified B Corporation as well as one of a handful of financial providers with a Good Egg mark.
In addition, they were named as the Best Sustainable Bank (UK) at the 2021 Responsible Banking Awards and were the winner of the Best Ethical Financial Provider category at the British Bank Awards 2022.
The ethos behind Triodos is to make money work for positive change, so their customers' deposits help to fund charities and social enterprises making positive environmental, cultural and social changes in communities.
This includes projects as diverse as:
Organic farming
Renewable energy
Childcare facilities
Housing associations
On the flip side, they refuse to invest in industries that could have a negative impact on people's lives such as weaponry and fossil fuels.
One of the best things about Triodos from a customer's point of view is the transparency they offer on their investments.
At the time of writing, they list 796 projects making positive changes on their website.
Triodos offer a paid current account for £3 per month as well as a range of savings and investment opportunities.
2. Charity Bank
Charity Bank is the only other UK bank to receive a 100 Ethical Index Score from The Good Shopping Guide.
Their speciality is notice and fixed savings accounts, so they are an ethical option for customers looking to save and invest in a way that suits their values.
Charity Bank's mission is to support UK charities and social enterprises through loans, and their Impact Report 2020 confirmed they have issued over 1,000 loans since their founding in 2002. They further state that 81% of the projects would not have gone ahead without their loans.
The sectors they provided the biggest loans to in 2019 were:
Housing and local facilities (£26.6m)
Arts, heritage, sports and faith (£7.1m)
Mental health and wellbeing (£6.1m)
Charity Bank has been recognised by various organisations and are a Certified B Corporation, Responsible Finance Provider and the only bank in the UK to hold the Social Enterprise Mark.
3. Ecology Building Society
Ecology Building Society is another financial provider focused on savings, although they also offer mortgages to customers too.
Their Ethical Index Score is 95 while they also have a Good Egg mark to demonstrate they make a positive impact through their financial services.
Ecology's focus is on sustainable properties and projects, with £39.3m loaned to 230 sustainable projects in 2020 alone. They have been active since 1981, making them one of the longest-standing ethical financial providers in the UK.
For customers looking for an ethical mortgage provider who will lend to improve sustainable housing elsewhere in the UK, Ecology Building Society is an excellent choice.
4. Monzo
The first comparatively big name on this list of ethical banks, Monzo is a full-service bank with current accounts, savings accounts, ISAs and more.
As a digital only bank, Monzo already has a low environmental footprint and has committed to lowering their impact on climate change even further.
Monzo bill themselves as an ethical and socially responsible bank and point out they:
Invest customer deposits safely and ethically
Don't invest in fossil fuel based companies
Have a zero tolerance approach to modern slavery and human trafficking
Launched the UK's first friction based banking tool to help people with gambling addictions
Were the first bank to take part in the Money and Mental Health Policy Institute's Mental Health Accessible Lite programme
Customers signing up to a Monzo current account can choose from a standard account or upgrade to Plus or Premium which come with extra features.
Monzo have an Ethical Index Score of 90 according to The Good Shopping Guide.
5. The Co-operative Bank
The Co-operative Bank has historically been the most ethical bank on the high street, yet their struggles and sale to a group of hedge funds has raised questions about how ethical their backers are.
Even so, The Co-operative Bank has an Ethical Index Score of 90 and have had a customer-led Ethical Policy in place since 1992. It currently comprises three pillars:
Planet (including limiting climate change, reversing the decline in biodiversity and preserving animal welfare)
People (including promoting human rights and campaigning for meaningful change in society)
Community (including promoting economic and social development and only working with organisations that share their values)
Their annual sustainability reports give customers clear and detailed guidance on how they're performing, making them one of the most transparently ethical banks in the UK.
Customers can choose a range of financial products from The Co-operative Bank, with current accounts and savings sitting alongside loans, mortgages and credit cards.
Ethical business banking
Many businesses are interested in partnering with financial providers with an ethical stance that matches their company's values.
In fact, businesses may be more focused than individuals on ensuring their bank is ethical and only invests in sustainable sectors.
Business current accounts are offered by major UK banks as well as some of the challengers we've already discussed.
As we explore below, bigger banks tend to have a range of ethical issues, so looking to smaller providers who have an emphasis on ethical investments may be best.
Research compiled by Junxion Strategy UK highlights the following business current accounts as ethical choices:
Triodos Bank - Excellent
Al Rayan Bank - Good
Metro Bank - Good
Monzo Bank - Good
Reliance Bank - Good
Revolut - Good
Starling Bank - Good
Tide - Good
Unity Trust Bank - Good
Note: Cumberland Building Society was also named as Excellent, however they're limited to businesses operating in the Cumbria area.
When it came to the big names, all the major high street banks including HSBC and Barclays were ranked as Poor, reflecting the trends we see in other research.
---
What makes a bank ethical?
Ethical financial providers focus on making positive contributions to society and changing the world for the better.
While ethical policies vary from bank to bank, these are some common themes:
Positive contribution to the environment through cutting their own emissions, funding climate positive projects or refusing to invest in fossil fuels.
Ensuring there are no human rights abuses in their supply chains or within the organisations they lend to.
Avoiding irresponsible and risky lending.
Funding charities and social enterprises in the UK or fair trade projects globally.
Having a transparent culture surrounding their investments and how well they are succeeding with their goals.
Operating as a mutual that is accountable to members rather than shareholders.
Paying their fair share of tax and not using loopholes to avoid it.
Many of these policies are practiced by the banks and lenders we've discussed above.
However, it's also worth looking closely at the practices that make banks unethical and what to watch out for when you're searching for a new financial provider.
---
What makes a bank unethical?
Many UK banks are part of larger banking groups that have lengthy histories.
This immediately puts them at a disadvantage to providers who launched more recently since historical practices such as investing in fossil fuels have gradually become more ethically indefensible as time has passed.
So, it's important to look at what banks are doing now as well as what they have done in the past to get a clear idea of how ethical they are.
Even so, several big names in UK banking receive Ethical Index scores of 50 or below in The Good Shopping Guide:
Santander (50)
Bank of Scotland (45)
Halifax (45)
Lloyds Bank (45)
NatWest (40)
RBS (40)
Barclays (35)
HSBC (35)
Here's a closer look at some of the ethical issues affecting many UK banking institutions.
Funding fossil fuels
Investing in fossil fuels and providing funding for companies active in areas that are negatively affecting the planet is a red flag for anyone looking at ethical banking.
Many of the biggest banking groups still invest heavily in fossil fuels, as the Banking on Climate Chaos 2021 report makes clear.
Here are the headline financing figures from that report:
Barclays is the worst bank for fossil fuel funding in the UK, ranking 7th globally and financing over $30bn across the fossil fuel life cycle in 2017.
HSBC were 13th ($22bn), Santander were 32nd ($5bn), NatWest were 46th ($2.8bn) and Lloyds were 48th ($2.6bn).
The report also looks at the policies banks have in place and how they align with the Paris Agreement. In this chart, higher number are better:
| | Overall (out of 200) | Oil & Gas (out of 120) | Coal (out of 80) |
| --- | --- | --- | --- |
| Barclays | 32 | 8 | 24 |
| HSBC | 20.5 | 4.5 | 16 |
| Santander | 50.5 | 18.5 | 32 |
| NatWest | 43 | 13 | 30 |
| Lloyds | 28 | 10 | 18 |
No major bank is getting close to meeting their requirements, although many of the biggest funders of fossil fuels are from other countries such as the USA and China.
Yet the message for customers looking to bank ethically is clear: to avoid banks who fund or invest in oil, gas and coal, we need to stay away from the big banking groups.
Human rights concerns
Issues around human rights abuses are often closely tied to climate concerns, although human rights due diligence (HRDD) is a concern in its own right.
HHRD involves identifying and understanding the risk of human rights abuses in a company's operations, supply chains and the services that it uses. For banks, this can have wider-reaching consequences as they lend to businesses and companies around the world.
For example, the aims of the Banks and Human Rights campaign includes the following points:
Avoid financing companies that cause human rights violations that are systematic or that they refuse to address
Develop effective channels to address grievances from anyone impacted by their activities
Commit to transparency, so that affected communities can access information about who is financing projects that impact them
In the 2019 edition of the BankTrack Human Rights Benchmark report, they found overall performance in global banking had improved - but not by much.
Here are their findings about UK banks:
Barclays were the best performing of UK banks and were classed as a "front runner". However, their score on HRDD had declined since 2016.
HSBC and RBS Group (now NatWest Group) were classed as "followers" while Lloyds Banking Group were classed as one of the "laggards".
What set Lloyds Banking Group below its rivals was the fact they only registered scores at all in three categories and had no mechanisms in replace to offer remedies or grievance mechanisms to those affected. The bank also failed to explain how it carries out due diligence on human rights.
As yet, there are no mandatory HHRD laws in the UK, yet many banks operate globally and will be subject to rules in other countries.
Companies do have to publish a statement each year about the steps they have taken to tackle modern slavery in their operations and in their supply chains, but there are concerns that these are being seen as a tick-box exercise by some banks.
Poor practice
Many big-name banks have been accused of mis-selling in the past, with the PPI scandal costing them in terms of both money and customer goodwill.
Other unfair banking fees such as overdraft charges have been reformed, yet this is more connected to the efforts of the Financial Conduct Authority (FCA) rather than banks policing themselves.
Other areas of poor practice that have got banks into trouble include:
Failing to properly monitor ultra-high net worth banking customers
Rigging the Libor interest rate for financial gain
Money laundering scandals
---
Summary: Growing customer awareness
The options for banking ethically have improved in recent years, in part due to the rise of digital banking challengers and different ways of doing things.
With many big-name banks closing hundreds of branches, customers are no longer tethered to the old branch system and are more likely to look critically at the ways their financial providers are acting and what their investments may be funding.
When looking at whether a financial provider is ethical, ask the following questions:
Are they transparent about where their money is invested?
Do they fund fossil fuel projects or are they focused on climate positive actions?
Are they committed to avoiding human rights abuses?
Do they have any accreditations from organisations like B Corporation or The Good Shopping Guide?
Many customers are now able to make more informed decisions about their money, pushing irresponsible lenders like payday loan companies out and embracing the alternatives offered by credit unions and other socially responsible lenders.
However, for those of looking for an ethical current account, the options are still comparatively limited.
Keeping away from most of the big names and using smaller providers who have ethical practices embedded in their business models will ensure any money we deposit with a bank will be used ethically and sustainably.
To switch to a more ethical bank, use the Current Account Switch Service that helps customers switch seamlessly from one financial provider to another.