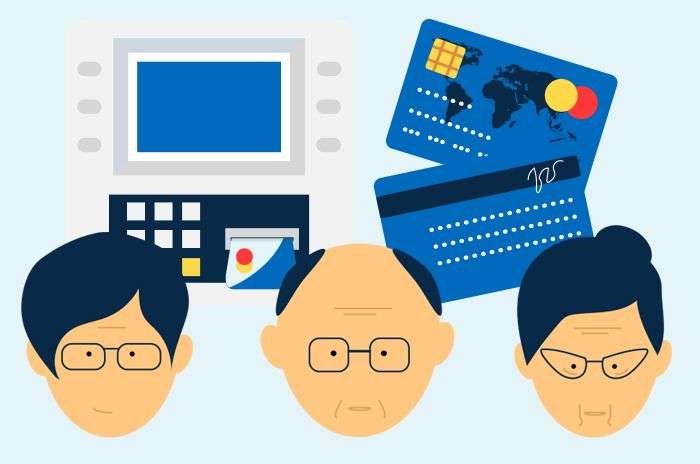 © Choose
---
Although financial institutions must ensure that everyone has equal opportunity to use their products and services, accessible banking is still a struggle for many, with even simple tasks such as withdrawing cash proving challenging.
Here we go through some of the issues regarding banking for the partially sighted, and who's doing what to make their services more accessible.
Printed information
Most banks offer to provide printed information - statements, leaflets, and other important information - in a variety of formats, including larger and high visibility print, as well as Braille.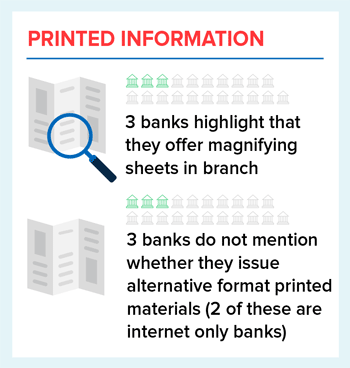 Customers who ask to receive information - and particularly their statements - in Braille may also want to request that they be sent a copy in the standard format.
Studies from the Royal National Institute for the Blind (RNIB) have found that while 29% of visually impaired people said they managed their financial affairs entirely on their own, almost 50% said they required the assistance of family or friends - so having a print version can help customers confirm the content.
Mobile banking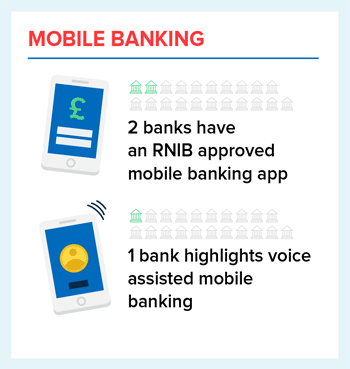 At the time of writing, there are only two mobile banking apps to have been approved by the RNIB, from sister banks Royal Bank of Scotland and NatWest.
They took some time to arrive. NatWest's first mobile banking app was launched in 2011, but it took until May 2016 for them to release a version suitable for use by partially sighted and blind people.
The RNIB say that apps from other banks remain largely unusable, primarily because they either aren't compatible with text-to-speech software, or set up in a way that causes it to only partially work.
NatWest worked with the RNIB to make more than 160 changes to the app to make it more user friendly. Users will be told which page they're on within the app - and crucially, when told their balance, they'll also be told whether that's in credit, or overdrawn.
Following on from the release of the improved NatWest app, Royal Bank of Scotland updated their own in November 2016 to match.
It's likely that other banks will make an effort to update their own apps for accessibility purposes. Nationwide, for example, say they are "working on" making their banking app work with text-to-speech software. While Barclay's have made their app fully compatible with Talk-Back technology, which is currently only available to Android phones although efforts are being made to bring a similar feature to Apple phones very soon.
Online banking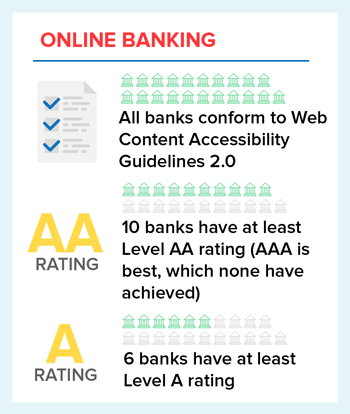 Mobile banking apps are relatively new, but online banking has been around for much longer, and most banks - including the Co-op, HSBC, Santander, Lloyds, and others - have committed to making their websites compliant with the W3C Web Content Accessibility Guidelines V2.0.
The Bank of Ireland say that following these guidelines "ensures that websites provide the same experience for all of our users".
While the W3C guidelines do improve accessibility in a range of areas - for example, by ensuring colour combinations provide sufficient contrast - they say nothing about either drop-down menus or on-screen keyboards.
These are often used by banks in order to reduce the effectiveness of keystroke-logging malware. But while their presence does address some security concerns, they also prevent text-to-speech software and screen readers from working properly.
As a University of Edinburgh study points out, this is "perhaps the most common barrier for people who use assistive technology".
So some banks have reduced their reliance on drop-down menus. Customers must instead generate a unique security code for each banking session.
Barclays, for example, have a PINsentry card reader that creates unique eight digit codes. Those with visual impairments can get an audio version of the device, which reads out the code either via the built in speaker or headphones.
Whilst many other banks, including the Co-op, Nationwide, First Direct and HSBC, supply card reader and security code technology in larger formats.
Telephone banking
By contrast we might expect telephone banking to be somewhat simpler - particularly as some banks like First Direct and HSBC have brought in voice recognition software to replace passwords, PINs and security questions, but even so the need for security can get in the way of a smooth experience.
The University of Edinburgh study gives the example of one woman's frustration:
"Sometimes I phone up for support from a bank, I can answer all the security questions but if I say 'I now need to pass you to my husband as he can read the screen to you' my bank's staff refuse to talk to him, even though I've just gone through the security questions, proved it's me and explained that I'm blind."
In such cases the answer might be to train staff to be more aware of, and allow them to make exceptions for, certain customer situations.
Withdrawing cash
An RNIB study carried out in 2011 found that more than half (55%) of blind or partially sighted people chose their main bank based on its close or convenient location, but as more branches close, more customers are having to rely on adapted cash machines.
The good news is that talking ATMs - which allow customers to receive instructions via earphones plugged into a headphone jack on the ATM - are becoming far more commonplace.
Barclays were the first major bank to introduce them, back in 2011. More than 98% of their ATMs provide the service. That includes not only Barclays' own cash machines, but those they provide to Asda. Their ultimate goal is that "100% of our machines will talk".
The Co-operative have also introduced talking ATMs and say that all of their cash machines offer high contrast screens and audio instructions.
Meanwhile, Royal Bank of Scotland and NatWest have said they will have talking ATMs in "almost all" of their branches by the end of 2017.
Overall, the RNIB say there are more than 10,000 talking cash machines in the UK, and that people should contact their bank to locate the nearest.
Where talking ATMs aren't available, all cash machines should offer some form of tactile assistance, including a raised dot on the number 5 to identify the centre of the keypad, a raised circle on the "confirm" button and a raised cross on the "cancel" button.
Bank cards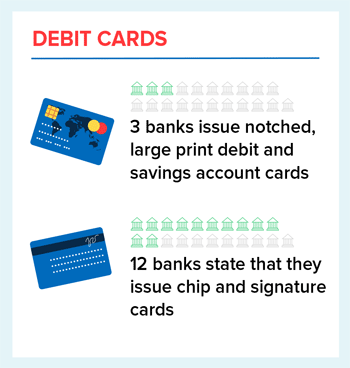 Modified cards
Both Barclays and Royal Bank of Scotland / NatWest have introduced modified cards for their visually impaired customers, with the aim of making using them simpler.
The Royal Bank of Scotland / NatWest cards feature Braille markings stating whether they're for a savings or current account.
All feature larger text and higher contrast designs, and a notch on one side to help people identify them more easily in their wallets and use them the right way around.
That allows for an easier time at cash machines, as well as enabling people to more easily make contactless payments in shops if they wish.
Chip and signature cards
As part of the 2010 Equality Act, anyone who finds it difficult to use a chip and PIN card is entitled to have what's known as a chip and signature card.
That means all banks and building societies should offer such cards - and all stores and service providers who accept card payments should accept them.
That doesn't mean that the issues are over, however.
A mystery shopping study by the Payments Council found that delays caused by retailers not knowing how to process such cards meant that 26% of people who need to use them felt embarrassed or anxious about doing so.
The good news - at least for those carrying out transactions of less than £30 - is that the spread of contactless payment technology will help reduce those issues somewhat.
Future improvements
Taken together, there's scope for much improvement in the services offered to visually impaired people.
Some banks are helping both the partially sighted and other people with disabilities by improving in-branch accessibility - from changing lighting levels and improving layouts, signage and colour schemes, to putting in automatic or power assisted doors and adding handrails to steps.
Given how much we now rely on technology, it seems that too few apps and website are being properly tested before going live. The result - as demonstrated by NatWest - is that the app has to undergo significant redesign to become usable.
That said, some banks are exploring how technology can help those with disabilities from the outset.
In 2014, Barclays started trialling a new app that allowed customers to pre-log information about their disability and any specific needs they may have when visiting the branch.
When the customer enters a branch, the app discretely alerts a staff member via Bluetooth and informs them of the customer's disability and their requirements.
How accessible are the UK's banks and building societies?
Here's the full breakdown by each bank and building society of the features being offered to help those with sight loss.
Bank
Printed materials
Templates and guides
Specialised cards
ATM features
Online banking (Web Content Accessibility Guidelines 2.0.)
RNIB approved mobile app
Bank of Ireland
Level AA
Bank of Scotland

Large print, Braille, Audio

Cheque book templates

Chip and signature

Talking ATMs, raised features on keys
Level AA
Barclays

Large print, Braille, Audio

Large print cheque books, card and cheque templates, note gauges

Notched, high contrast, choice of designs and colour schemes

Talking ATMs, high contrast screens, raised features on keys
Level AA
Audio version of PINSentry device
Clydesdale Bank

Large print, Braille, Audio

Cheque book templates

Chip and signature

Talking ATMs, raised features on keys
Level AA
Large format security keys
Co-operative

Large print, Braille, Audio

Card and cheque templates, note gauges

Chip and signature

Talking ATMs, high contrast screens, raised features on keys
Level AA
Large format card readers
Cumberland Building Society

Raised features on keys
At least Level A
First Direct

Large print, Braille, Audio

Card and cheque templates

Chip and signature
N/a
Level A
Large format
SecureKey
Halifax

Large print, Braille, Audio
Magnifying sheets available in branch

Card and cheque templates, note gauges

Chip and signature

Talking ATMs, high contrast screens, raised features on keys
Level AA
HSBC

Large print, Braille, Audio

Card and cheque templates

Chip and signature

Talking ATMs, high contrast screens, raised features on keys
Level A
Large format
SecureKey
Lloyds

Large print, Braille, Audio.
Magnifying sheets available in branch

Card and cheque templates, note gauges

Chip and signature

Installing talking ATMs, high contrast screens, raised features on keys
At least Level AA
Metro Bank

Large print, Braille, Audio

Raised features on keys
Level AA
M&S Bank

Large print, Braille, Audio

Card and cheque templates

Chip and signature

Talking ATMs, raised features on keys
Level A
Large format
SecureKey
Nationwide

Large print, Braille, Audio.
Magnifying sheets available in branch

Cheque templates, note gauges

Chip and signature

Talking ATMs, high contrast screens, raised features on keys
At least Level A
Larger format card reader
Natwest

Large print, Braille, Audio

Card and cheque templates, note gauges

Notched, large print, high contrast

Installing talking ATMs, high contrast screens, raised features on keys
Post Office

Large print, Braille, Audio
N/a

Installing talking ATMs, raised features on keys
Level AA
Royal Bank of Scotland

Large print, Braille, Audio

Card and cheque templates, note gauges

Notched, large print, high contrast

Installing talking ATMs, high contrast screens, raised features on keys
Santander

Large print, Braille, Audio

Card and cheque templates

Chip and signature

Talking ATMs, high contrast screens, raised features on keys

Voice assisted banking
Smile
N/a
Tesco

Raised features on keys
Level AA
TSB

Large print, Braille, Audio

Cheque templates, note gauges

Raised features on keys
Level AA
Ulster Bank

Large print, Braille, Audio

Cheque templates, large cheque books, note gauges

Chip and signature

Installing talking ATMs, high contrast screens, raised features on keys
Yorkshire Bank

Large print, Braille, Audio

Cheque book templates

Chip and signature

Talking ATMs, raised features on keys
Level AA
Large format security keys