It includes a quad-lens camera with macro and depth sensors designed to make portrait photography simple.
With a 6.5-inch Super AMOLED display, the colours and brightness of the Samsung Galaxy A52s provide a high-quality viewing experience and there's the option to turn on the higher 120Hz refresh rate too.
The A52s is available in a choice of four colours and with a single storage option of 128GB in the UK with expansion available through the microSD card slot.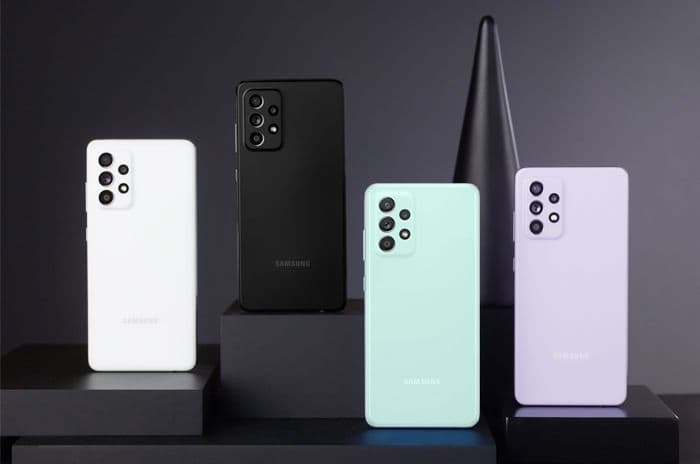 © Samsung
---
At a glance
| | Samsung Galaxy A52s 5G |
| --- | --- |
| Price from | £409 |
| Dimensions | 6.30 x 2.96 x 0.33 inches |
| Weight | 189g |
| Display | 6.5" Super AMOLED |
| Resolution | 1080 x 2400 (405 ppi) |
| Chip | Snapdragon 778G |
| RAM | 6GB |
| Storage | 128GB |
| Battery | 4500mAh |
| Rear camera | 64MP + 12MP + 5MP + 5MP |
| Front camera | 32MP |
| Resistance | IP67 |
| Colours | Awesome Black, Awesome White, Awesome Violet, Awesome Mint |
| 5G ready | Yes |
---
Price
Customers looking to buy the Samsung Galaxy A52s outright will expect to pay around £409. This is less than half the price of the latest Samsung flagships, making it an ideal mid-range device for customers who want a good Samsung device but can't stretch to the S21 range.
For customers looking at contracts, here are some examples with a good amount of data available on 24-month deals and 36-month deals:
Provider
Minutes
Data
Initial price
Monthly price
Samsung Galaxy A52s (128GB)
iD Mobile
Unlimited
20GB on 4G
Free
£20.99
24 month term
Get deal
Samsung Galaxy A52s (128GB)
Virgin Mobile
Unlimited
24GB on 5G
Free
£25 per month
36 month term
Get deal
Samsung Galaxy A52s (128GB)
Sky Mobile
Unlimited
20GB on 5G
Free
£27 per month
36 month term
Get deal
Samsung Galaxy A52s (128GB)
Vodafone
Unlimited
25GB on 5G
£19
£29 per month
36 month term
Get deal
Samsung Galaxy A52s (128GB)
O2
Unlimited
20GB on 5G
£10
£31 per month
36 month term
Get deal
With little or no upfront costs, the Samsung Galaxy A52s is a great way of getting an affordable smartphone with some great features.
Bear in mind that many mobile networks including Vodafone and Tesco Mobile are leaning towards 36-month terms to pay handset costs off. If that's too long a period, consider networks like iD Mobile or Three for 24-month deals.
---
Camera
| | |
| --- | --- |
| Main lens | 64MP |
| Ultrawide lens | 12MP |
| Macro lens | 5MP |
| Depth lens | 5MP |
| Front camera | 32MP |
Just like the A52, the A52s has a quad camera set-up featuring a main 64MP lens accompanied by ultrawide and macro lenses and a depth sensor. There is no telephoto lens on this handset which may be a deterrent for some.
Here are the rear camera specs:
| | Main | Ultrawide | Macro | Depth |
| --- | --- | --- | --- | --- |
| Megapixels | 64MP | 12MP | 5MP | 5MP |
| Type | 26mm wide | Ultrawide | Macro | Depth |
| Aperture | f/2.2 | f/2.2 | f/2.4 | f/2.4 |
The main lens comes with Phase Detection Autofocus (PDAF) and optical image stabilisation (OIS) to reduce blurriness and help users take great photos first time.
Many mid-range devices opt for a macro lens instead of a telephoto lens, signalling a focus on improving photography up close, so it's much easier to take a portrait picture than try for something in the distance.
Whether that will be sufficient is down to a customer's needs, but photography professionals may want to look to the S21 series if serious photo options are required.
On the front of the device, we have a 32MP selfie camera with excellent portrait mode capabilities.
Fun Mode
The inclusion of Fun Mode on the A52s is an indication of where Samsung's target audience lies for this device.
Fun Mode incorporates Snapchat Lenses to allow users to apply AR filters to decorate photos and video clips. For Snapchat fans, it's a nice bonus, although probably not a deal-breaker for anyone.
Video
Video shooting on the rear camera of the Samsung Galaxy A52s is available in 4K quality, although only at 30 fps. Some similarly priced devices have 4K shooting at 60 fps.
It's also possible to capture video in 1080p at 30 fps or 60 fps on the rear camera and 30 fps on the front camera too.
Samsung say their Super Steady mode ensures videos remain smooth and stable, although it's worth noting Super Steady does not work with the device's digital zoom, so that could be frustrating for some.
---
Display
| | |
| --- | --- |
| Screen size | 6.5" |
| Display | Super AMOLED |
| Refresh rate | 60Hz or 120Hz |
The Samsung Galaxy A52s has a 6.5-inch Super AMOLED display with rounded corners. Samsung say this brings it down to 6.3-inches, but customers are unlikely to notice the slight loss and may appreciate the smoothness of the rounded corners instead.
The screen on the A52s offers exceptional brightness at 800 nits and the display offers a crisp reading experience that should make viewing in any light straightforward.
Samsung have delivered a high refresh rate of 120Hz on the A52s, so the screen can refresh up to 120 times per second for maximum brightness. However, this isn't a dynamic refresh rate as we see in premium devices like the Apple iPhone 13 Pro, so users need to choose between 60Hz or 120Hz.
The issue with having 120Hz on all the time is that it drains battery life and it simply isn't necessary for most activities we use our smartphones for such as reading news, scrolling through social media and sending messages.
In reality, then, most users will be better setting their display at 60Hz, but whether they will then remember to change it to 120Hz when they want to watch videos or play games is up for debate.
---
Aesthetics
| | |
| --- | --- |
| Colours | Awesome Violet, Awesome Black, Awesome White, Awesome Mint |
As an update to the A52, the A52s is indistinguishable from the earlier model. It incorporates the quad camera in a rectangular bump that elevates gradually and avoids looking like a chunky camera unit tacked to the rear of the device.
The selfie camera on the front of the handset is a punch hole so there is no notch getting in the way of the display. Unlike some end-to-end devices, though, the A52s does still have bezels running around the screen.
One of the areas where the A52s economises compared to its more premium cousins is in the materials used. So, while we've got a Gorilla Glass 5 front with all the protection that offers, the back of the handset is made from polycarbonate.
Most users won't notice the difference between a plastic back and a glass one, especially as the matte finish of the A52s back panel is resistant to fingerprints and scuff marks. Those familiar with fully glass handsets may be underwhelmed, however.
The Samsung Galaxy A52s is available in four colour options: Awesome Violet, Awesome Black, Awesome White or Awesome Mint. Bear in mind these are not available from all networks, so be sure to narrow down your colour choice when comparing mobile phone deals using our free checker.
---
Battery
| | |
| --- | --- |
| Battery | 4500mAh |
| Charging rate | Up to 25W |
The battery on the Samsung Galaxy A52s is 4500mAh, the same size as the standard A52 model and bigger than the entry-level device in the Samsung Galaxy S21 range.
Samsung say this battery will last up to two days with typical use, although it's always worth taking these predictions with a pinch of salt. What's clear, however, is that the battery on the A52s should be big enough to get most users through a day of average usage without needing to recharge.
In terms of charging speeds, Samsung advertise the A52s as able to handle 25W charging and reach 50% within 30 minutes. Yet the 25W charger is sold separately, so customers will need to invest in a faster charger if they want to have rapid charging functionality.
Again, for most customers this isn't going to be an issue, but it's something worth knowing about.
---
Storage
| | |
| --- | --- |
| Internal storage | 128GB |
| MicroSD | Yes (up to 1TB) |
There is only one storage option available in the UK for the Samsung Galaxy A52s: 128GB.
This is standard for Samsung's more budget-friendly devices and also matches up to similarly priced handsets from other manufacturers.
The good thing about the A52s, however, is the inclusion of a microSD card slot that allows expansion up to 1TB. That's more storage than most users will ever need, even if it requires customers to have or purchase an SD card.
As we explain in our guide to the best Android phones for 2021, a microSD slot is a luxury we don't see on more premium Samsung devices, so it's a bonus for customers in this price range.
---
Performance
| | |
| --- | --- |
| Processor | Qualcomm Snapdragon 778G |
Samsung use the Snapdragon 778G chipset in the A52s.
This is a step up from the 750G seen in the original A52, but it isn't up there with the faster processors seen on the likes of premium Samsung devices like the Flip3 and Fold3, but it's going to be fast enough for most users.
Samsung highlight a feature called Game Booster that aims to improve the performance of the device as users play games. They say it learns usage patterns to optimise the battery, temperature and memory of the handset. This could be a useful feature for some customers, especially if conserving battery is an issue.
Overall, the processor is usually going to be improvement for customers upgrading from older devices, though it's worth remembering that it may feel sluggish after a couple of years when the next generation of chipsets make their way into mid-range devices.
---
Protection and resistance
The Samsung Galaxy A52s has an IP rating of IP67. This means it's dust resistant to the highest standard and water resistant in up to 1 metre of water for up to 30 minutes.
This isn't the highest water resistance available on a smartphone (that accolade belongs to IP68-certified devices), but it's better than some comparably priced devices that don't have an IP rating at all.
Samsung say it's fine to keep using the phone if it gets a little wet, although it's worth remembering that water resistance is complicated and smartphones shouldn't routinely be exposed to water if we can help it.
The Samsung Galaxy A52s is protected by Gorilla Glass 5. Again, this isn't the best money can buy, but it's excellent for a phone in this price range and should protect from most knocks and accidents.
---
Verdict: Is the Samsung Galaxy A52s 5G any good?
As a mid-range device with some excellent features, the Samsung Galaxy A52s is a great smartphone option for customers who don't want to spend a fortune on their next handset but still want a quality Samsung smartphone.
The tweaks from the A52 are small and might not be noticeable by many, although the improved chipset is welcome and the Awesome Mint colour variant is an attractive option.
Like many mid-range handsets, the Samsung Galaxy A52s includes both a microSD slot and a 3.5mm headphone jack, allowing customers to expand their device storage and use existing accessories without breaking the bank.
However, there are some downsides to the A52s with reports suggesting the under-display fingerprint sensor works on a slight delay in comparison to similar handsets and the lack of a telephoto lens hampering photography for some. The binary choice between 60Hz or 120Hz refresh rates is frustrating, plus it would be nice to see a charger capable of reaching 25W in the box with the handset too.
There's no doubt the device is aimed at everyday users who want a sturdy Samsung handset with a solid camera set-up and a good battery life. Ultimately, this phone ticks all those boxes and more.