Thanks to regulatory intervention, old-style restrictions on how we use our broadband connections have largely vanished.
Instead, we have fair use and acceptable use policies that focus on harmful behaviour, legal issues and security concerns.
Customers are also reminded that some traffic management is practiced by law to block certain websites and activities.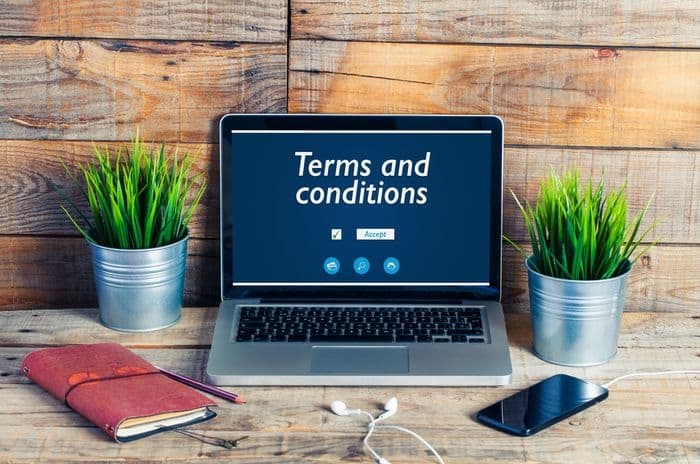 Credit: David MG/Shutterstock.com
---
Do fair use policies still exist?
Fair use (or fair usage) policies used to be very common in UK broadband.
These policies placed conditions on broadband customers, limiting the amount of data they could use, especially at peak times and for those in Market A areas (now down to around 0.9% of households).
However, regulatory intervention from 2011 onwards saw changes to the way broadband providers could advertise so-called "unlimited" broadband plans and what restrictions their fair usage policies could impose on customers.
Fair use policies in the traditional sense have virtually disappeared from broadband contracts, but many providers have bolstered their "acceptable use" policies instead.
While these do not throttle or limit the amount of data a customer can use, they set other restrictions on how the broadband connection can be used.
One key element that has been retained from older fair use policies is the idea that a home broadband connection must be used for personal and domestic purposes rather than to operate a commercial business unless otherwise agreed.
Note: Some other internet contracts still have limitations on the amount of data that can be used each month, notably satellite broadband plans.
---
Acceptable use policies
A broadband provider's Acceptable Use Policy (AUP) covers the activities a customer is prohibited from undertaking with their broadband connection, as well as explaining the reasons why their account could be terminated.
These broadly fall into three categories:
Disproportionate use
Privacy and free speech
Illegal activities
There are also websites that providers are required to block access to - more on that in the traffic management section below.
Disproportionate use
Customers who use their home internet connection disproportionately may fall foul of a provider's acceptable use policy.
To be clear: this isn't the same as having an explicit or unstated cap on usage.
As mentioned above, broadband providers don't generally like customers using their home broadband line for commercial purposes, especially if it snarls up the network for everyone else nearby.
So, we might see clauses about:
Only using the service for personal purposes
No excessive use of the home phone to make exceptionally high numbers of calls or making multiple calls at the same time
Prohibiting the re-selling of services in any way
These clauses are common and reasonable enough. They're not designed to get in the way of everyday use, but a provider can draw on them if they think customers are using the line for commercial purposes.
Privacy and free speech
Some broadband providers include specific clauses about the way customers are allowed to use the service.
These clauses often straddle the boundary between the disproportionate activities mentioned above and the illegal activities discussed below, but we've put them in their own section for clarity.
Customers may be warned they cannot:
Promote violence, threaten abuse or encourage hate
Send unsolicited communications such as spam mail or make nuisance calls
Intentionally distress people by using the service (such as making prank calls)
Interfere with other people's right to privacy
As these clauses are fairly broad, they could cover many activities and are open to interpretation by an ISP.
If a customer has been warned by the police for abusing other people online, that increases the risk customers could be seen to be contravening this policy.
However, it's a grey area and customers who are threatened with disconnection on these grounds may want to challenge decisions they don't think are fair through a formal complaints process.
Illegal activities
Using an internet connection for illegal purposes is a sure-fire way to get an account closed.
Again, the clauses broadband providers include in their fair and acceptable use policies can encompass many areas but these are some of the common ones:
Promoting criminal activities
Impersonation or misrepresentation
Hacking or infringing or someone else's copyright
On this last point, the laws around filesharing and breaching copyright might not always be enforced as stringently as they could be, but the fact remains that these activities are deemed to be illegal and could result in a customer's internet connection being suspended.
---
Traffic management
Traffic management is a very broad term. It means anything that involves blocking or prioritising certain users or certain behaviours.
Under net neutrality rules that have been transposed from EU law following Brexit, broadband providers have to treat all traffic equally. They can't give special treatment to certain sites or types of service unless necessary for legality or security.
Traffic management for commercial gain is, in other words, totally banned.
However, providers can use "reasonable" measures to manage internet traffic to ensure efficiency, as long as they're for quality of service reasons and not used for longer than necessary.
In addition, providers are required by law to block access to certain sites if they contain pirated material or other illegal content.
---
Fair use policies by broadband provider
Each broadband provider in the UK will have a fair use policy or acceptable use policy on their website.
It's part of the terms and conditions customers agree to abide by when they sign up to a broadband deal, so it's worth seeking them out if we're worried policies might adversely affect us.
Here's how the major broadband providers in the UK approach their policies.
BT
BT is the biggest broadband provider in the UK, owning EE and Plusnet as well as operating their own broadband service.
They were one of the first broadband providers to advertise truly unlimited broadband back in 2013, and have long displayed their official traffic management policy on their website.
As we'd expect from a huge broadband provider like BT, they have a comprehensive acceptable use policy that covers some distinct areas:
Respecting other people's views and their right to express them freely
Protecting other people's privacy
Stopping illegal activities
Put simply, BT are careful that their policy covers anything that might cause distress to other people or be considered illegal.
EE
Although EE is still better known as a mobile provider, they offer broadband packages up to speeds of 900Mb in some areas.
Their traffic management policy used to include provisions to restrict some traffic, but since their merger with BT, they have scrapped this and say they do not operate traffic management on their networks.
Hyperoptic
As a full fibre broadband provider, Hyperoptic offers some of the fastest broadband speeds in the UK.
Their acceptable use policy warns that it isn't a comprehensive list of everything a customer can and cannot do, but it includes many of the elements we've already discussed in this guide such as:
Customers can't undertake criminal activities
Customers must not overload the network
Customers must adhere to content standards
Like other providers, Hyperoptic leave their acceptable and unacceptable terms of use open to interpretation, but customers should be fine as long as they use the service legally and responsibly.
Plusnet
Owned by BT, Plusnet are still a distinct company with their own policies and customer service standards.
Despite some issues with misleading ads and language in the past, Plusnet pride themselves on being a straightforward broadband provider.
Their acceptable use policy bears that out, focusing on similar issues to parent company BT including illegal activities, security breaches and using the service for disseminating harmful material.
Previously, Plusnet used to have traffic prioritisation (their name for traffic management) on some domestic packages, but these are not relevant to modern Plusnet unlimited broadband plans.
TalkTalk
As a provider who promote themselves as a fair broadband provider, TalkTalk offer an unlimited service with just a few caveats on acceptable use.
TalkTalk's fair use policy is focused on customers only using the service in proportionate ways.
Their examples of how customers contravene the policy include making an exceptionally high volume of calls, making calls with the intention of inflating traffic and making multiple calls at the same time.
There is another a clause about only using services legally and not allowing others to use them illegally.
Shell Energy Broadband
Shell Energy Broadband are a smaller name in UK broadband but they bolstered their market share in February 2021 when they acquired the Post Office Broadband customer base.
Their fair and acceptable use policy includes a reference to peer-to-peer sharing services, mentioning the legality of the practice but also warning that they monitor excessive usage and very high bandwidth users.
Here, Shell are explicit where other providers are more implicit but the result is the same - if you're using the service for copyright infringement or in a way that could be construed as commercial, Shell will know about it.
The rest of the policy focuses on similar issues to the ones we've discussed above such as harmful behaviours and security breaches.
Sky
Sky have established a reputation in recent years for their broadband customer service and are one of the big names in UK broadband and TV.
The main message on Sky's accepted use policy is a warning to only use the service legally.
As we'd expect, this covers the same sort of areas discussed above and customers should be careful to abide by copyright laws and to refrain from abusive or threatening behaviours.
Virgin Media
Virgin Media are one of the fastest broadband providers in the UK with a long-standing record in offering attractive TV and broadband bundles
Almost a decade after a public row with BT about misleading broadband advertising and issues around bandwidth, Virgin Media's acceptable use and traffic management policies are clearly defined.
Acceptable use focuses on customers not using their broadband connection for unlawful or illegal purposes, nor to inconvenience other internet users. This covers the abuse and copyright issues we've discussed above.
Meanwhile their traffic management policy details the security steps they take to keep their networks operating within the law and reiterate that sites banned by the courts will be blocked.
Vodafone
Another smaller operator better known for mobile services, Vodafone have started to build up a reputation as a broadband operator catering to different types of customers.
Their acceptable use policy includes many of the standard clauses such as:
Being for private use only
Prohibits sending spam emails or harassing people
Customers must avoid activities that detrimentally affect the service for other users
In terms of traffic management, they warn that throttling may take place to ensure the network and data exchanges work effectively for all their customers.
This may sound worse than other providers but it's fairly standard practice - if traffic is overloading the network at peak times, something has to give.
---
Summary: Standard policies
Fair use policies and traffic management, which were big issues just a few years ago, have been neutered by consumer-focused regulation.
Broadband providers no longer restrict customers with an explicit or implicit cap on their unlimited broadband deals, and their traffic management policies are based on security and legality rather than anything else.
Yet acceptable use policies are still an important part of signing up to a broadband contract and customers should remember a few key things:
Illegal activity including copyright infringement is banned
Abusive and harmful behaviour can get an account suspended
Causing damage to the security of the network is a banning offence
Sky and Virgin Media's policies are clear about one thing: if a customer uses the service legally, there shouldn't be a problem.
That's replicated across the board in the policies we've examined. As long as a customer is using their broadband connection for legitimate, non-commercial activities and they're not being abusive or harmful, there's no reason for a broadband provider to single them out.