BE broadband can no longer advertise their, famously restriction free, broadband as unlimited.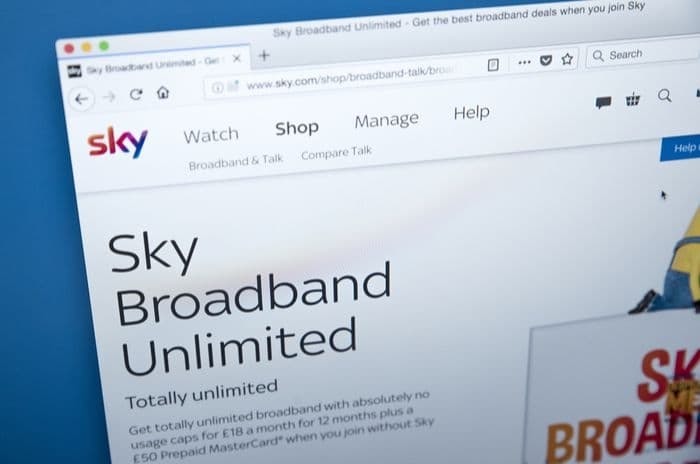 Credit: chrisdorney/Shutterstock.com
The Advertising Standards Authority (ASA) ruled last week that a 150GB fair use limit, imposed on customers on busy exchanges, wasn't fair after they'd been promised an unlimited service.
Be sent formal warnings to 224 customers and two moved to other providers after straying beyond the fair use limit.
However, the action taken by BE stemmed from congestion problems at the Hackney exchange at the start of 2013, and two users thought to be downloading more than 1TB in a month.
Sky: the bright side
But bad news for Be customers might be good news for BSkyB, the O2/Be network's new owner.
Sky bought Be's business, along with O2's, from Telefonica in March this year, and Be customers are set to be migrated to Sky's network some time before the end of the year.
The recent ruling from the ASA may help some disgruntled Be customers into feeling more that they'll get a tangible benefit from the takeover.
Sky broadband currently provide a truly unlimited service - no fair use limits and, like Be at the moment, no traffic management.
That's an unexpected plus for Sky: they've lately appeared anxious about losing many of Be's notoriously tech savvy customers during the migration process.
For example, Sky have already promised that Be broadband customers will be able to keep their own routers after the takeover; for years, Sky have been the UK's only broadband provider that doesn't allow customers to use their own equipment.
Capacity crunch
Or that's the idea anyway.
The problem with that spin is that Sky have had capacity problems of their own.
Although it seems highly likely that Sky will have enough space, and enough clout, to extend their truly unlimited, fair use free service to Be customers, Sky customers have suffered slow service in the past.
Be customers might be jumping out of the frying pan and into the fire.
Just a few months ago, for example, Sky households in some exchange areas - in Doncaster, North Wales and Bristol - were hit by speed problems caused by a lack of capacity.
Sky said at the time that the problems were caused by an increase in new customers and in traffic.
The O2/Be network is being upgraded ahead of the Sky takeover - £2 million of the £200m sale price depends on the O2 team ensuring the work goes off without a hitch - but, even so, as of Q1 2013, O2 and Be together had 519,400 customers, enough to cause disruption.
Even if the merger doesn't cause disruption, Sky are known to have high contention ratios at their exchanges, in contrast to Be which has always opted for notably low ratios. That policy makes capacity crunch more likely in the future.
Smaller networks suffer
As Be customers contemplate their move to Sky, then, they might find themselves in the unusual position of looking forward to joining a larger ISP for the quality of their service.
Be broadband have always marketed themselves to customers based on quality of service: they offer fast, reliable broadband, without traffic management and with a decent fair use policy (contrary to some reports, Be have always imposed fair use restrictions, just not very often); high quality customer service and a personalised style that has included customer meet ups.
According to the guidelines the ASA follows broadband can be marketed as unlimited with a fair use policy as long as restrictions are only 'moderate'.
In its judgement on Be the ASA noted that, "although it affected only a small proportion of customers, the service was restricted for those using more than 150 GB in a month on some exchanges and was therefore not unlimited."
Based on our long running fair use guide, a 150GB limit is certainly at the unfair end of restrictions.
It's surprising that Be imposed it, given their reputation, and their decision perhaps reflects a market in which smaller providers are having an increasingly tough time.