It means that broadband and mobile companies cannot prioritise one service over another when managing traffic on their networks.
Advocates of net neutrality say it ensures individuals choose what they want to do online rather than being nudged towards specific services or platforms.
Telecoms regulator Ofcom is currently reviewing net neutrality rules in the UK to check whether they are working effectively.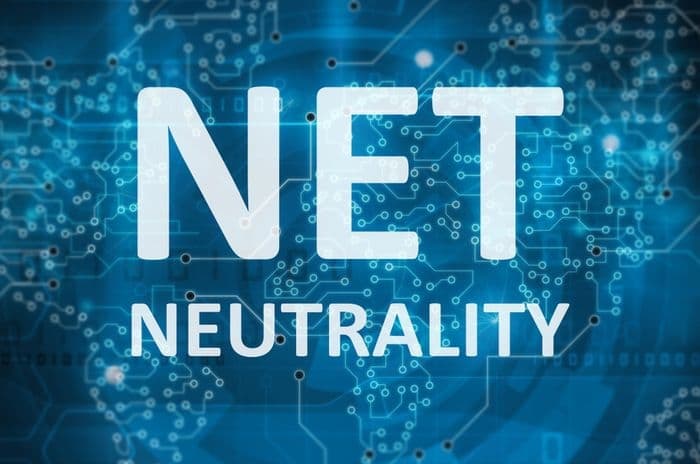 Credit: Carlos Amarillo/Shutterstock.com
---
What is net neutrality?
Net neutrality is the principle that internet users are free to access all legal content equally without a provider controlling or managing what we see.
So, a broadband provider cannot deliberately slow down traffic for one news platform or block access to certain sites that may be considered rivals.
To give a few examples:
A provider cannot block or hamper the customer experience if they're looking at a rival's website (perhaps with a view to switching)
A provider cannot allow customers to access one social media platform more easily than another
A provider cannot let a big company pay their way into preferential access (a so-called internet fast lane)
Providers cannot block or discriminate against traffic on their network. This is set out in law and means that customers have the final say over what they see online.
There are a couple of caveats:
ISPs can and do crack down on illegal content. We saw ISPs compelled to block illegal filesharing sites in 2011 and now routinely block such sites.
Parental control software can be used to help parents manage the type of content their children see online - something the Open Rights Group criticised in 2014.
Providers can utilise reasonable traffic management measures to ensure their network runs smoothly. However, these measures should not be taken for longer than is necessary and providers must be clear about their traffic management practices.
On this last point, it's worth looking at how a couple of providers handle this in practice, and we do that in more detail below.
However, the basic principle of net neutrality is that providers do not have the ability to dictate what we see online or to influence how we go about our online lives.
---
How does net neutrality affect you?
Net neutrality has become ingrained in UK online culture over the past decade, although we might know it better as 'open internet' - if we know of it at all.
Most of us take for granted the fact that we can access the sites and apps we want to without impediment from our internet providers.
There are two major facets of net neutrality that we encounter regularly whether we recognise them or not: traffic management measures and zero-rating.
Traffic management
Traffic management is the practice of balancing the amount of traffic on a network to ensure that all customers have a consistent service.
As we've seen, internet providers cannot use traffic management to block certain sites or prioritise certain platforms, but they can use it to make sure their networks are running smoothly.
To illustrate how that works, let's look at the way two major UK broadband providers discuss their traffic management policies.
Both BT and Virgin Media have a Key Facts Indicator (KFI) on their website that states how traffic management affects their products.
One key question is asked in the KFI: Are any services, content, applications or protocols always blocked on this product?
Because both providers answer 'no', there isn't much use for the rest of the KFI, although BT do deliver managed services (BT TV Multicast and BT SmartTalk) on their networks which are prioritised over other elements of traffic on a customer's network (i.e., it's a household prioritisation rather than one that affects other customers).
However, Virgin also lists the reasonable traffic management measures they can take:
Blocking certain child abuse materials stipulated by the Courts
If Web Safe (parental controls) are switched on, relevant content will be blocked
They use DDoS (distributed denial of service) detection and mitigation technology to help screen out malicious traffic in the event of an attack
They use load balancers in their datacentres to balance traffic
Virgin are clear they don't identify specific applications used by customers in their monitoring: it's just about the amount of data usage on the network.
That's one of the key points of net neutrality: steps taken by providers to improve the customer experience can't discriminate or offer preferential treatment to one service over another.
Zero-rating
The practice of zero-rating is something else that falls under the net neutrality banner and is monitored by regulator Ofcom.
Zero-rating is where a provider doesn't charge for the data used to access certain applications or categories of applications. Because broadband packages are mostly unlimited these days, zero-rating applies in practice to mobile plans rather than broadband plans.
Here are a few examples of zero-rating that are active right now:
VOXI allow customers access to Endless Social Media and Endless Video on some plans, meaning those platforms and sites are zero-rated.
EE customers taking certain full fibre broadband plans will receive an Xbox Game Pass Ultimate for up to twelve months. If they're also a mobile customer, they will receive zero-rated data for gaming with the Pass.
Sky allow customers who take both TV and mobile services from them to watch their subscription content using zero-rated data via Sky Watch.
These are current examples of zero-rating, but there have been other instances.
One of the biggest was Three's Go Binge, first introduced in mid-2017 and scrapped in 2020 due to Three's move towards unlimited plans.
The problem with zero-rating from a net neutrality perspective is that it could impede customer choice in several ways:
It could have the potential to limit or exclude access to applications outside the zero-rating offer
It could have the ability to reduce customer choice by providing an economic incentive to use one application or category of applications
It could result in choice being materially reduced or otherwise affected through the way it is presented or implemented
These are necessarily vague and it's down to the regulator to judge whether a provider's zero-rated offer passes the test.
From a customer's perspective, the idea of zero-rating seems like a great idea - it allows us to access free streaming or other services without it eating into our data allowances.
However, behind the scenes, it's important for the regulator to check whether companies are gaining an unfair advantage from the zero-rating that limits customer choice. It also leads them to ask some crucial questions about who's benefiting and why.
If one video subscription streaming service was prioritised above another through zero-rating, for example, is a company somehow paying for that privilege behind the scenes?
---
Net neutrality debates
The concept of net neutrality has provoked debates here in the UK, as well as in the US where it remains a far more contentious issue.
On the face of it, having an internet that is free from providers telling us what sites we can visit and nudging us towards their favoured companies is an excellent thing, so why do some organisations and companies argue against it?
Critics of net neutrality in the UK say:
It stifles innovation
It isn't fit for purpose when looking at the peaks data traffic is hitting now compared to when the rules came into force
It doesn't address new technology like the Internet of Things (IoT)
Enterprise-grade business services could benefit from more tailored systems
Mobile operators including Three and Vodafone have argued that net neutrality rules in the UK are in need of reform and that they don't serve the best interests of customers.
The most high-profile intervention in recent years came from Marc Allera, BT's CEO. He gave a speech at a telecoms conference in early 2021 and highlighted the fact that existing net neutrality rules were not compatible with the challenges faced by providers during the coronavirus pandemic.
While we saw ISPs and mobile providers offer zero-rated data on things like the NHS COVID-19 app and crime victim websites, Allera claimed zero-rating education websites would have pushed huge data traffic and costs on to networks.
Allera also argued that current net neutrality rules and the rise in online gaming platforms are incompatible because of the pressure it places on networks.
These are arguments BT repeated in their submission to Ofcom's review of net neutrality (see below), but the ideas put forward by BT's CEO to introduce 'service layers and solutions that groups such as broadcasters, gaming providers and social media companies can 'buy into' seem to go against the basic tenets of net neutrality as they are understood today.
---
Future of net neutrality
The idea of a neutral internet has been part of UK law since 2016 when the EU implemented regulations to stop internet users being treated unfairly by traffic management.
These rules were transferred into UK law following Brexit, with just a few tweaks to language to reiterate that Ofcom was responsible for monitoring compliance.
However, Ofcom has since announced a review of net neutrality in the UK, with a consultation opening in September 2021 and taking evidence from stakeholders. These included ISPs like BT, mobile providers like Vodafone and broadcasters like the BBC and Channel 4.
The regulator is expected to put forward their initial findings during 2022, although they stressed the call for evidence did not contain any policy proposals and was simply about understanding the shifting landscape.
They pointed to changes in the market such as:
Increasing capacity demands from people and businesses
New and evolving technologies like 5G and the IoT
New and innovative services offered by ISPs, networks, mobile providers and others
Ofcom are aiming to examine what's working well and what isn't across several areas:
The end user experience and outcomes
The policy and economic context
Value chains and the impact on innovation and investment
Technological developments
In addition, Ofcom provided an indication of the areas they were interested in considering during the review. These included the major points we've discussed in this guide:
Effective traffic management
Current approach to zero-rating
It's clear that Ofcom wants to bring net neutrality rules up to date and ensure they're working effectively.
However, it will be crucial to see how the needs of customers are balanced against the vocal opposition of ISPs when Ofcom finally publish their findings.
---
Summary: is net neutrality a good idea?
Net neutrality is the principle that customers decide what they want to do online and broadband providers simply deliver that without favouring one thing over another.
Customers are at the heart of these rules, with net neutrality protections checking they are not pushed towards using one preferred service provider over another or limited in what they can do online.
It's true, though, that these rules were designed for a UK internet that didn't have as much pressure on it as it now does.
The coronavirus pandemic not only pushed people into working from home and using the internet much more at the time, it has also had a knock-on effect on the way households continue using the internet.
With more smart devices being added to networks and the IoT beginning to take off, it's important for the regulator to assess what's working and what's not.
However, the idea of a two-tier internet or providers buying their way into favour with providers seems incompatible with the original tenets of net neutrality. We'll have to wait and see what conclusions Ofcom come to when their proposals are published.