Thanks to a 2013 agreement, TalkTalk, BT, Sky and Virgin Media all now offer parental control software within their broadband services.
In addition, parents can access operating system or device parental controls as well as third-party software from anti-virus companies to further limit children's activities online.
However, there are still loopholes and caveats parents should be aware of, plus less than half seem to be engaging with ISP parental control options.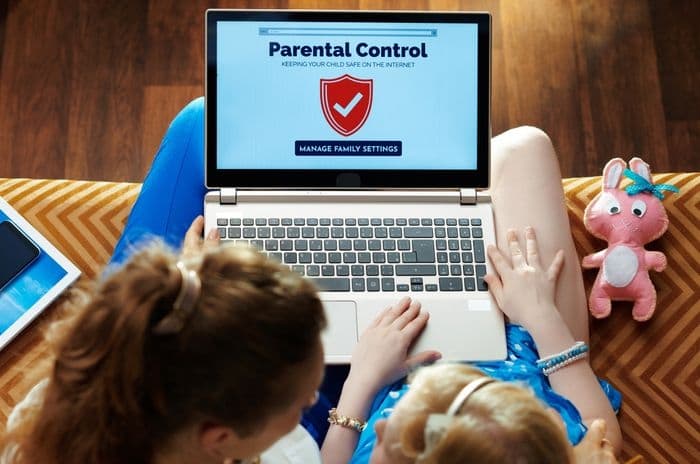 Credit: Alliance Images/Shutterstock.com
---
Parental controls from TalkTalk, BT, Sky and Virgin Media
The UK's four biggest broadband providers offer parental control options to their customers.
This was agreed with the Government back in 2013 and that agreement required the controls they offered to:
Provide router-level controls to block/filter on all devices connected to a home network
Include simplified settings and categories to be blocked
Link to more information about how to use controls and keep children safe online through Internet Matters, a support service launched in 2014 by ISPs to help parents keep their children safe online
Ensure active choices are being made when a customer sets up their broadband to ensure they're given the choice of setting up filters and parental control software
Let's take a closer look at the controls offered by each of the four major ISPs.
TalkTalk: HomeSafe
TalkTalk are very proud of their HomeSafe software. Launched in May 2011, it was the first to offer blocks at router level and theirs is the model other ISPs have since followed.
According to Internet Matters, restrictions can be applied across these categories:
| | |
| --- | --- |
| Drugs & Criminal Skills | File Sharing & Hacking |
| Gambling | Inappropriate content |
| Online games | Pornography & Adult |
| Privacy and identity theft | Social networking |
| Suicide and Self-harm | Weapons & Violence, Gore & Hate |
TalkTalk say HomeSafe can:
Stop kids reaching inappropriate sites with KidSafe
Restrict the times kids can access social networking or gaming sites with Homework Time
Prevent household members from visiting infected sites with Virus Alerts
Filter websites misused by scammers with Scam Protection
Configuring HomeSafe is straightforward and the settings can be accessed through the My Account section of the TalkTalk website.
After that, it's simply a case of scrolling down and choosing the desired options under the HomeSafe banner.
HomeSafe isn't an anti-virus software: TalkTalk have their own software for that.
Previously known as SuperSafe, Online Defence protects against threats including viruses, spyware, phishing and more for £4 per month.
For that monthly fee, customers can cover up to 10 devices including PCs, Macs, iPhones and Android devices.
Learn more about TalkTalk broadband.
BT: Parental Controls
BT launched their free network-level parental controls in late 2013 and we took a closer look at what it offers here.
BT Parental Controls is the type of comprehensive control system we'd expect from the UK's leading broadband provider and restrictions can be applied across the following categories:
| | | |
| --- | --- | --- |
| Alcohol & Tobacco | Search engines | Inappropriate content |
| Downloading file sharing | Social networking | Obscene & Tasteless |
| Fashion & Beauty | Weapons & Violence, Gore & Hate | Pornography & Adult |
| Gambling | Dating | Sex education |
| Media streaming | Drugs & Criminal Skills | Suicide & Self-harm |
| Online games | File Sharing & Hacking | |
These are network-level controls, so all devices connected to a home network will be covered, whether they're laptops, tablets, smartphones or other items.
While the filter levels can be tightened, individual devices can't be configured, so the controls apply to everything on the network.
There are a few other things to note:
Choose from three filter levels - light, moderate and strict
Websites can be set up to "Always allow" or "Always block"
Times can be set for the filters to be on/off
Homework time can be set up
One excellent feature of this service is the fact it works when customers are using their BT ID on the five million BT wi-fi hotspots across the UK. That's a pretty unique perk only BT can offer with their extensive wi-fi network.
The only person able to manage (and turn off) BT Parental Controls is the account holder, and they'll receive email notifications when changes are made to the settings - useful if someone else in the household tries to override them.
Overall, there's a lot to like about BT Parental Controls and setting them up is a straightforward five-step process:
Log in to MyBT using BT ID and password
Scroll down to find "Manage your extras" underneath "Your package"
Click on the button to set up BT Parental Controls
Activation may take up to two hours and the default filter setting will be "light"
Once activation is complete, further personalisation can take place
As we explain in our review of BT broadband, customers taking the service get at least two of their household devices covered with BT Virus Protect from McAfee. For customers taking Fibre 2, this is upped to 15 devices or customers can pay £4 per month to receive protection on 15 devices instead.
BT Virus Protect offers a range of anti-virus and security tools including VirusScan to protect against the latest threats and WebAdvisor which warns customers before they interact with a dangerous website.
It's a nice extra for BT customers that will strengthen the protections of the home broadband network.
Sky: Shield parental controls
Sky released their network level controls - called Sky Broadband Shield - in late 2013. They were the first to switch them on by default for all new customers, and for existing customers who didn't respond to prompts, in July 2016.
Shield offers parental controls across the following categories:
| | |
| --- | --- |
| Drugs & Criminal Skills | Fire Sharing & Hacking |
| Inappropriate content | Online games |
| Phishing & Malware Infected Sites | Pornography & Adult |
| Privacy and identity theft | Social networking |
| Weapons & Violence, Gore & Hate | |
As Shield is turned on automatically, there are no initial set up actions needed and it defaults to being suitable for teenagers during the daytime and adults during the evening.
Settings can be altered by visiting My Account and following these steps:
Click on "Broadband & Talk" and then "Broadband Shield"
Select what you want to see and save settings
Scroll down to the section that sets active times
Choose which age group categories are active
Manage any website exceptions
One thing we especially like about Sky Broadband Shield is that it has three pre-defined sections for age groups which have default blocks on inappropriate content.
While these blocks can be managed by parents, it's a great indicator for those who aren't completely sure which categories should be blocked for each age group.
Sky say Shield protects families in the following ways:
Provides advanced protection to defend against attacks like phishing and viruses
Works on all devices connected to wi-fi including phones and tablets
Comes with Safe Search software to protect young people from adult content
As well as Sky Broadband Shield, there's also another service from Sky worth a mention: Sky Broadband Buddy.
This app gives the account holder more control over what household members see and can't see online via an app. It allows parents to:
Create filters for every family member
Keep tabs on time spent online
Pause online time for individuals or the household
Check what the family does online and the sites visited
Offer rewards of more online time to keep the family happy
The features suggest a more premium option for parental controls and it comes with a price tag.
Broadband Buddy is only available to customers taking Sky Broadband Boost which is £5 per month.
There's more information about Broadband Boost in our dedicated review of Sky's broadband deals and service.
Virgin Media: Web Safe
Virgin Media released their network level parental control option, Web Safe, in early 2014 and the Child Safe settings have been turned on by default for new customers since May 2018.
Restrictions can be applied across the following categories:
| | |
| --- | --- |
| Drugs & Criminal Skills | File Sharing & Hacking |
| Inappropriate content | Pornography & Adult |
| Weapons & Violence, Gore & Hate | |
When a customer signs up to Virgin broadband, they will be asked to choose their initial Web Safe settings at sign up. Altering the settings is straightforward, with the options being found in the "My Apps" section of My Virgin Media.
Just like other ISPs, Virgin allow parents to customise Web Safe by blocking/allowing certain websites and adding timing restrictions to Child Safe to ensure parents can only use the internet at specific times.
Virgin's interface for managing Child Safe is arguably simpler than some other ISP systems mentioned above, although this comes at the expense of more detailed blockers as we saw above with BT Parental Controls.
Virgin also offer their own internet security system powered by F-Secure.
This covers unlimited devices and comes with a three-month free trial before customers begin paying £3 per month or £30 per year for cover.
Find out more about what Virgin broadband offers to customers.
---
Other parental controls
As well as ISP controls, there are other options parents can use if they're not with one of the major ISPs or if they want a little extra control over their children's online activities.
Let's take a quick look at operating system controls and control software.
Operating system controls: Windows and Mac OSX
Operating system parental controls are theoretically some of the most powerful options for parents to use - as long as they're set up correctly.
On Windows, these controls are called Windows Parental Controls and Microsoft Family Safety. To use them, both the parent and child will need a Microsoft Account to allow the controls to be applied to computers where the child's login is used.
Parents need to add children to their account in the Settings pane. From there, they need to:
Select the "Accounts" option
Select "Family & other users" and add a family member
Opt to add them as a child
Default settings will be turned on if a child's account is set up properly, but it's worth going into them and checking the settings are appropriate.
Through this, parents can access:
Screen Time Settings
Content Restrictions
Block Inappropriate Apps and Games
Block Inappropriate Websites
There's a caveat here: blocking inappropriate web activity can only be done if a child uses Microsoft's own Edge browser. Other browsers can be blocked to prevent children using them though.
Finally, parents can choose to have a weekly activity report emailed to them to check what their child has been doing online.
On Mac, parents will need to either manage Family Sharing or manage individual Mac user accounts.
Content & Privacy Restrictions can be turned on and, from there, parents can limit web content and choose certain services to allow including multiplayer games.
The main advantage of operating system parental controls is their robustness and simplicity: this is basically what multi-user operating systems were designed to do.
Simply set up a user account for each adult and child, adjust the settings for each user and there's less chance of older kids finding workarounds or discovering browser compatibility issues.
Operating systems also have more control than software applications - they can limit access to other applications like games, for example, as well as web content.
Control software: Norton
All the big security companies offer parental control software. They're all fairly similar but let's look at Norton's in a bit more depth.
Norton Family costs £29.99 a year and provides tools and insights for parents to use to protect their children online.
The features it offers include:
Keeping parents informed of the sites children are visiting and allowing them to block harmful/inappropriate sites
Helping kids balance time online by scheduling screen time breaks
Providing insights into unsafe behaviour and search terms
Providing detailed reports via the Parent Portal
Helping children avoid online distractions while working
Norton Family is included as part of Norton 360 Deluxe and Norton 360 Premium.
A key element of Norton Family is that it fosters conversations between parents and children about what's being blocked online, giving families the opportunity to talk about the issues raised rather than just blocking something.
For households who will be buying anti-virus software anyway, the parental control options offered by Norton and other major anti-virus providers shouldn't be ignored. They can be a useful tool for parents to use.
---
Should parents use parental controls?
With parental control options now provided by the four biggest ISPs in the country alongside options from operating systems and internet security companies, it's clear activating and using parental controls is seen as a key component of keeping children safe online.
The amount of harmful content on the internet is overwhelming, and we're past the days where parents can stand over a child every time they do anything online.
There's a school of thought that parents shouldn't rely on software to help them protect their kids online, and it's true that controls and blocks shouldn't be a replacement for honest conversations about why parents don't want their kids to see certain content online and what dangers are out there.
However, just in the same way we wouldn't want our kids to stand alone in a rowdy street where people are yelling, fighting or worse, we don't want them browsing the internet equivalent of that either. Parental controls offer a way for parents to limit those interactions, something that creates a barrier between children and potentially harmful content.
But how effective is that barrier?
How useful are parental controls?
The controls we've discussed in this guide include content blockers, screen time trackers and age-specific filters.
As we've explained, each of these has a distinct purpose and, taken as a whole, they can seriously hamper the ability of children to accidentally (or wilfully) access inappropriate content.
Yet they're not fool-proof and there are loopholes parents need to be aware of. To take some examples:
ISP content blockers can't always block apps and are limited to websites instead, a problem when apps are a major source of online harm
There can be bad interactions between different types of software, so doing too much can actually limit protection
Operating system blocks work with user IDs but children may be able to circumvent that by getting another ID
Along with this, threats evolve rapidly and the threats children face online now are different to the ones they faced almost a decade ago when The Pirate Bay was blocked by ISPs for allowing illegal filesharing.
We've had sites like Guido Fawkes complaining about being caught up in ISP block lists and age ratings added to music videos to help prevent children seeing inappropriate content.
The point is, the landscape is constantly shifting and barely a month goes by without parents being warned about new threats or sites to avoid.
Online harassment is another major area of concern, and our guide to protecting children on social media has more information about how user created media can threaten children's safety.
With all these different online harms flying around, using ISP parental controls or buying an annual subscription to something like Norton Family starts to look like one building block of a bigger strategy to protect kids online.
We've got more detail on how effective parental control software is in this guide or read more about protecting your home network at the router level.
---
Conclusion: what next for parental controls?
In 2014, 22% of parents with children aged between 5 and 15 years old used the parental controls offered by their ISP.
Yet research by Ofcom in their report examining media use and attitudes of children and parents in 2019 found six in ten parents were aware of home network-level content filters but only 36% actually used them. A similar number made use of parental control software.
The same report found only half of parents had set up technical controls on the gaming devices their children used, even though more than three quarters had rules in place on gaming use.
In addition, less than half of parents with children who used a smartphone or tablet were aware of how to access parental control settings on those devices.
A 12-month transition period began in September 2020 to force organisations to increase children's privacy in online services and products, a statutory code known as the Age Appropriate Design Code.
But that's only one step on the road to protecting children's safety online, and it's clear parents need to be empowered to do more - or at least to use the parental controls placed at their disposal by ISPs and other companies.