Online music videos to get age ratings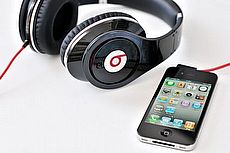 AGE ratings will be displayed on UK-produced music videos posted on Youtube and Vevo in a similar way as they are on movies, following a Government pilot.
Sony Music, Universal Music and Warner Music sent copies of videos they would expect to receive at least a 12 rating to the British Board of Film Classification (BBFC) before posting them on Youtube and Vevo.
So far the three companies have sent 132 videos to the BBFC for classification, of which 56 were given a 12 rating and 53 were classified as 15.
Only one was rated an 18 - Dizzee Rascal's Couple of Stacks, which the BBFC say contains "strong bloody violence", "gore" and "very strong language".
Now the original test run has been deemed a success and made permanent, the Government have encouraged independent labels to join in, launching a six month trial for smaller labels.
Limited scope?
David Cameron pledged last summer to do something about music videos, saying that, "Bringing up children in an internet age, you are endlessly worried about what they are going to find online".
That fear is backed up by research from the BBFC showing that up to 60% of children aged between 10 and 17 were watching music videos they didn't think their parents would approve of.
The BBFC say that only about 20% of videos produced in the UK would need to be considered for a rating, going by a "previous video catalogue audit" of one of the three companies taking part in the pilot.
But there's been growing concern about the easy availability online of videos that would qualify, such as Robin Thicke's infamous Blurred Lines, Miley Cyrus's Wrecking Ball, and many from Rihanna.
One big flaw with the ratings system then, is the fact that it only applies to content produced in the UK - meaning that the artists listed above aren't affected, at least for the time being.
How it works
For the videos that are covered, how the ratings system works depends on the classification and the platform.
Users who search YouTube for Dizzee Rascal's Couple Of Stacks are shown a greyed out video screen, overlaid with the warning that the content may not be suitable for some.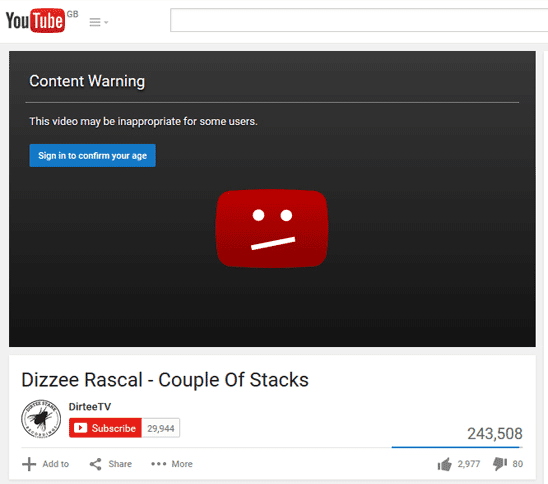 SOURCE: YouTube
Anyone who wants to watch the video has to sign in to Youtube to prove that they're old enough to watch it.
But search for Calvin Harris's Open Wide featuring Big Sean, which has been given a 15 rating, and there's no need to log in; it's simply a case of pressing "play".
Instead there's a "partner rating" listed in the track information beneath the video.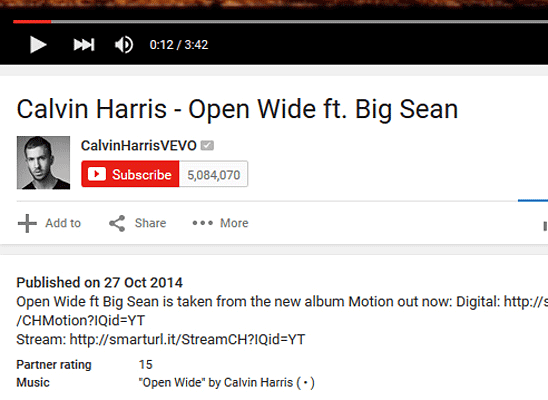 SOURCE: YouTube
On Vevo, the rating appears in the top left corner for the first few seconds of the video, and will reappear if the cursor is moved; users can click on the "i" icon to get further information.
So as the British Phonographic Industry's Geoff Taylor says, it's now up to providers "to look at how they can make filters available to parents so they can use age ratings to screen out any inappropriate content".
Vevo's Nic Jones says they're "committed to making the age ratings work as effectively as possible," and that they're exploring how to "support age controls to ensure that explicit content is watched only by age appropriate audiences".
Advisory vs control
At present, the easiest way of doing that is in the form of home network filters and parental controls, as provided in some form or other by all the major ISPS, and available as add ons for mobile phones.
In March this year, mobile EE entered into a "self regulatory partnership" with the BBFC in which they tightened the filters on their network based on the BBFC's classifications.
By default all of EE's customers will find they can't access content classed as suitable for those aged 18 and over unless they choose to switch off the content lock.
EE then adjusted what would be accessible under the "strict" setting to match what the BBFC consider to be PG or U rated.
Sending a text with the word "strict" to a customer service number would then block that phone from being able to access anything that might merit being rated a 12 or above.
But such settings, whether mobile or computer based, lack the finesse needed to deal with sites like Youtube and Vevo, where the content on offer varies immensely in age suitability.
So while the ratings are useful, they still rely on parents to know what their kids are up to and do some parenting.
As Baroness Shields, the Minister for Internet Safety and Security, says:
"Movies in the cinema and music DVDs are age rated to inform the viewer and help parents to make informed choices."
Getting similar classifications for online material is a useful step towards ensuring that people know what to expect whatever the medium.
But it's far easier to monitor and address issues raised by such content when it's in the form of a DVD or movie release, than it is when the content is solely available online.
In the end, as we've suggested before, it's likely to come down to a combination of all the tools at our disposal - technology, education, and so on - to protect young eyes and minds.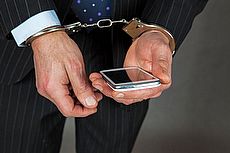 23 November 2017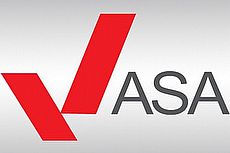 23 November 2017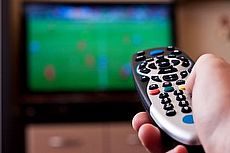 15 November 2017
Follow us or subscribe for FREE updates and special offers