Sky Shield parental controls: our review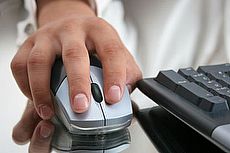 SKY Shield, the network level parental controls available free for all Sky broadband customers, were launched in November 2013.
Since then, we've been testing the service to find out how easy to use it is; how effectively it keeps kids safer online and how much it disrupts normal internet use.
Read on for the full picture, or click through to find more about:
Using advanced settings to get the most out of Shield here
Problems we found including under blocking and workarounds here
How Shield could affect existing Sky users here
Get to know Sky Shield
Like all the biggest UK ISPs, Sky bought in new parental control software after Government pressure for better tools for parents.
That means Shield offers 'network level' controls: settings are changed through the Sky account page and will affect any device using the home internet connection.
1. The basic categories
Sky split their controls into three basic categories, which are handily grouped into film rating terms: PG, 13 and 18.
As you can see, a whole range of content is blocked using PG and 13, the two categories meant for children.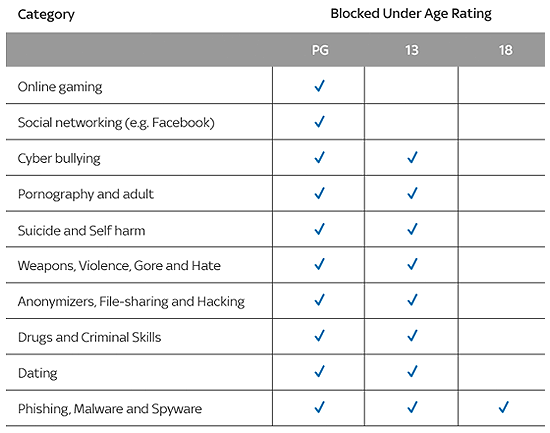 The 18 setting only blocks malware and phishing sites but it's also possible to turn off controls entirely (more here).
Sky also have a 'custom' setting which allows parents to block any combination of the categories shown above.
2. Custom and advance settings
We found the custom category setting to be clear and easy to understand, though Sky could perhaps do with more explanation of what each category actually means (we're still not very clear on what 'cyber bullying' would actually block).
It was also pretty fast: over several tests, we found that sites that fall into the categories selected in custom mode would be blocked within a few minutes of set up.
Sky also have advanced settings to block specific sites (without blocking a whole category) or to unblock one site (in a category that is otherwise blocked).

Again, these settings are pretty simple and easy to use but we found that they were also very slow: sometimes sites would be blocked within five minutes, at other times, it took hours for a site to be blocked.
Worse, just like BT parental controls, using a VPN not only gets around site blocks but wipes all of the custom blocking settings.
If you had a whole list of blocked or unblocked sites that would be seriously annoying.
3. Router level controls
Finally, a main feature of these parental control settings is that they affect all devices on the network, not only the computer they were set up on but any phones, iPads or computers using the same Sky connection.
Sky Shield did work like this but not quite in the way we expected.
Here's what happened when we tried to access a blocked site on the computer we'd set controls up on: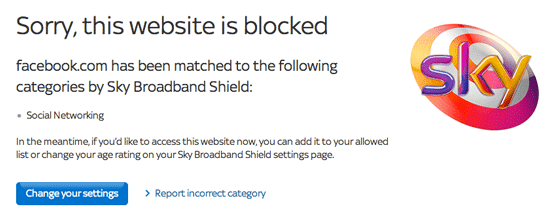 However, when we tried to access blocked sites on other devices we didn't get this block screen, instead the page just loaded for ages and then eventually timed out.
That's a bit of a pain because it's not very transparent: there's no way to tell when a page has been blocked by the controls and when it's just timing out for some other reason, like a faulty connection or a problem with the browser.
Although it's good that Sky controls work at the router level, rather than requiring customers to set up multiple devices, we'd suggest that Sky take a look at this lack of transparency.
Not here: time limits
It's also notable that Sky Shield doesn't offer any timer settings for blocks, a feature of most other parental controls and a useful one for parents that want to set specific rules for homework time or just want to turn off controls after the kids have gone to bed.
Can Sky Shield keep kids safe?
So that's how the controls work. Now let's look at how well they work: can these settings really help to keep children safe?
Getting around the controls
First up, let's look at getting around the controls.
The easiest way is to log in to MySky and simply change the settings: there's no email alerts if the settings are changed so, as long as they have the account password, anyone could just change the category to 18 and change it back.
As we mentioned above it's also possible to use a VPN to get around all controls - the different IP address confuses the system - or to use a proxy site to view particular sites once you've tried to access them and been faced with a block message.
All in all, these kinds of controls grow increasingly ineffective the older and more determined children get.
That's not to say they're useless. They can be useful for ensuring that younger children know the house rules on time online and for ensuring that they don't end up accidentally viewing inappropriate content, for example.
Under and overblocking
If parental controls are only useful for stopping children from accidentally viewing inappropriate content, however, you want to be sure that they'll actually do a good job.
Studies have shown that parental controls are a blunt instrument, they:
Underblock: allow access to sites that should be blocked under the categories shown and
Overblock: block innocent sites because they seem to fall into one of the categories.
Our tests found that, in the main, Sky Shield is blocking sites correctly.
With the social networking category turned on, for example, we couldn't find a single site that was getting left out of the block.
As expected and backed up by similar tests, however, other categories were under blocked at times.
Dating sites seem to prove a particular weakness, Guardian Soulmates was among the sites not blocked under PG.
Parents might also be surprised at the sites the PG setting does and does not categorise as adult: Nuts magazine isn't blocked but Zoo magazine and Playboy are.
These inconsistencies are something that anyone using parental controls should be aware of: perfect blocking software just doesn't exist and is no replacement for parental rules and guidance about internet use.
Having said that, it's heartening that Sky seem to have gone to some lengths to ensure that education sites remain unblocked.
With the PG setting on, all the education sites we tested were accessible.
Shield and 'active choice'
Sky Shield is not a 'default on' control: it will only be turned on if the account holder goes to the settings page on their online account and turns it on.
However, Sky strongly encourage turning on the 18 setting to protect against malware and other suspicious sites, so much so that they hide the 'switch controls off' switch down at the bottom of the page.

This is a different approach to BT parental controls, which we reviewed here.
BT use more prompts to encourage customers to go and set up their parental controls.
In contrast, Sky users in our test household had never been told about Shield and didn't receive extra prompting when, for example, they looked at the software on the settings page but didn't actually take action.
It's highly likely that Sky will introduce more prompts, especially for new users, as this is what they've committed to doing alongside other ISPs but it's interesting to see their contrasting approach to BT at this stage.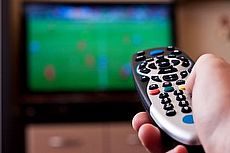 15 November 2017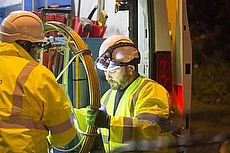 10 November 2017
9 November 2017
Follow us or subscribe for FREE updates and special offers