There are three different age ratings to choose from, with customers able to set PG, 13, 18 or choose to disable Shield altogether.
The service blocks websites across the home network and can be set to be active at specific times of day.
Some Shield controls are turned on by default when customers sign up to Sky Broadband, although they can be easily turned off.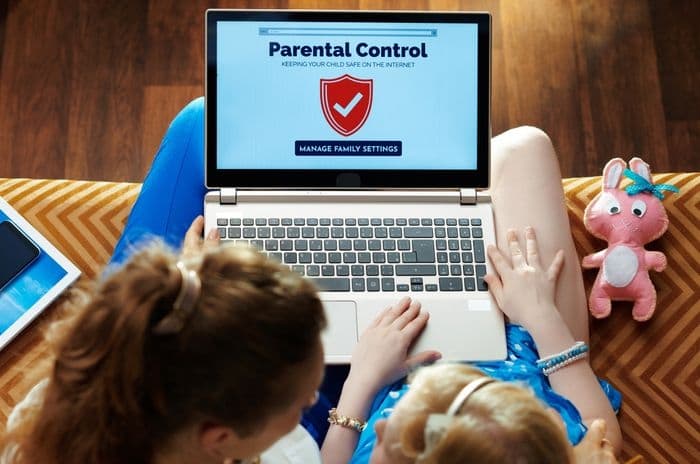 Credit: Alliance Images/Shutterstock.com
---
What is Sky Broadband Shield?
Sky Broadband Shield offers parental controls to households who sign up for broadband from Sky.
Shield has been around since 2013, with Sky deciding in 2016 to turn it on by default for new customers.
All four major ISPs (Sky, BT, TalkTalk and Virgin Media) agreed to offer parental controls to their customers following an agreement in 2013, so customers signing up to broadband packages from any of these providers will have access to network-level parental controls.
Sky Broadband Shield, sometimes just called Sky Shield, works on a network level, meaning every device connected to a home network will be subject to the same level of control.
Note: Sky has a companion app called Sky Broadband Buddy for mobile, but this is unavailable for new downloads as of May 2022.
Get to know Sky Broadband Shield
Sky Broadband Shield will be turned on by default when a customer signs up to Sky broadband.
It will be set at a level that is suitable for teenagers during the day and adults during the evening, although the settings can be changed as soon as a customer configures their account - if a customer wants stricter parental controls or none at all.
Shield allows families to:
Choose between three age rating settings
Customise the settings to block specific categories or websites
Automatically switch off filters at specific times
As Shield is a network-level control solution, it will affect every device on the network including laptops, tablets and smartphones using the home wi-fi network.
However, Sky Broadband Shield only works for home wi-fi and does not cover sites when accessed via 4G or 5G.
1. Age ratings
The cornerstone of Sky Broadband Shield is the age rating system. This is set to 13 by default but can be amended whenever a customer chooses.
These are the three ratings:
PG is suitable for all ages
13 is suitable for teens and older
18 is suitable for adults only
Sky also provides more detail on the categories included in each age block:
| Age rating | Blocks |
| --- | --- |
| PG | Phishing and malware, online dating, anonymisers, file sharing and hacking, drugs and criminal skills, weapons, violence, gore and hate, adult, suicide and self-harm, social networking, online games |
| 13 | Phishing and malware, online dating, anonymisers, file sharing and hacking, drugs and criminal skills, weapons, violence, gore and hate, adult, suicide and self-harm |
| 18 | Phishing and malware |
So, the major difference when moving from the PG to 13 rating is the ability for everyone on the network to access social networking and online games
Sky point out that Xbox Live and the PlayStation Network are part of the online games category, meaning that users will not be able to sign in if that category is restricted.
The 18 setting only blocks malware and phishing sites but it's also possible to turn off controls entirely.
2. Custom and advance settings
Sky also have a 'custom' setting which allows parents to block any combination of the categories shown above.
If, for example, a family doesn't want to block online games at the PG level, they could simply exclude that category from that age rating. On the other hand, it's possible to add any of the categories to the 18 age rating if a household wants to.
Sky also have advanced settings to block specific sites (without blocking a whole category) or to unblock one site (in a category that is otherwise blocked).
This is a good workaround for the Xbox and PlayStation issue highlighted above - customers could simply add those two to their allowed list.
It's worth noting that some websites will always be blocked due to copyright infringement court orders or other action beyond Sky's control.
3. Active times
The third major element of Sky Broadband Shield is the ability to decide when the controls should be active and when they should be switched off.
While the default setting is to turn off the filters between 9pm and 5:30am, this can be tweaked in the same way other settings can be.
Users can choose from:
Always active (apply age rating all day)
Inactive certain times of the day (select time ranges)
However, any sites on the blocked or allowed lists will retain their status, even if parental controls are set to be inactive for set periods.
This feature wasn't always available to Shield users, and it was one of our frustrations when we first wrote this guide. So, it's a useful addition and makes Sky Broadband Shield more flexible.
Turning off Sky Broadband Shield
Sky warn that turning off Shield altogether will mean that a household's devices are not protected from phishing and malware and instead recommend keeping Shield set at the 18 level.
Customers can disable Sky Broadband Shield, however, by going into their account and adjusting their settings.
This should result in Shield being disabled within 15 minutes and blocked sites will be viewable again.
Can Sky Broadband Shield keep kids safe?
The fact that Sky Broadband Shield is turned on by default means that customers must act to turn it off.
Since this choice is an active one, it means anyone signing up to Sky Broadband will need to seek out their parental control settings and adjust them if they want to make changes to what they see online.
Yet ISP-based parental controls like Shield are not as widely used by parents as we might expect.
Research from Ofcom in 2014 found that only 22% of parents used ISP-level controls and this had only increased by 5% by the time they conducted similar research in 2022.
In this most recent report, there were concerns from 18% of parents that filters blocked too much or got in the way while 17% thought they were too complicated to use.
There are other ways of protecting children from viewing harmful content online, and there are long-standing debates over whether parental controls are effective or not.
However, under the 2013 agreement, Sky and other major ISPs will continue to provide them for customers, and so they're a useful feature to know about.
As we discuss in our guide to whether the Government can keep kids safe online, the risks to children online keep evolving and what works today may not necessarily work in a year from now.
For example, Sky Broadband Shield and other network-level controls only block websites - they do not block apps downloaded on to devices and these cannot be added to block lists either.
This means that device-level software is potentially more important to parents than network-level shields.
Shield vs others
Sky Broadband Shield is one of four ISP-based parental control systems offered by major providers, with BT Parental Controls, TalkTalk Home Safe and Virgin Media Web Safe also providing these protections.
In terms of granular control, each has different strengths as we explore in our full comparison, but they all have the same underlying features - they stop kids visiting inappropriate websites and allow a certain amount of customisation.
However, the limitations we've discussed in connection to Sky Broadband Shield are relevant for the other ISPs too, with a focus on websites rather than apps and blanket controls across the whole network.
Summary: Worth trying out
Sky Broadband Shield allows parents to choose from three basic options when setting up their controls, but these can be customised to block specific websites and times can be set up to ensure adults can access their content when they need to
Shield is enabled by default when we sign up to a Sky broadband contract, so we will have to act if we want to turn off the filters during the day.
This automatic setting has its critics, and Sky remains the only one of the big names to switch parental controls on by default - the others simply prompt customers to make a choice.
That said, it's straightforward enough to turn them off and it's a reminder to think carefully about a family's internet access and whether any conversations about safety need to take place.
One of the criticisms of parental controls like Shield is that they are used as a replacement for difficult conversations, yet it's more useful to understand them as a supplement to those difficult conversations.
Ultimately, it's worth looking at the parental controls offered by Sky when signing up to a broadband deal, but also be prepared to look at other device-level options to help block harmful apps while children are on the go.