BT parental controls reviewed
BT released their ramped up parental control software in December 2013.
It's a 'whole home' solution so once the controls are set up, through the MyBT control panel, they'll affect anyone using the wi-fi.
In theory, that makes them far simpler and more effective than the old McAfee software BT used to offer but, in this full review, we'll take a closer look.
Set up: how it works with active choice
How it works: how to get the most out of personalised blocks, time limits and more
Problems: when filters don't work and how kids could get around controls
Don't forget to let us know how you're getting on with the software in the comments, too.
Set up
Let's start with one of the most controversial aspects of these enhanced parental controls, which were introduced by ISPs following Government pressure: the set up process.
We were lucky enough to test these controls with a new BT customer so here's how it works on first set up: when the router is first activated and the computer connects to the network for the first time the following dialogue comes up.
Source: Choose screengrab, December 2013
You have to press yes or no to continue, press yes and you'll go through to the full set up page.
Source: Choose screengrab, December 2013
You can choose from three control options - Light, Moderate and Strict - and then customise them with BT's tools, see the next section for more.
Note also that, as you can see above, at this point you can choose to opt out of set up (start browsing) if you change your mind.
In fact, just to clarify, if you press no or later choose to uninstall controls that's fine, no hard feelings. 'Default on' was one idea for how these controls would work but it's definitely not how they actually work.
However, active choice means that BT will continue to prompt.
If you click the 'start browsing' option we mentioned above, for example, you'll get a pop up making it clear to you that you haven't finished setting up your parental controls and offering you the option to go back and finish setting it up or continue browsing.
If you don't set up you'll get a reminder email, about two weeks after set up.
Again, all users need to do, if they don't want controls, is press no.
How it works
BT Parental Controls have three filter settings, just choosing one should be enough for many households. If not, there are a couple of more advanced tools, too.
Setting the filter limit
BT filters block up to 16 broad categories of websites based on keywords.
For example, here are the categories for 'light'.
Source: Choose screengrab, December 2013
And, as you can see below, far more groups are blocked under the 'moderate' setting.
Source: Choose screengrab, December 2013
There's also a custom setting to block your own combination of categories.
When the filter is in place you'll still be able to search for sites in the blocked categories or type in the URL but when you try to visit a page on the blocked list you'll see the following page.
If you see a block notice where you don't want it you can use time limits or personalised blocks (or unblocks) to get around the problem. As you might just be able to see in our screengrab BT even have a button on the page to allow an account holder (you'll need a password so kids can't do it) to add the page to the safe site list.
Actually, though, Ofcom research released in January found that it's not a problem for most people.
68% of respondents disagreed (47% of them strongly) that their parental controls "get in the way of what I or other family members want to access online".
Of course, it's the questionable blocking you don't notice that's the real problem. See down the page for more on that.
Setting up time limits
Time limits, in tandem with plain old rules for using computers and other devices, are a useful way to use filters for kids without stopping other people in the household seeing what they want online and without having to fiddle with filter settings.
We found BT's really easy to use, although it's not very customisable: you can only select a filter off period for certain days of the week.
It would be better to be able to tone the filters up or down and to set different limits on different days.
However, we tested four different times and found that the filter level switched on and off just as it should have done. Very effective.
Blocking and unblocking individual sites
As we said above, you might want to block or unblock an individual site if you've found the filters are ineffective or your child has a problem with one specific site (a Facebook addiction, for example).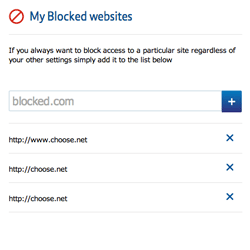 You can add sites to a block list like this.
Note that to block our site we added both http://choose.net/ and http://www.choose.net/, without doing both your block won't won't properly.
However, using a VPN seemed to wipe the sites from the settings entirely and sometimes activation was delayed for no reason we, or technical support, could fathom.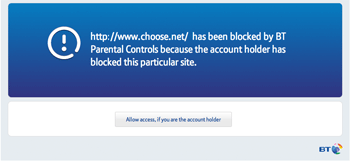 Eventually, though, we found our block worked well, as you can see.
Problems
VPN use is one of a number of problems worth being aware of if you're thinking of using BT Parental Controls.
Under and overblocking
Under and overblocking has received a lot of press attention: tests carried out by BBC Newsnight and elsewhere, including our own tests, have shown that sites that should be blocked sometimes slip through the filters while others get blocked accidentally.
For example, the news site TorrentFreak has been blocked, presumably because, from keywords, it was identified under the 'filesharing' category.
Similarly, we found that, with a ban on 'alcohol and tobacco' related sites in place, it was still possible to visit alcohol retailers like Tesco's wine site but education sites like Smokeline weren't accessible.
It's enough of a problem that BT have an email (categorisation@bt.com) specifically for site owners who may have been unfairly targeted to get in touch.
However, those tests and our own also show that, mostly, the filters block appropriately and, as we said above, Ofcom research suggests that most people don't experience problems as a result.
According to that same research, 93% of people agree that their parental controls are effective.
Getting around controls
We found that controls stayed in place even after turning the router on and off.
However, there were many ways to easily get around the controls: a VPN or proxy service straight knocked them out, unblocking all the sites that should be filtered.
Alternatively, kids could change the setting themselves by logging in to MyBT.
The verdict
BT controls were clear and easy to use and, most of the time, the basic filters were effective and the additional settings worked well.
Older children could get around these controls but that just shows the value of using them on top of house rules and talking to kids about using the internet safely which, research suggests, is what the vast majority of parents already do anyway.
More worryingly, the time limits were really disappointing and anyone that has to use a VPN at home has a real problem, although that's not something that would affect most families.
15 November 2017
10 November 2017
9 November 2017
Follow us or subscribe for FREE updates and special offers