Households can use BT Parental Controls to activate one of three pre-set filter options, as well as customising filters to suit their home.
BT Parental Controls works on all devices connected to a home network and on public wi-fi when a BT ID is used to log in.
However, while specific websites can be blocked and unblocked, there are no options to target specific apps.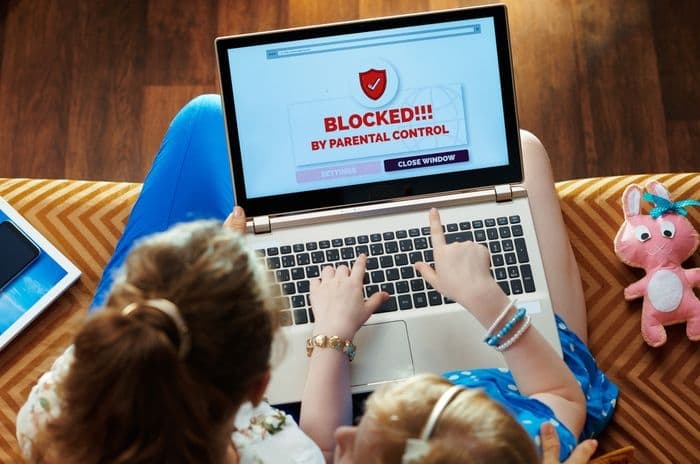 Credit: Alliance Images/Shutterstock.com
---
What are BT Parental Controls?
Parental Controls were first released by BT in December 2013 and are designed to be a "whole home" solution to online safety.
That means they affect every device on the home wi-fi network and can also be used to protect devices when they sign on to BT Wi-Fi hotspots with a BT ID.
BT say their Parental Controls allow customers to:
Protect all devices on a home network including PCs, laptops, tablets, smartphones and other handheld devices
Choose from three predefined filter levels or personalise these filter levels
Always allow or always block certain sites
Set up homework time
Set up times for filters to be active or inactive
They warn that some other device protection software may clash with BT Parental Controls, so they advise removing other software before trying to configure the parental controls.
In addition, they highlight the privacy changes that were introduced as part of the iOS 15 update for those using Apple devices and say using iCloud Private Relay will disrupt how the controls work when browsing in Safari or using some apps.
How to set up BT Parental Controls
All customers will be asked whether they want to set up BT Parental Controls when they first sign up for a BT broadband account and set up their new Smart Hub.
This means we have to specifically choose whether to opt-in or out - that's part of a 2013 agreement BT and other ISPs made with the Government on parental control software.
It's also possible to set up Parental Controls on an existing hub by:
Logging into a My BT account with a BT ID
Going to "Manage your extras"
Clicking on "Manage BT Parental Controls"
Activation will take place automatically and households are automatically placed on the Light filter, although this can be changed.
Once activated, the filters will be live on the network within two hours.
How BT Parental Controls work
BT Parental Controls have three filter settings, meaning most households will have a setting available that works for them.
However, there are a couple of more advanced tools that we cover below if customers need extra control.
Setting the filter limit
BT filters block up to 16 broad categories of websites based on keywords.
There are different levels of blocking depending on whether a customer choose a Light, Moderate or Strict filter.
Here's how that looks in practice across 14 categories:
| | Light | Moderate | Strict |
| --- | --- | --- | --- |
| Pornography | Blocked | Blocked | Blocked |
| Obscene and tasteless | Blocked | Blocked | Blocked |
| Hate and self-harm | Blocked | Blocked | Blocked |
| Drugs | Blocked | Blocked | Blocked |
| Alcohol and tobacco | Blocked | Blocked | Blocked |
| Dating | Blocked | Blocked | Blocked |
| Nudity | | Blocked | Blocked |
| Weapons and violence | | Blocked | Blocked |
| Gambling | | Blocked | Blocked |
| Social networking | | Blocked | Blocked |
| Fashion and beauty | | | Blocked |
| File sharing | | | Blocked |
| Games | | | Blocked |
| Media streaming | | | Blocked |
There are also categories covering "sex education" and "search engines", but these must be personalised filters and do not automatically apply when a user chooses one of the filter settings mentioned above.
From the table, it's clear there are distinct levels of filtering that will work depending on the age of children in the household.
However, it might also be clear that some of the restrictions will affect a family's day-to-day online life, so taking a more granular approach as we explore below might be useful.
When the filter is in place, users will still be able to search for sites in the blocked categories or type in the URL but when they try to visit a page on the blocked list, they will be told that page is unavailable.
If users see a block notice where they don't want it, time limits or personalised blocks (or unblocks) can be used to get around the problem.
Setting up time limits
Time limits, in tandem with plain old rules for using computers and other devices, are a useful way to use filters for kids without stopping other people in the household seeing what they want online and without having to fiddle with filter settings.
These time filters can be blunt instruments to switch the parental controls off at specific times, but they will work for most families.
For instance, turning off parental controls between 9pm and 1am could allow adults to access the sites they want to without their children being able to see unsuitable sites.
There is also a specific setting for homework time. This keeps a household's chosen filter levels but also blocks sites that might distract children while they work such as online gaming, social media and cheating sites.
Blocking and unblocking individual sites
We might also want to block or unblock an individual site if we've found the filters are ineffective.
This is a straightforward process for websites with a URL - this just needs to be added to the block/unblock list within the BT Parental Controls portal.
However, there is no option to block or unblock named apps due to the way these works.
Given that apps have become a huge part of life now, this is a major problem for parental control software.
It means that we could block a child from visiting Facebook on their computer but not necessarily stop them using the Facebook app.
There are other ways to control app usage as we explore in our guide to the effectiveness of parental control software, but that simply isn't possible with BT Parental Controls or other ISP software.
Notifications
The person whose name and email address is associated with the BT ID will receive notifications when changes are made to parental control settings.
This is useful if children are able to log into a parent's BT ID because they have learned the password and change the settings.
There's no way of turning off these notifications, so bear that in mind.
Turning off BT Parental Controls
BT Parental Controls can be turned off in the My BT portal, either temporarily or permanently.
This can be a good idea if the kids are away and parents want to browse freely without fiddling with time filters.
They might also want to turn them off permanently if they're not working effectively for that household.
BT caution that suspending controls is preferable as it means parents will maintain all their settings. These will be lost if a customer chooses to remove them entirely.
Suspending controls should take ten minutes while complete deactivation will take up to two hours.
Are there any problems with BT Parental Controls?
Parental control software has its critics as well as its advocates.
Some people argue they are a blunt instrument, while others say they are not used effectively by parents to manage their children's online lives.
Back in 2014, Ofcom research found that only 22% of parents with children aged between 5 and 15 were using the parental control software offered by their ISP.
Fast forward to Ofcom's 2022 research on children's online literacy and we find that figure has only increased to 27%, although 61% were aware of such tools.
So, although there is no ISP-level data to say how many households use BT Parental Controls, parents seem to prefer other technical controls, with seven in ten using some form of control to manage their child's internet access.
However, there were also a couple of interesting responses to filters in the 2022 research:
18% of parents said filters block too much or get in the way
11% said they don't block enough
17% said they were too complicated to use
7% of parents said their child could find a way around them while one in 20 children said they had circumvented parental controls including 6% who had got around them to visit certain sites/apps
These figures suggest that ISPs can't really win when it comes to parental controls, with some believing they go too far and others thinking they don't go far enough.
In addition, the number of children finding ways to circumvent controls mean that the software isn't working as effectively as it could.
BT Parental Controls and similar software is just one way of protecting kids online and we've also seen the implementation of The Children's Code to embed safety in the design of services and products for children.
Yet whether the Government can keep kids safe online (and whether they should) remains a contentious issue for many parents.
Learn more about keeping kids safe on social media.
Summary: Worth trying out
BT Parental Controls have been around for almost a decade, with customers having to actively choose whether to enable them when signing up for their broadband and setting up their Smart Hub.
The Light, Moderate and Strict filter levels give a good range of pre-set options for families who want to set something up quickly, although it's likely some type of customisation will be useful for most households.
Parental control software from BT and other ISPs doesn't replace conversations about safe online practices between parents and children, and it's important to remember that BT Parental Controls only works on the devices attached to a home wi-fi network or when users sign on to public wi-fi with a BT ID.
In practice, this means BT Parental Controls are going to be used in conjunction with other technical controls, especially when we remember that named apps cannot be blocked or unblocked outright.
Ultimately, BT Parental Controls are something all parents should consider when setting up their BT broadband account.
Trying them out, even if the pre-set filters don't work for a particular household, can be useful, and they may serve as conversation starters between families when a child tries to access a website and sees that it is blocked from their view.